Cauliflower fried rice is a delicious and low-carb way to use up left-over meats and vegetables.  We love fried rice, but since we discovered cauliflower fried rice, we're hooked.
I made up this recipe, so the amounts are not exact.  Nor are the ingredients.  For the protein, I've used leftover steak, pork chop, pork tenderloin and chicken. My favorites are pork and steak.  Use what you have.
For the vegetables, I've tried leftover roasted broccoli, asparagus, and peppers, and loved them all.  I'm also a big fan of frozen vegetables for this.  I always like peas in fried rice.  Another favorite is a blend of vegetables created for stir fry.  You could also try corn, snap peas, carrots, water chestnuts.  Use what you have.
Prepare Your Ingredients
Once you start cooking, the heat is high and you need to move pretty quickly.  So I gather my ingredients before I start: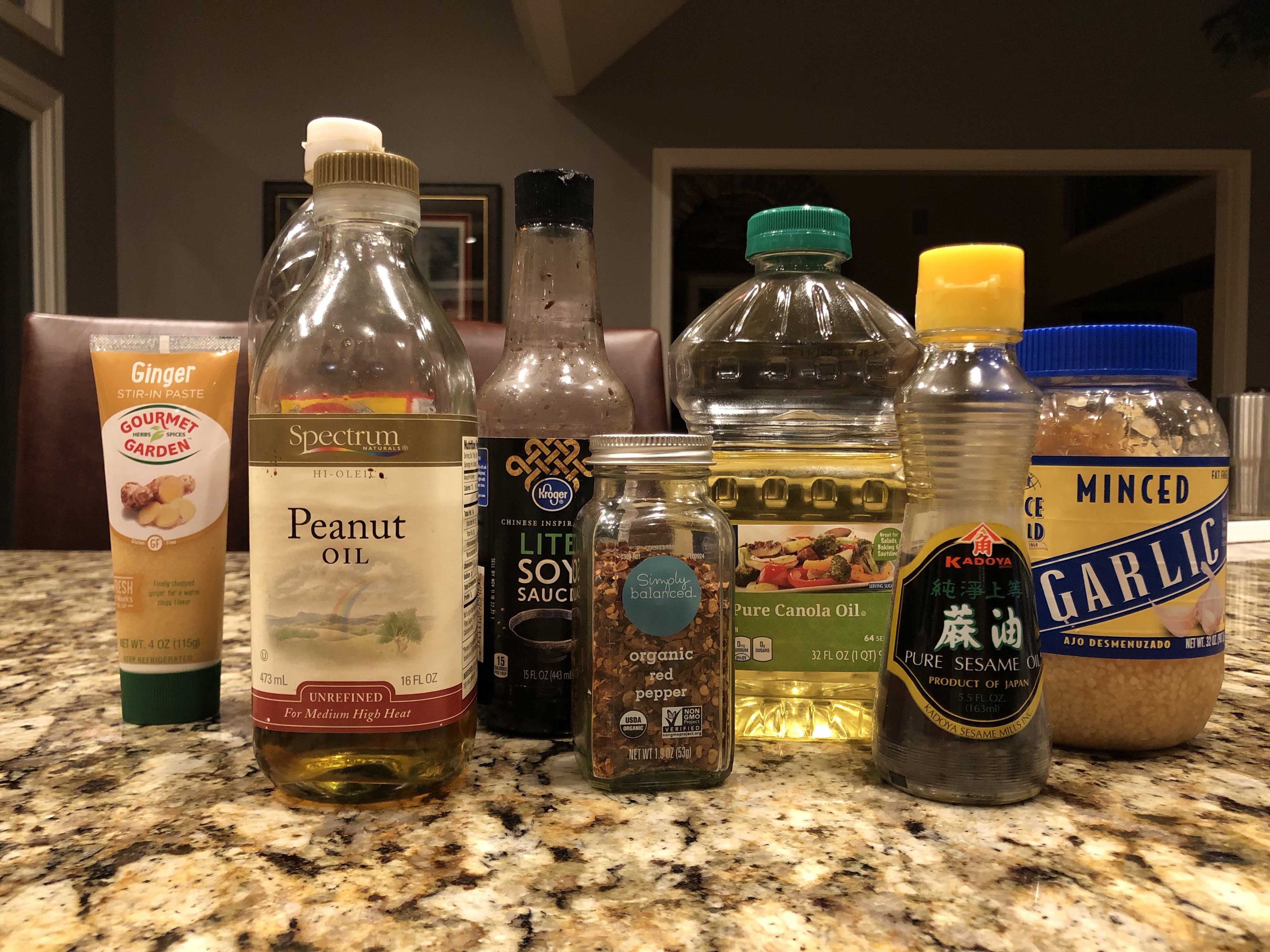 Slice your protein. This time I used pork tenderloin left over from the  One-Pan Roasted Pork Tenderloin with Vegetables.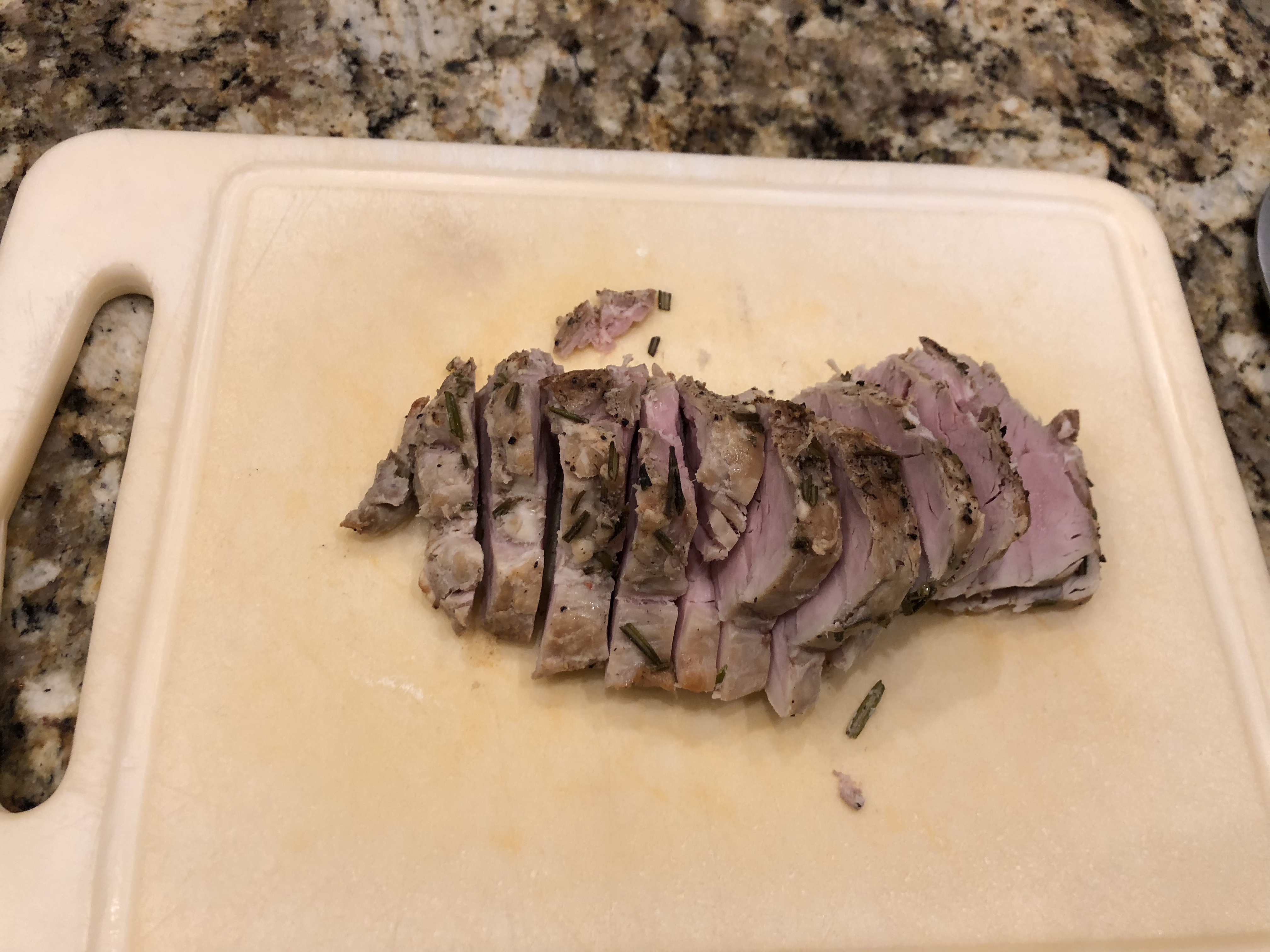 If you're using frozen veggies, drain them.  For this post I used frozen peas and a frozen mix of peppers and onions: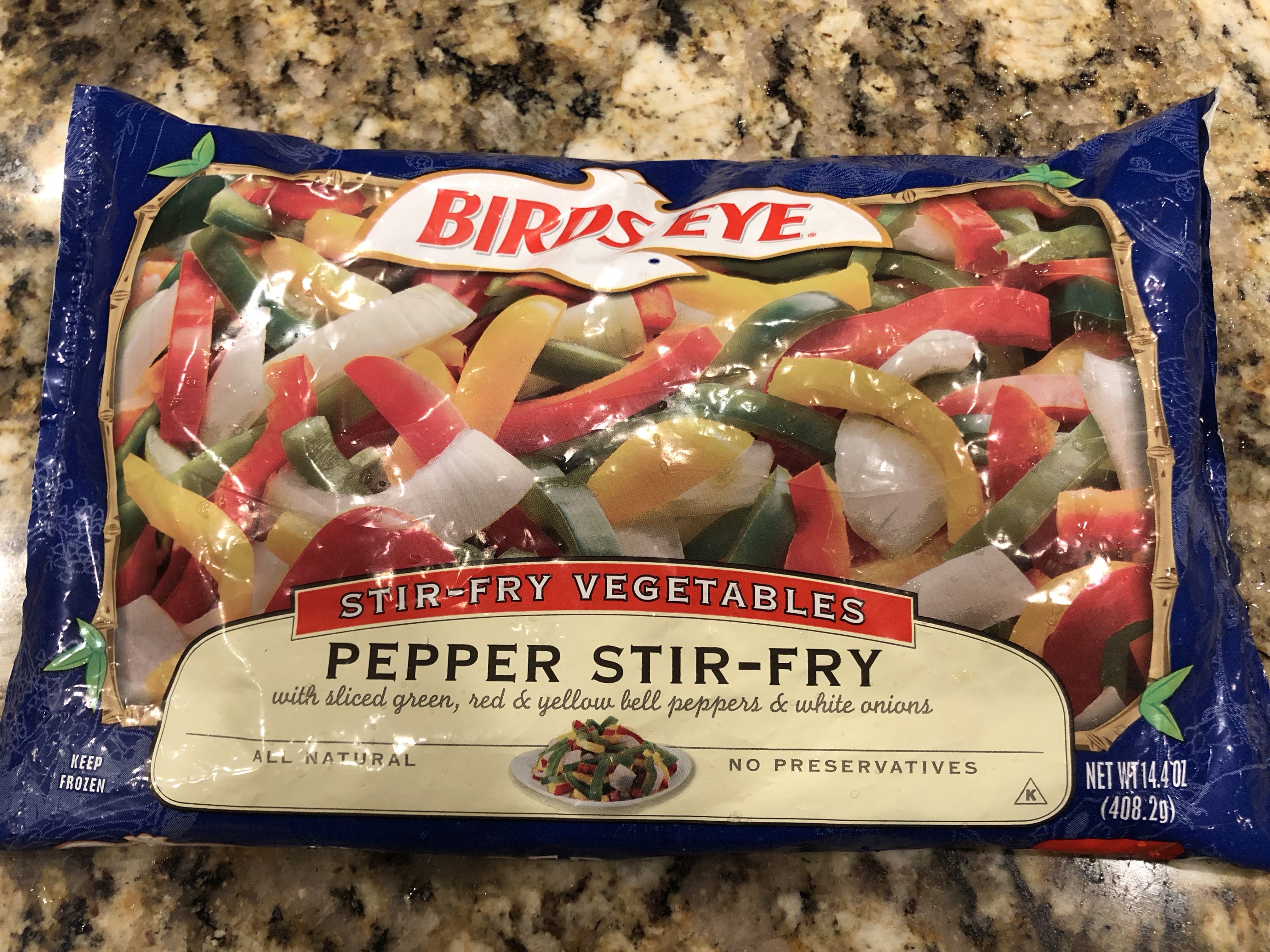 For the cauliflower rice, I buy frozen and keep it on hand.  You can also get fresh riced cauliflower; I've seen it at Costco, Trader Joe's and Fresh Market.  I haven't tried it for this recipe.  I defrost the cauliflower rice before I use it, but it is still cold, and not cooked.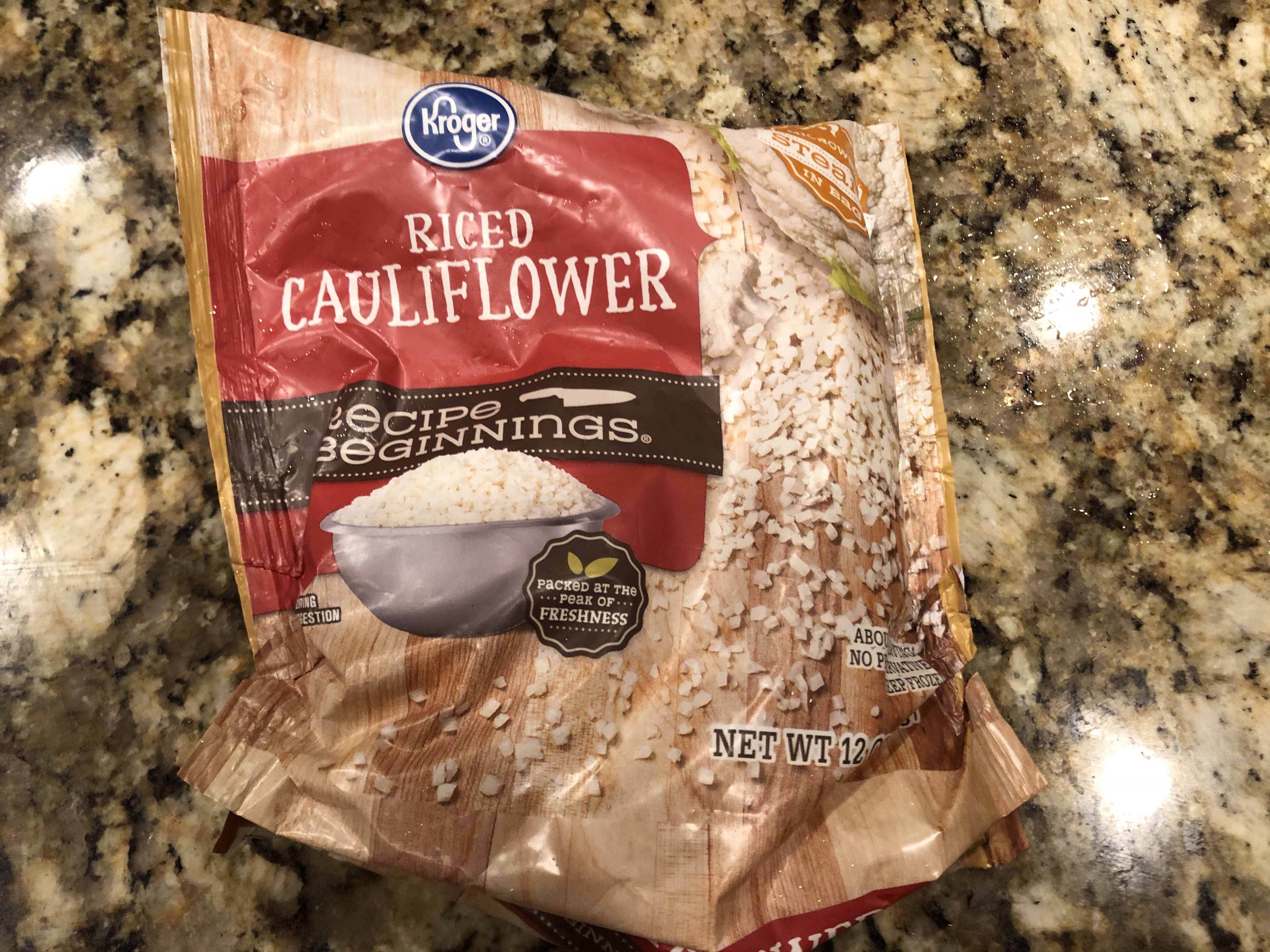 Ready to Cook
Start by loosely scrambling the eggs in a large skillet.  Do not overcook, as they will cook more later.  Remove from the skillet and set aside.
In the same skillet, add the oils (see recipe, below) and ginger and garlic.  Saute for a few seconds, until browned.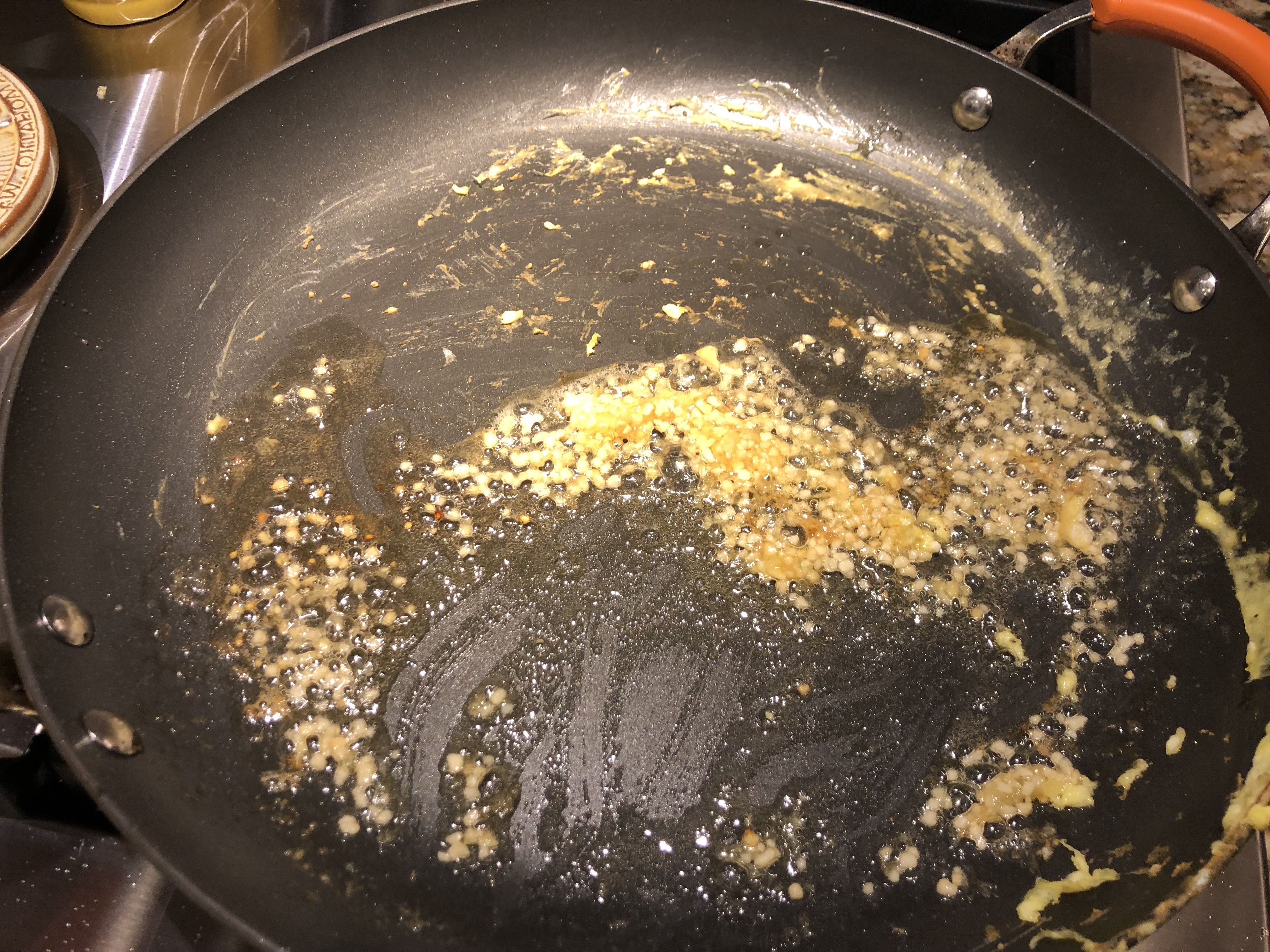 Add protein, cook for about 30 seconds, until sizzling, add vegetables (except cauliflower).  Cook for about a minute, stirring well.  When your veggies are cooked, but not mushy, add the cauliflower rice and stir well.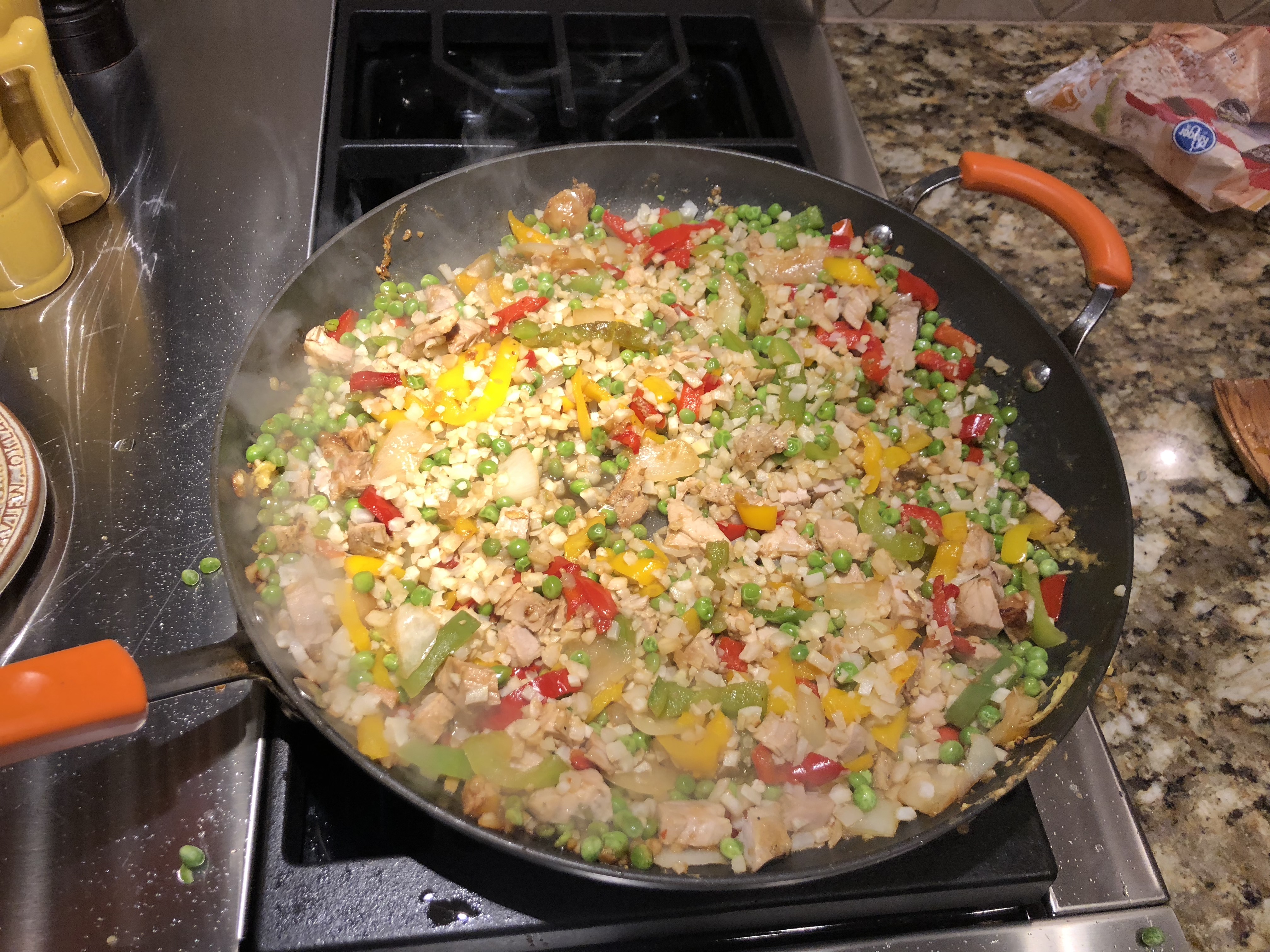 Add fish sauce (just a little — it goes a long way), soy sauce and red pepper flakes to taste.  Sorry– I can't give you exact amounts on these; you should tailor it for your individual preferences.  I guess that I add about 1/4-1/2 tsp fish sauce, about 1/2-1 tsp soy sauce, and about 1/4 tsp red pepper flakes.
The amounts here serve me and my husband with nothing else on the menu.  It seems like a ton of food, but it's light and healthy and we love it, so I guess we're eating a lot of it!  There's also usually a little leftover for me to have for lunch the next day.
Enjoy!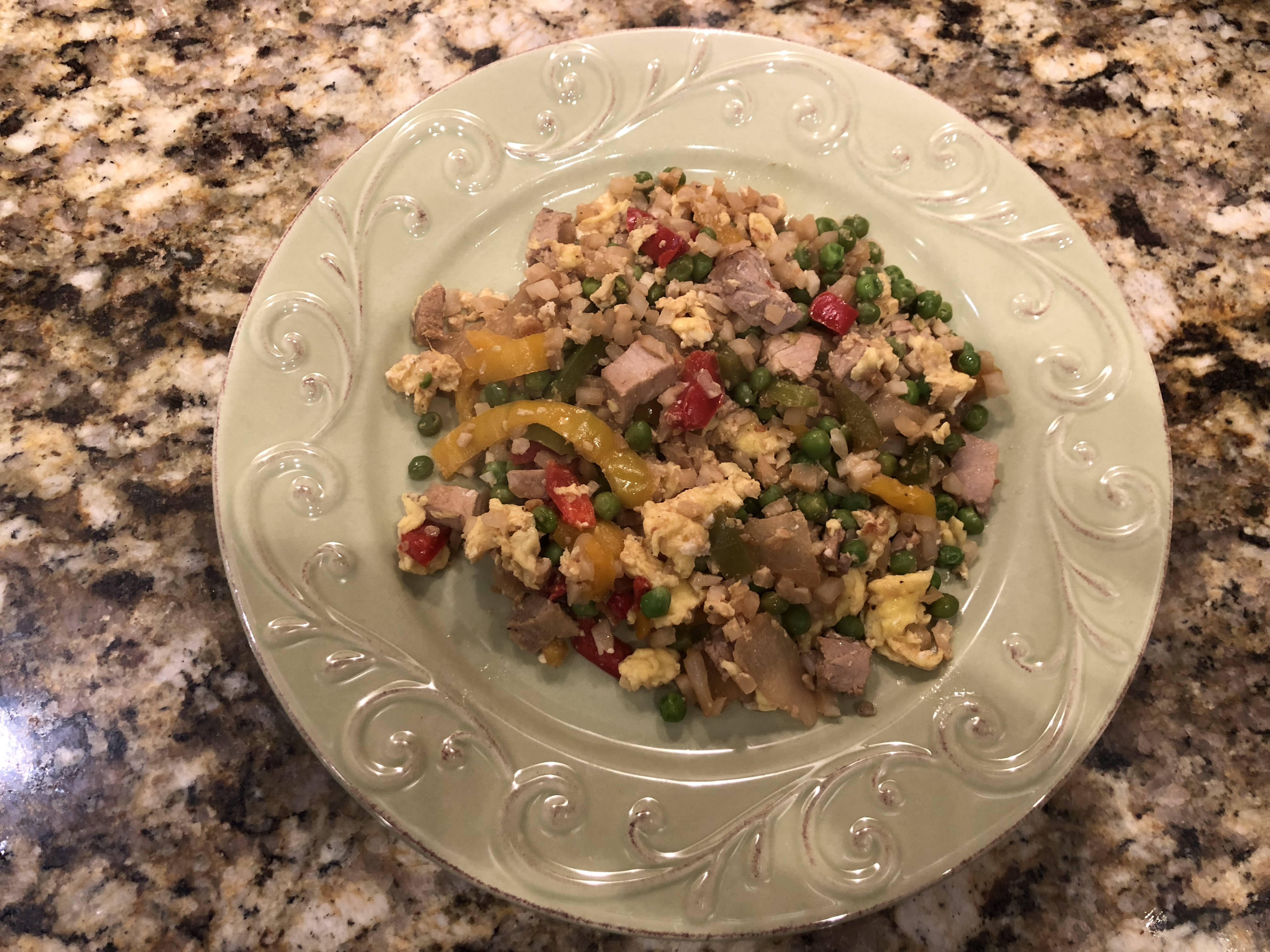 Ingredients
4 eggs
Canola or vegetable oil (about 1 tbsp)
Sesame oil (about 1/2 tbsp)
Peanut oil (about 1/2 tbsp)
Minced ginger (about 1/2 tbsp)
Minced garlic (about 1 tbsp)
Fish sauce (about 1 tsp), optional
Red pepper flakes to taste
Soy sauce (about 1/2 tbsp, or to taste)
2-3 cups frozen (defrosted) and/or fresh vegetables (peas, peppers, carrots, onions, broccoli (whatever you like)
Left-over pork, steak or chicken (about 1/2 pound)
12 oz frozen cauliflower rice, defrosted
Salt and pepper to taste
Instructions
Spray a large skillet with Pam. Loosely scramble the eggs and remove from pan. Do not overcook. Set aside.
Add vegetable/canola oil, sesame oil and peanut oil to the pan, heat over medium high heat. When hot, add the garlic and ginger and cook for about 30 seconds.
Add the meat to the pan, cook for about 30 seconds.
Add the vegetables (except cauliflower), cook together with the meat for about a minute. Your skillet should be pretty hot, and things should be sizzling.
Add the cauliflower rice, and mix well, When good and hot, sprinkle to taste with fish sauce (optional, a little goes a long way) and soy sauce.
Turn off heat and stir scrambled eggs back into the pan, stir well.
https://thetwodandelions.com/low-carb-cauliflower-fried-rice/
For more of our favorite recipes, please see: