Holidays got you feeling over-served and over-fed?  Lighten up with this delicious southwestern chicken salad with cilantro/lime/jalapeno dressing.  My husband could eat this salad every week, and sometimes we do.  It's the dressing that pulls it all together and makes it a real treat.
I got this recipe from my friend Kelly Schroeder.  Kelly is a terrific chef.  Someday she's going to teach me to make her Thai green curry.  Until then I'm happy eating this terrific salad.  When she tells me she's got a new recipe for me, I always take note.  This dressing recipe is adapted from a recipe from Allrecipes.
You could put any ingredients you want in the salad, and/or omit some of the ones I've listed.  The complete, printable recipe is at the bottom of the post.  The amounts of ingredients are the ones I use to feed two of us huge portions.  Again, adjust for your individual tastes.
Marinate boneless skinless chicken breasts in Goya Mojo Criollo marinade.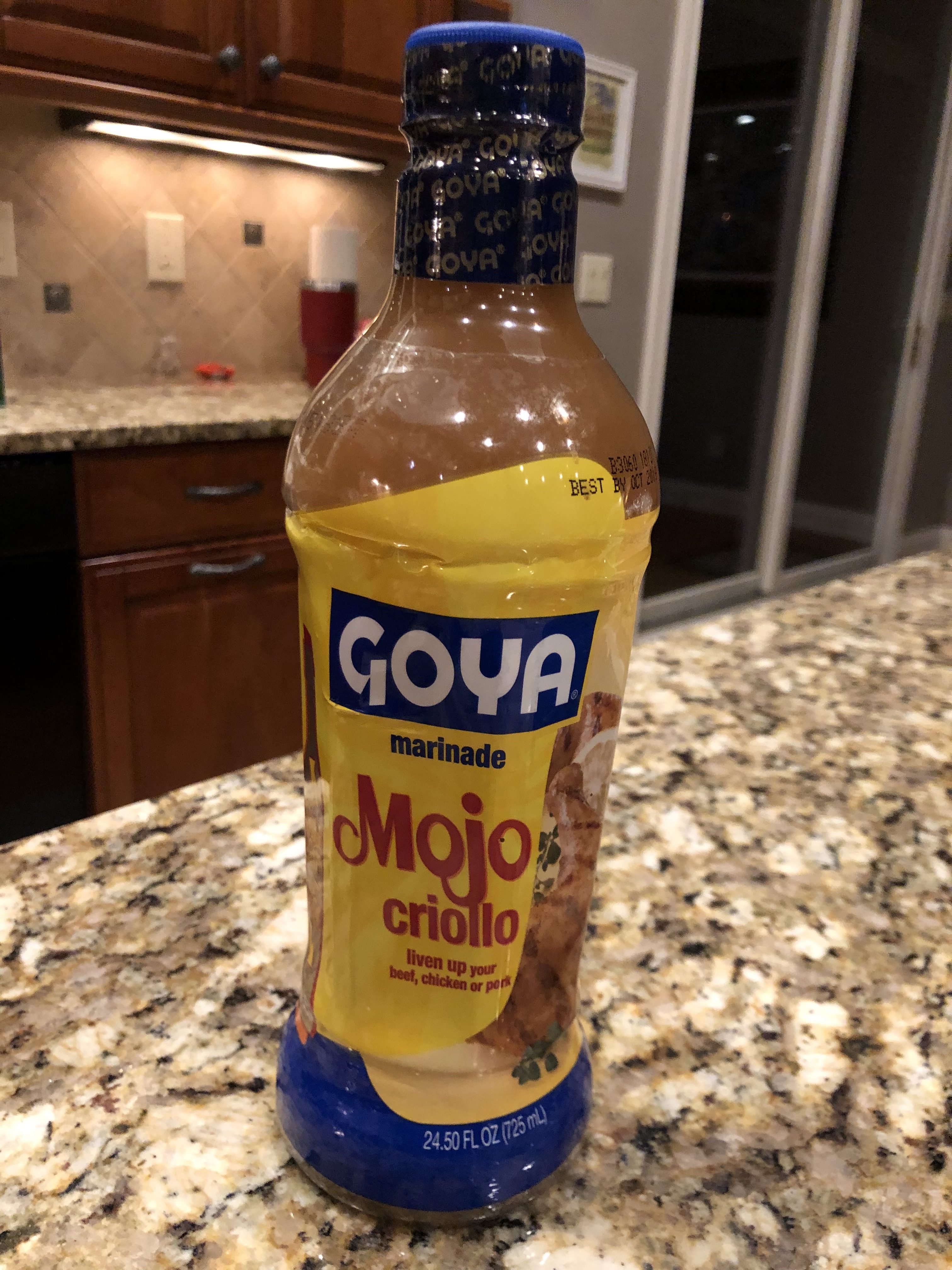 Could that be any easier for a marinade?  Marinate at least a couple of hours, and up to 24 hours.  This marinade is sooooo good, and is really just citrus and some spices (as well as some mystery chemicals for preservatives).  And it's only 10 calories per 2 tablespoon serving!  Kelly tells me she uses it on pork as well.
Grill or broil your chicken breasts.  I prefer them grilled, but we live in Ohio where the weather is not exactly grill-friendly much of the year.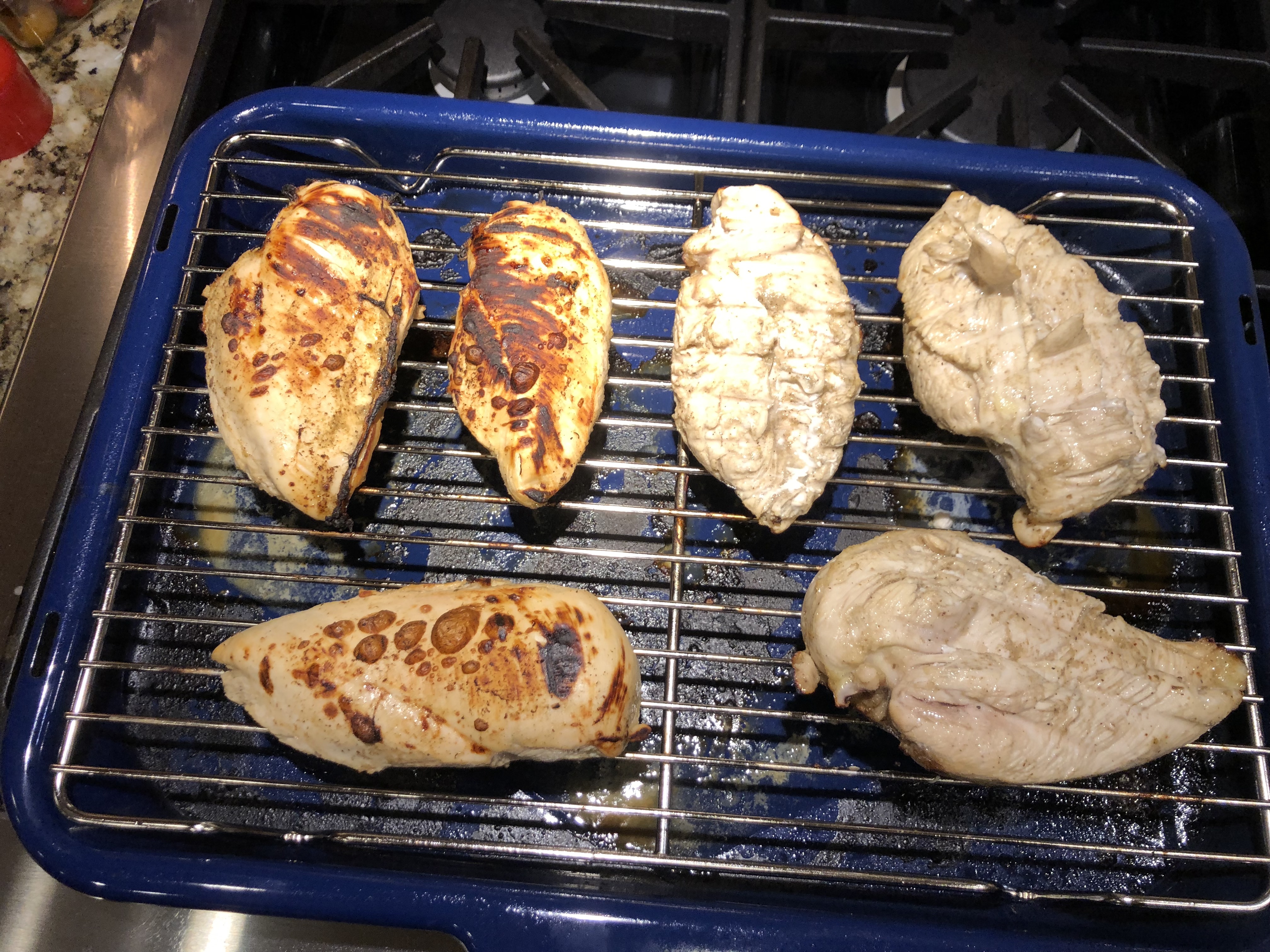 I broiled for 8 minutes and then turned them.  This picture shows 3 turned and 3 not turned, so you can see the nice char.  (I was making extra chicken here — more than the recipe calls for.)  Then we broiled another 5 minutes, but they weren't cooked enough, so we broiled another 5 minutes.  That may be longer than you need; these were very thick breasts.  And we don't want undercooked chicken!
While the chicken cooks, make the dressing.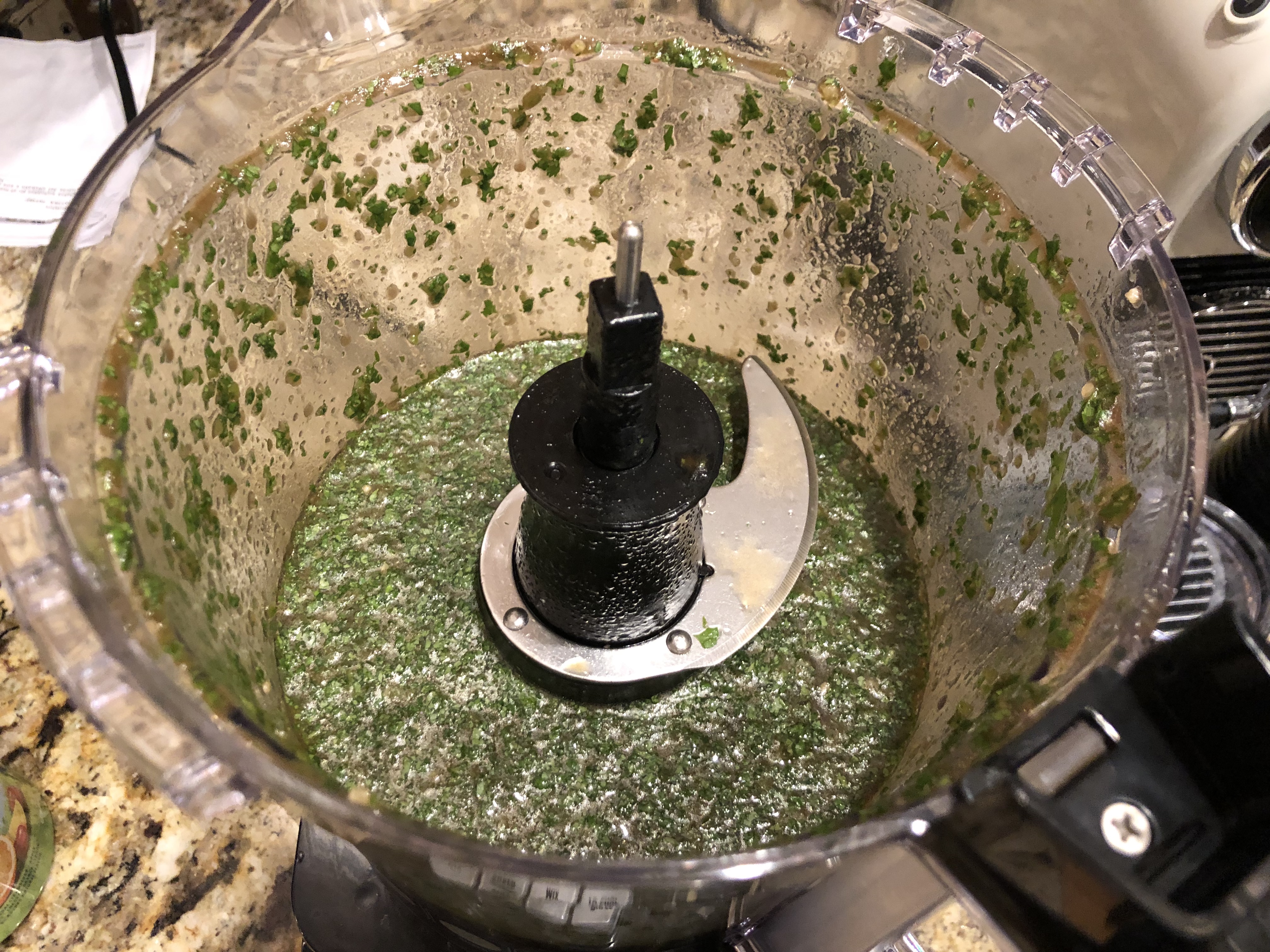 Place the seeded jalapeños, honey, lime juice, balsamic vinegar, garlic, ginger, salt and cilantro into the food processor and pulse into a paste.  Then pour the olive oil while running the food processor to mix well.  Take the lid off and breathe in the wonderful citrusy, sweet, spicy and fresh smell of this dressing!
I have doubled the amount of jalapeño called for in the original link.  If you remove the seeds and pulp, it shouldn't be terrifically hot.  But if you don't like spicy food, feel free to just use on jalapeño.  I also increased the amount of lime juice, and decreased the amount of oil.  Please adjust the percentages according to your tastes.
For the salad, mix together your lettuce, corn, black beans, red onion, avocado and crumbled tortilla chips.  Slice your chicken breast and add to salad.  Dress with the fresh dressing.  Enjoy!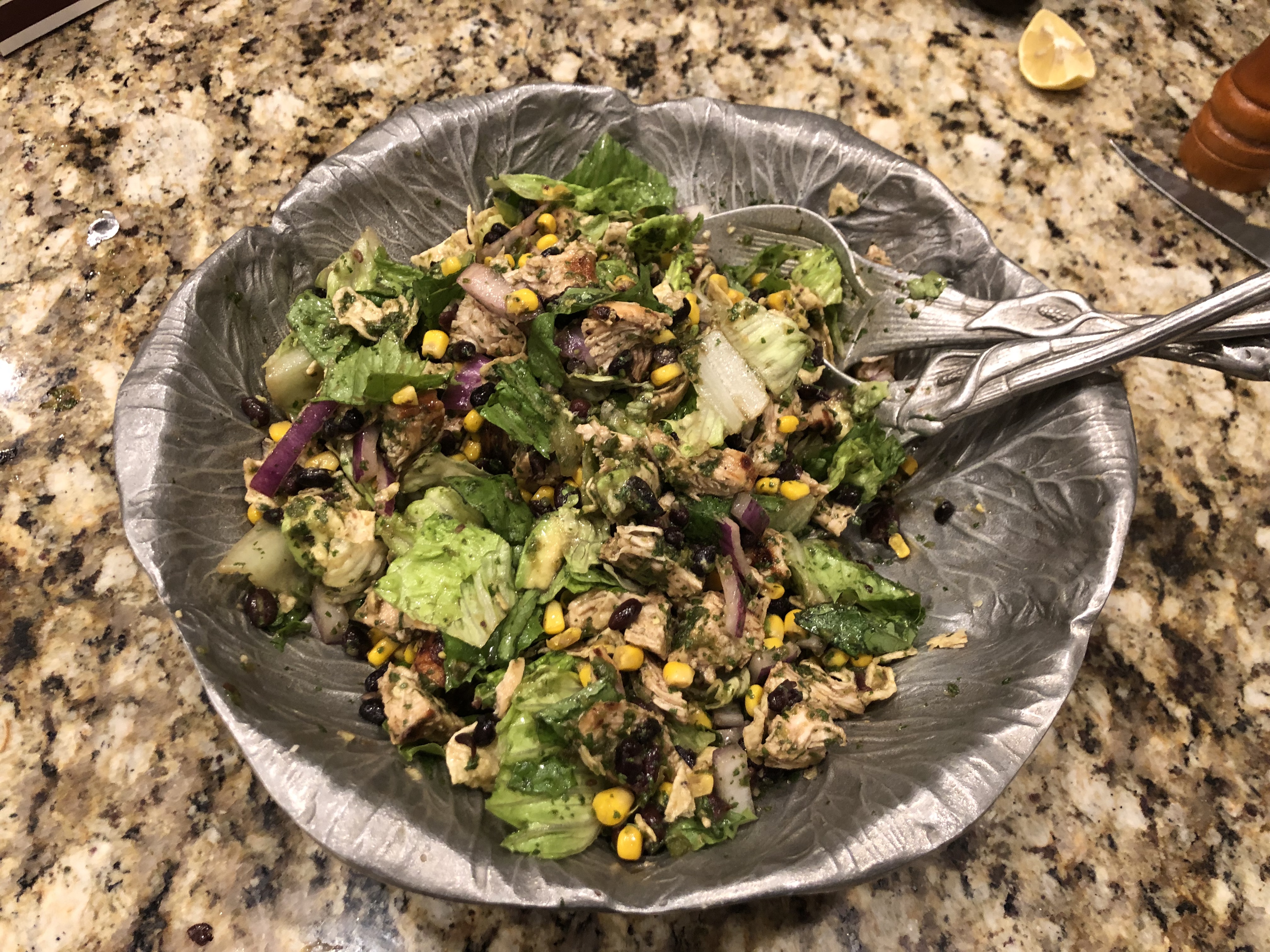 For other quick and easy recipes, please see
For other southwestern-style recipes, please see
Kelly's Salad: Southwest Flavors with a Cilantro/Lime/Jalapeno Dressing
Ingredients
For the Salad:
2 boneless, skinless chicken breasts
Romaine lettuce, about 3 cups
1 can black beans, rinsed and drained
1 cup corn
1/2 avocado
red onion, cut into slivers -- about 1/4 cup
crumbled tortilla chips -- about 1/3 cup
Goya Mojo Criollo marinade (about 1/2 bottle)
For the dressing:
2 jalapeno peppers, seeds and pulp removed, roughly chopped
1/2 cup cilantro leaves (packed)
1 tsp minced garlic
1 tsp minced ginger
2 tsps balsamic vinegar
1/3 cup lime juice
1/4 cup honey
1/3 cup olive oil
Instructions
Marinate the chicken breasts in the Mojo marinade, for at least 2 hours and up to 24 hours.
For the salad, grill or broil the chicken breasts, and let them rest before slicing. Slice into bite-sized pieces.
To broil the breasts, place under the broiler for 8 minutes, then turn. Cook 6 more minutes, then check for doneness. Cooking time will vary depending on thickness of breasts and distance from broiler.
Mix together the lettuce, black beans, corn, red onion, avocado and crumbled tortilla chips. Please the sliced warm chicken on top, and dressing with the dressing.
For the dressing, please the lime juice, honey, cilantro, balsamic vinegar, minced garlic, minced ginger, salt, and jalapeno peppers in food processor. Pulse.
Slowly add the olive oil while continuing to pulse. Add more salt to taste.
https://thetwodandelions.com/kellys-salad-southwest-flavors-with-a-cilantro-lime-jalapeno-dressing/