For those of us from the south, black-eyed peas on New Year's is a necessity.  Some call it Hoppin' John, although I think that generally includes rice.  I prefer the classic New Year's dish of black-eyed peas cooked with pork and some type of greens.  According to wikipedia:
The peas, since they swell when cooked, symbolize  prosperity; the greens symbolize money; the pork, because pigs root forward when foraging, represents positive motion.
I don't know about all that, but I do know two things:
My mama always told me that eating black-eyed peas on New Year's Day would be bring me money, so I do it; and
This recipe is delicious and soooooo easy.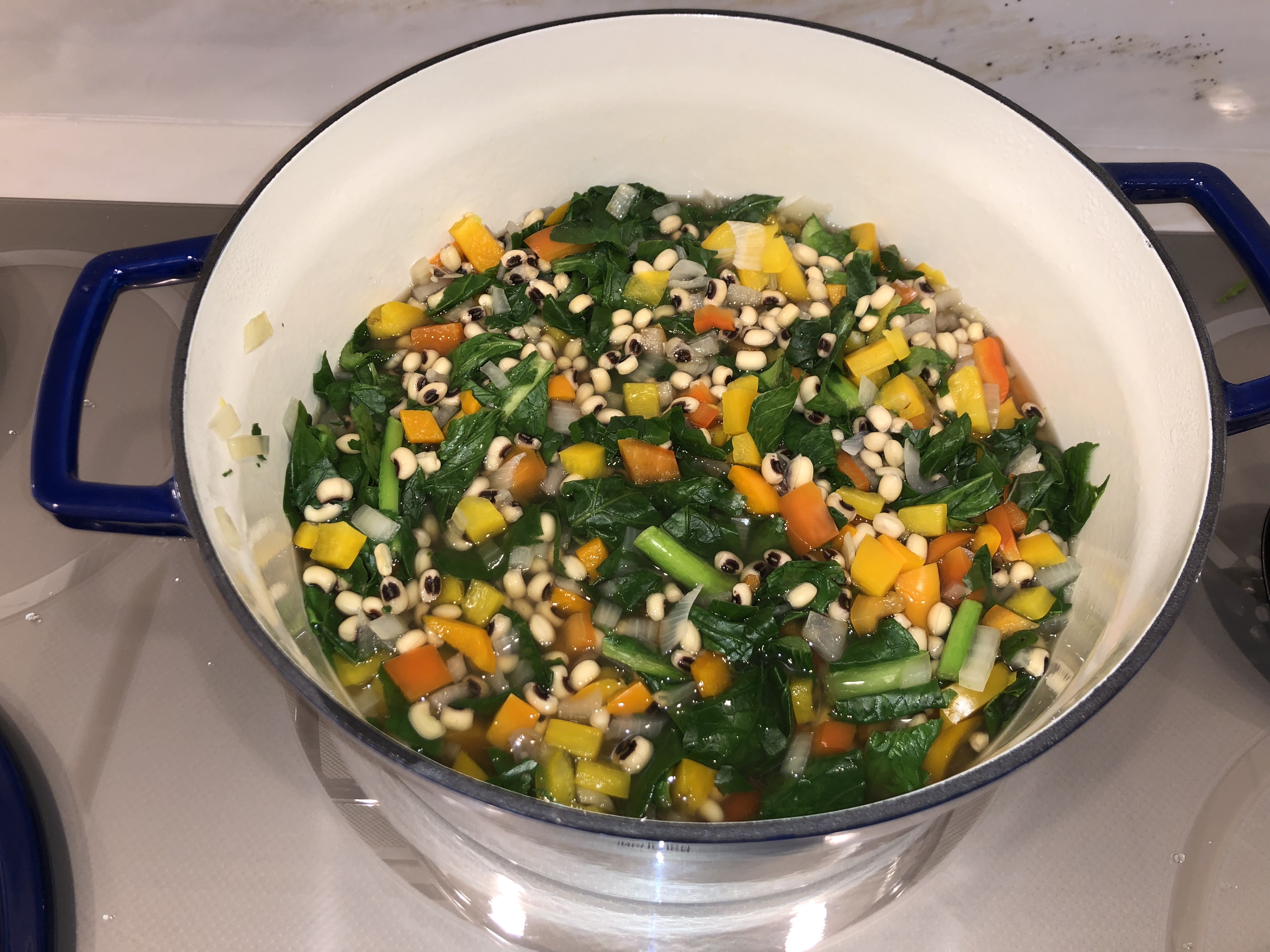 Rinse your black-eyed peas, and put them in a large pot with the water.  Add your chopped bell peppers, onion, celery, garlic and greens.
If you've got any vegetarians that will be sharing, this is the time to scoop out their portion, so their peas don't cook with the pork.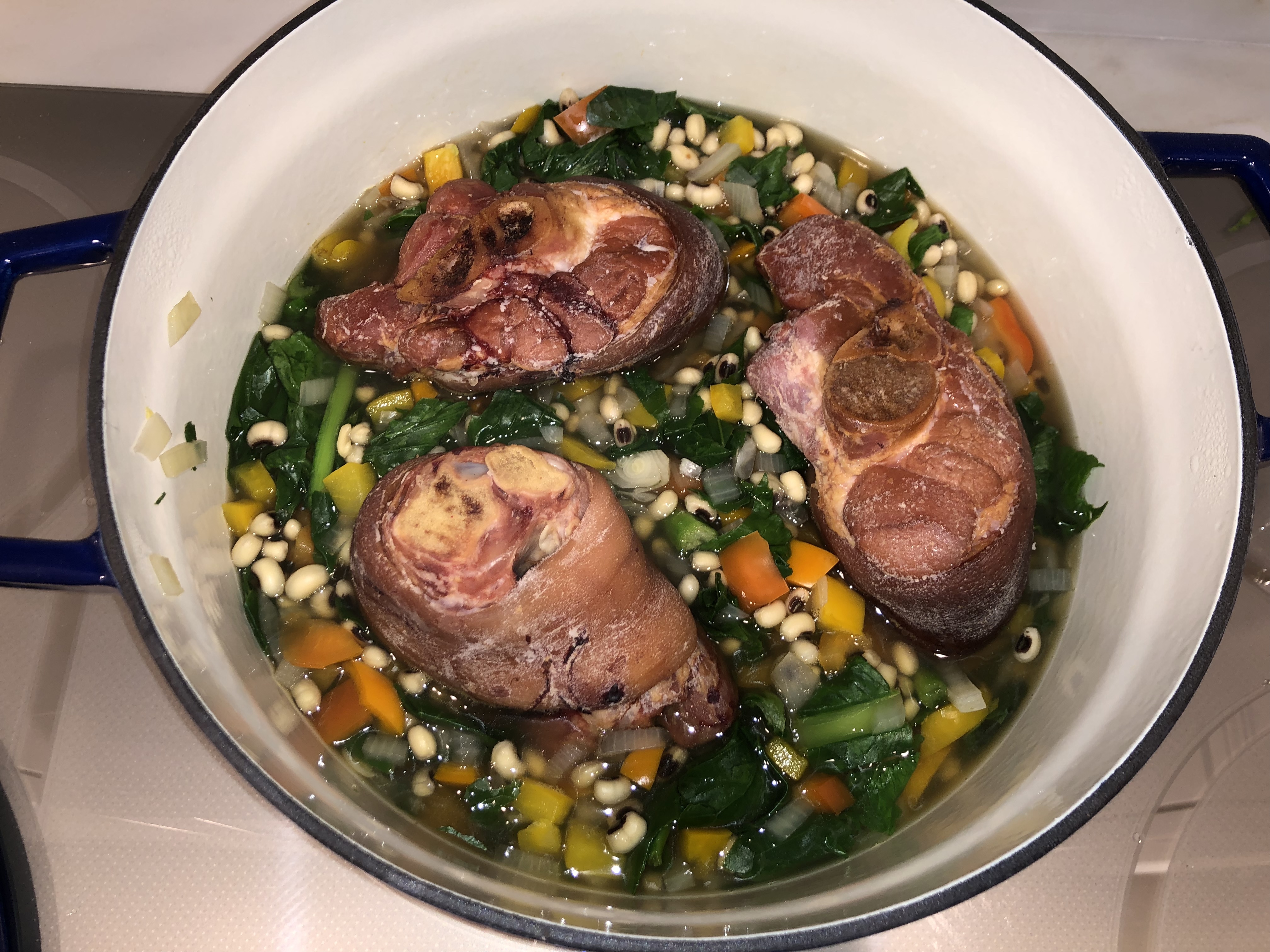 Add your ham hocks right on top of the peas and vegetables.
So what is a ham hock, and where can you get one?  Usually they are found near the ham in the grocery store.  But you might have to ask.  They usually come 2 or 3 to a package, and look like this: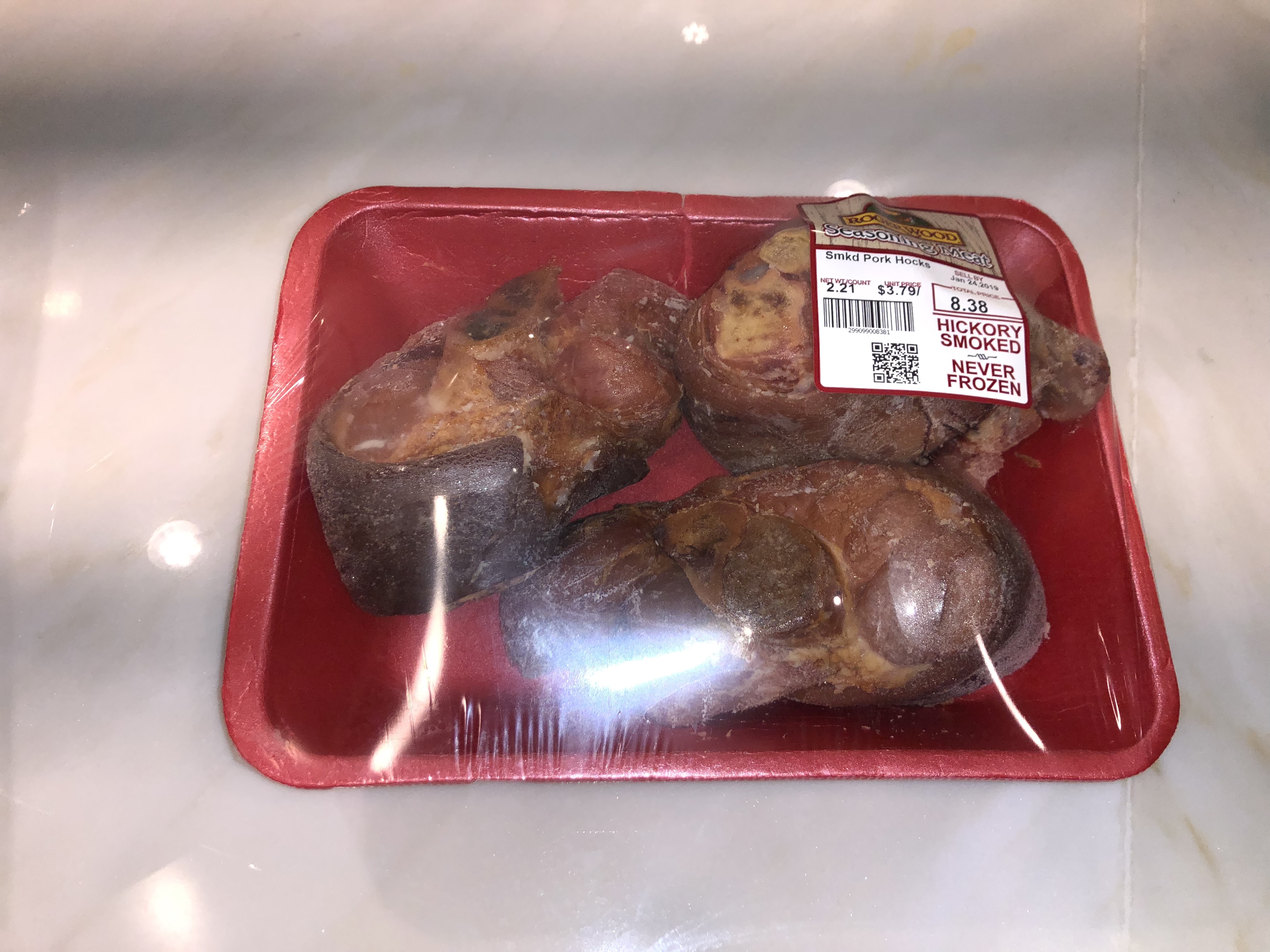 They are smoked, so they are not raw pork.  You may see them called ham hocks, or pork hocks.  They have a band of, well, something, around them, that holds them together.  You've not going to eat that part, so don't worry about it.
Bring the pot to a boil, then reduce to a simmer and cook 2-2 1/2 hours, until the peas are tender.  Do not salt before you cook them.  For one thing, my mama says that salting beans before you cook them will keep them from getting tender.  I don't know if that's true or not, but why take the chance.  The second reason to wait to salt is that the ham is very salty, so you should taste at the end, before you salt.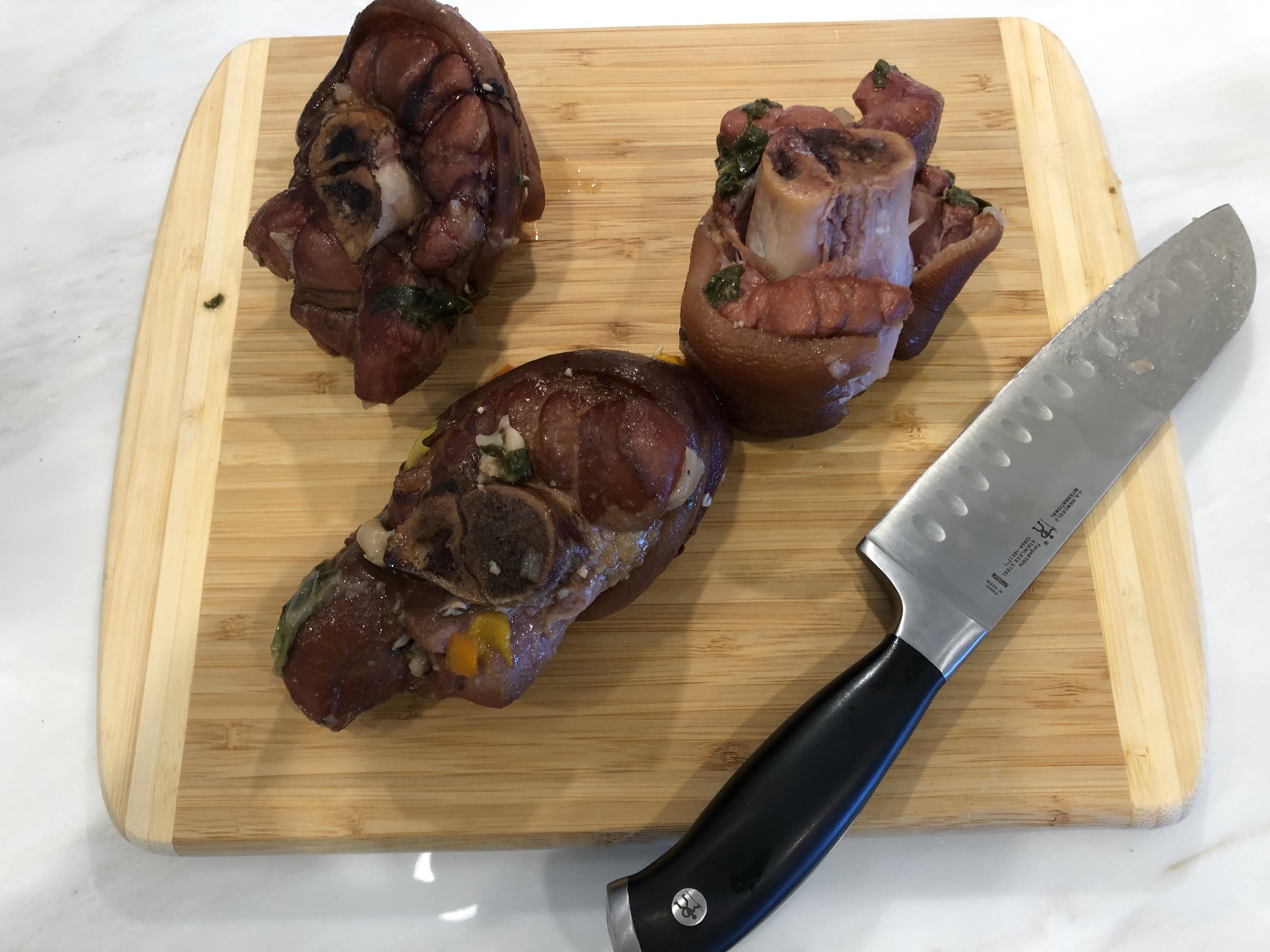 When the beans are tender and cooked through, lift your ham hocks out and place on a cutting board.  Cut that good salty smoked ham off the hocks, and place back in the pot.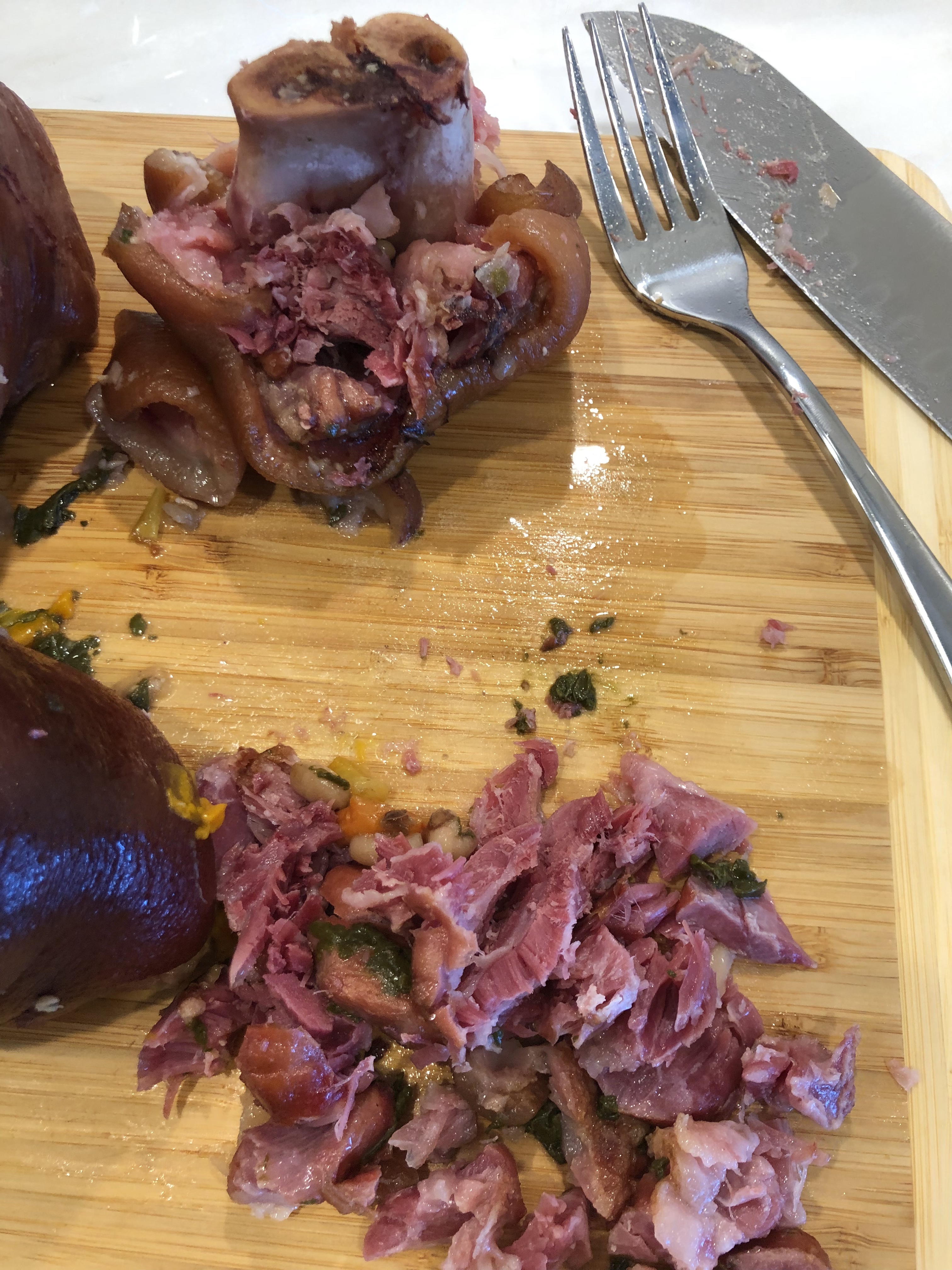 This is how much ham I got off one hock.  You won't always get this much.  Be sure you cut out the fat and gristle.
I buy 8 ounces of cubed or diced ham to add as well, because you can never have too much pork.
Salt to taste, and enjoy.  This is great with some tabasco sauce.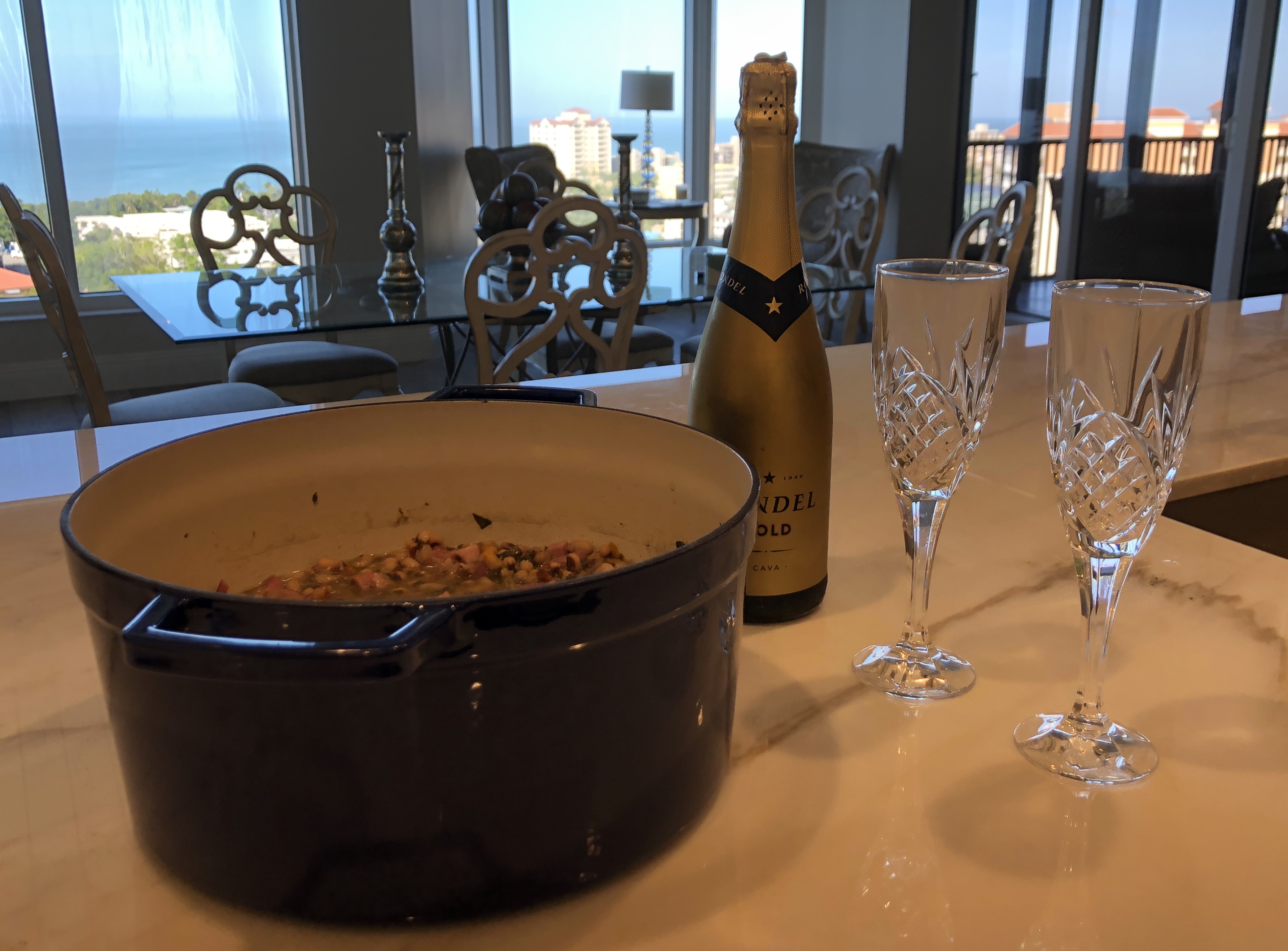 Happy New Year, and may your black eyed peas bring you great prosperity!
I've Got a Feeling I Need Some Black-Eyed Peas on New Year's Day
Ingredients
1 pound dry black-eyed peas, rinsed
3 or 4 smoked ham hocks (about 2-3 pounds)
8 ounces diced ham
1 large red bell pepper, diced
1 large yellow bell pepper, diced
1 large onion, diced
2-3 celery stalks, diced (optional)
1 tablespoon minced garlic
6 cups of water, a little more
Torn or chopped fresh greens, such as turnip greens or collard greens. I use 1/2 a 16 ounce bag.
Instructions
Place all ingredients except for ham hocks and ham in a large pot. Bring to a boil, then reduce to a simmer. Place the ham hocks on top of the other ingredients.
Cover and simmer for 2 hours, or as long as 2 1/2 hours, until peas are tender.
Remove ham hocks, and cut the meat off. Place the ham from the hocks back into the pot, and discard the remainder of the hock.
Add the additional diced ham, and heat through.
Enjoy with tabasco sauce.
https://thetwodandelions.com/ive-got-a-feeling-i-need-some-black-eyed-peas-on-new-years-day/
For more favorite one-pot recipes, please see: