On a wet and chilly fall day, I love the smell of soup simmering in a crockpot.  And when I'm busy  — like during the holiday seasons — it's such a convenience to pop everything in a crockpot in the morning, and come home to yummy soup at night.  This lean and high-fiber taco soup is super-easy to make, and gets better as it sits.
For the full recipe in a printable form, scroll to the bottom of the post.  This recipe was inspired by and adapted from Paula Dean's Taco Soup recipe.
Start by browning your ground turkey and onions in a skillet, then dump them and all the main ingredients (except for garnishes) in the crockpot, aka slow cooker.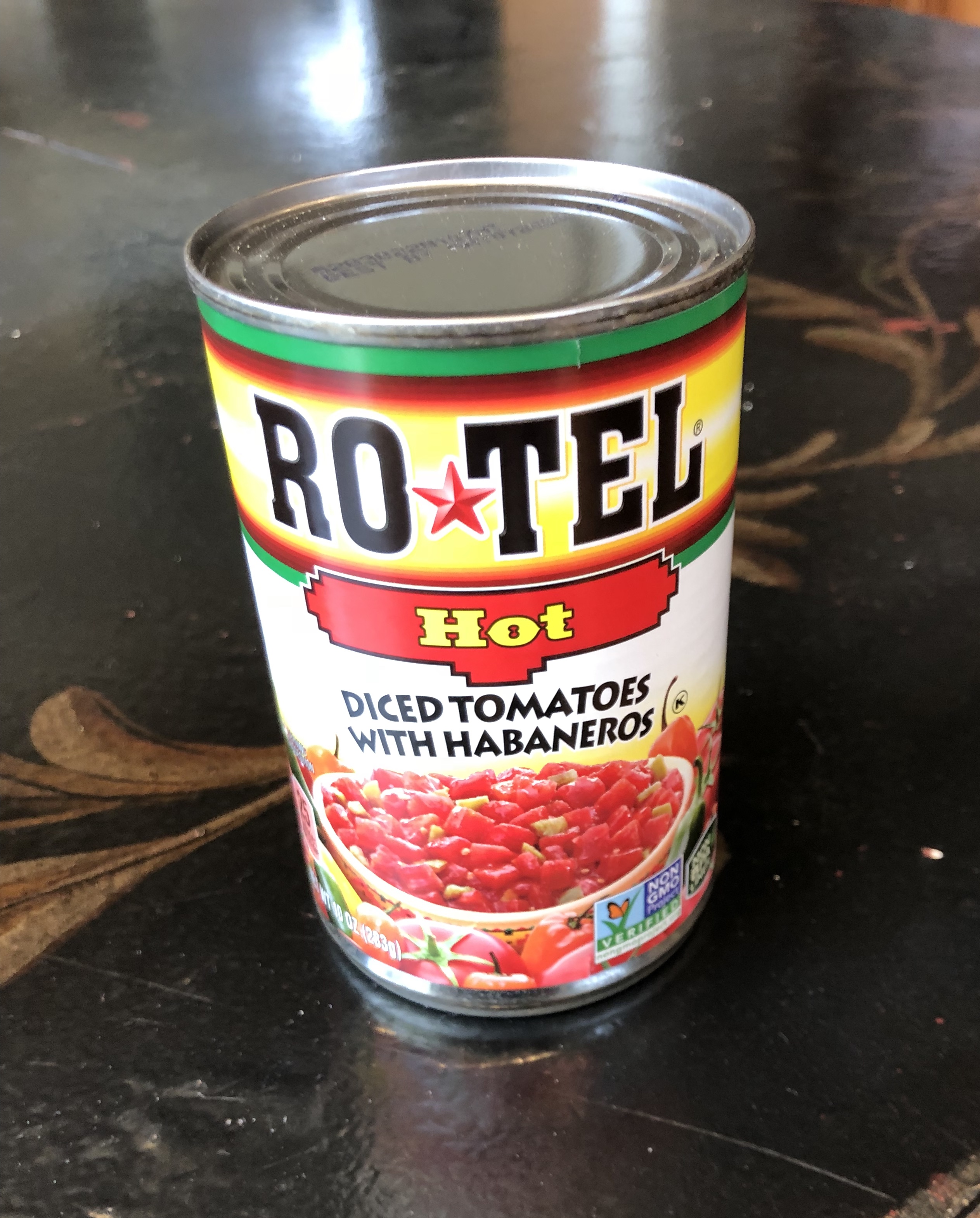 For tomatoes, if you can't find Rotel any diced tomato with green chilis will do, but Rotel is the best.  I've used their "original" for many years, and recently tried the "hot."  It does have a little kick to it.  They also make a mild, which might be a nice fit if you don't want it too spicy.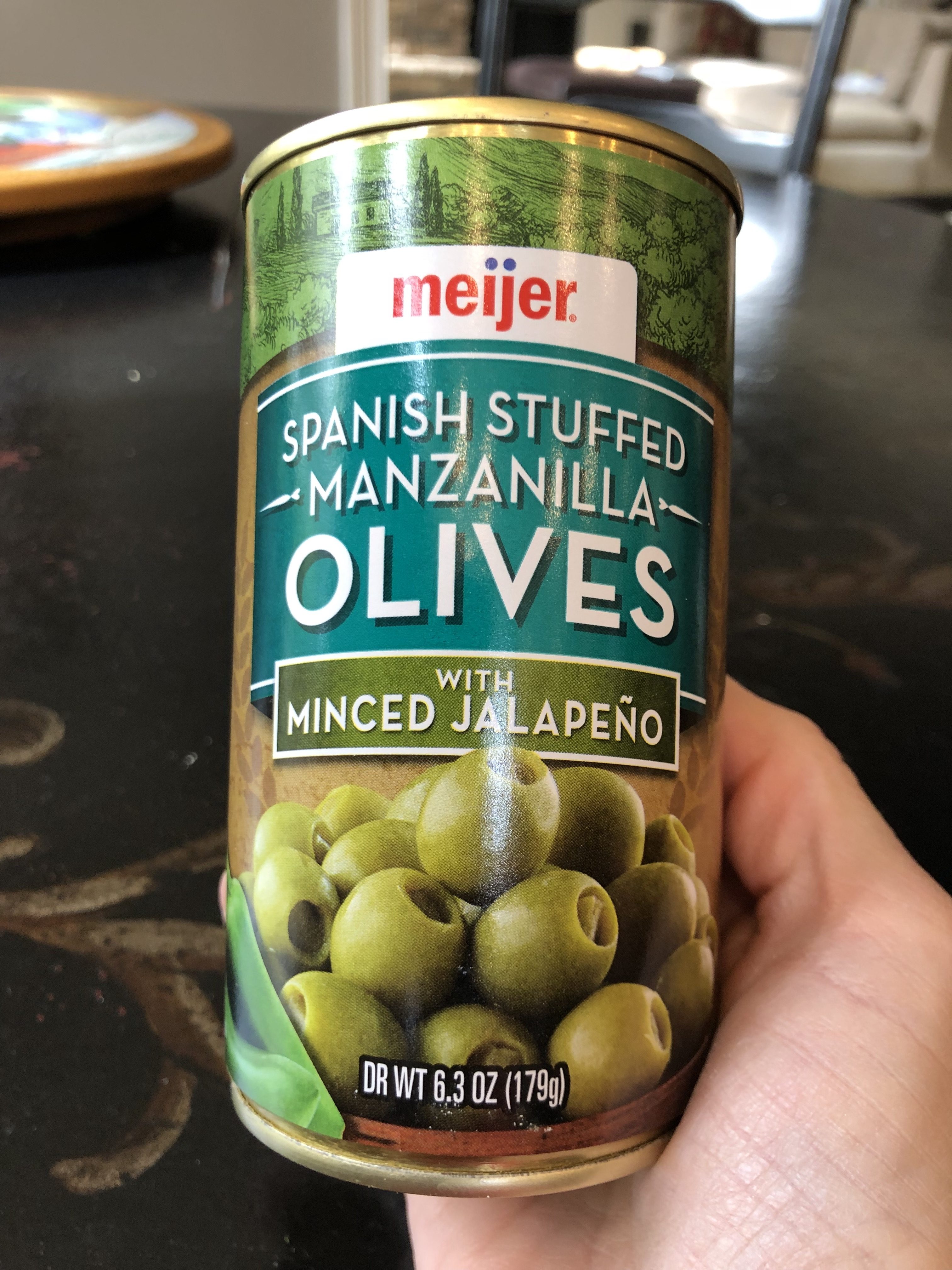 I recently discovered these olives.  They are terrific, and are perfect for this recipe.  If you don't have a Meijer, I hope you can find something similar at your local grocery store.
Serve the soup with sour cream, grated cheese, tortilla chips, and avocado for garnishes.  It would also be great with cilantro, jalapeños, or hot sauce.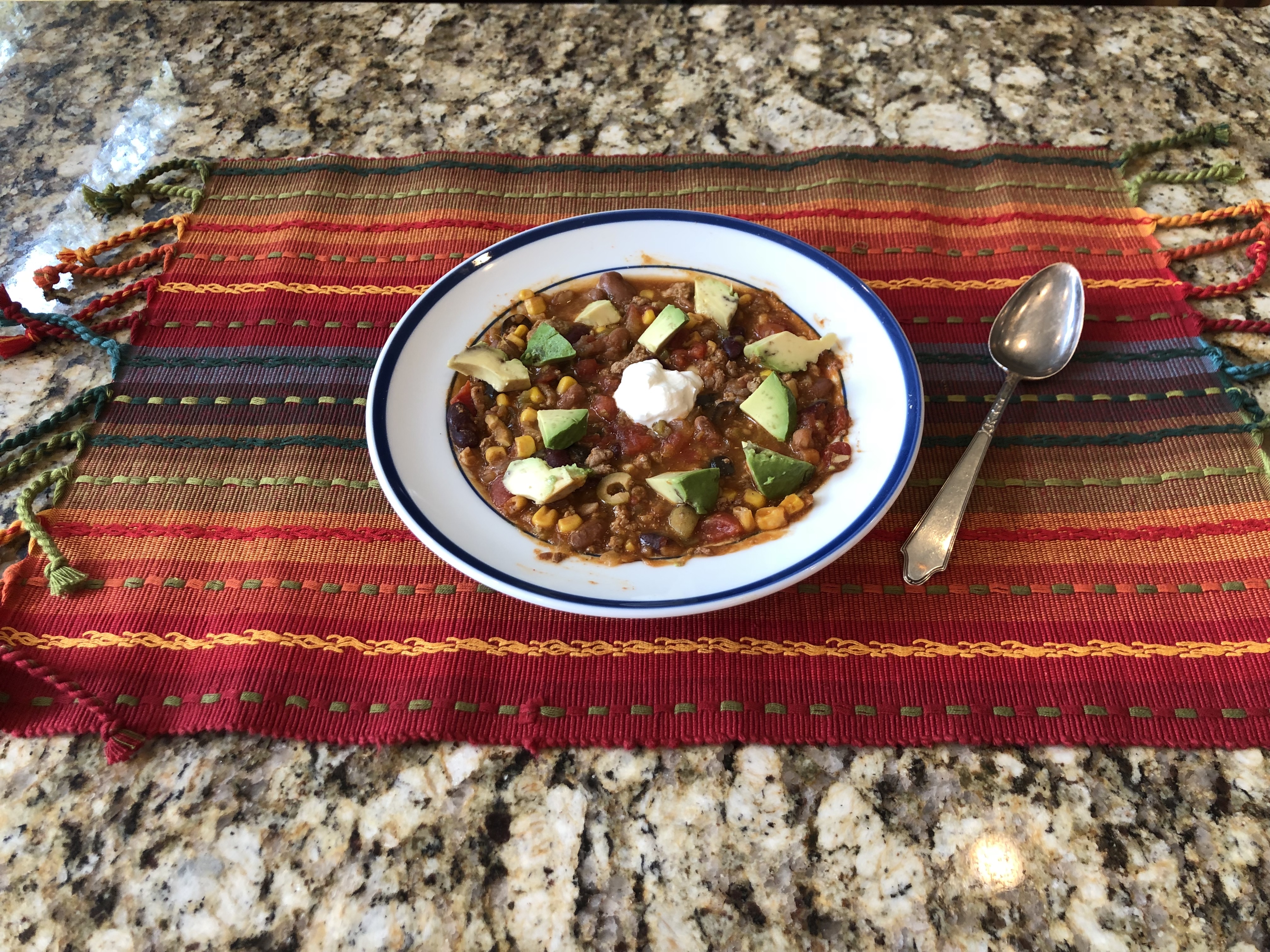 Ingredients
Two pounds ground turkey
Two cups diced onion
Two 15.5 ounce cans pinto beans (drained and rinsed)
One 15.5 ounce red or pink kidney beans (drained)
One 15 ounce can whole kernel corn, drained
Two cans Rotel Tomatoes, with juice (I use one hot, one original; adjust for your preferred heat)
One 14.5 ounce can diced tomatoes, with juice
One 4.5 ounce can diced green chilis
One 4 ounce can sliced black olives, drained (optional)
One-half of 6 ounce can of green olives stuffed with jalapeño, sliced (optional, but highly recommended)
One 1 1/4-ounce package taco seasoning mix
One 1 1/4-ounce package ranch salad dressing
Chicken broth for thinning
Tortilla chips for garnish
Sour cream for garnish
Grated Cheese for garnish
Avocado for garnish
Instructions
Brown ground turkey and onion in a skillet. Drain the fat and transfer to your crockpot/slowcooker.
Add the beans, tomatoes, olives, green chilis, taco seasoning and ranch dressing mix. Cook on low for 6 to 8 hours. Serve hot, and garnish as desired.
https://thetwodandelions.com/crockpot-taco-soup/
For more favorite recipes, please see Blackened Salmon with Blistered Tomatoes and Zucchini Noodles, Everyday Vinaigrette, Crockpot Taco Soup, Carnitas for a Crowd and Roasted Pork Tenderloin with Vegetables.