Our Christmas was out of control.
Every family member was buying a present for 15 other family members.  We spent the days from Black Friday to Christmas Eve stomping through malls like the cast of "The Walking Dead," muttering "must find presents. . ."   My salesperson at Nordstrom actually hugged me and sent me a personal thank you note.  The Fed Ex guy had become so familiar we were thinking of setting a place for him at the Christmas table.
Here's my cute father standing in front of the tree on Christmas Eve morning.  All those presents under that tree?  That's only for nine people.  He looks happy here, because his fingers aren't yet bloodied from opening 78 presents.  This is the calm before the storm.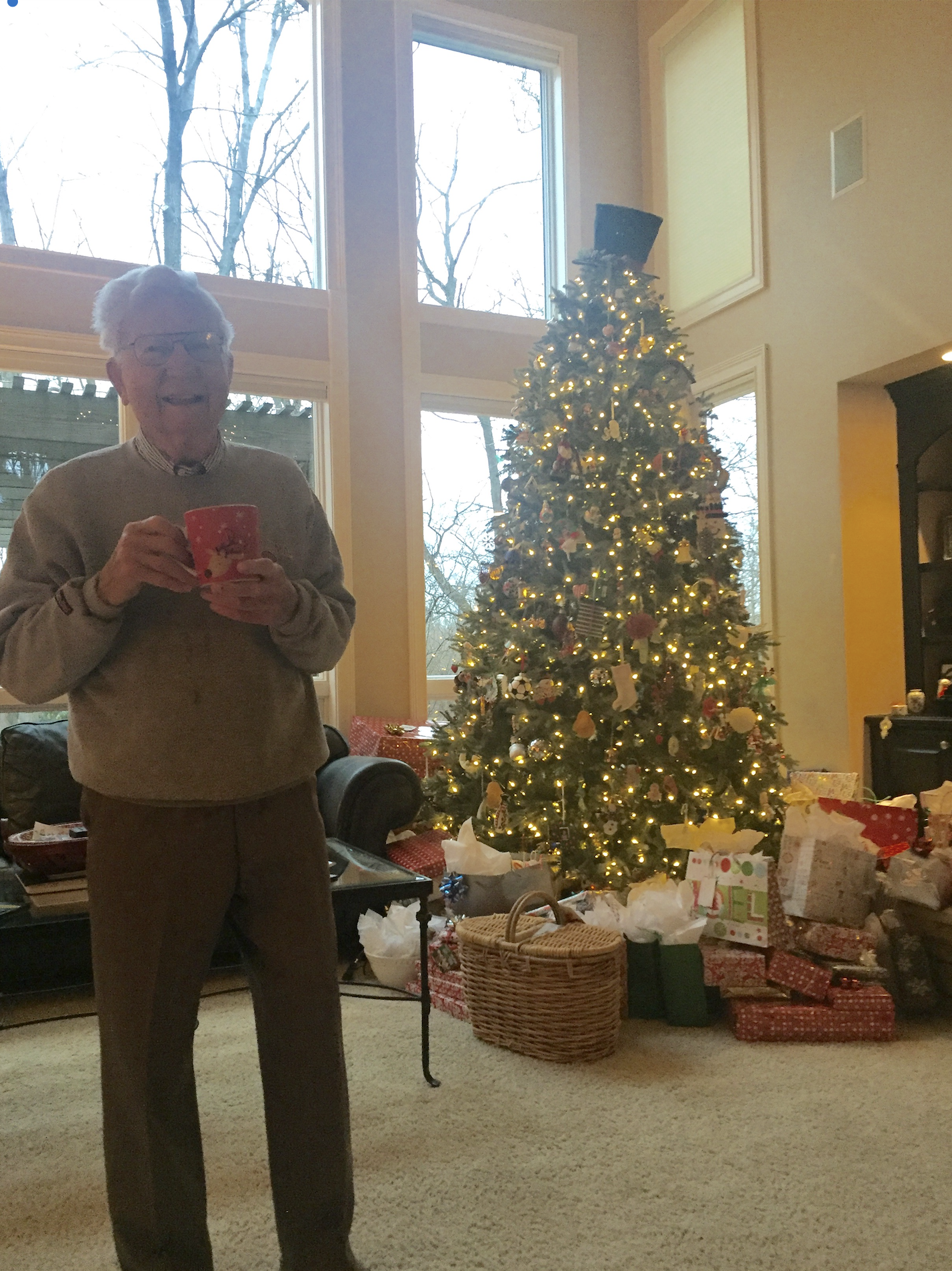 "You'll Shoot Your Eye Out."  — Ralphie's Mom
Christmas morning is like a combat zone:  ripped paper, smashed bows, crumpled gift bags, overturned cups of coffee. Scissors and knives are scattered haphazardly, like some violent Christmas gift murder scene.  Usually at least one cell phone has been lost.  The dogs are cowering.  Hannah, my environmentally-conscious niece, is concerned about recycling the wrapping paper.  We each have a pile of new stuff next to us, but I can't tell you what I received or what came from whom.   We are all exhausted, overwhelmed, and definitely in need of a Bloody Mary.
This next picture is a real picture of Christmas morning about ten years ago.  The floor is completely covered in presents. There is a smashed box of cookies on the couch; someone must have needed some carb-loading in the middle of the gift marathon.  My daughter is in her element, but my son looks like a (rein)deer in the headlights.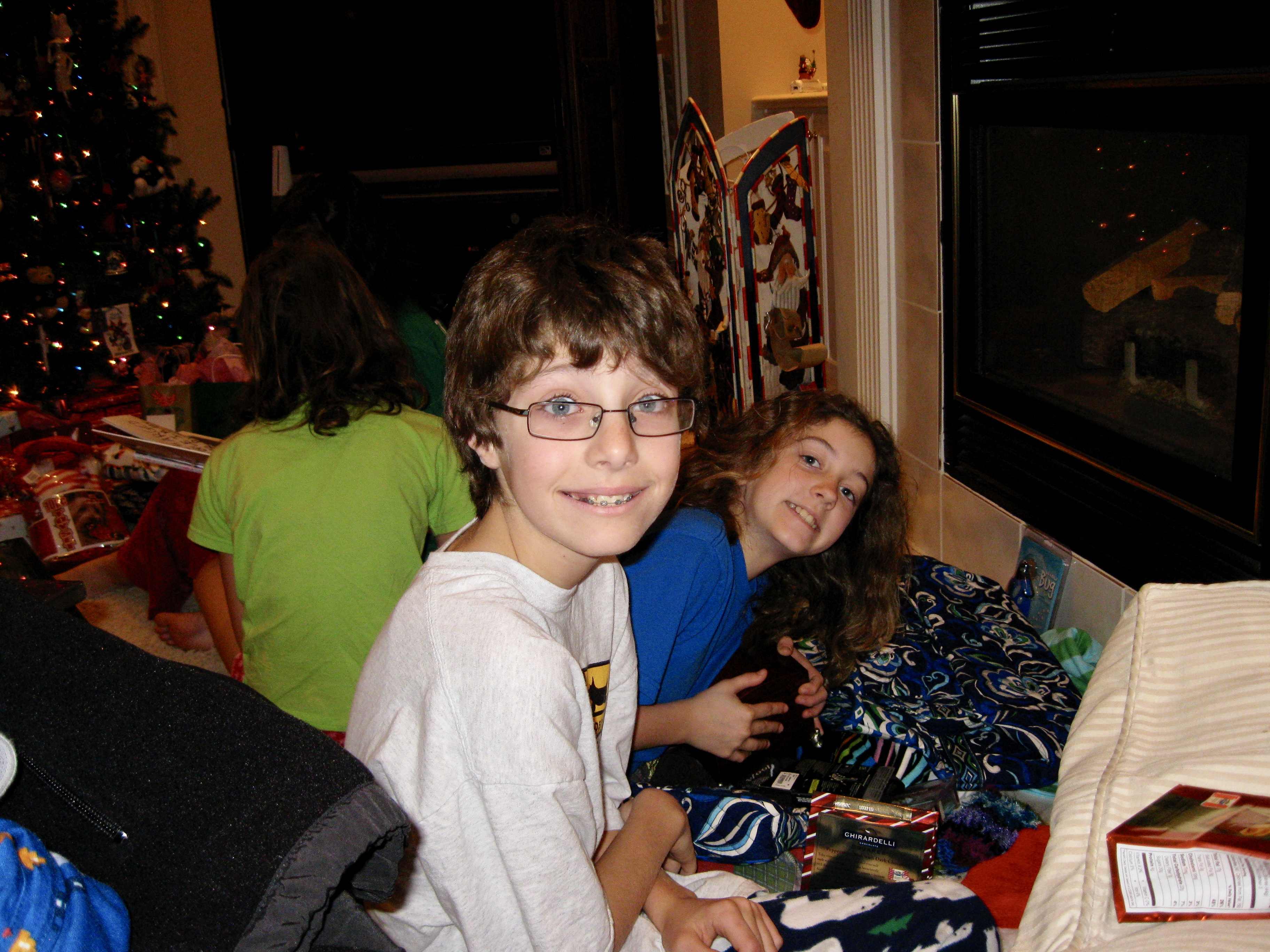 Here's another one, of me and my husband, after the massacre of the presents.  Obviously this is not staged:  piles of trash, torn paper, stacks of presents, Amazon boxes, no room to walk.  Even the dog is frightened, hiding in my lap.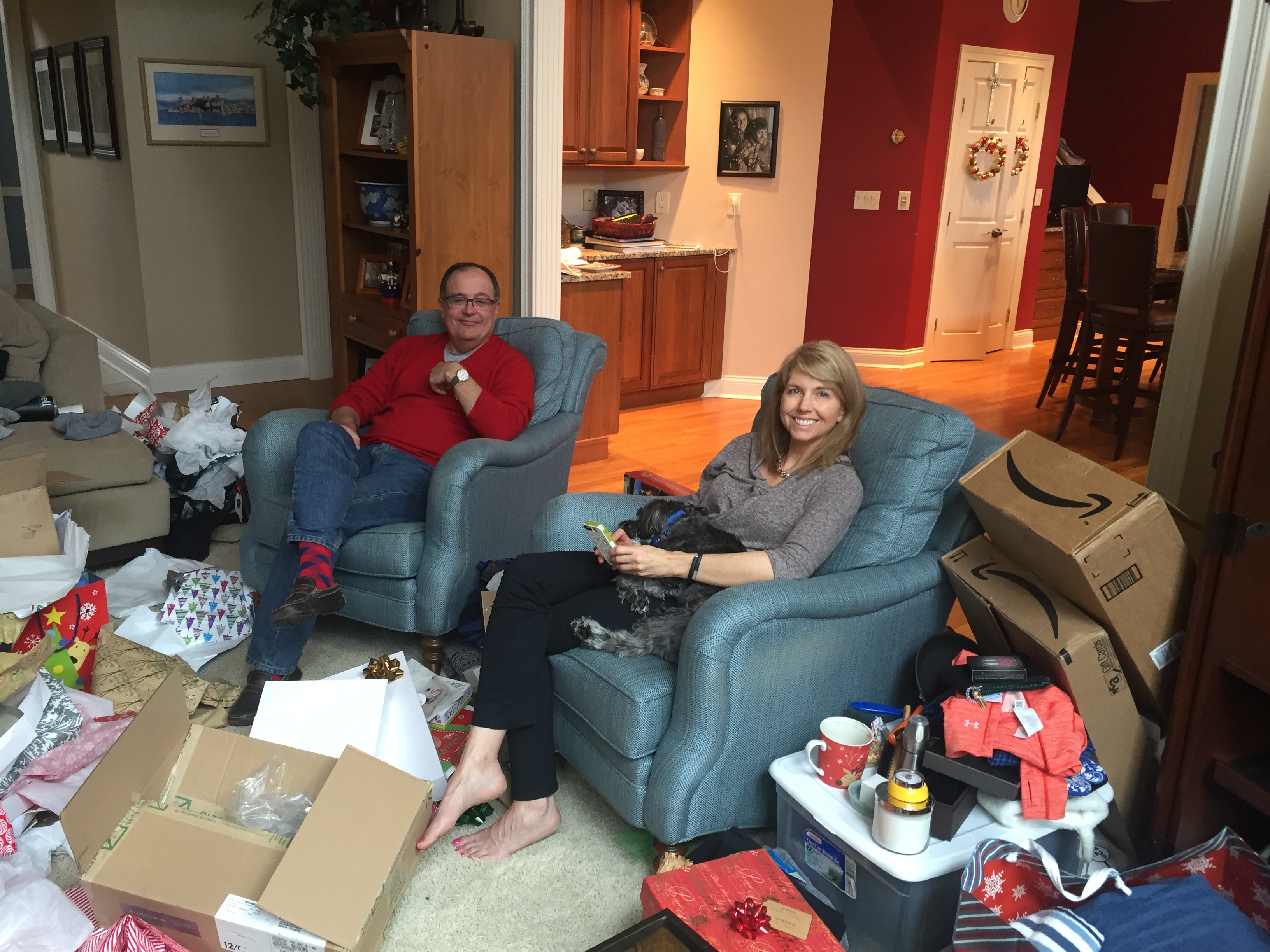 It is time for a change.  This year we're traveling for Christmas, heading to my parents' home in Oklahoma.  We won't have room to take or bring home massive amounts of presents.  No one wants or needs massive amounts of presents.  And the college students in the family definitely don't have time or money for buying massive amounts of presents.  So I laid down the law.
Phase 1:  We're Drawing Names
Simple right?  Nothing new here.  Millions of families do this.  But I thought I'd get some pushback, as it is our tradition to show our love by giving presents, and we all enjoy shopping for each other.   Would I have a revolt on my hands?  Was I like the Grinch, stuffing the presents up the chimney, not leaving even a crumb?
Apparently not.  Almost every family member has said "It's about time!  Thank you –this is a lifesaver!"  Every family probably does this differently, but here are our rules:
 Each family member is assigned one person for whom to buy a present, $50 or less.
We excluded my parents from the drawing of names.  First, my siblings and I each want to get them a present.  Second, my parents may want to give, and should be allowed to give as they see fit.  They're both creeping up on 90, and they can do whatever they darn well please.
We also excluded the separate giving of presents within each family unit.  (Geez, I do speak and write like a retired lawyer sometimes, don't I?  "The aforementioned gift-giving agreement shall not include and shall explicitly exclude each nuclear family unit.")  For example, I will certainly get my husband and children gifts.  And I hope they are moved to get me some gifts too.  We will exchange those gifts at home, when we are not with the larger group.
Stage 2:  A little gift and a little game
Have you heard of Dirty Santa?  How about Yankee Swap, the Grinch Game, Thieving Elves, Snatchy Christmas Ray, or Redneck Santa?  Apparently these are all names for the same game, a gift exchange involving stealing the best gifts.  I have been at events  — usually ladies' luncheons, where we're all supposed to be classy and gracious — where people have gotten snippy and irritable (some might even say "bitchy") when gifts are stolen.  I hope my family can show a bit more class.  If not, there's always Bloody Marys.
I stole this idea from my friend Teresa.  She saves Birchboxes all year for her family gift exchange, and their presents must fit within a Birchbox: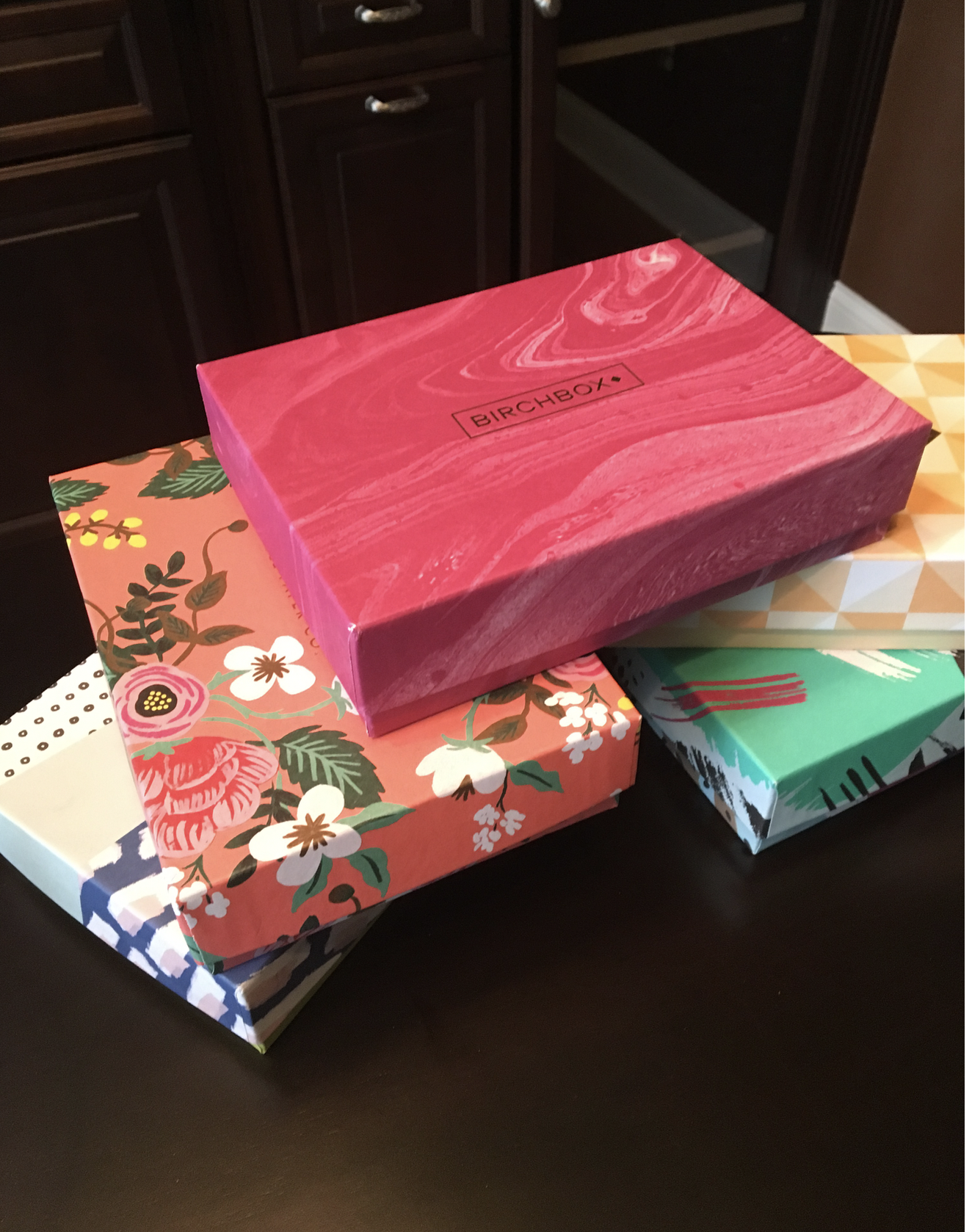 Birchbox is an online club that delivers cosmetic products each month, always in a pretty box.  I didn't have Birchboxes for everyone, so I got these at Hobby Lobby: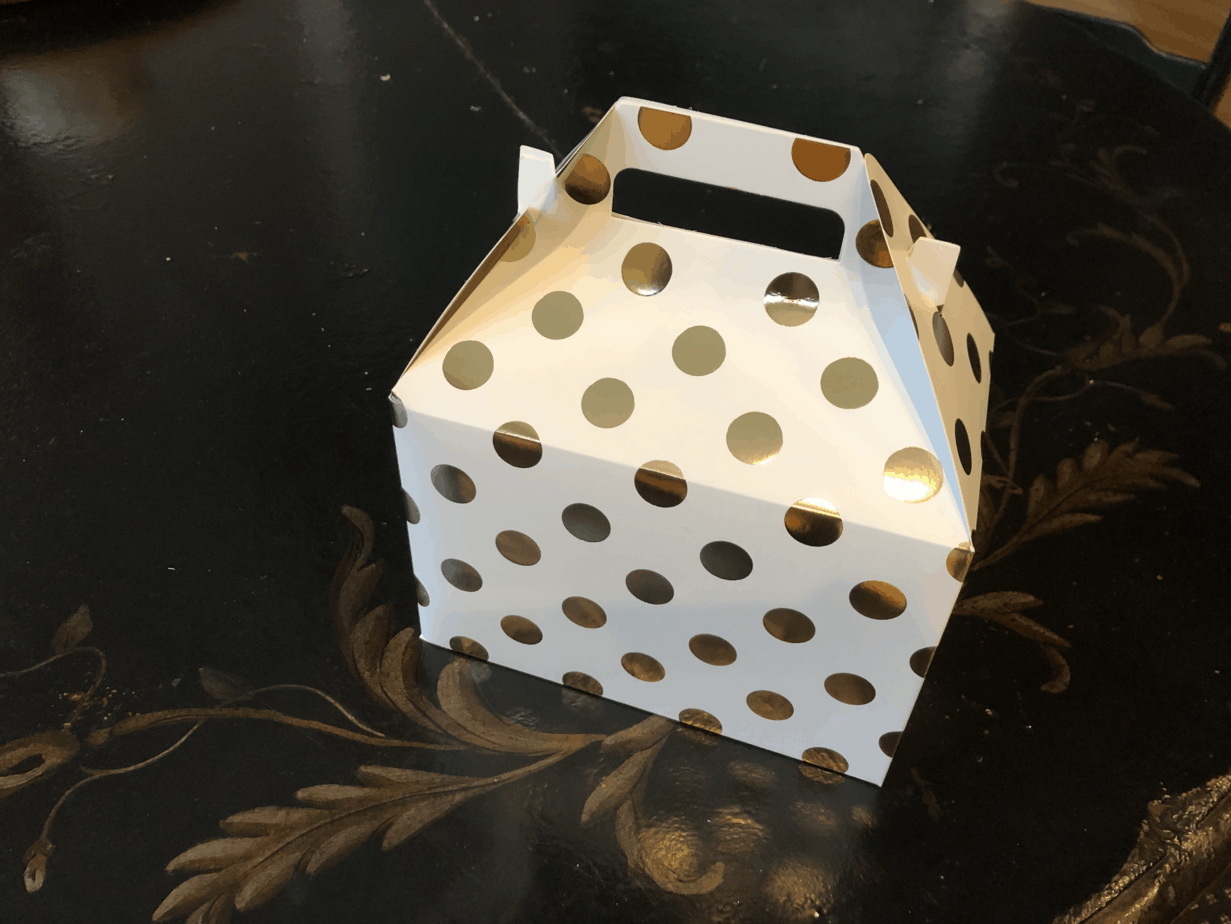 They are 8″ x 8″ x 4″.   Everyone is to bring a present that will fit in the box, and that has a value of $25 or less.  Some ideas for the Dirty Santa gift:
hand cream
lip balm
soft/warm socks
cash
gift cards
body wash
inexpensive electric toothbrush
pens and note pads
gloves or glove liners
handwarmers
candy
baked goods
small bottle of liquor
playing cards
winter hat
t-shirt
water bottle or coffee travel mug
Knowing my family (especially my brother), I expect to see some things that will make us laugh and some things that will make us scratch our heads.  And that's where the fun will happen.  I hope.
It's not quite a game of "craps," but close enough
We're a family of card-players, dice-throwers, and gamblers.  It's no trip to the casino, but here's our plan, with special thanks to my friend Jessie:
First person, let's call her Nanny, rolls the dice.  If she gets doubles, she chooses and opens one of the gifts, showing the room what she got.  If she doesn't get doubles, she loses her turn and probably curses, and the dice pass to the next person.
Next person, let's call her Geneva, does the same.   If Nanny got a present, and Geneva gets doubles, Geneva can either choose a new present, or steal from Nanny, who will no doubt curse.  Then Nanny gets to immediately choose another present.  She doesn't have to wait for doubles again, as that would probably result in a string of curses, many not appropriate for Christmas morning.
The dice travel around the room.  After one complete circle we'll add another pair of dice to increase the chances of getting doubles, as we may be losing interest at that point and be ready to move on to some Bloody Marys.  Those who did not get doubles the first time get to roll and either choose a present, steal a present, or have to pass again.  We continue until the last person has a present.
I hope we all have a great time playing this little game.  I hope that we enjoy our time together, and giggle and hoot and holler.  And I hope that we appreciate our time together more than the mountains of material gifts we used to give each other.  As The Grinch says:
Maybe Christmas, he thought. . . doesn't come from a store.  Maybe Christmas, perhaps. . . means a little bit more.
Cheers to finding a little bit more this Christmas.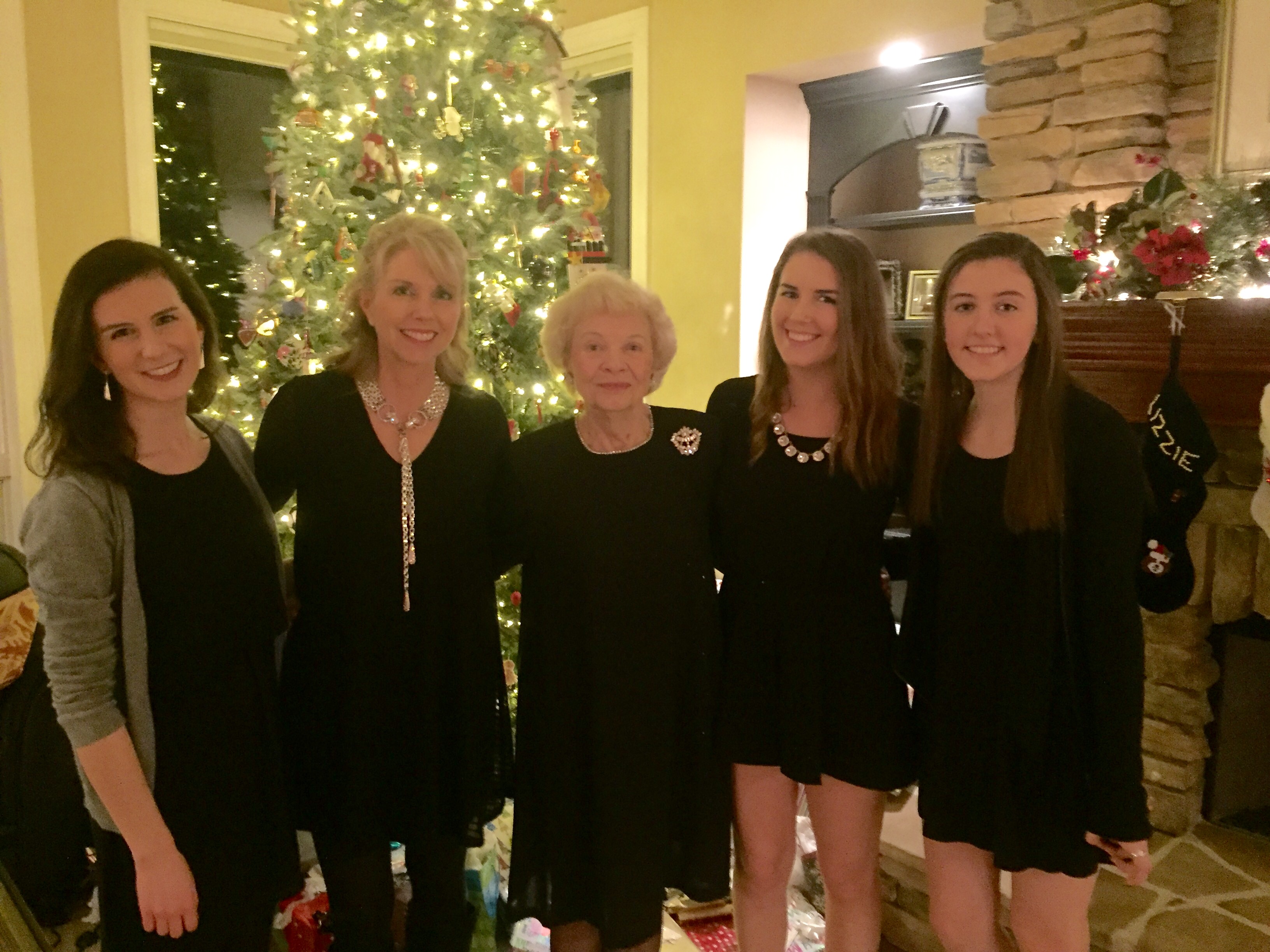 For more about Christmas gift ideas, please see Grand Gifts for the Grandparents, Say Cheese! (for the Selfie-Indulged), Thank You, Next. . . . Showing Appreciation (gifts for service providers), and Sip Happens. . . wines to give as hostess gifts .
For more about Christmas, please see Elevate your Christmas. . . Tree  , We Double Dog Dare You to Watch These Holiday Favorites!, and What the Elf???!!!