Who wants to spend time scrubbing multiple pots and pans?  I love a one-pan recipe!  And this colorful meal is easy and quick.  The preparation of the pork tenderloin is so easy, the roasting brings out the flavors of the tomatoes and bell peppers, and the garlic cloves become soft and spreadable.
Pork tenderloins often come two to a package, so I cook both at once.  This recipe makes enough vegetables to accompany one of the tenderloins.  I use the extra tenderloin for leftovers, usually in fried rice.  Look for a post — coming soon — for cauliflower fried rice with pork tenderloin.  It's a great low-carb use of the second tenderloin.
For the full recipe (with all ingredients and details) in a printable form, scroll to the bottom of this post.
Put your bell peppers, onion, garlic and tomatoes on a jelly roll pan, drizzle with olive oil, and sprinkle with kosher salt, fresh ground pepper and rosemary.  Toss.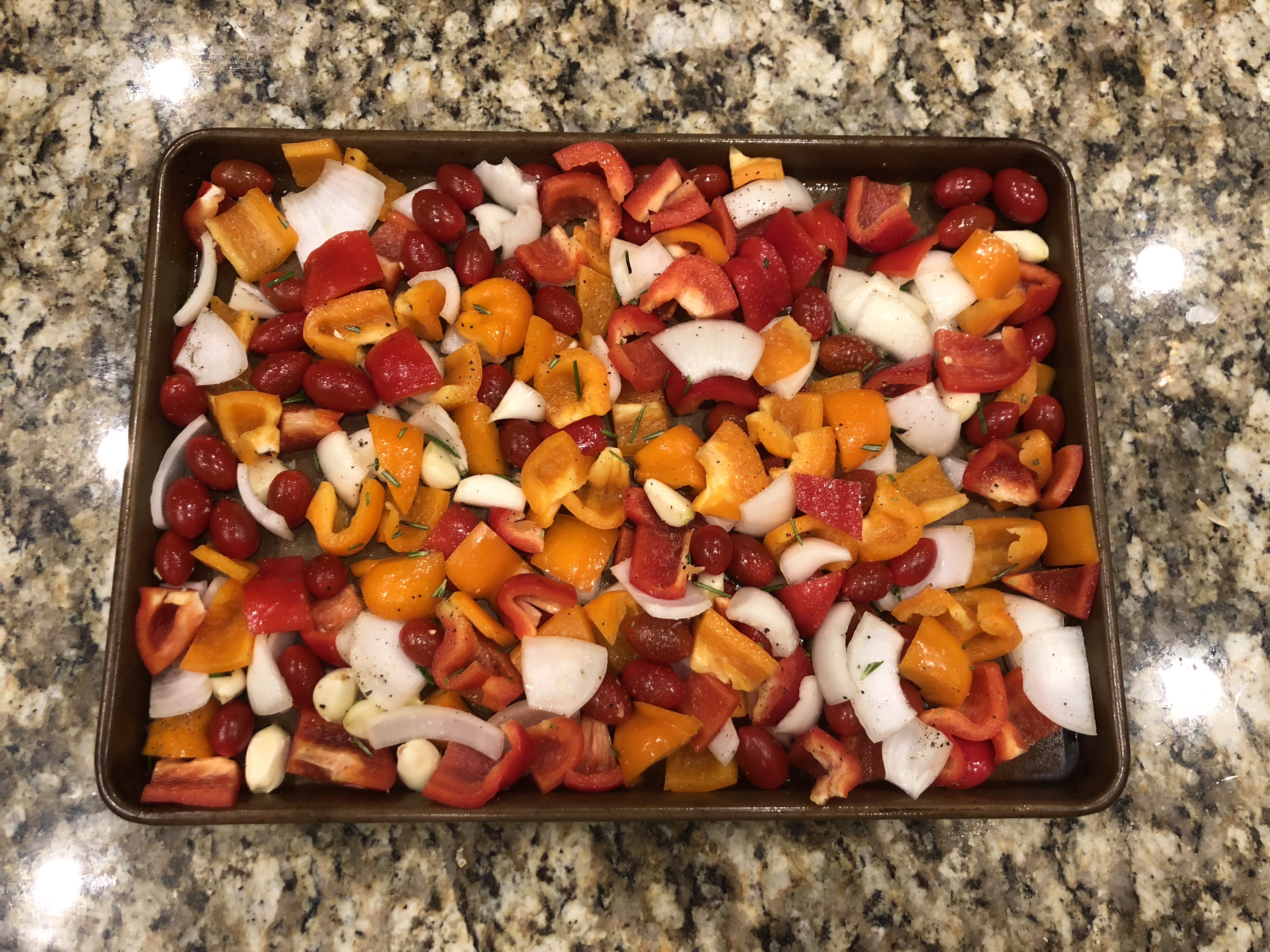 My daughter, Rosie, whose legal name is Rosemary, doesn't like the rosemary in this recipe.  Go figure.  So leave it out if you don't like rosemary.
By the way, do you have a salt pig?  It is a little container where you keep kosher salt, and I use mine constantly.  Mine is shaped like a pig, which is adorable.  But they also come in non-pig shapes, if that's what you like.  I use a ton of kosher salt, and this is one utensil I couldn't do without.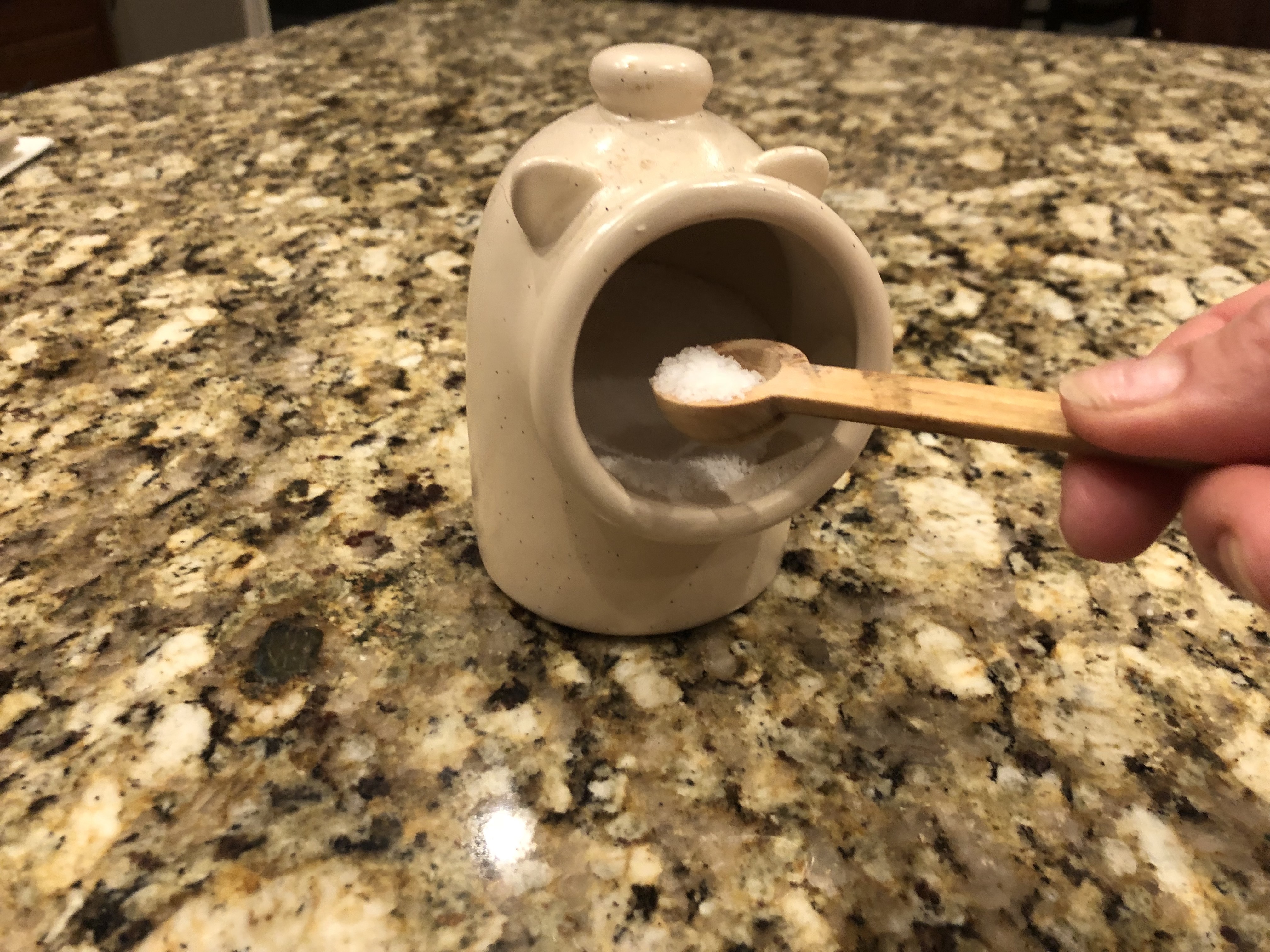 Trim both tenderloins, rub with salt, pepper and rosemary.  Place on top of the veggies.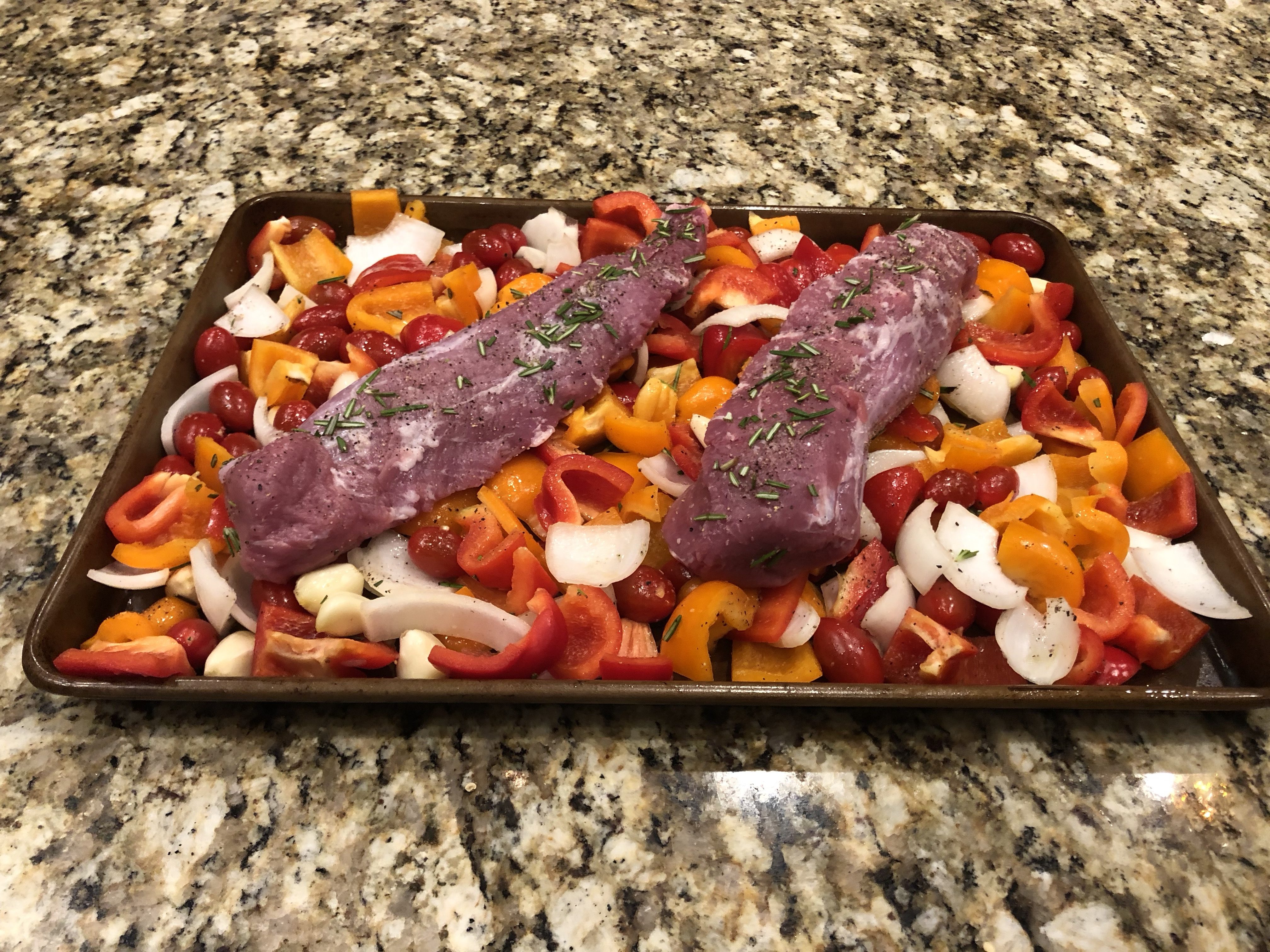 Slide into the oven and roast for 30 minutes.  Your vegetables should be slightly caramelized.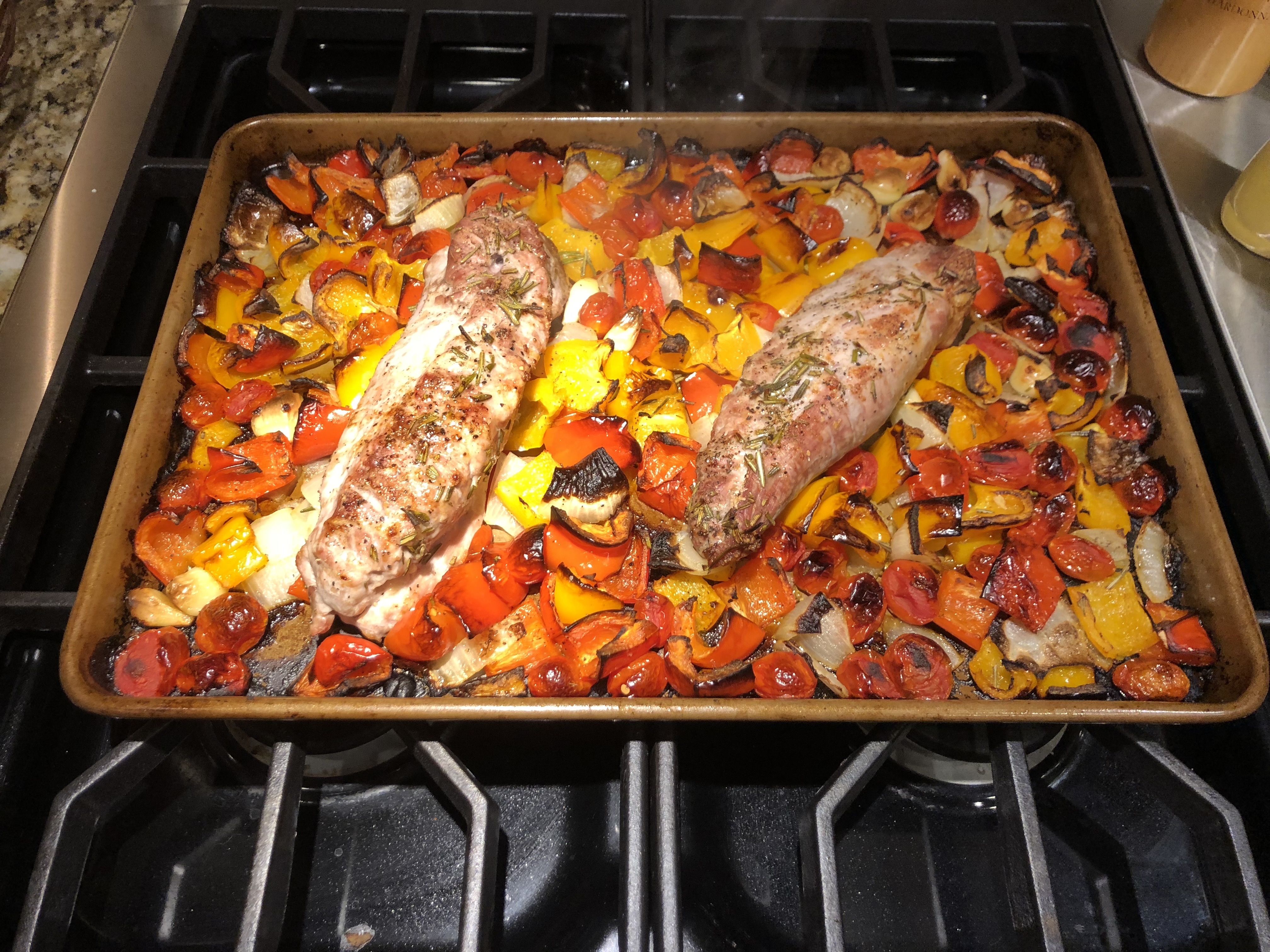 Let the tenderloins rest under foil, and toss the veggies with a little balsamic vinegar.  Honestly, the roasted veggies are so good, they don't even need the balsamic.  But it does add a little sweetness, and accentuates the flavor.  It is the icing on the cake.  Let's change that saying to "the vinegar on the veggies."
Slice the pork and plate it up.  This would be wonderful with polenta, mashed potatoes, risotto, or orzo.  It's also lovely with a green salad.  Highly recommend it with a glass of cabernet franc.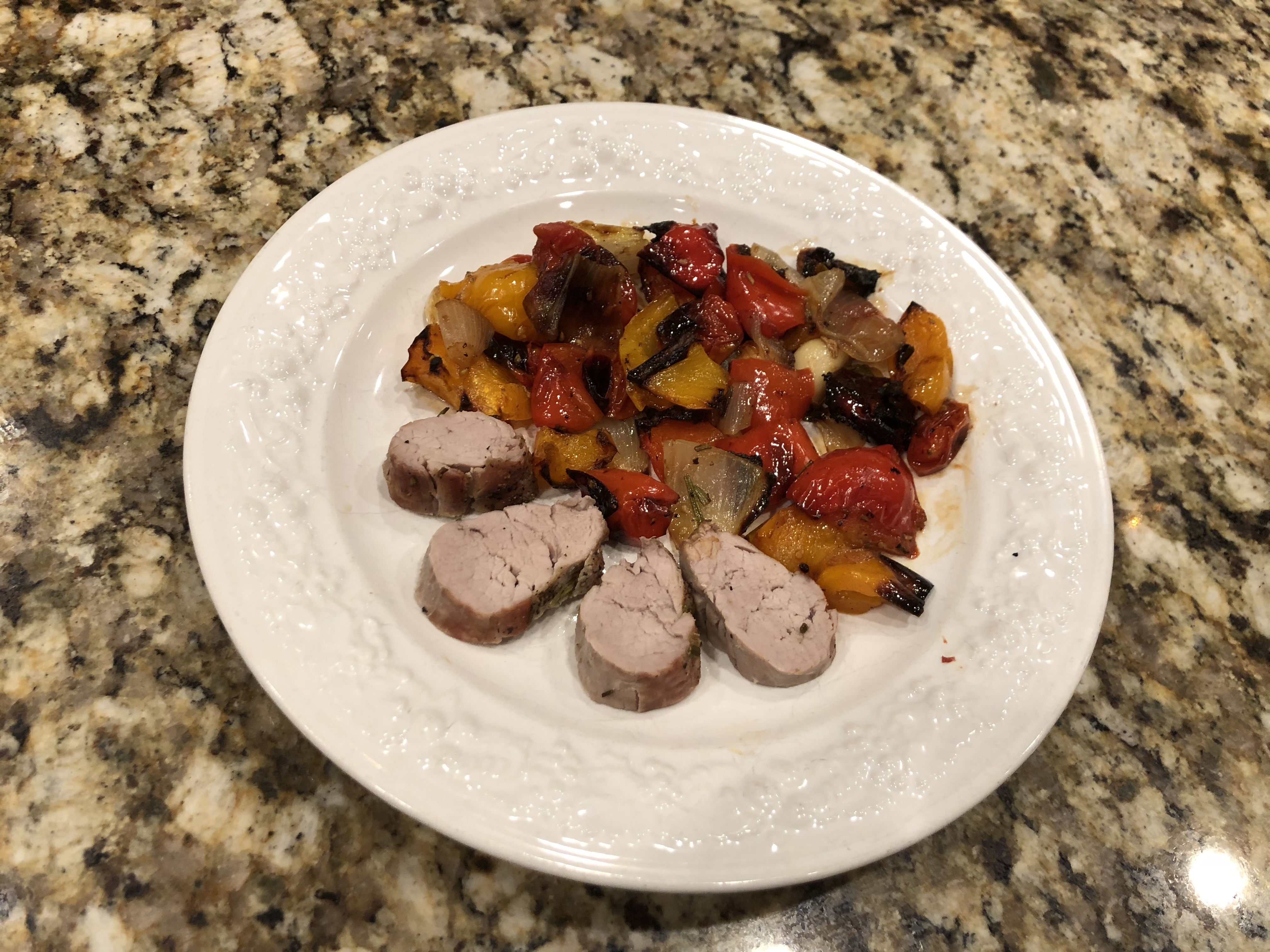 Roasted Pork Tenderloin with Vegetables
Ingredients
2 red bell peppers, cut into 1-inch pieces
2 yellow bell peppers, cut into 1-inch pieces
10-12 garlic bulbs, peeled (a whole head)
1 large onion, cut into 1-inch pieces, separated
2 cups cherry tomatoes
2 tablespoons of chopped fresh rosemary
2 1-pound pork tenderloins
kosher salt
fresh-ground pepper
Instructions
Preheat oven to 450 degrees.
Spray jelly roll pan with Pam.
Put bell peppers, tomatoes, onion and garlic into jelly roll pan. Drizzle with olive oil (about 1 tablespoon.). Sprinkle with kosher salt (about 1 teaspoon) and fresh ground pepper (about 1/4-1/2 teaspoon) and 1 tablespoon of chopped rosemary. Toss to evenly coat vegetables.
Trim tenderloins, sprinkle with salt and pepper and remaining tablespoon of fresh rosemary. Place tenderloins on top of vegetables.
Roast at 450 degrees for 30 minutes, or until meat thermometer in thickest portion of meat reads 160 degrees.
Remove from oven and place meat on platter. Cover with foil and let rest at least 10 minutes.
Meanwhile, toss vegetables with balsamic vinegar.
https://thetwodandelions.com/one-pan-roasted-pork-tenderloin-with-vegetables/
For more favorite recipes, please see Blackened Salmon with Zucchini Noodles and Blistered Tomatoes, Everyday Vinaigrette, Crockpot Taco Soup , and Carnitas for a Crowd.