Have you enjoyed Lettuce Wraps at PF Chang's?   My family loves them.  I've been making a version of them at home and while I'm pretty sure they wouldn't taste identical side-by-side, they're yummy.  I actually prefer the at-home version. The recipe calls for ground chicken, and I've tried it with ground turkey and with tofu crumbles for my vegetarian daughter.  I prefer the ground chicken version, but my vegetarian daughter loves the tofu crumbles version.  Another thing I like about this dish is that it's quick to make. Start to finish is about 30 minutes. I can find all of the ingredients in my grocery store; many are specifically found in the international food aisle. The full, printable recipe is at the bottom of this article.
Step One: Chicken
The first step is to cook the ground chicken in the heated olive oil/sesame oil combo.  I usually double the recipe because everyone likes them left over. I like to use my plastic blade meat masher when I'm browning ground meat.  My mother-in-law gifted this awesome gadget to me and it works very well!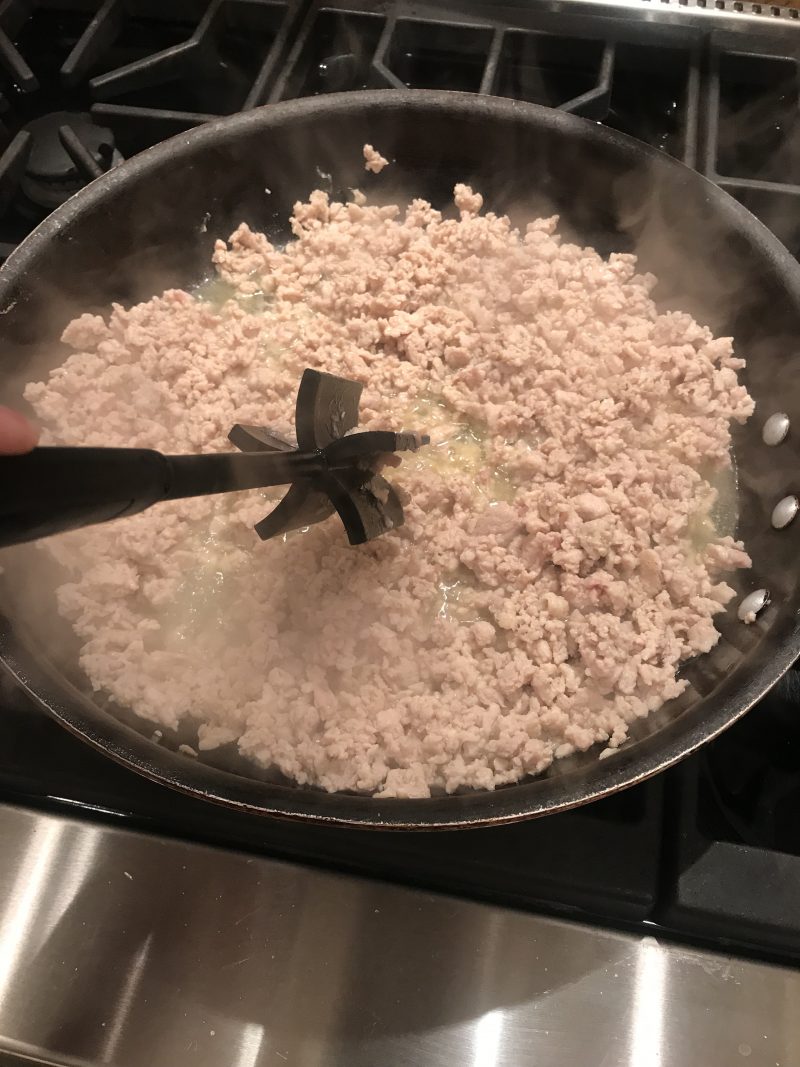 Step Two: Almost Everything Else
Now you add most of the other ingredients:  onion, hoisin sauce, soy sauce and rice wine vinegar.  Stir to combine and until the onions are translucent.  This takes about five minutes.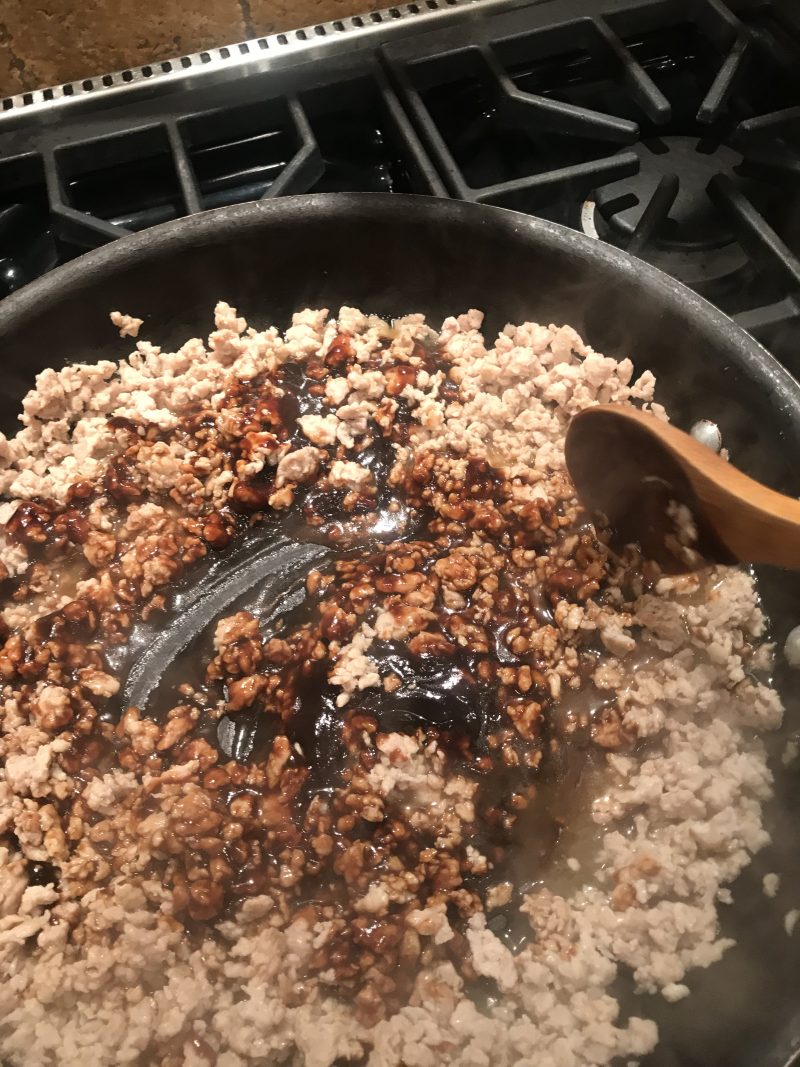 Next you add the garlic and ginger (I like to use the refrigerated ginger paste found in the produce section of my grocery) and cook for about a minute.
Last, you add the water chestnuts, green onions and salt and pepper to taste.  You can buy the water chestnuts already chopped.  I grabbed the wrong can this time and bought sliced, so I had a little extra work!
Ta-Da
The finished product is served in whatever lettuce you choose, although a soft, pliable lettuce like bibb or leafy works best.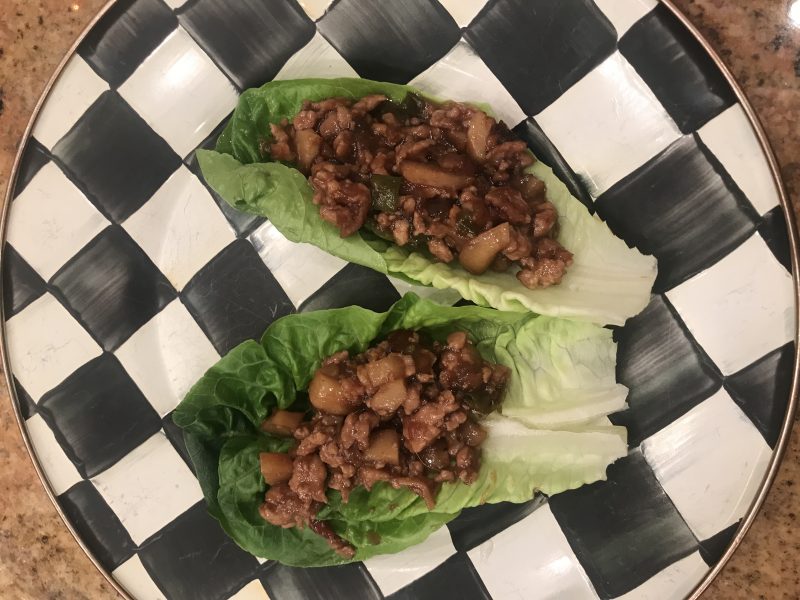 Enjoy!  I recommend pairing this with a vinegar-based slaw.
Ingredients
1 T. olive oil
1 T. sesame oil
1 pound ground chicken
1 medium onion (sweet or yellow), diced
1/3 cup hoisin sauce
2 T. low-sodium soy sauce
1 1/2 T. rice wine vinegar
1 T. Asian chili garlic sauce (I don't use this)
3 cloves garlic, pressed or minced
2 tsp. fresh ginger (I use paste)
1 8 oz can water chestnuts, drained
4 green onions, sliced into 1/8' rounds
Salt and pepper to taste
Soft lettuce leaves, such as bibb or leafy
Instructions
Add the oils and ground chicken to a large skillet and cook over medium/high heat until cooked through.
Add the onion, hoisin sauce, soy sauce, rice wine vinegar and chili garlic sauce (if using); stir to combine and cook until onions are translucent (approximately five minutes).
Add the garlic and ginger; stir to combine and cook for one minutes.
Add the water chestnuts, green onions, salt and pepper and cook for 2-3 minutes. Adjust flavors as needed.
Spoon into fresh lettuce leaves and serve immediately.
https://thetwodandelions.com/chicken-lettuce-wraps-for-dinner/