I'm giving you the recipe for the BEST homemade chicken noodle soup.  Don't believe me?  The following is a screen shot of an actual text with my friend Kristen DeGroft: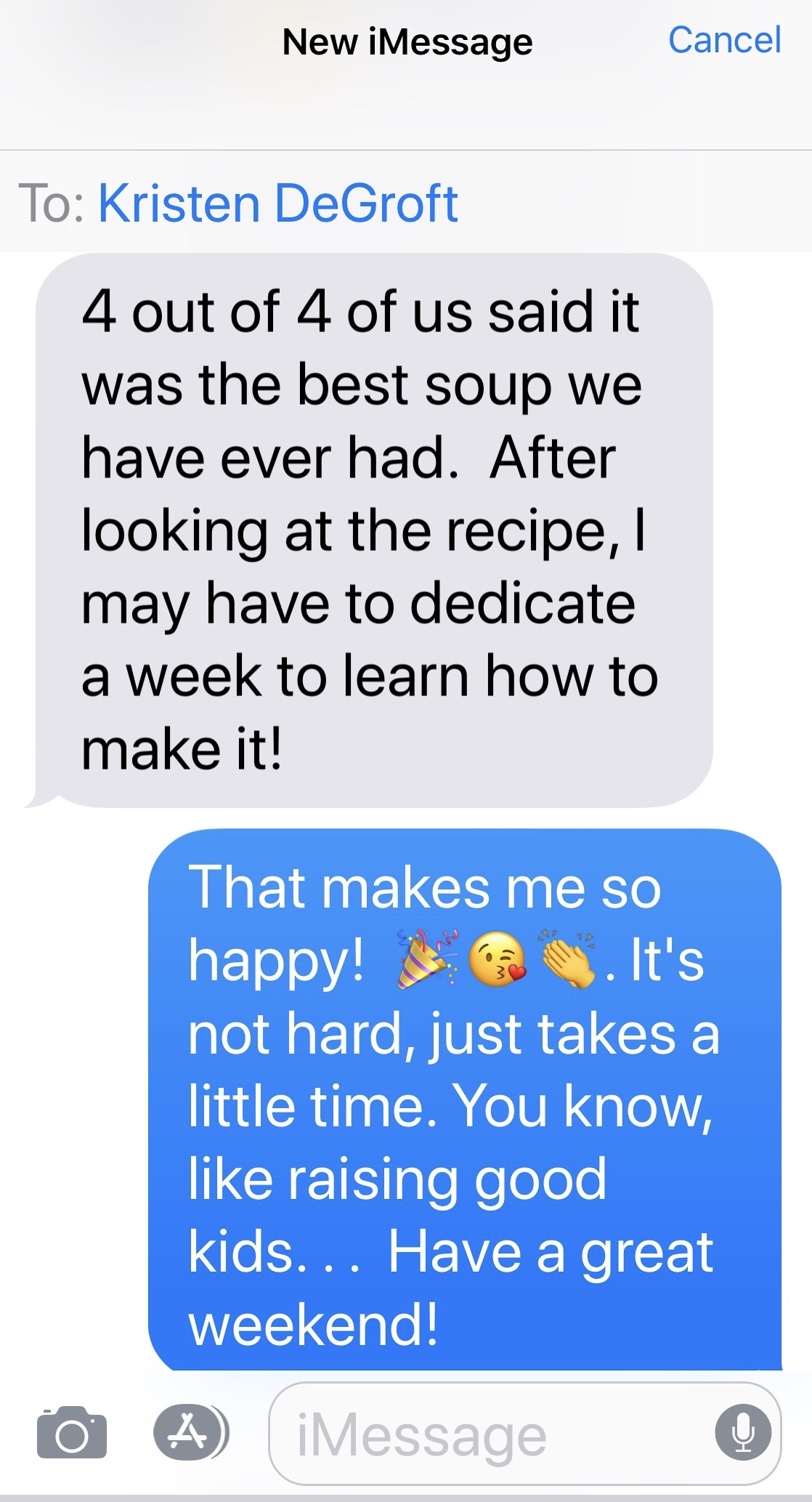 And there you have it:  Four out of four DeGrofts think it is the best soup ever.  Another quote for the record books:
"This is the best chicken noodle soup in the world."
—my son Dominick, every time I make this soup
So I'm not going to claim false modesty here. . . this is really good chicken noodle soup.  It does take some time (not a week, as Kristen was joking) but giving it time to simmer and sit creates rich, layered flavors.  Full credit here goes to my friend Val, who created this recipe.  What would we do without our girlfriends?
You should try to start this soup the day before you are serving it.  If you can't, no problem — it will still be yummy.  Also, I like to make this right before my kids are heading back to college and send a container back with them, to have a little taste of home when they're in the dorm.   (A complete and printable version of the recipe is at the bottom of this post.)
The day before you want to serve the soup, put about 14 cups of water in a large stock pot.  Add salt and pepper and your vegetables.  The vegetables for the broth do not need to be the freshest or most beautiful vegetables.  Not rotten or slimy please, but they don't have to be perfect.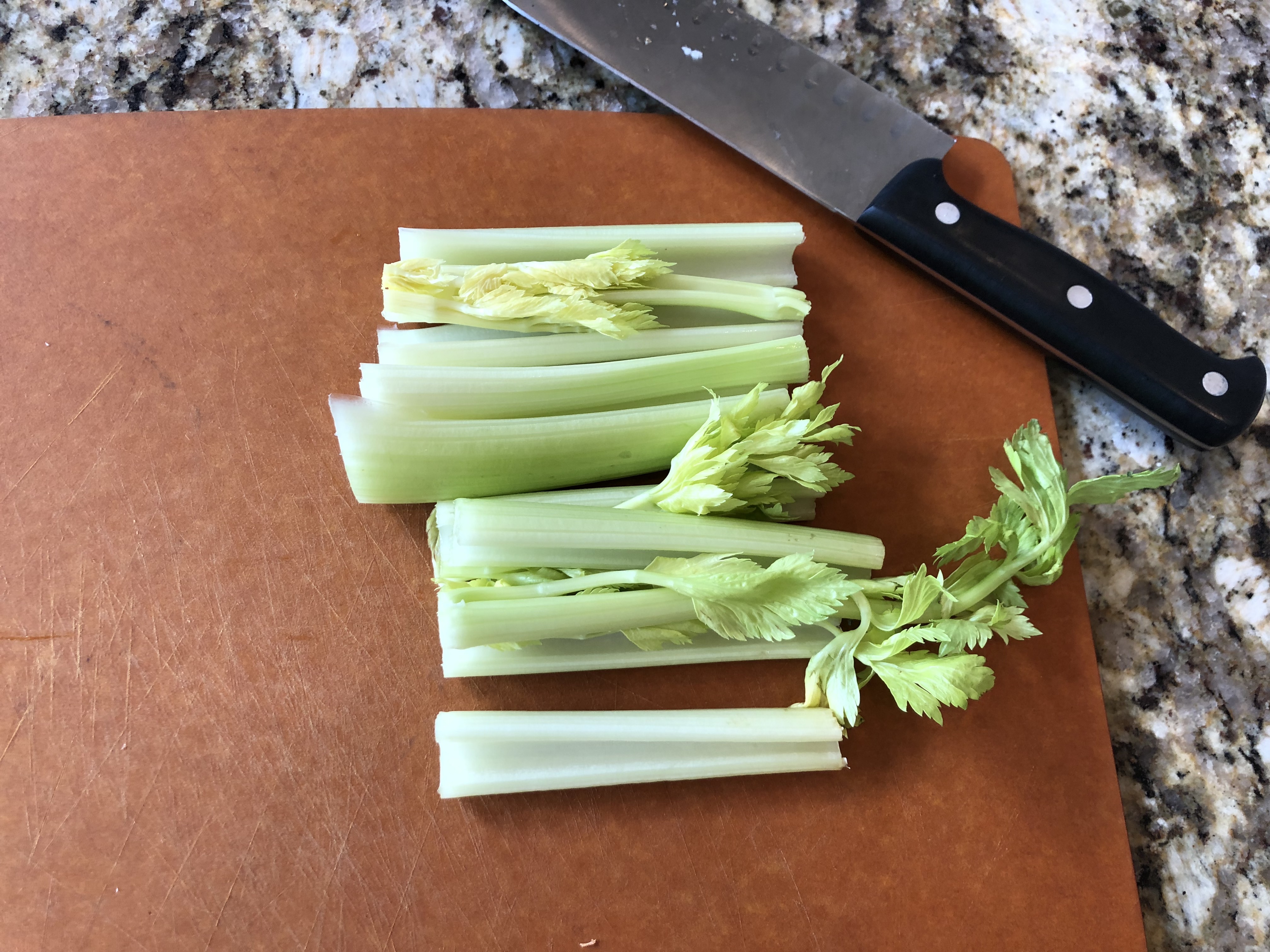 I always save the leafy inner parts of my heads of celery for making stalk.  Just cut off the stem section on the bottom, give them a rinse, and chop them in half.  I used about 9 stalks this time, but you can use more or less.  I figure the more you use, the more flavor you get.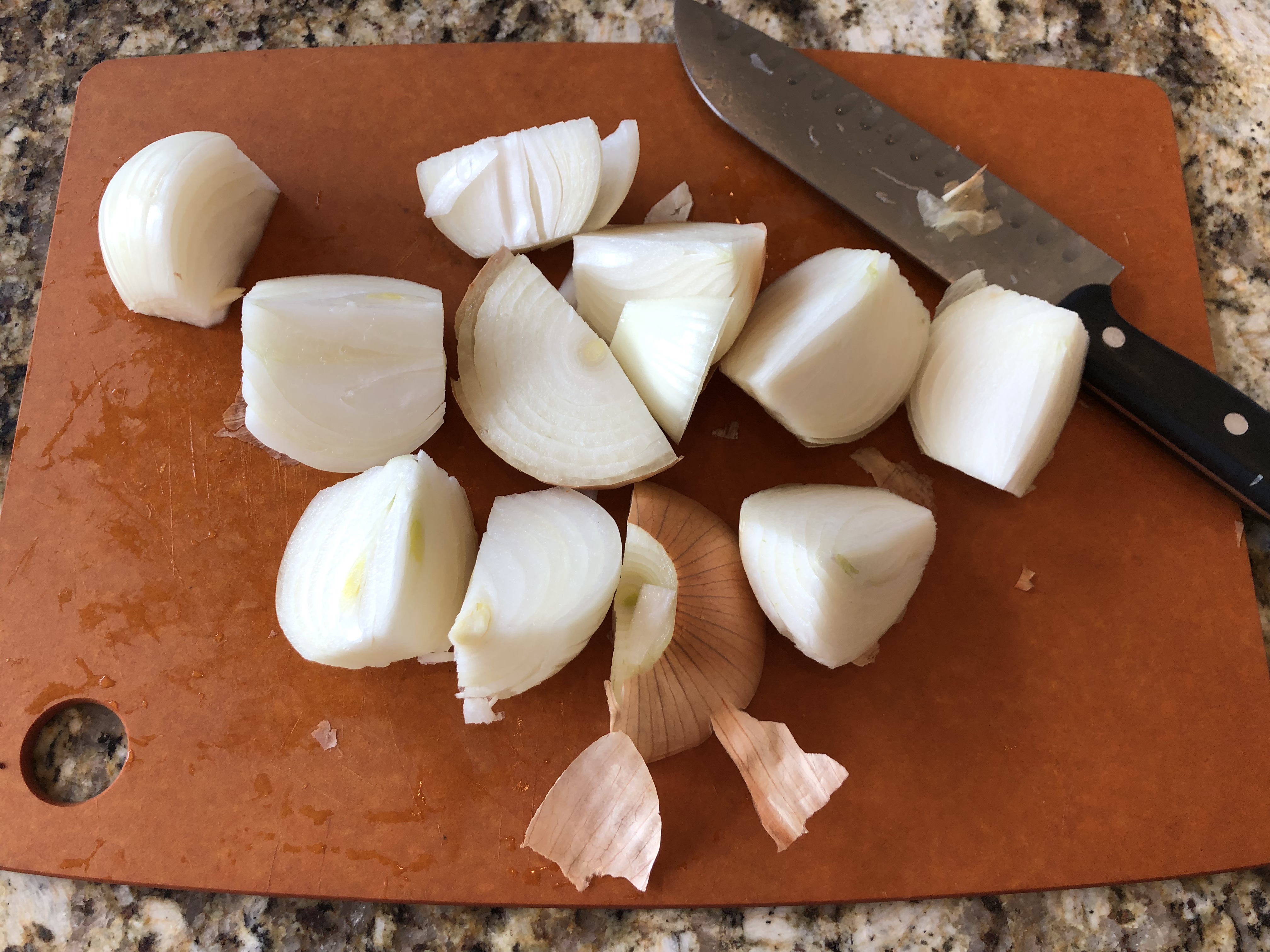 Roughly quarter a couple of large onions.  I cut off the ends, as those hairy roots give me the willies.  But you can leave the papery skin on if you want; it adds to the caramel color of the broth.
I added about 3 cups of carrots.  Again, use more or less, depending on what you have and what you like.  I had plenty of older carrots to throw in, so I used them.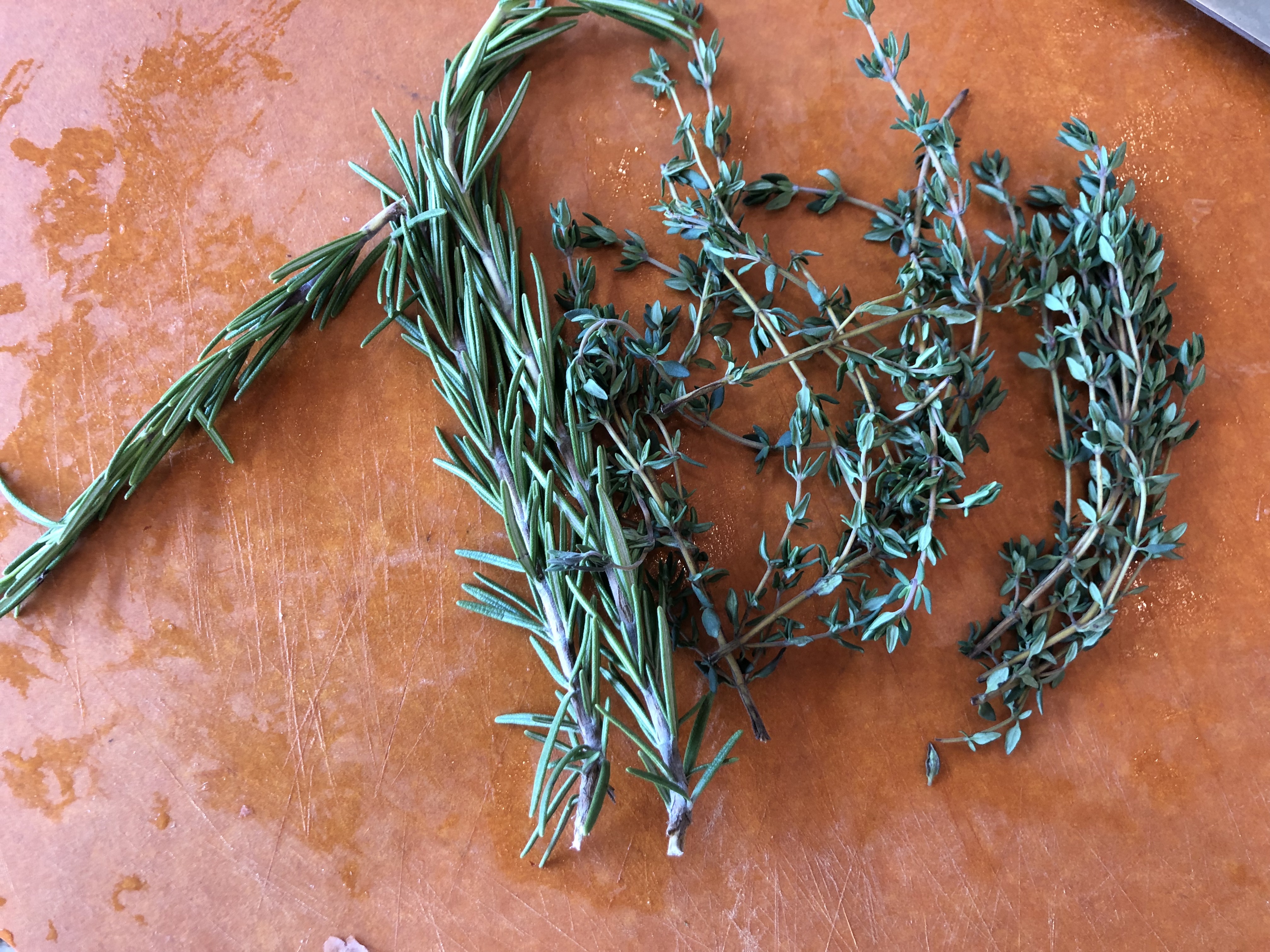 Add your herbs:  two bay leaves, and some rosemary and thyme.  I used 3 sprigs of rosemary, and about 10 sprigs of thyme.  No need to chop.  All these vegetables and herbs are going to be filtered out before you eat it.
And now for secret weapon #1: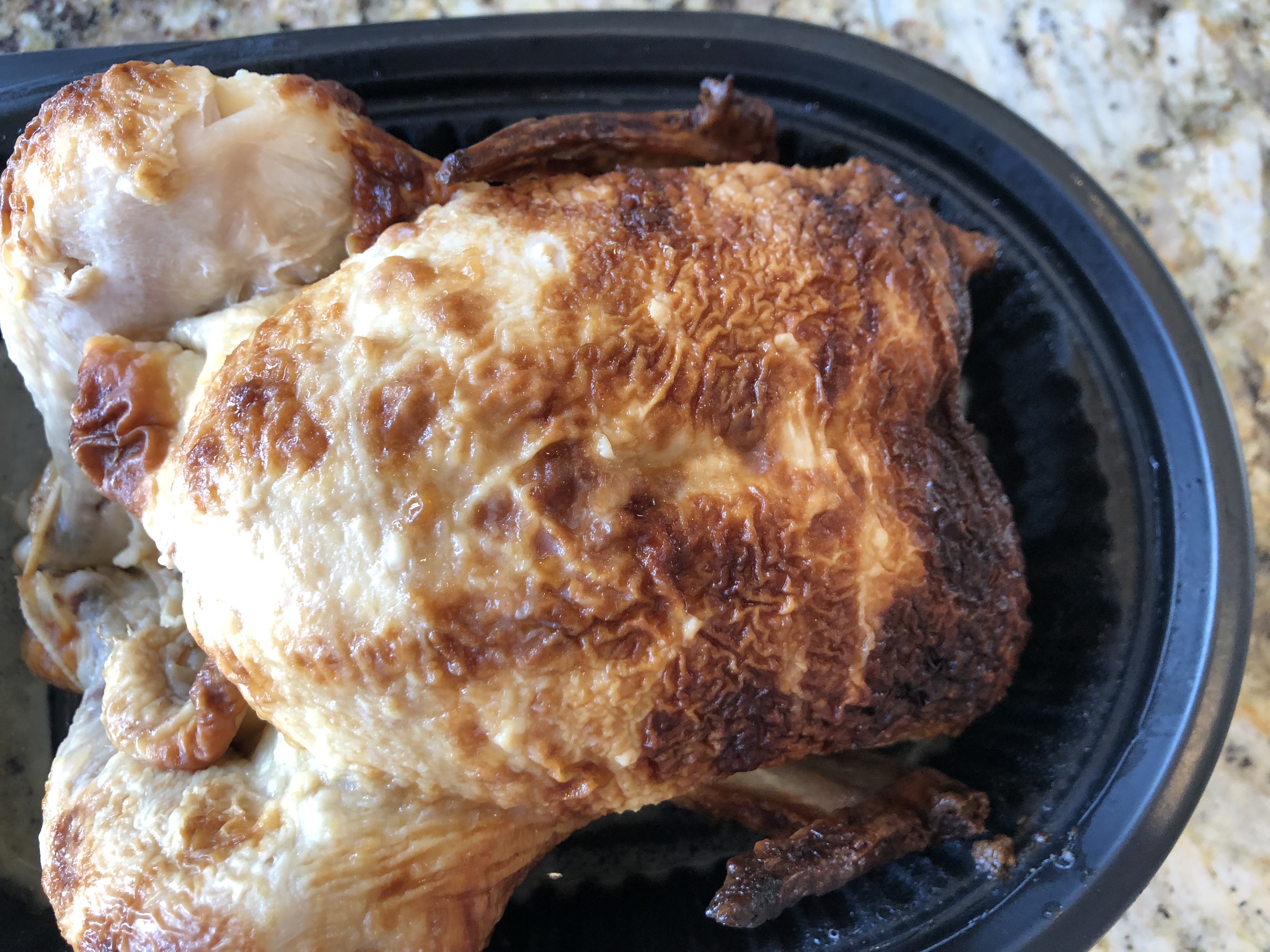 A grocery store rotisserie chicken!  Has there ever been a greater invention than the rotisserie chicken?
Remove all of the meat from the chicken and set it aside.  Keep everything else and put it in the stock pot.  I mean everything:  skin, bones, the whole deal.  Yes, chicken skin is fatty.  But it is also full of flavor.  And you're going to skim that fat off tomorrow.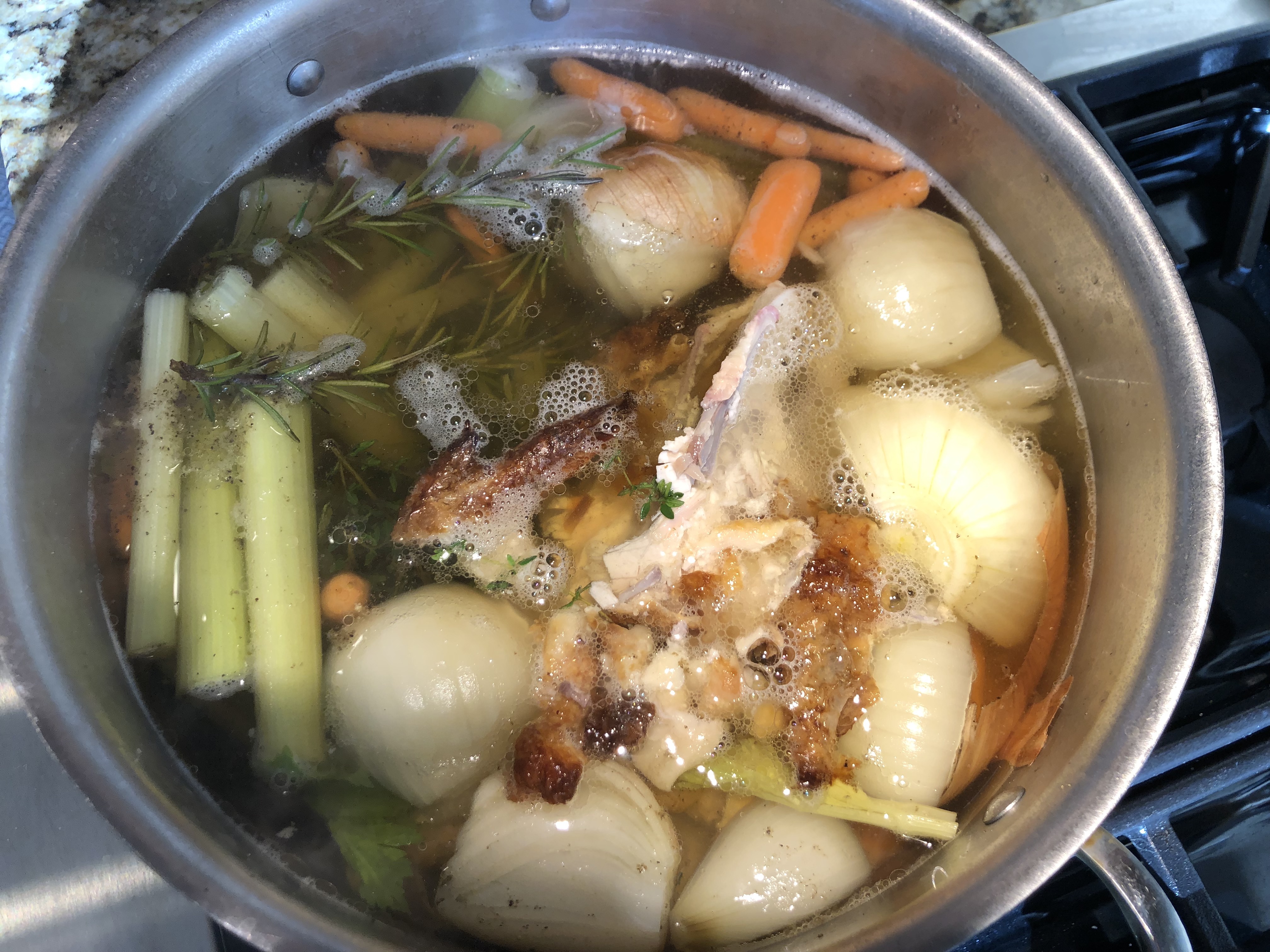 Bring the pot to a boil, cover and reduce to a simmer.  Simmer for 3-4 hours.  Don't have that much time?  Simmer at least 1 1/2 hours.  I've simmered as long as 5 hours, and it was the best batch yet.  Let it simmer gently for a long time.  Your family will think you are brilliant as the scent fills your kitchen.  And all you've done is thrown a bunch of old vegetables and a pre-cooked chicken carcass in a stock pot.
After you've finished simmering, put the whole pot in the fridge over night.  If you don't have time for this step, you'll be OK.  The next day, take it out and strain the broth.  Throw out everything except for the liquid.  Add another 2 cups of water or canned chicken broth.
And now for secret weapon #2: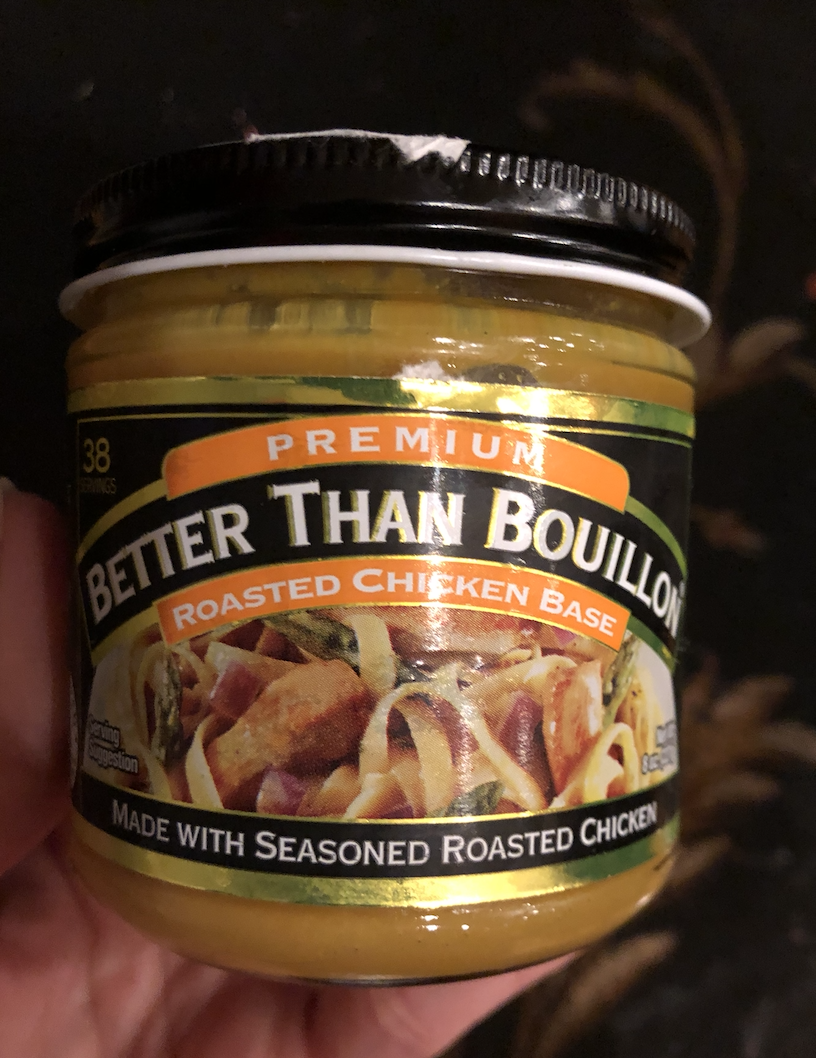 Better Than Bouillon.
Better Than Bouillon is terrific!  I've heard professional chefs on  talk shows recommend adding it for additional stock flavors, especially to gravies and soups.  It's like a bouillon cube, but because it is a paste you can use as much or as little as you want.
While your broth re-heats, add 1 1/2 – 2 tablespoons of Better Than Bouillon.  Stir well and taste.
Bring your broth to a boil.
And now for secret weapon #3: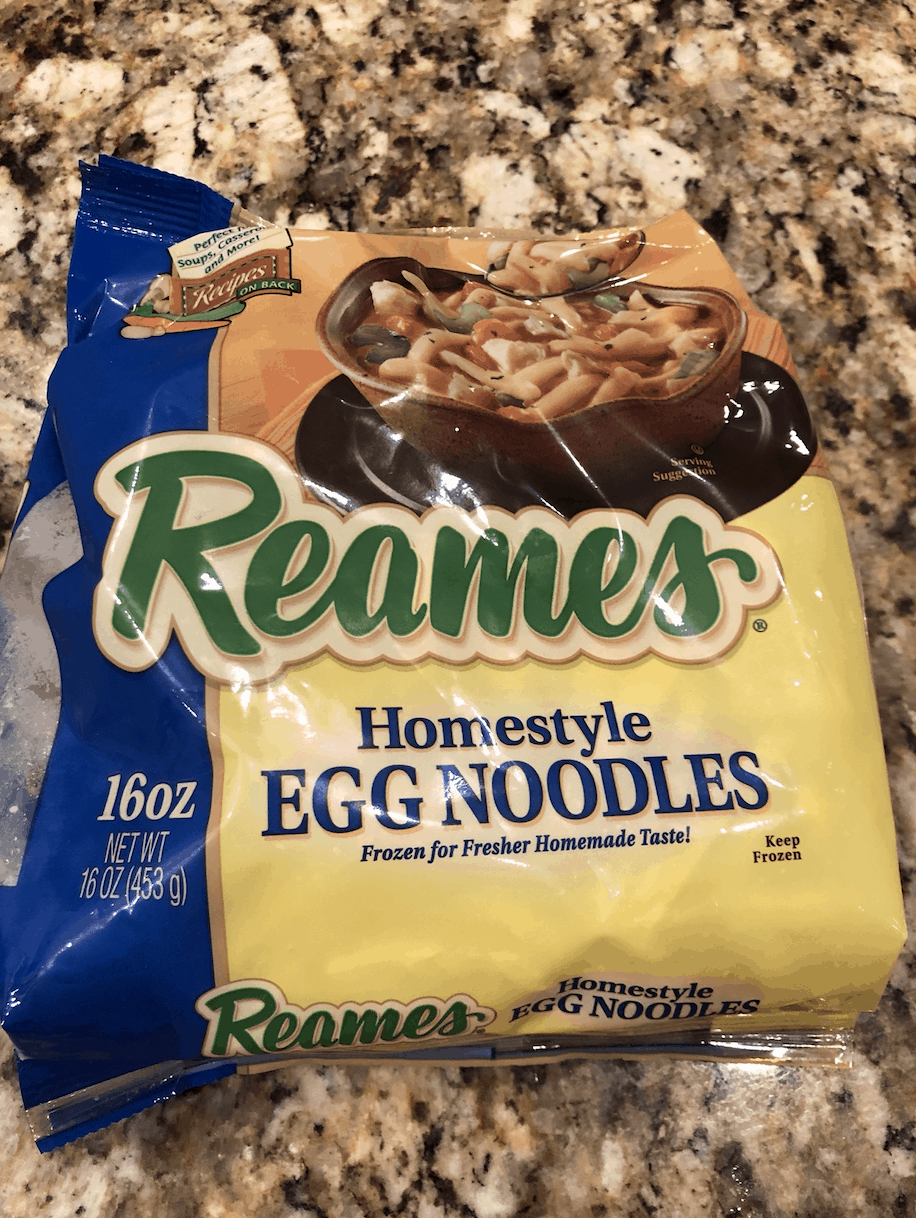 Reames Homestyle frozen egg noodles.  These noodles are the real deal.  You will find them in the freezer section of your grocery.  At Kroger and Meijer's they are near the frozen bread.  You can get the 16 ounce or the 12 ounce.  My family loves the noodles, so I always go with the 16 ounce.
While your stock is boiling, add the frozen noodles. Boil for about 15 minutes.
The instructions on the noodles say to boil for 20 minutes.  I've never found these noodles to cook that quickly.  You should taste them as they cook, to see if they are cooked enough for you.  Although we like al dente pasta most of the time, in our chicken noodle soup my family likes the noodles pretty soft.  Therefore, the times I'm listing are what I do.  You should cook less time if you like a firmer noodle.
After boiling the noodles for 15 minutes, add the diced onions, celery and carrots.  Reduce to a low boil.  Cook the noodles and vegetables on a low boil, covered, for about 30 minutes (or longer).  Test your noodles and vegetables; they should be tender, not chewy. If not, cook a bit more.
Finally, add your rotisserie chicken meat, cut into bite-sized pieces.  Simmer for about 10 – 20 minutes.  Add salt and pepper to taste, or even a little more Better Than Bouillon if you want.
Enjoy!
The BEST Chicken Noodle Soup
Ingredients
14 cups water
1 rotisserie chicken, meat removed and preserved, and keep the bones, skin, etc.
1 tsp salt (plus more, to taste)
1/2 tsp black pepper (plus more, to taste)
2-3 cups carrots for broth
About 10 stalks of celery for broth (can be leafy parts), cut in half to fit in pot
2 large onions for broth (can include yellow papery skin), quartered
2 bay leaves
2-3 sprigs fresh rosemary
about 8 sprigs fresh thyme
2 cups canned chicken stock (or water)
1-2 TBSP Chicken Better Than Bouillon
16 ounce Reames Homestyle egg noodles
2 cups carrots, diced (in addition to carrots for broth)
2 cups celery, diced (in addition to celery for broth)
1 1/2 cup onion, diced (in addition to onions for broth)
Extra water or broth if too thick
Instructions
If you can, make the stock the day before you plan to eat the soup.
Fill a large stock pot with 14 cups of water, 1 tsp salt and 1/2 tsp black pepper. Bring to a boil.
Add the carrots, celery and onion for the stock (not the diced amounts).
Add bay leaves, rosemary and thyme.
Remove the chicken meat from the rotisserie chicken and save it. Place the chicken carcass, bones, skin, etc. in the pot.
Bring to a boil. Reduce to a simmer, and simmer at least 1 1/2 hours, and up to 5 hours. (The longer the better.)
Place the entire pot In the fridge over night.
The next day, strain the broth, discarding all the vegetables, herbs, bones, skin, etc.
Bring the broth to a boil. Add 2 cups water or canned chicken broth.
Add 1 to 1 1/2 TBSP Better Than Bouillon. Taste.
Add the egg noodles to the boiling broth. Boil for 15 minutes.
While the noodles are cooking, dice the carrots, celery and onion.
Add the vegetables to the noodles and broth. Reduce to a low boil, and cook for about 30 minutes.
Taste the noodles and vegetables as they cook, to determine tenderness. You may need more or less cooking time, depending on your boil.
Cut the rotisserie chicken meat into bite-sized pieces. Add to the pot, and simmer for about 10 minutes longer.
Add salt and pepper to taste, and more water if it is too thick. You can also add a bit more Better Than Bouillon if you like.
https://thetwodandelions.com/no-harm-just-fowl-simply-the-best-chicken-noodle-soup/
For more favorite recipes, please see: