We love all things taco:  chicken verde, carne asada, veggie, even ground beef like mama used to make.  But our favorite is carnitas for a crowd– those wonderful shredded pork tacos.
I've made these for Christmas Eve dinner, and they were a huge hit.  Our menu included:
carnitas with pico de gallo and tortillas
beans
guacamole
grilled peppers, onions and zucchini
Caesar salad (allegedly invented in Mexico!)
This recipe makes enough to fill at least 30 tortillas.  You can easily make a smaller batch with a 4-5 pound pork butt, and divide the rest of the recipe in half.  For this much pork, you're going to want to double the pico de gallo recipe.
The carnitas meat will come out crispy on the edges, moist and delicious.  It's really good — but it's outrageously delicious with the pico de gallo.  That fresh onion/tomato/cilantro/lime/jalapeno salsa really enhances the flavor of the pork.  The complete recipes for the carnitas and the pico de gallo are below, in a printable form.
The best way to make this is to cook the meat the day before you're going to make it.  But if you don't have time, that's OK too; it can all be done in one day.
Buy a 9-11 pound bone-in pork butt.  Did you know pork butt is the same as pork shoulder?  Definitely try to find a bone-in, as it adds to the flavor.  Trim off as much fat as you can.  This is my roast after I trimmed about 1.5 pounds of fat off.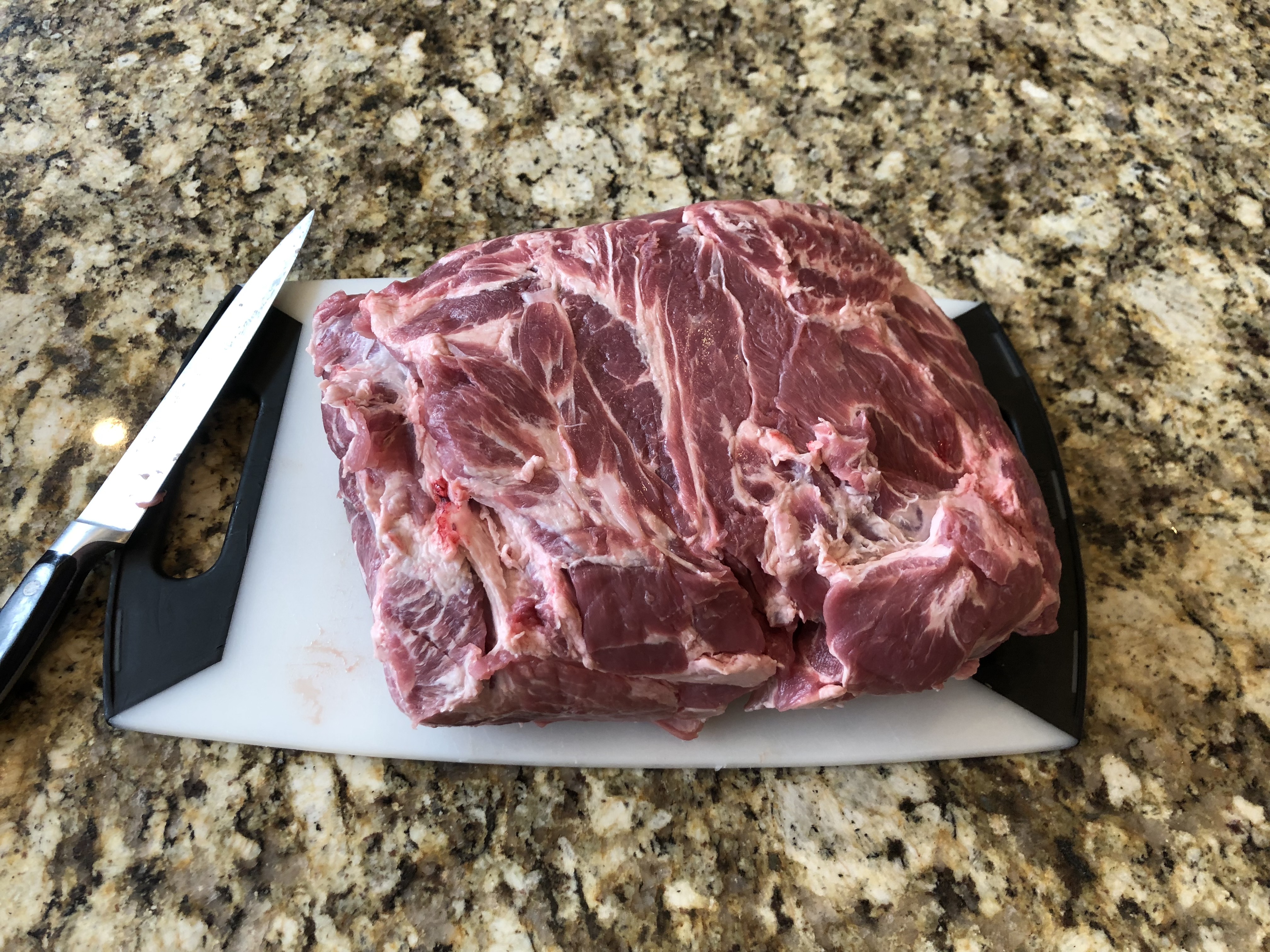 Put the roast in a big stock pot.  You need a pot big enough to hold it with a little extra room on the edges.  Add chicken stock and quartered onions.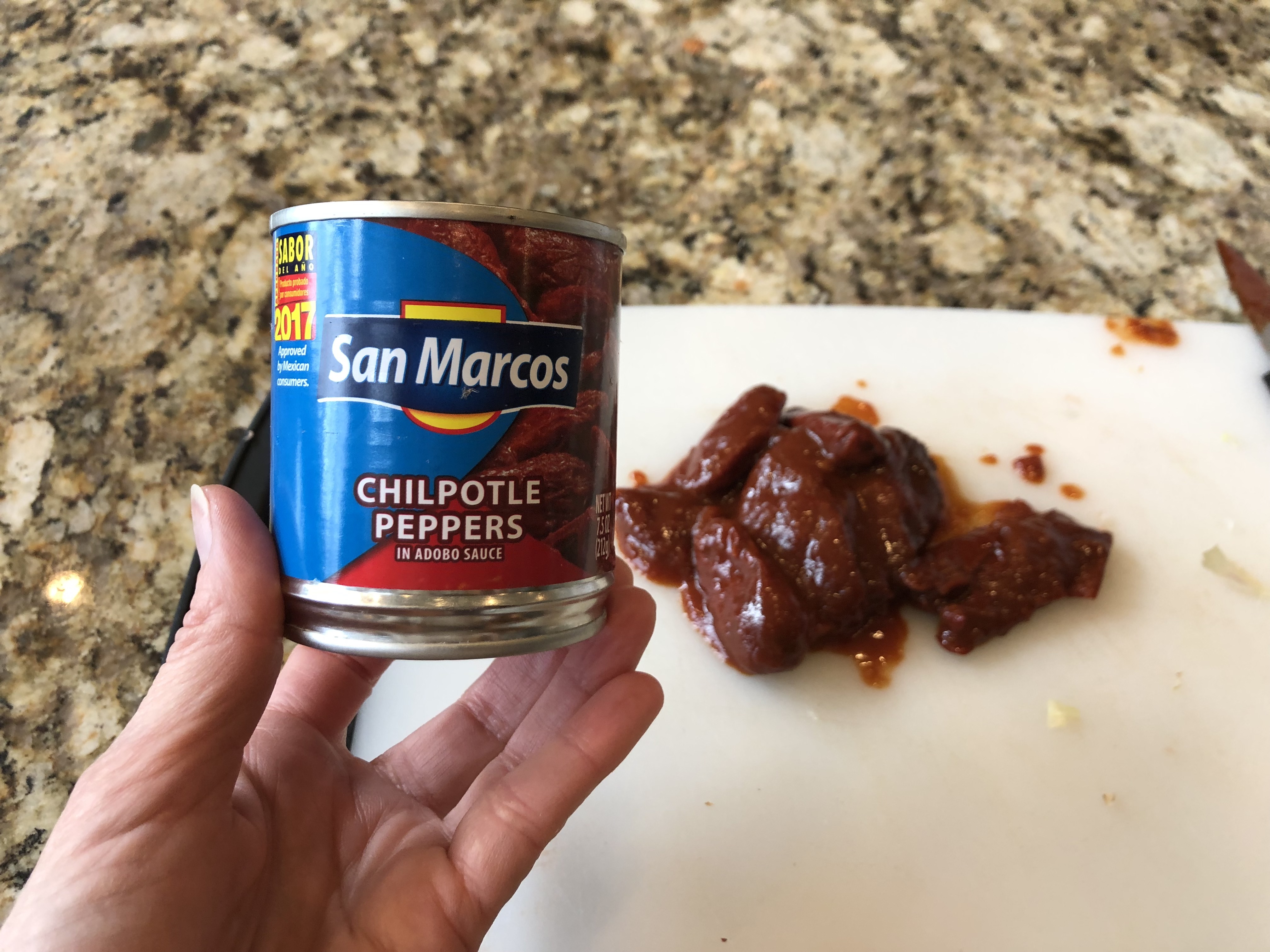 Add the chipotle peppers.  For this much meat I used the whole can.  Cut them in half, or chop them smaller if you like.
Add coriander, cumin, oregano and bay leaves.  Add additional chicken stock to just cover the meat.  Cover, bring to a boil.  Reduce heat and simmer for at least 3 1/2 hours, and as long as 4 1/2 or 5 hours.  Meat should pull apart easily with a fork.
If you're not eating it until the next day, put the whole thing in the fridge over night.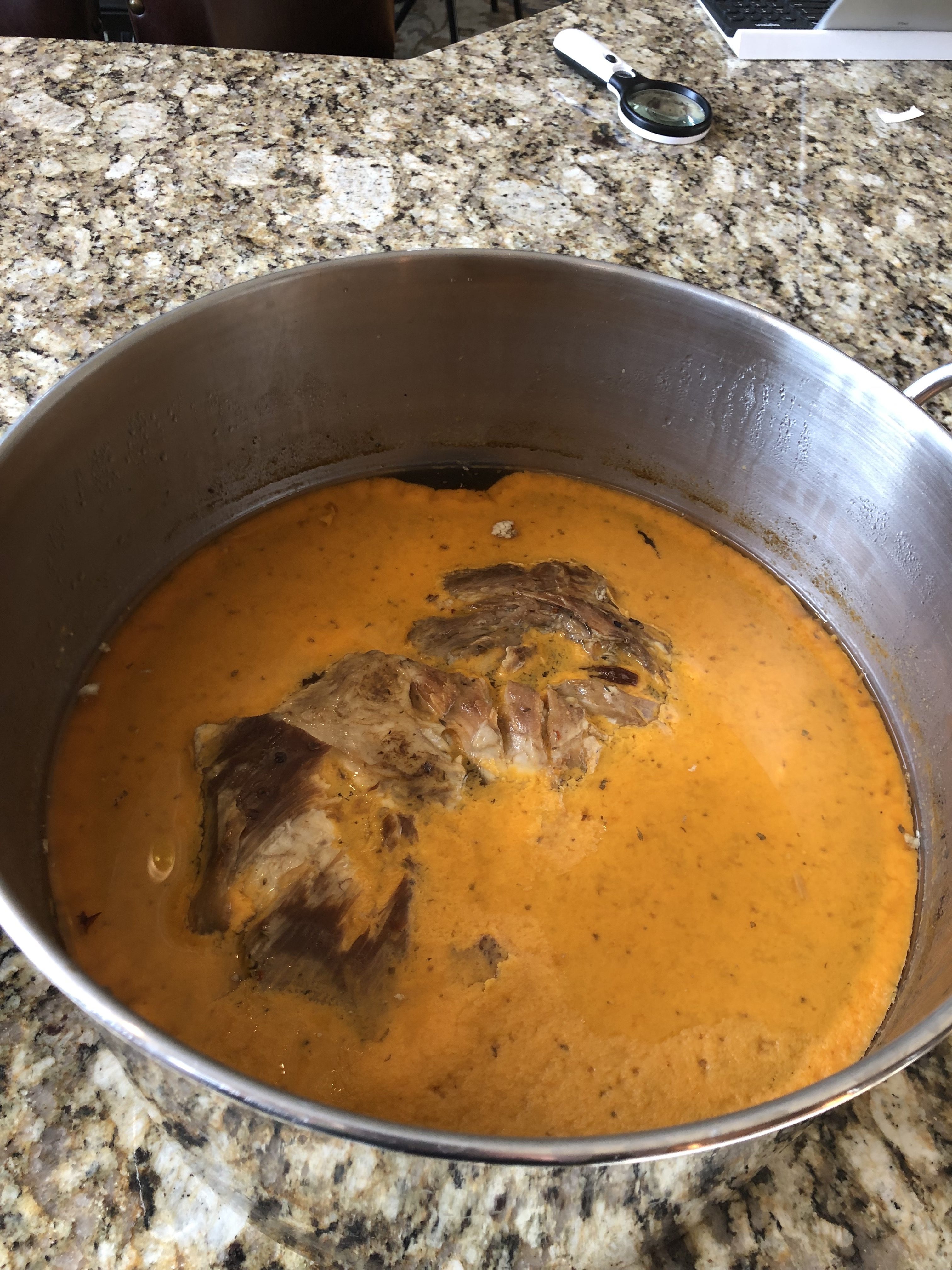 The fat will rise to the top, and you can skim it off.  Yes, kind of gross.  But it really reduces the amount of fat in the dish.  Here's what mine looked like after 12 hours in the fridge.  The fat just lifted right off.
Lift the meat out and place on a cutting board.  Run the broth through a strainer and throw away the solid part.  Put the broth in a sauce pan and gently heat. Shred the meat, and throw out any remaining fat.  Place the pork in a roasting pan, and ladle some of the broth over to keep it moist.  Add salt to taste.  Bake in the oven at 450 degrees, taking out about every 10 minutes to toss it.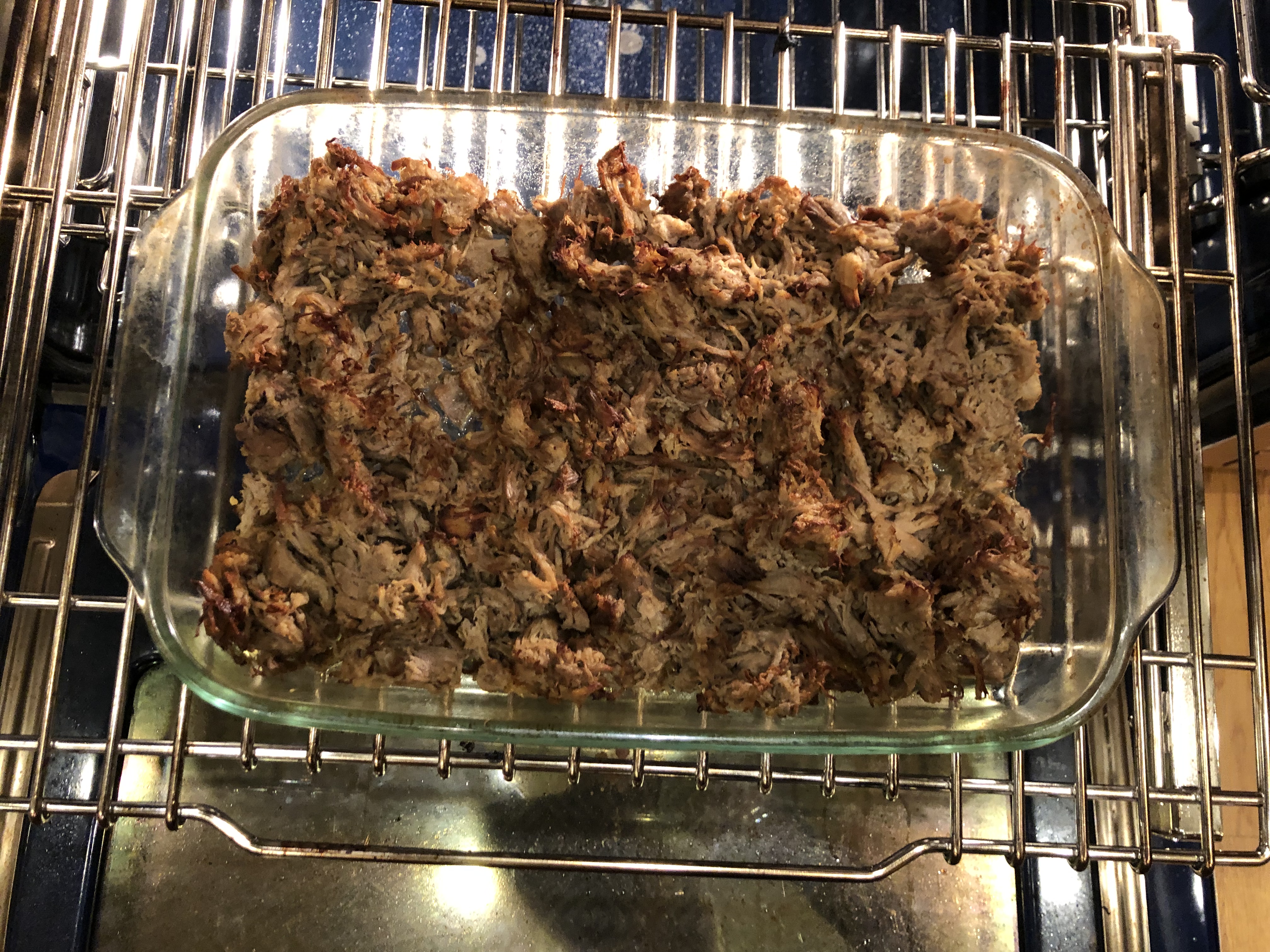 The top and edges will get crisped and brown, and you need to turn it so other pieces will get crisped.  Add more broth as necessary to keep moist.  Heat it in the oven at least 20 minutes, and longer depending on how crisp you want it.
While the meat is browning, make the pico de gallo.  I just throw it all in a food processor and pulse until it is the desired consistency.  The recipe below should be doubled to make enough for the 10-pound roast.
Serve the carnitas with refried beans, heated corn or flour tortillas, and sour cream.
Carnitas for a crowd, with pico de Gallo
Ingredients
For the meat:
9-11 pound bone-in pork butt (or pork shoulder)
8 cups chicken broth, or more to cover meat
2 large onions, quartered
2 Tbsp coriander seeds, or 1 1/2 Tbsp ground coriander
2 Tbsp cumin
2 tsp oregano
1 small can chipotle peppers (about 6-8 peppers)
4 bay leaves
salt to taste
For the pico de gallo (double for this much pork):
1 large tomato, quartered
1 medium onion, peeled and quartered
2 jalapeno peppers, seed and pulp removed
1/2 cup cilantro leaves
juice of 3 limes
salt to taste
Instructions
If possible, cook the meat the day before serving, to allow time for refrigerating after cooking.
Trim fat from the roast.
Place roast in a large stock pot or dutch oven. Add chicken broth, onions, coriander seeds, cumin, oregano, chipotle peppers and bay leaves. Add more broth if necessary to just cover the meat.
Cover, bring to a boil. Reduce heat to a simmer and cook at least 3 1/2 hours, or as many as 5 hours. Meat should pull apart easily with a fork.
If you have time, place entire pot in the refrigerator over night.
Skim fat from the top of the pot.
Lift out meat and place on cutting board.
Strain broth, and discard solids. Place broth in a sauce pan and gently heat.
Shred meat and place in roasting pan. Add salt to taste.
Ladle some of the warm broth over the meat, and bake the meat at 450 degrees, for about 30 minutes or longer. Every 10 minutes or so, stir the meat. The top and edges will get browned and crisp. You want more of the meat to get that yummy crisped effect, so keep turning.
Add broth as necessary to keep moist, and taste again for salt.
While meat is browning, make the pico de gallo. Place all ingredients in food processor and pulse.
Serve carnitas warm with pico de gallo, sour cream, beans and tortillas.
https://thetwodandelions.com/carnitas-for-a-crowd/
For more favorite recipes, please see:
For holiday desserts, please see:
For ideas for feeding a crowd during the holidays, please see
For more about Christmas, please see: