Sketch is the BOMB
Sketch in London might possibly be the most visually fabulous restaurant I've ever seen. It's so gorgeous that you actually feel a little beautiful just being there. It earns its reputation as the most Instagrammed restaurant in the world.
Located in an 18th century townhouse in swanky Mayfair, the building has a rich history, including the headquarters of Royal Institute of British Architects to Christian Dior's London atelier, within which Dior housed his collections. When the building was taken over by Sketch, the interior was re-designed by new owner Mourad Mazouz and Paris-based designer and sculptor Noe Duchaufour Lawrance.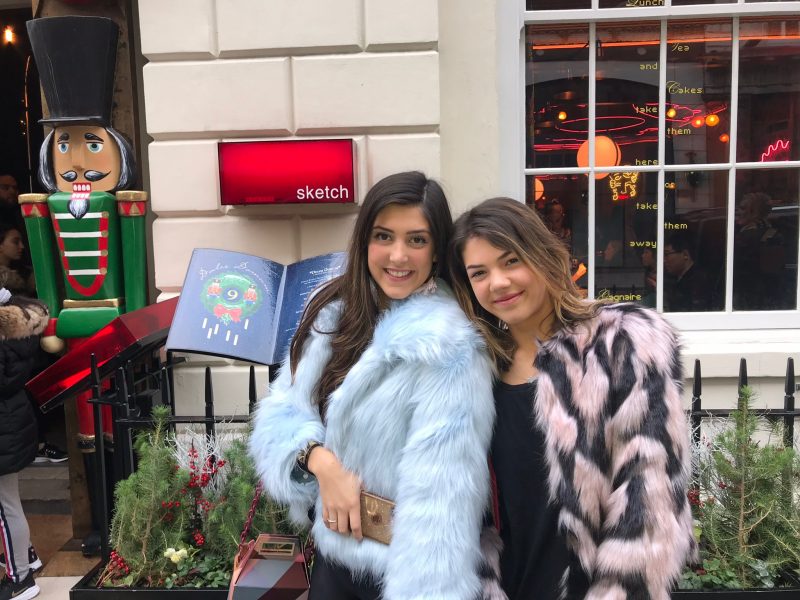 Unexpected Subtle Entrance
From the moment you step in the door, it's a sensory delight. Because we were there over the holidays, we had the extra bonus of seeing everything decorated for the occasion. The entrance is unexpected, as it's small and somewhat narrow. Immediately to the right is the Parlour Room, which is popular for cocktails and walk-in lunch.
Heading down the stairs (very cool stairs) The Glade is immediately on the left, and much smaller than expected if you've looked at photos, but fabulous nonetheless. The ceiling is amazing; you feel like you're in another world.
The Fabulous Pink Room
The pink room was the fan favorite of our girls. And it was pretty fabulous. Large and grand and very pink. The bar is huge and lovely. And you have to go through the pink room to get to the restrooms.
OMG The Restrooms
The restrooms are undoubtedly the most unique I've ever seen. And all wrapped up for Christmas. There is a grand staircase leading up to either side, and at the top of the stairs there are clusters of egg-shaped pods, which are individual restrooms. We walked around and took many pictures, returning to our table to order lunch. Once lunch was over, we ushered my husband to the restrooms because we wanted him to see them, too! Only then did we learn that there was a difference in the men's and women's restrooms. Silly of us not to notice the blue lights on the left staircase and the pink lights on the right staircase.
Food
Our actual food was met with varying reviews. All four of us ordered the two-course lunch. Three of us were very pleased. Portions are small but beautiful. Our fourth, a vegetarian, did not enjoy her pasta or cheese plate. And the beauty and fabulousness comes at a price.. lunch for four, with one adult beverage, rang in at $225 including tip. Would we recommend it? Absolutely… probably for afternoon tea.