We're sharing some of our favorite serving pieces because often how we display or serve our food is a last-minute consideration.  Sometimes we put so much energy into choosing recipes and the actual preparation of dishes that there's little time or creativity left for worrying about how it's going to look!  But marketing, packaging, visual appeal… it does matter.  I remember growing up, my mom had a good friend who made the most beautiful desserts.  They didn't taste great, but they were often to the first to go at a gathering or a bake sale because they were so pretty.  Because our eyes (and maybe our noses) are one of the first senses to take in a dish, it's an accomplishment for it to look as marvelous as it hopefully tastes!
This post may contain affiliate links, which means the blog may make a small commission if you purchase something from the link.
Food Looks Great on White
Most restaurants serve food on white dishes.  You've also probably noticed many appealing food photographs include the food on some sort of white serving piece.  It allows the colors of the dish pop and it looks very appealing.
The good news is that white serving pieces and dishware can be found almost anywhere and at a wide range of price points.  Amazon has a ton to choose from, some of which include:
I've also found basic white serving pieces at IKEA.  They're inexpensive and come in many different shapes and sizes. Finally, Mud Pie always has cute, white serving pieces.  They often have a clever saying on them; they aren't for formal occasions, but they definitely warm up a table or buffet.
Serving up a Theme
If you're interested in paying tribute to a holiday or theme, there are a few companies that help do it with some serving fanfare!  Both Nora Fleming and Coton Color's Happy Everything line are excellent choices.  The concept is you buy the serving pieces and switch out the detachable pieces to highlight an occasion.  Amazon carries a large selection of both:
If you're heading to a Super Bowl party, pop in the football attachment:
Nora Fleming's full line can be found at their website:  Nora Fleming
Coton Color's Happy Everything line is similar to Nora Fleming, but the pieces are a little more festive and the attachments are larger and attach with Velcro.
Add the attachment and you're good to go:
The full line of Happy Everything can be found here:  Happy Everything  
Keeping it Warm or Cold
I love Wilton Armetale for keeping food warm or cold.  Plus you can cook in it, so it can go from the oven, or even grill, directly to the table.  It can withstand temperatures up to 1,000 degrees and it can also go in the freezer or fridge.  It won't break, crack, rust or tarnish, and it doesn't require polishing.  Plus it's pretty!
Wilton Armetale's full line can be found here:  Wilton Armetale
Another line of serving pieces that I love is Don Drumm.  Don is an Ohio sculptor and artist with his studio in Akron, Ohio.  You'll find beautiful, unique pieces. In addition to serveware, he creates jewelry, religious items, décor, sculptures and more.  Don Drumm pieces are great for unique gifts.  His online offering can be found here:  Don Drumm Studios & Galleryios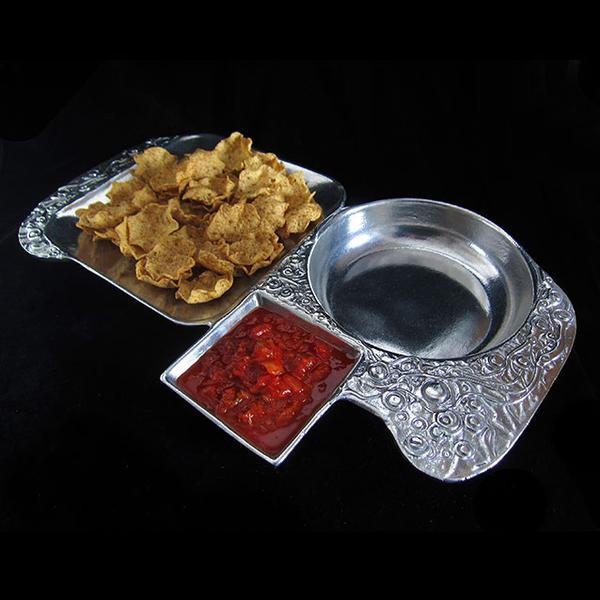 There are so many fabulous serving pieces to be found and price ranges all over the board.  I like to use pieces I've had for a long time as they are nostalgic, reminding me of family or friend gatherings over the years.  I also like to switch out a handful of pieces to mix it up and keep up with new trends!
For other entertaining and food-related posts, please click on: