Prom night can be magical.  It can also go wrong in so many ways.  (Some day we'll do a post about our 1980s prom dresses, and show you just how wrong it can go.)  One big challenge for parents, schools, and communities is what to do with the kids after the prom, and how to keep them safe.  We want the kids to have a blast, but we don't want the night to include drinking, driving, or other "adult" activity.  Mason, Ohio has solved this problem with "afterprom"  — a giant, over-the-top party.
Afterprom is a love letter to our community's children and families, pulled together by an amazing group of community volunteers.  They plan all year, work tirelessly prom week, and put in all-nighters on prom night to pull this off.  Their energy and creativity knows no bounds.
Step 1:  They transform the school
No one, particularly high school juniors and seniors, wants to go to a party in a school.   Right?  Then you better make sure it doesn't look like a school.
Last year the theme was "Now Playing," a movie theme.  At the entrance (by day, a regular cafeteria entrance), the kids walked the red carpet: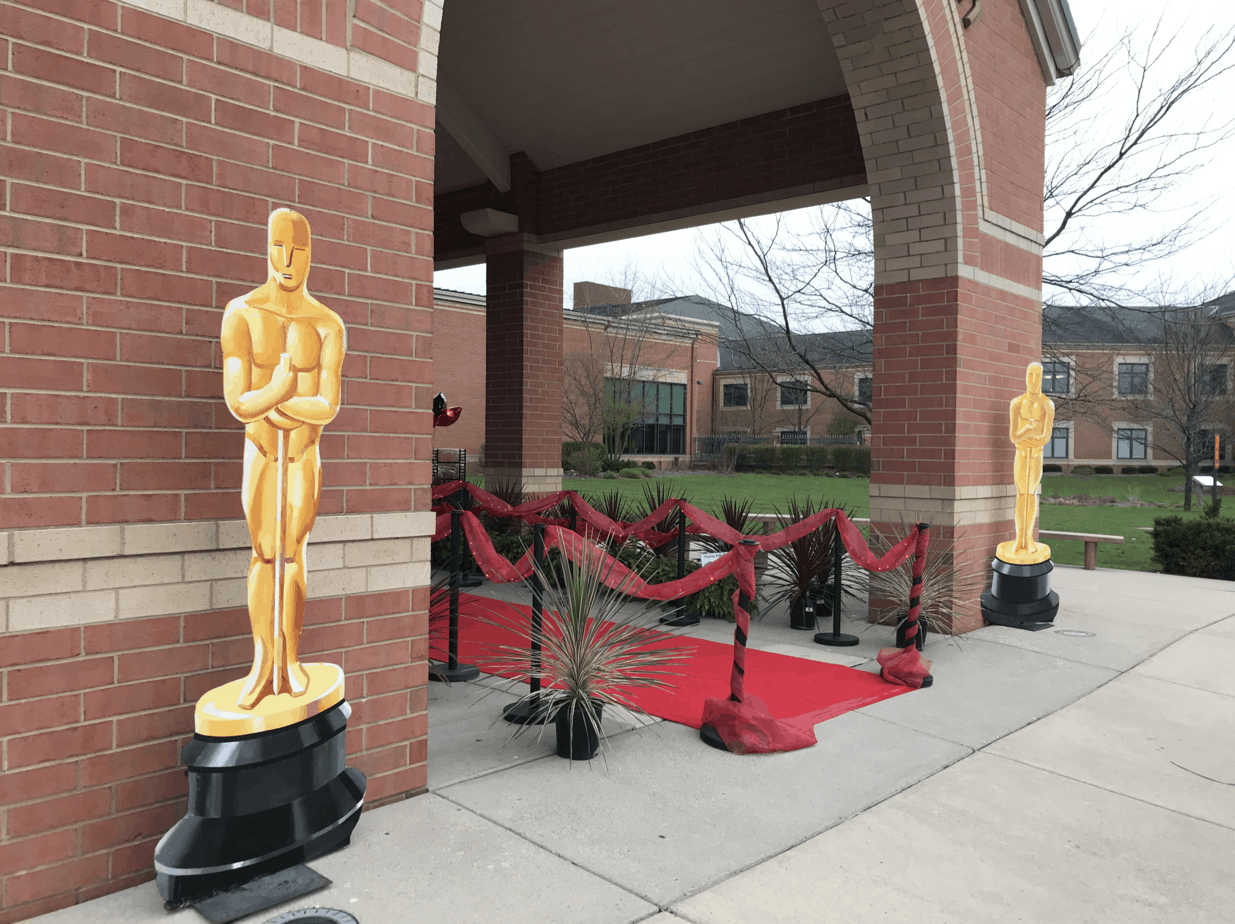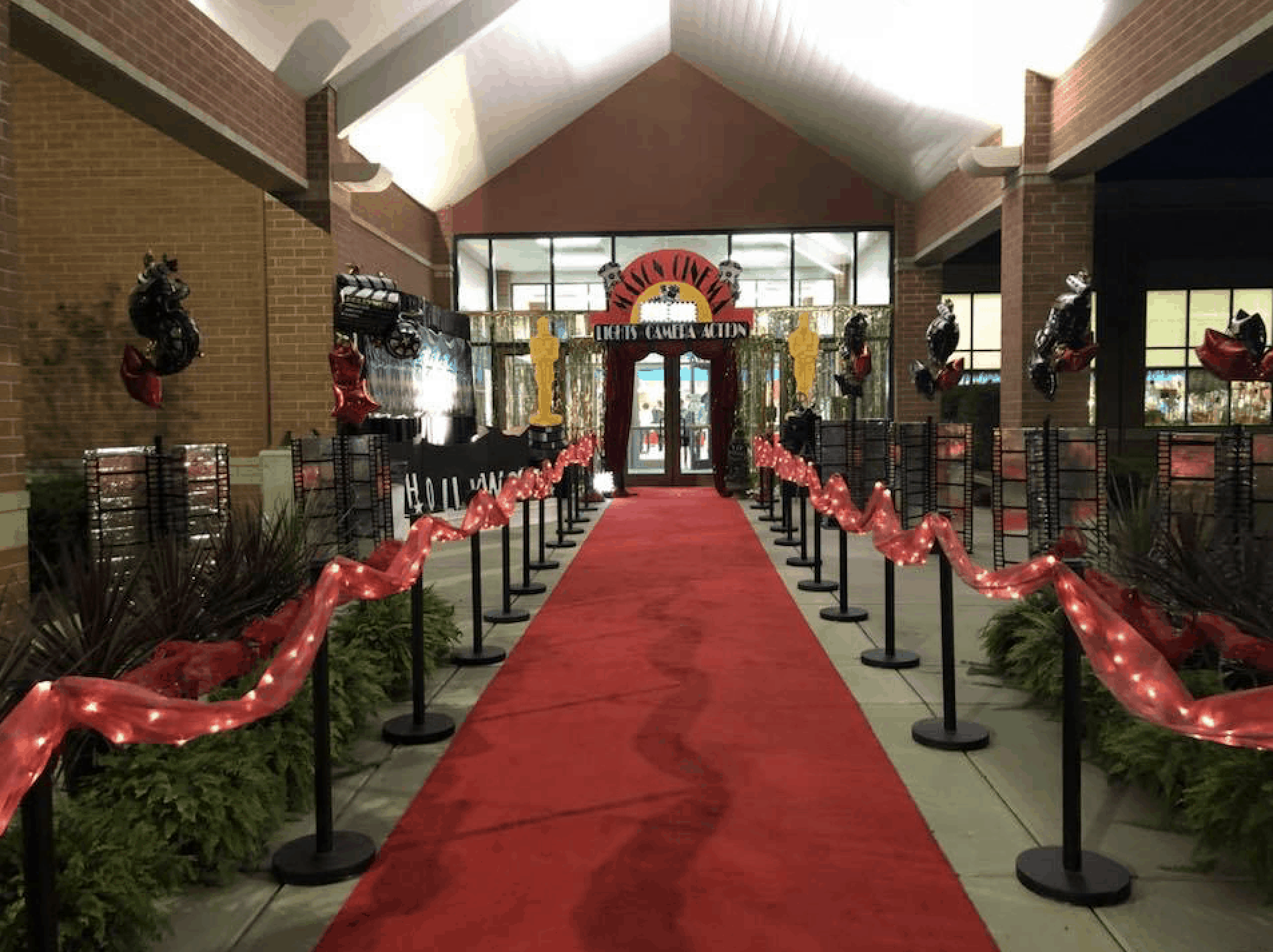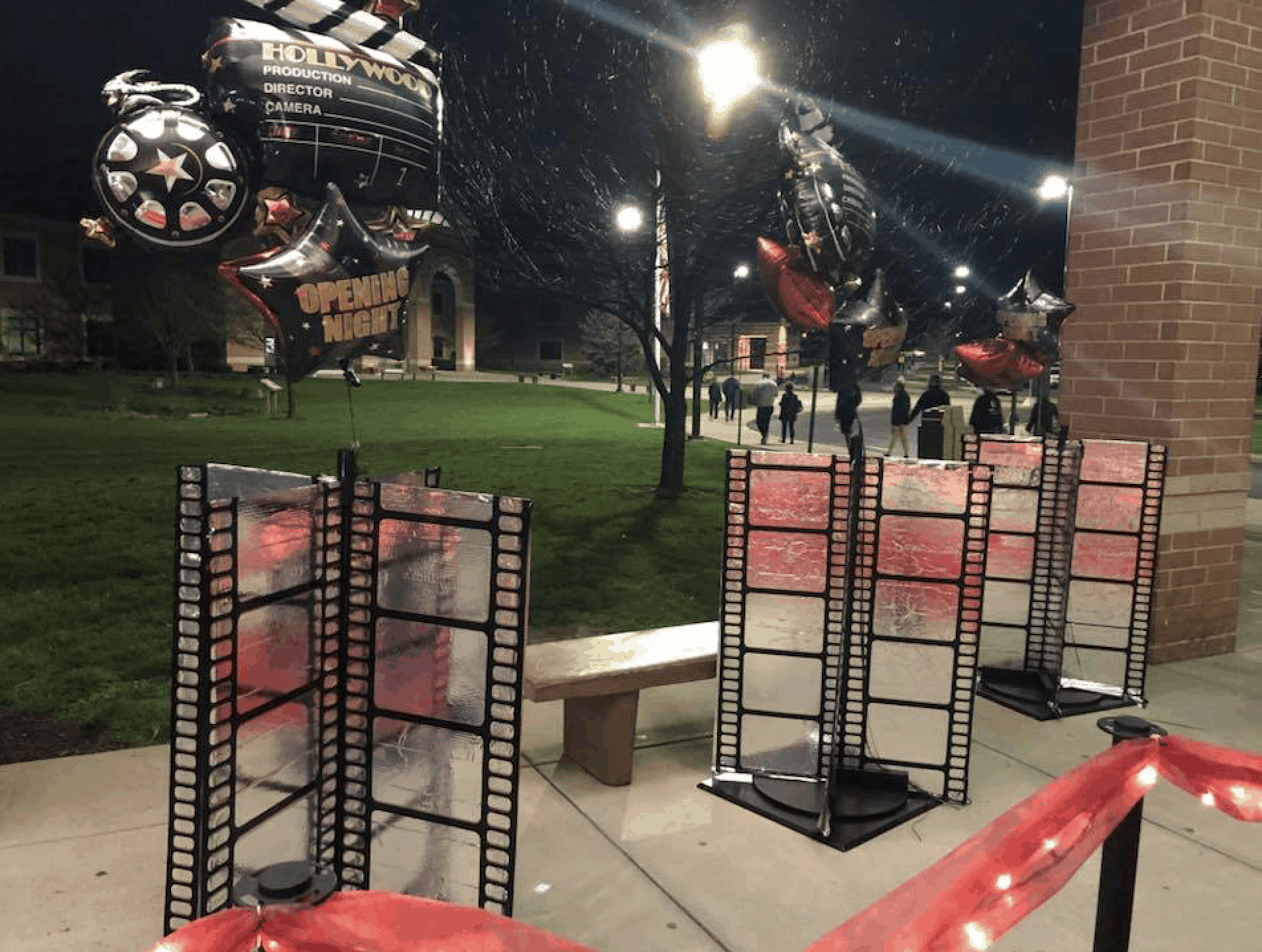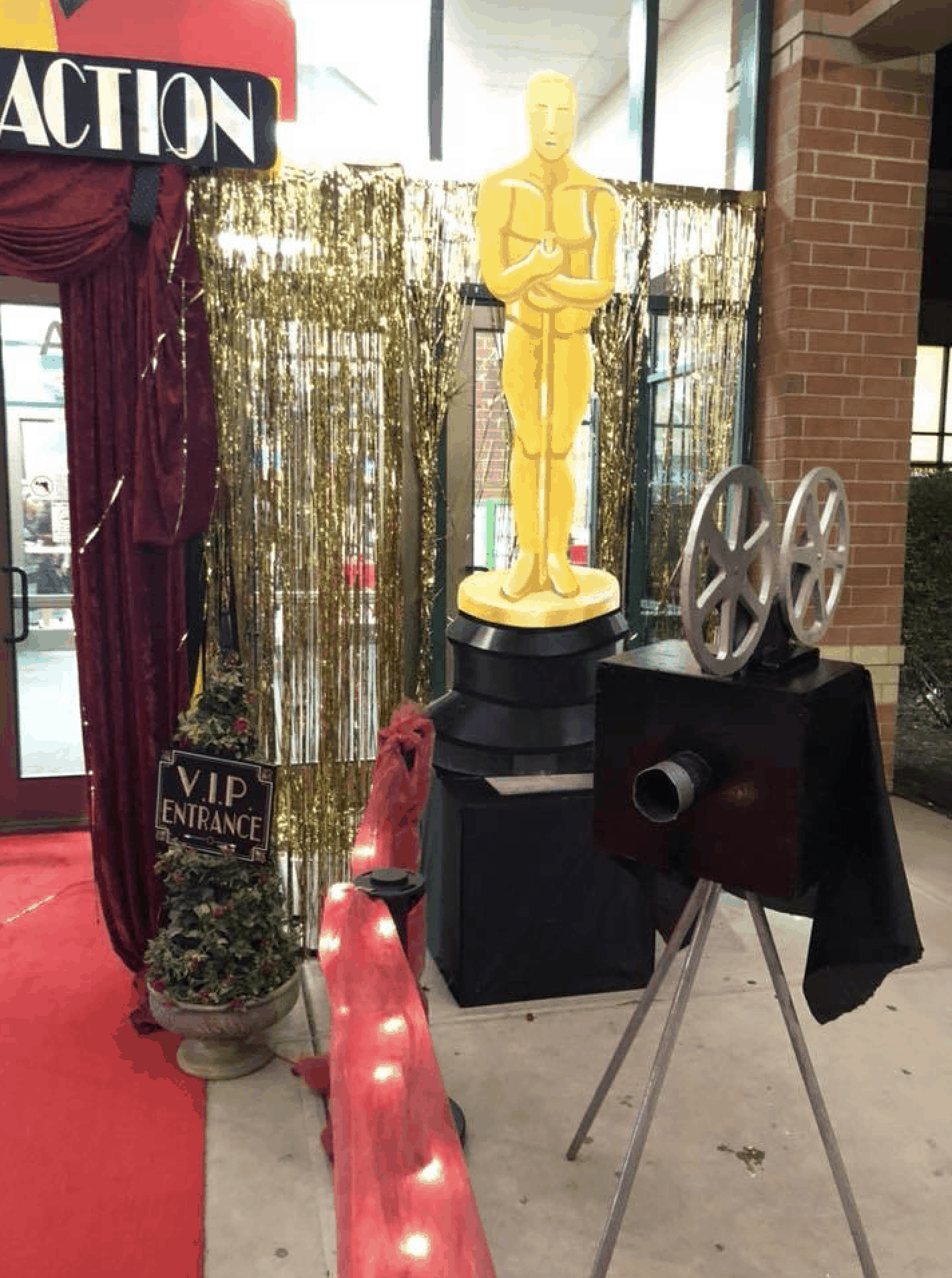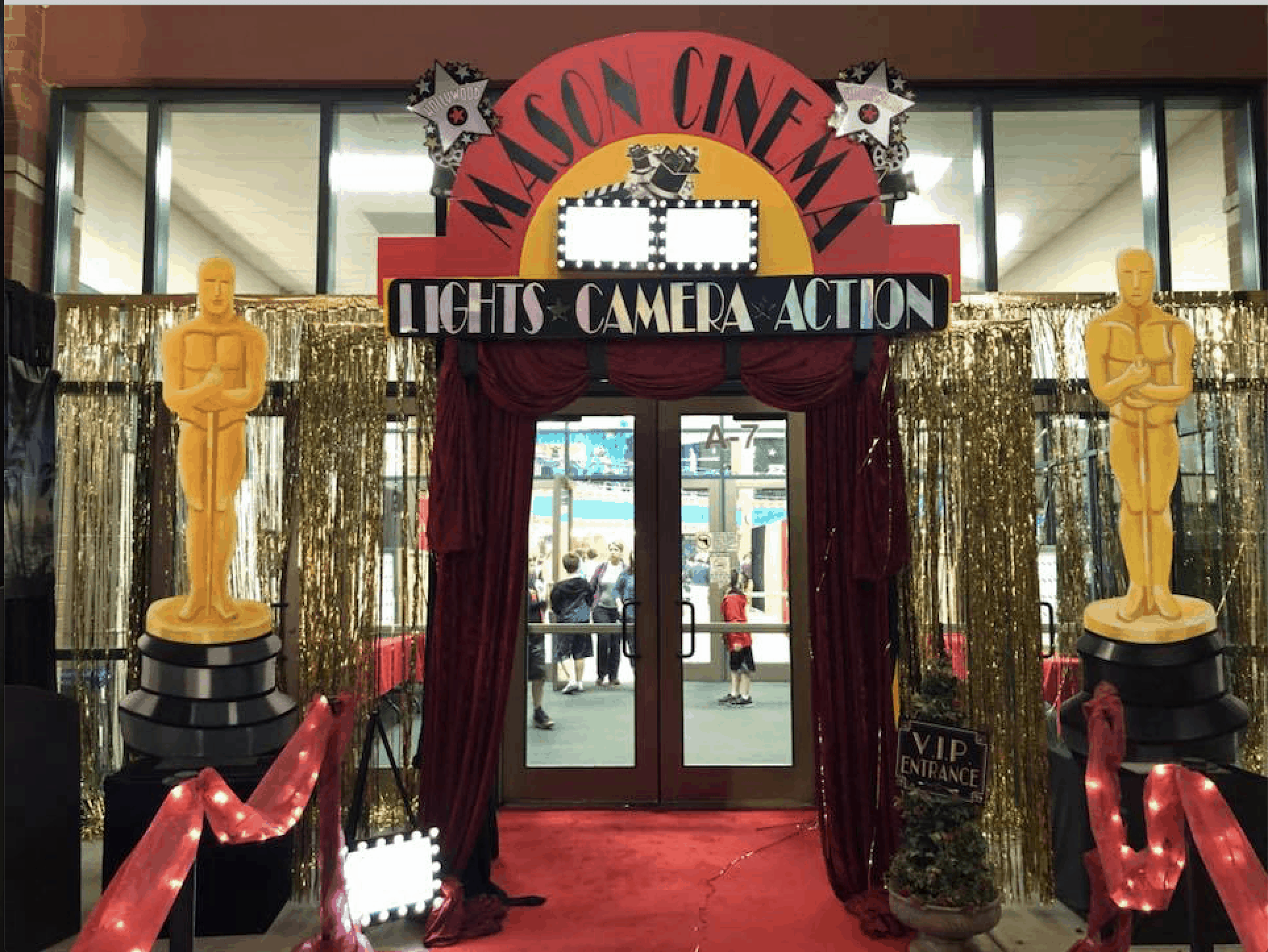 Red carpet, lights, tinsel, life-sized oscars.  And that's just the entrance!  Almost the entire high school is transformed.  Walls are covered in paper or plastic wrap.   Rooms take on themes and provide entertainment.  For one night a year, our very practical school becomes a wonderland.
As the kids enter the cafeteria, the place they have eaten lunch every school day for four years, it has been transformed into "A Toy Story."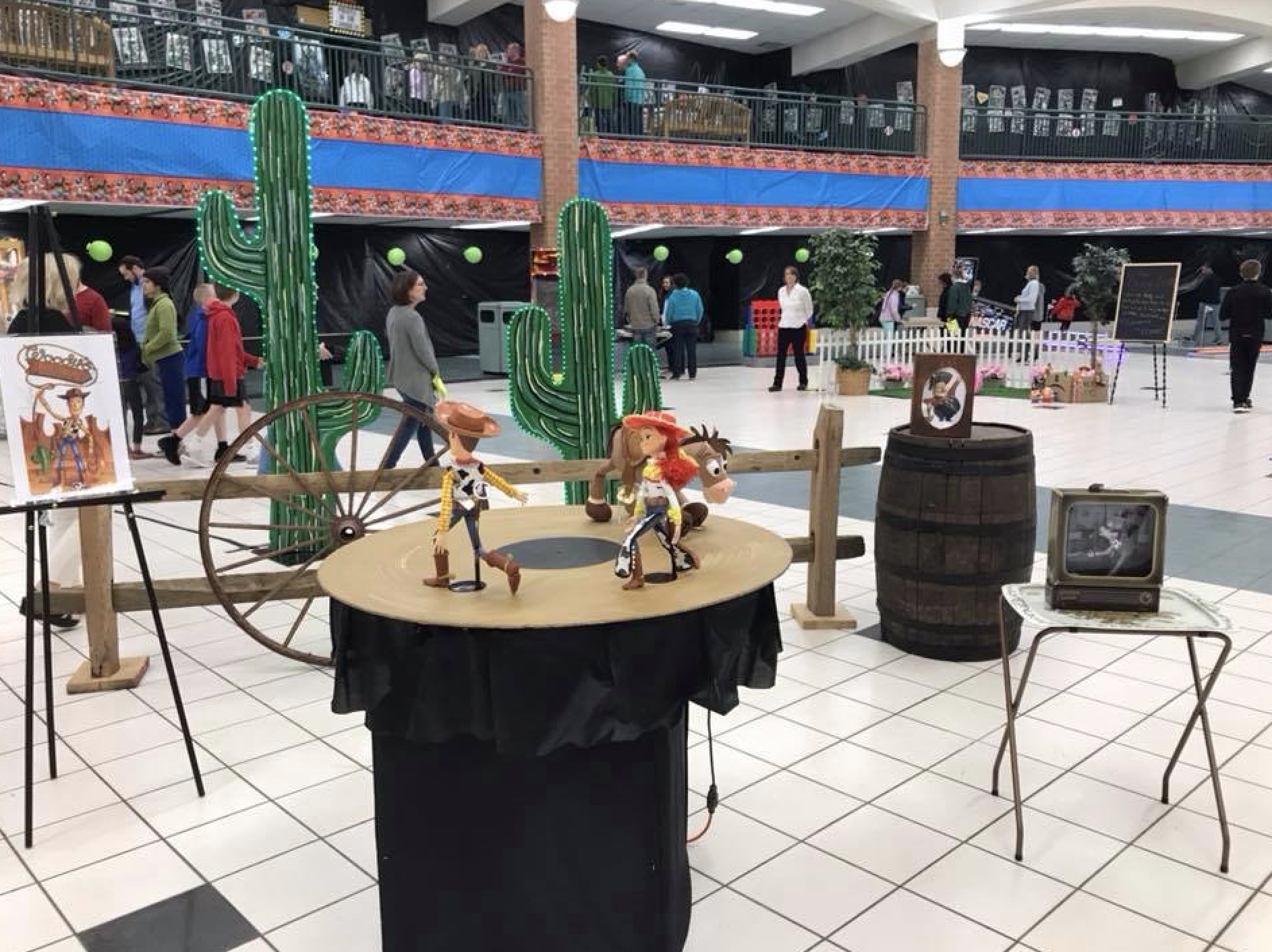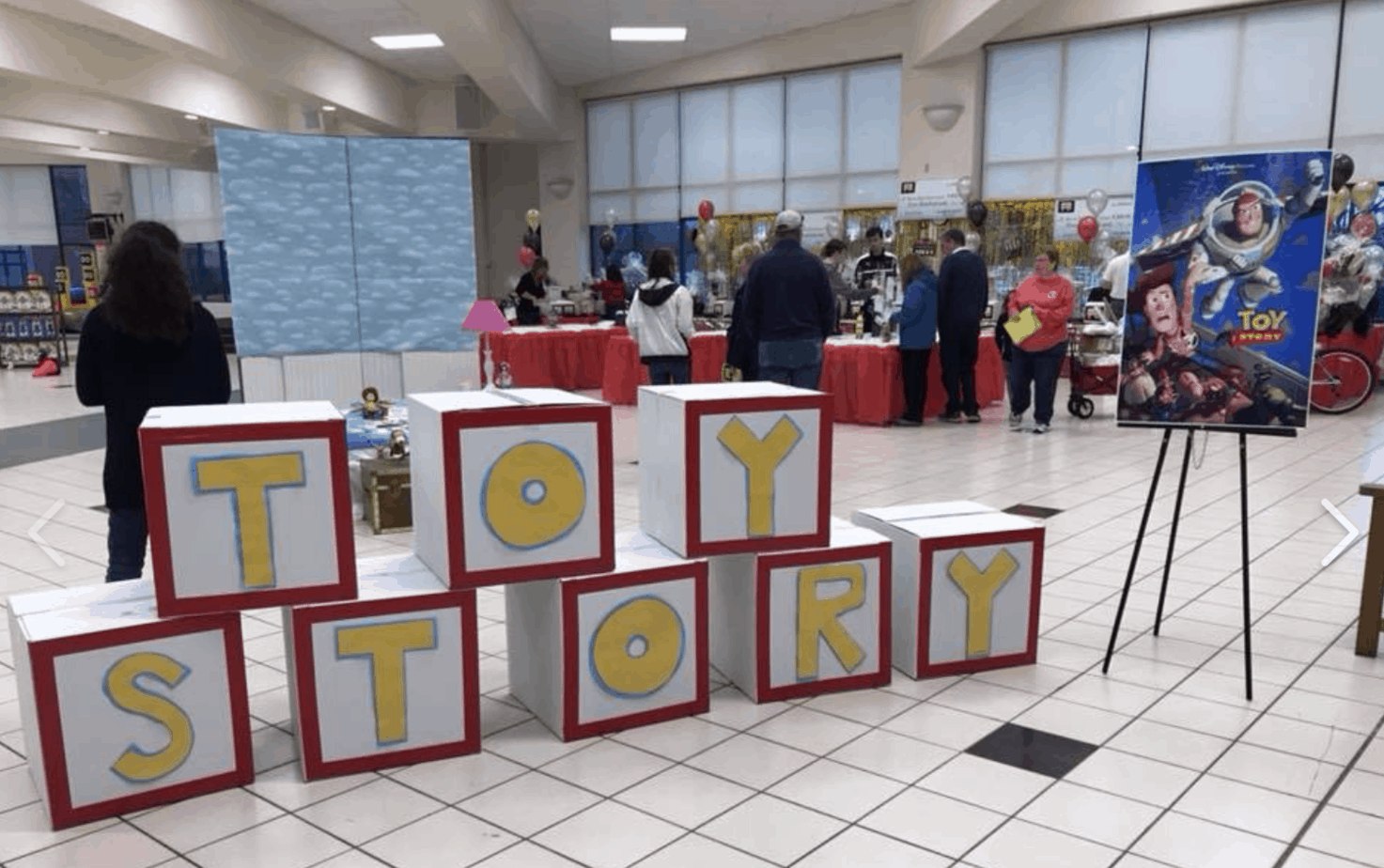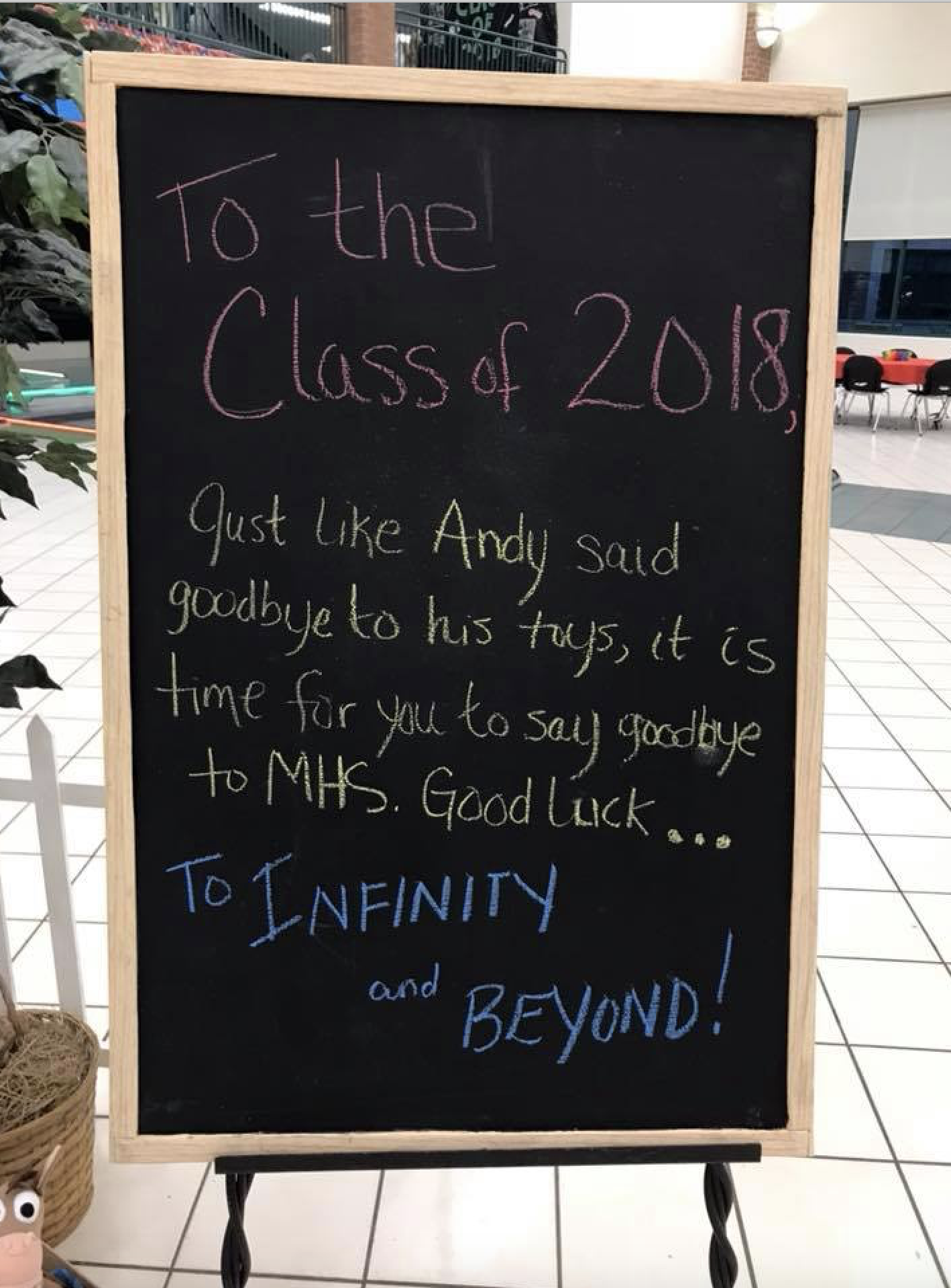 This room (the cafeteria-turned-Toy-Story) offered skeeball, a claw machine, a money machine (catch the dollars), putt putt, pop-a-shot, and strike-a-light.  But you couldn't stay there all night — too many other things to see!  There was a Monsters, Inc room:
The Hunger Games room had archery:
Of course the Lego Movie room had legos: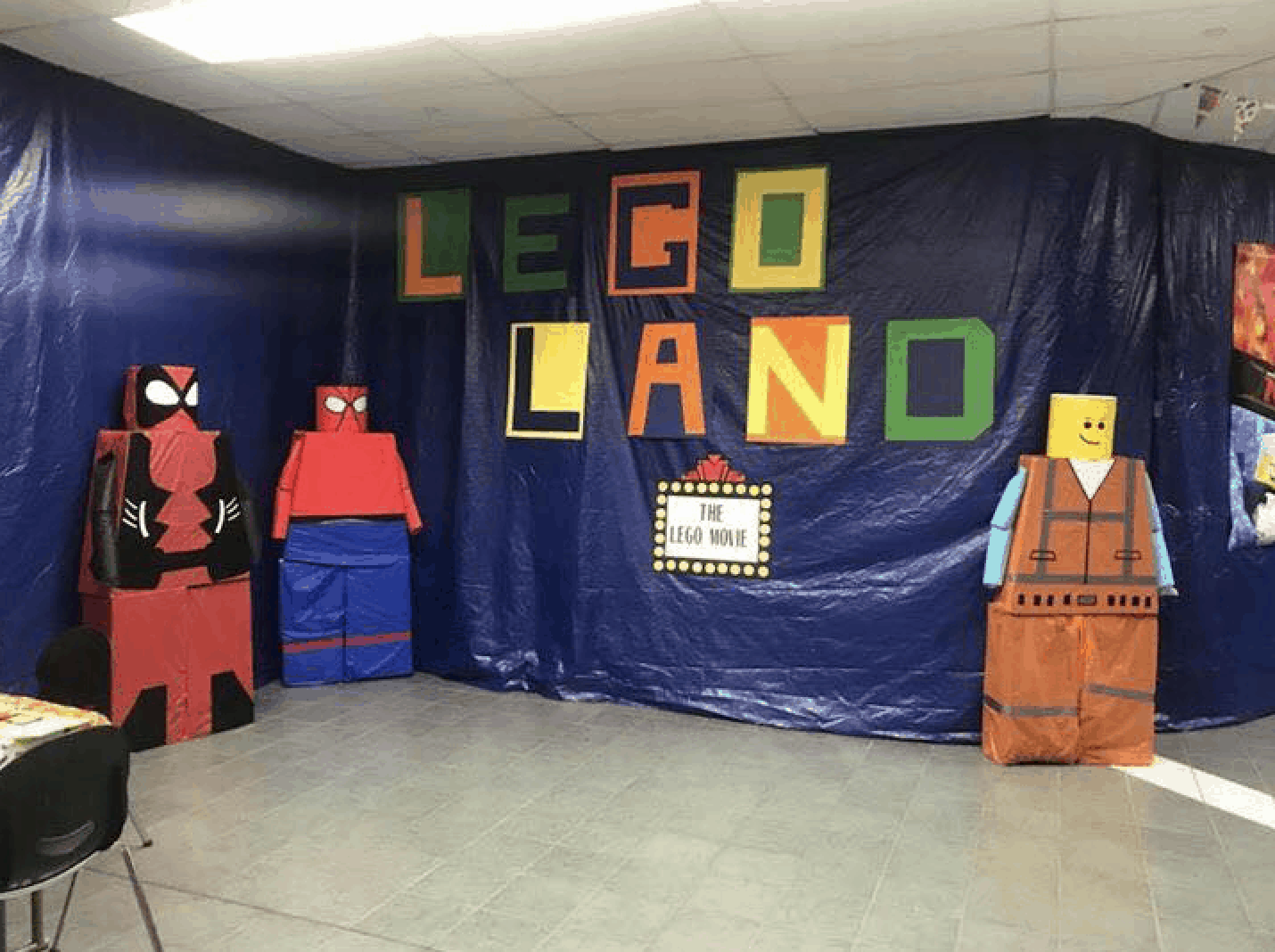 The highlight of the decor each year is the bathrooms.  Boys' bathroom for the "Now Playing" theme, featuring Guardians of the Galaxy:
And the girls' bathroom, straight out of Grease:
Step 2:  There's food.  A lot of food.
Remember Breakfast Club?
Breakfast not your thing?  They've also got a Chipotle Bar, popcorn, pizza, pretzels and snacks from favorite local bakery Servatii's , everyone's favorite fried chicken Raising Cane's, hot dogs, brownies and Dippin Dots.
Step 3:  So many fun activities!
Here's a sample of some of the things you can do at Mason's afterprom:
dodgeball tournament
a gym full of inflatables
karaoke in the theatre (High School Musical)
legos
(fake) tattoo parlor (Girl with the Dragon Tattoo)
games
remote control cars
escape room
Harry Potter games and human foosball (I don't know what these are, but they sound awesome)
glow-in-the-dark Putt Putt (Caddyshack)
And the biggest draw of the evening, year after year:  a hypnotist.  He puts on two hour-long shows in the auditorium, and it is not to be missed.
Step 4:  The kids are the stars.
The high school walls are wrapped in black plastic, to hide the lockers and classrooms.  They are then hung with hundreds of "senior wall" pictures, one featuring each senior, making him or her a star.
Step 5:  Awesome prizes, if you stay.
As kids enter, they receive raffle tickets.  They must stay until the end to win.  The prizes are terrific and include iPads, televisions, and two $500 cash prizes.
How does the evening work, and why does it keep the kids safe?
About 1200 kids attend.  They don't have to go to prom to attend afterprom.  It starts at midnight and ends at 4 a.m.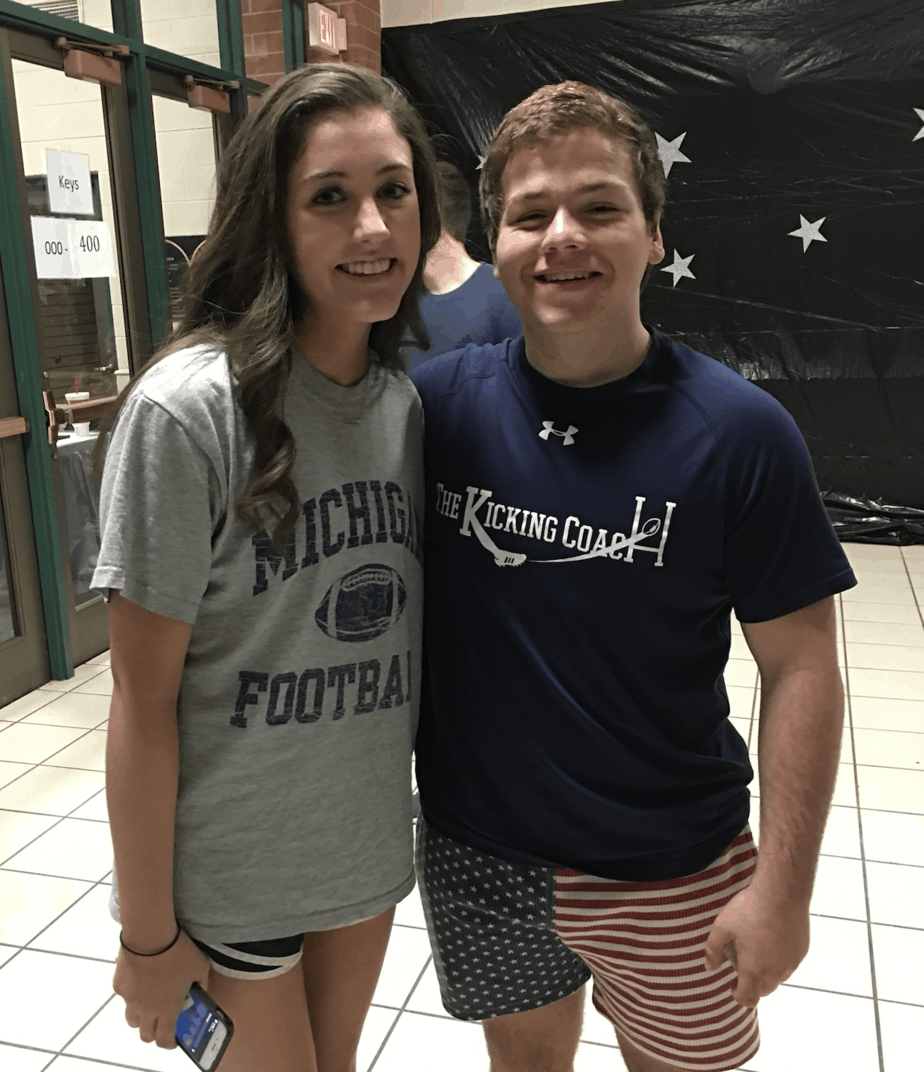 Generally kids come home from prom and quickly change into casual clothes, mostly shorts and t-shirts.  The girls keep their glamorous prom hair and makeup, and the check-in parents love seeing them fancy from the neck up, casual and ready to play from the neck down!  (This picture is my daughter, with her glam hair and makeup from prom, her shorts and t-shirt for afterprom.)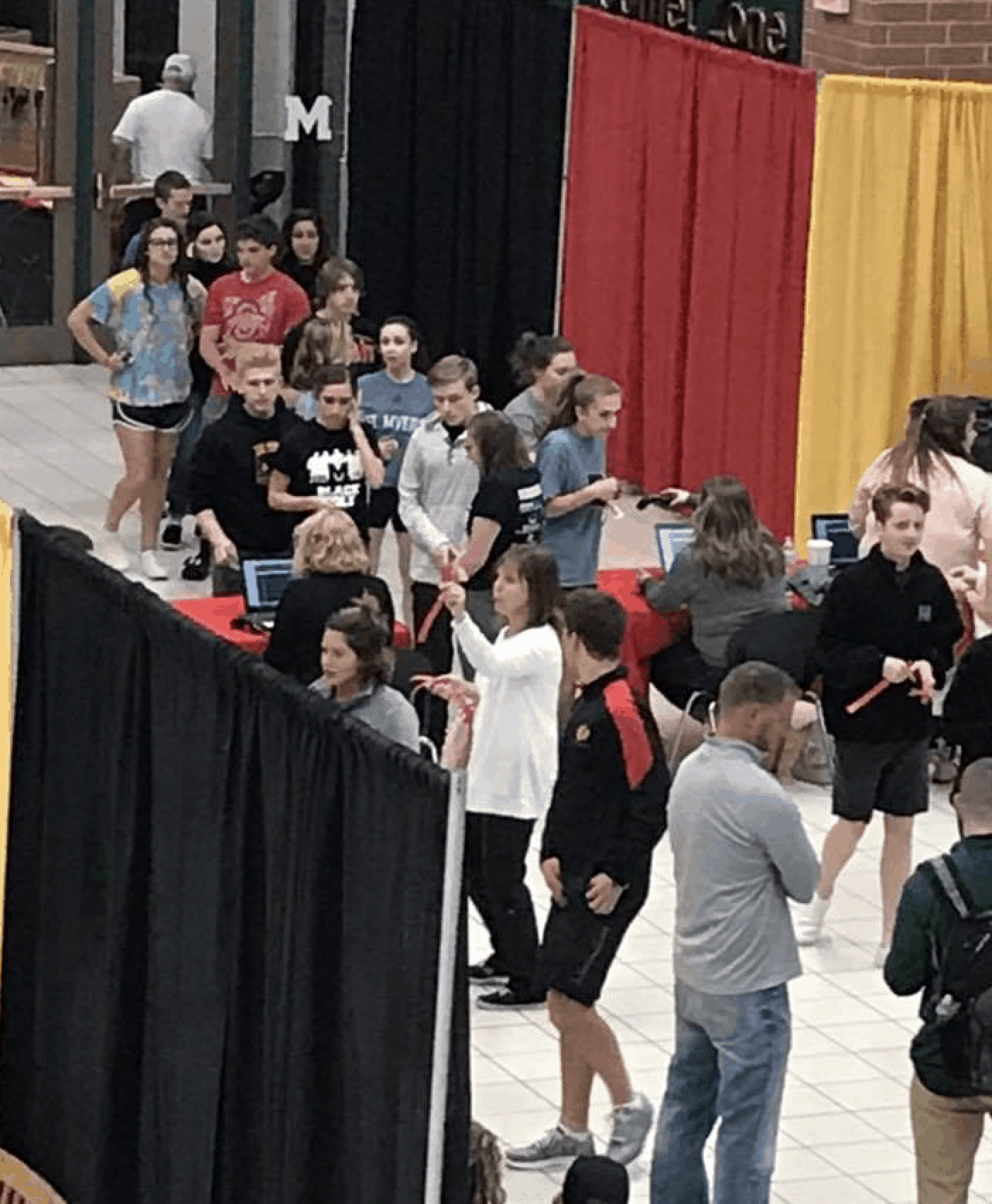 Kids must buy tickets in advance, and must provide parental contact information when buying the ticket.  The students have until 1:30 to show up, and if they aren't there by that time — and this is the genius part —their parents get a call to let them know that they never arrived.  Upon arrival, they check in, hand over their car keys, and no purses or backpacks are allowed in. They may leave before the end, but — again, this is the genius part — their parents will get a call if they do.  This keeps the kids from using afterprom as a fake alibi for other shenanigans, and allows parents to actually get some sleep on prom night, knowing their kids are safe.
How do they pull this off?
1.  They have the cooperation and support of the school.
Our community is blessed with an amazing public school system with wise administrators, energetic and caring teachers, and a savvy school board.  They recognize what a service afterprom provides, and they are tremendously accommodating with their facilities.
2.  They have the support of the community, and they give a bit of afterprom to the community.
Many businesses and individuals provide financial donations and in-kind gifts to make the evening so special.  A local dance studio has provided wonderful financial support, donating the proceeds of its annual "Nutcracker" performance.  Mason Dance Center  has donated almost $10,000 per year to Mason afterprom.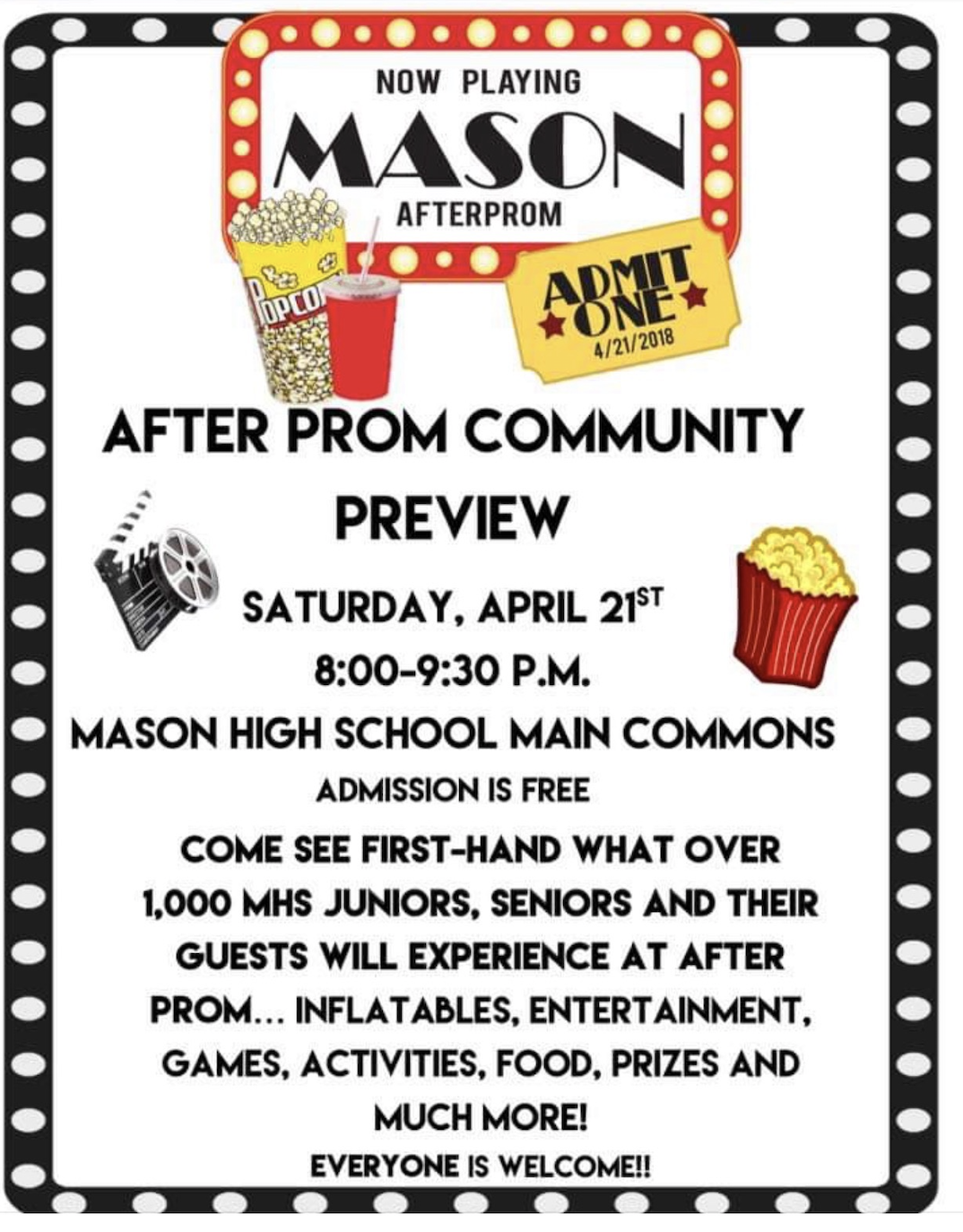 In recognition of community support  — and perhaps as a clever marketing tool as well — while the students are at prom, the afterprom is open to the community for "preview" for a few hours. Families come to the school and see the transformation, play the games, jump on the inflatables, etc.  Parents love the senior wall, and enjoy seeing pictures of the kids through the years.
The community preview is genius.  It is free to the public, but donations are welcome.  Also, it is a great way for parents of younger students to see what afterprom is all about, and consider volunteering when their kids are in high school.
3.  The kids pay for a ticket (but not very much).
Tickets are $20 per head, and include unlimited food, drink and entertainment.  That's a bargain compared to the price of prom.
4.  Extracurricular groups jump in.
Each extracurricular group (lacrosse, soccer, marching band, swim team, etc.)  takes a room or activity, and is responsible for the decor, the games, the food — whatever that area features.  They also recruit the volunteers necessary to staff that area for the evening.
5.  NEVER underestimate the power of Moms (and Dads).
The community comes together for afterprom.  But the true heroes here are a group of parents (OK, mostly Moms) who work tirelessly the entire year to pull this thing off.  They have committees.  They recruit volunteers.  They ask for donations.  They think of themes.  They spray-paint, and sew, and build, and collect, and wrap walls in plastic.  They sell tickets, take keys, check kids in, and call mom and dad at 2:30 a.m. if junior wants to leave early.  They keep our kids safe on that wonderful, scary night.
For more ideas about how to keep kids safe while having fun, please see:
For stories about friendships and traditions, please see: