Want to treat your high school senior with a spring break to remember?  Cruising for senior spring break is safe, cost-effective, accommodates a large group, and makes everybody happy.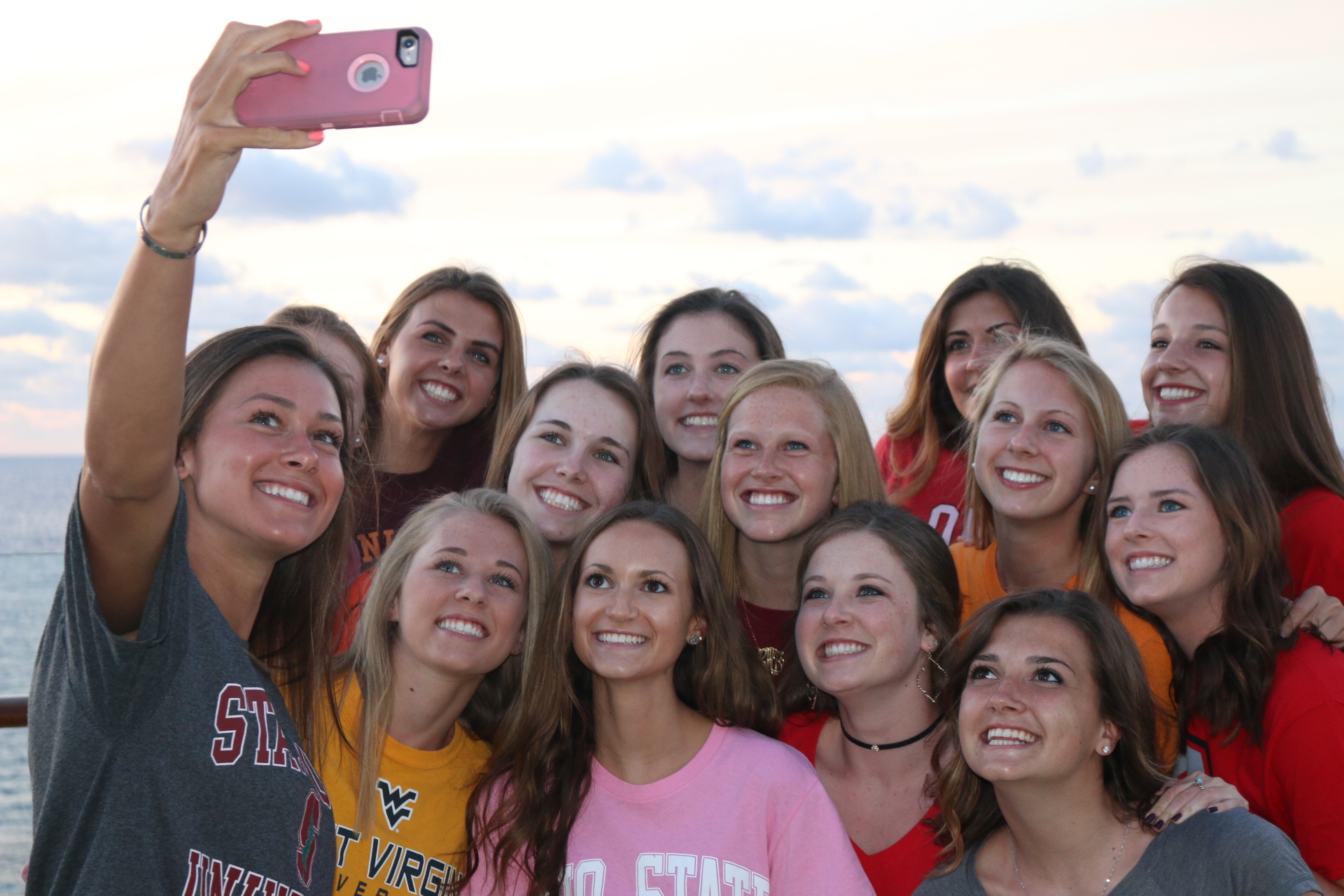 Advantage #1:  Cruising includes the parents (no unchaperoned groups of kids)
Cruise lines have rules about unaccompanied minors; a large group of high school seniors cannot cruise without parents.  We had a few girls with us whose parents could not attend the cruise but most of us considered this a family vacation, albeit in a big fun group.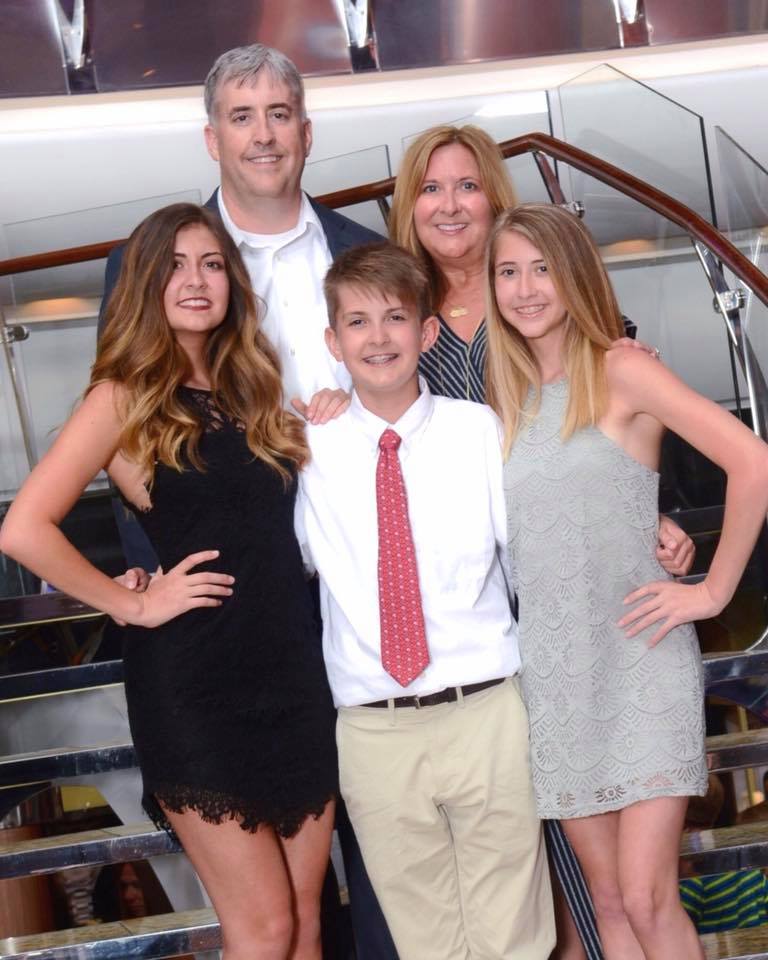 So not only were our girls safe and accounted for, we got to spend a fun and special week with them before they head off to college.  By spring senior year, we parents were holding on to every last minute we had with our graduating senior, and we were grateful for a week together — even if we saw very little of them.
This is actual photographic evidence that parents and children did (rarely) spend some time together.
Advantage #2:  Cruising is relatively safe
Yes, accidents and trouble can happen on a cruise ship.   But it seems a lot more safe than sending hormonal teenagers out for adventures in places like Cancun, Panama City, or Key West. A cruise ship is a contained environment.  The only people on board are people who should be on board. There are lots of cruise line staff lurking around.  It's well-lit.  No one under 21 can legally drink on board.  (Yep, I'm sure there are ways around that.  But I didn't see a lot of minors drinking on our ship.)
Advantage #3:  Cruising can accommodate a large group
Our group had 39 people:  14 graduating senior girls, plus parents, siblings and a grandmother.  I can't imagine traveling with a group that size any way but on a cruise.
A cruise is especially accommodating for meal time.  We requested that we all be seated in the same area.  We had a table for all the senior girls, a table for the "littles" (all the younger siblings), and a few tables for various groups of the adults, which we switched up every night.  While we all scattered during the day, we gathered each night for dinner, without worrying about reservations, splitting the bill, etc.  And dinners were fun!
Advantage #4:  Cruising is cost-effective
Cruising is not cheap.  But neither are hotel rooms and eating out for every meal.  When you factor in everything you get on a cruise, it's a good value.  Find an experienced travel agent and get some quotes; it's very cost-effective.
Our travel agent got the adults the rooms they wanted (window?  suite?  balcony?) and placed girls together but in close proximity to parents, as required by the cruise line.   She arranged for our dinner times and made specialty reservations.  She also helped with excursions.  And the price I paid for her was less than was advertised on the cruise website.  She was worth her weight in gold.  Renee Sutton, Dream Vacations.
Advantage #5:  Cruising is fun for the kids
They can have some independence (but not complete unfettered chaos)
For our group, the girls stayed in rooms together, and the parents had their own rooms.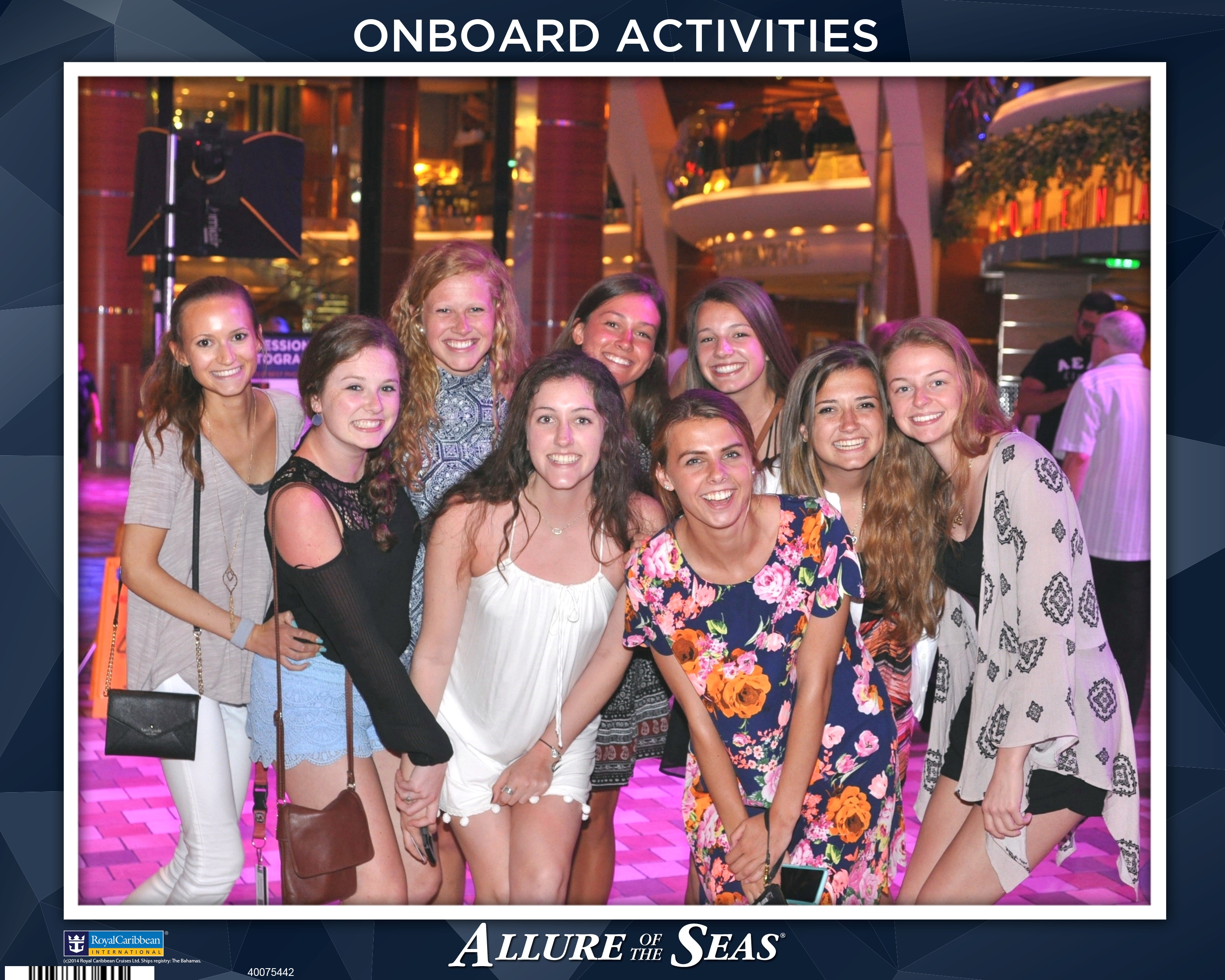 The kids could do what they wanted, within obvious reasonable limitations.  On-board wi-fi and texting added a level of security, as we could communicate with them when needed.
There is a lot for them to do
No, they can't hang out at the bars.  But they can go to the pool, workout in the gym, climb rock walls, sit in hot tubs, ride zip lines, play pool volleyball, go to an arcade, shop, go to shows, and sing karaoke.  Almost every day has a port, with a long list of excursions and beautiful beaches.
They are with their friends
Did I mention we had fourteen girls with us?  Our daughter could always find one of her buddies for an adventure.
There are terrific photo opportunities (important for the instagram generation)
My favorite night with the girls was when they wore the shirts for the colleges they would attend upon graduation, and we took pictures at sunset.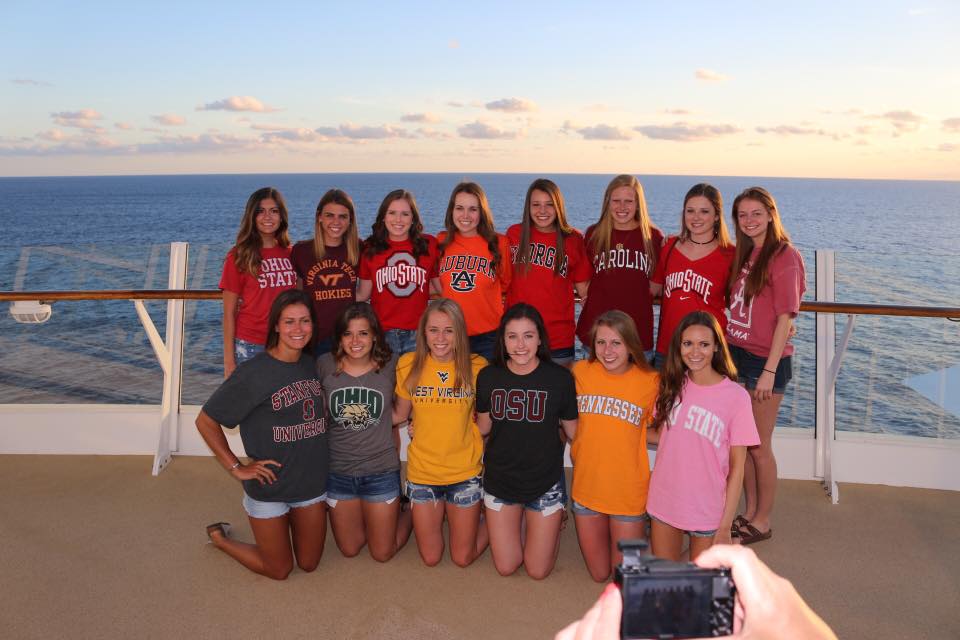 They might even enjoy seeing their parents (occasionally)
OK.  Truth time.  I don't have a single photo of my husband and I with our daughter on this cruise.  I have 500 photos, but none of the 3 of us together.  So we didn't spend much time just the three of us.  But it is possible, so I'm told. . .
They will make memories to last a lifetime
It's a cliche, but they will.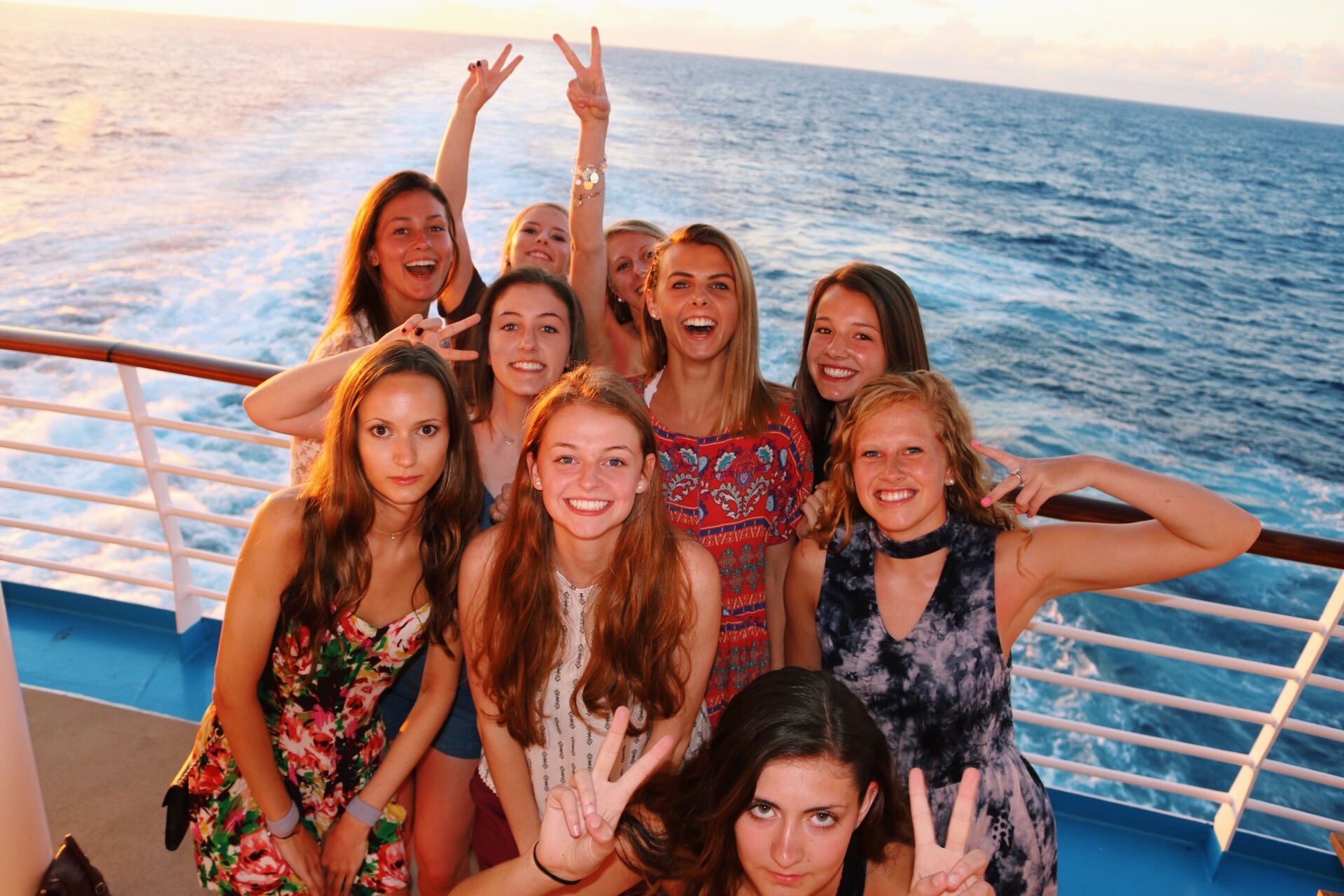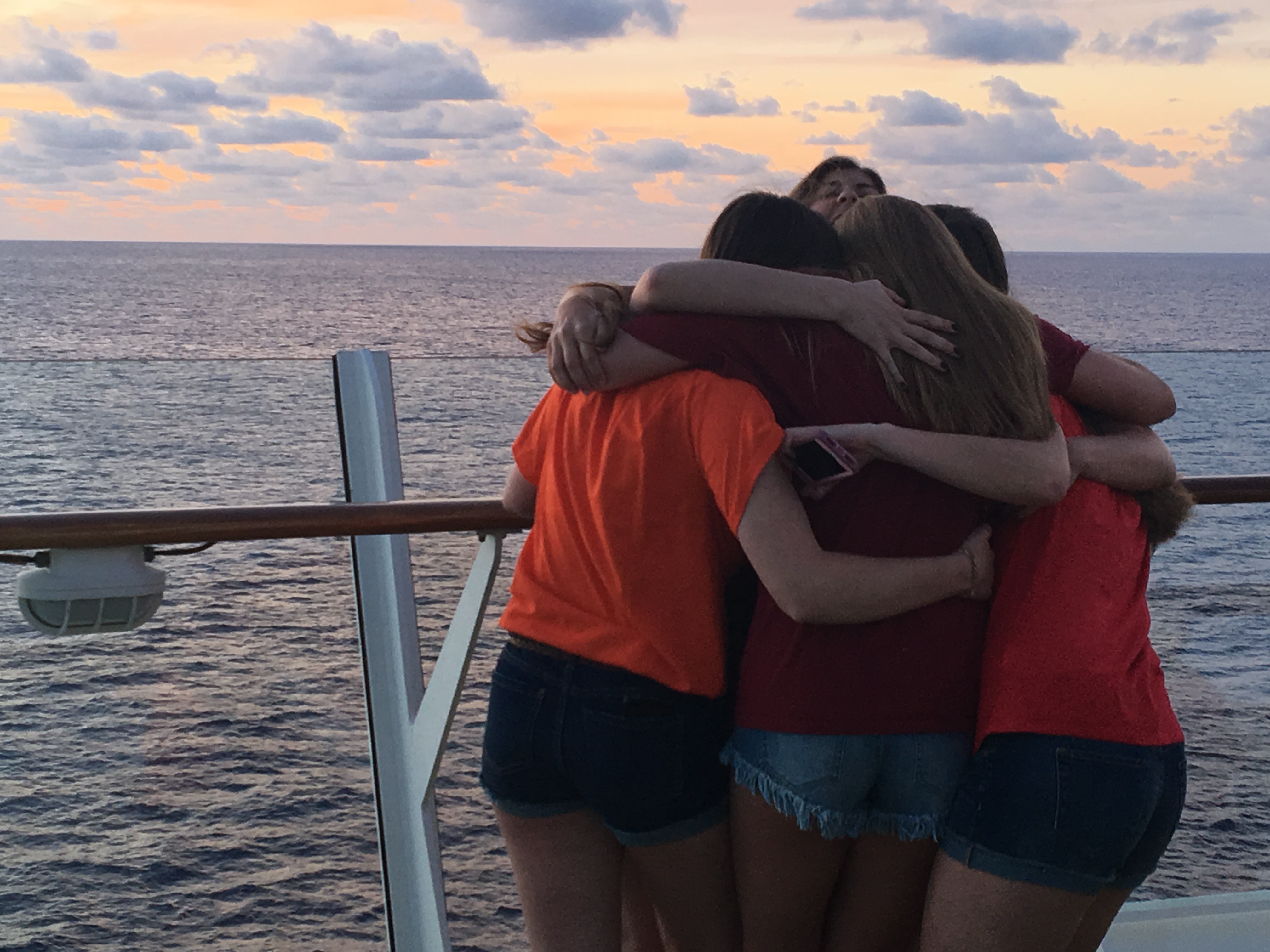 Advantage #6:  Cruising is fun for the parents
Spring break is all about the kids, right?  WRONG.  Parents get to have some fun too.  And we did! We got some sun, sat in the hot tub, had happy hours, and went to the beach.   One night we escaped the main dining room (and the kids) and had an adult dinner at one of the specialty restaurants.
And don't discount the joy and fun of seeing your graduating senior have a wonderful spring break with friends!