High school graduation is right around the corner.  (Parents of graduating seniors — pull out your tissue and get ready for a wild ride.). These kids have worked hard, and have been under tremendous pressure.  Let them know how proud you are with a thoughtful and useful graduation gift.
This post may contain affiliate links, which means we may make a small commission if you purchase something through the link.  You don't pay a cent more than you would otherwise.
These recommendations come straight from recent graduates.  I conducted an unscientific poll of several students (including my own kids) who graduated within the last 3 years to find out what gifts they were particularly grateful for.  Here are the results.
Monogrammed towels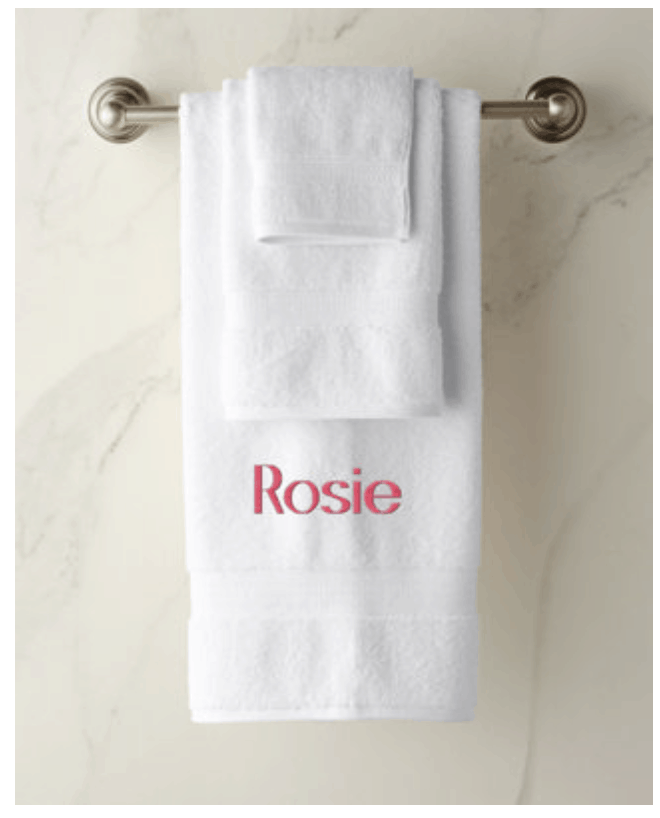 Monograms are very popular right now.  And who doesn't love a new clean towel?  This 6-piece set from Horchow comes in multiple colors and includes two towels, two hand towels, and two wash cloths.  And they'll monogram the set for $12.  As I write this, they're on sale.
This is my go-to graduation gift.  Horchow has always gotten my color and monograms right, has even shipped them to my recipients for me.
You can order them in a color to match your grad's room decor, or get them in the school colors.
Collegiate blanket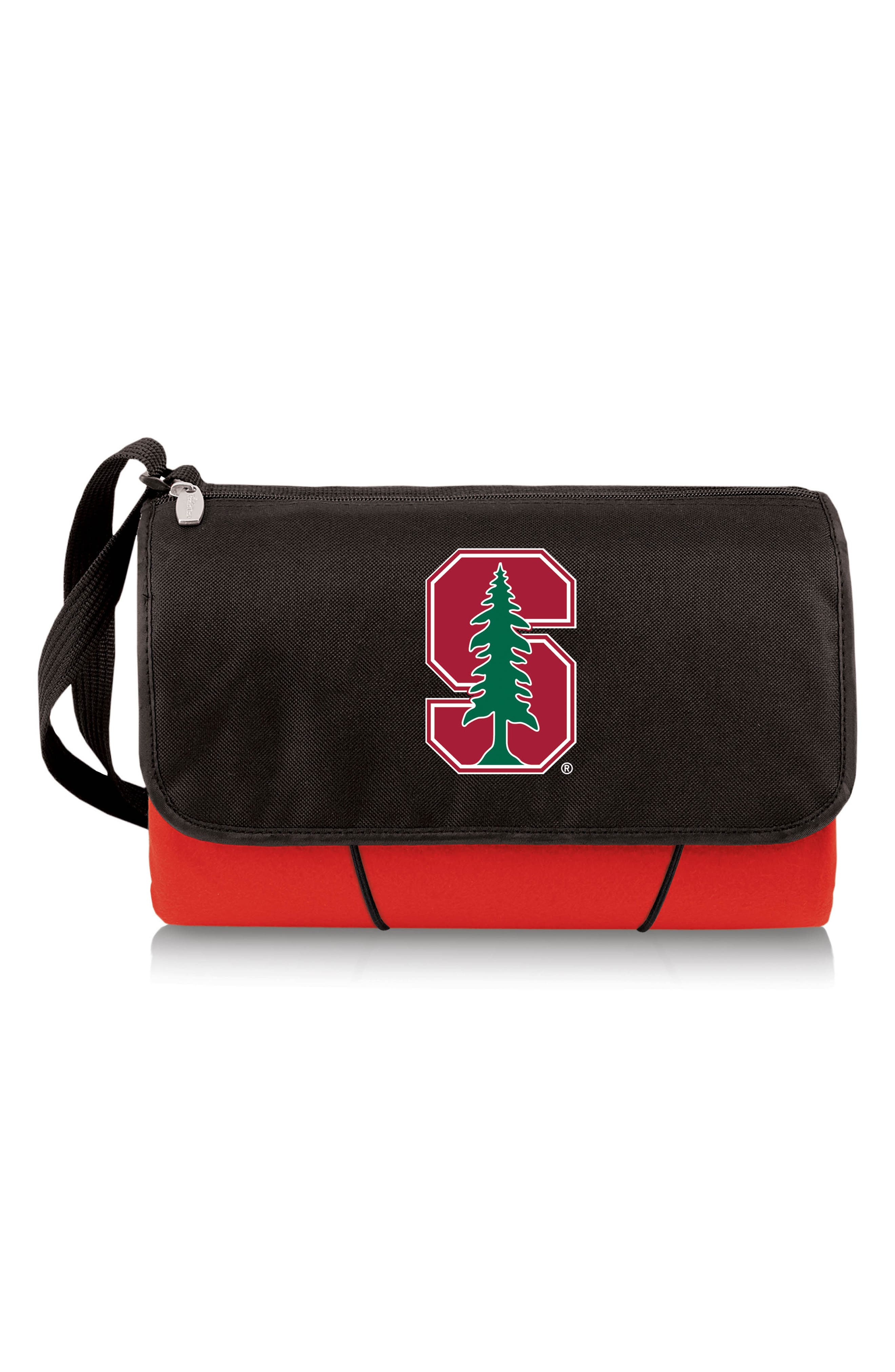 This is a very popular and useful graduation gift, for both boys and girls.  They can put it on their bed, or take it outside or wrap up in at a chilly fall football game.  This lightweight blanket and tote from Nordstrom's  is a great buy at $33.95, with free shipping.
Amazon also has collegiate blankets, like this soft University of Michigan throw .
Game Day handbags
Did you know that many football stadiums will not allow handbags, purses, backpacks, etc. — unless they are see-through?


Kalisa had a moment of brilliance when she thought of cute clear handbags for graduates.  This clear purse from Amazon is even approved by the NFL.
This clear crossbody bag clear crossbody bag (NFL, NCAA and PGA stadium approved) could also be monogrammed.
Water bottles, tumblers and travel mugs
Have you noticed that these kids are never without a beverage in their hands?  Invest in a quality water bottle, cold-drink tumbler, or coffee mug and they'll carry it with them always.

I've previously written about my love of the yeti.  You can a collegiate yeti tumbler like this one at Amazon.  Shout out to the Cincinnati Bearcats.
And these kids are coffee drinkers!  My daughter loved this cute Kate Spade Insulated Travel Mug from Amazon until I "borrowed" it for myself.
I also hear that the Hydra Flask is the hot new thing.
Jewelry case
Every girl I know who received this present loved and uses it.  We are not affiliated with MarleyLilly, so I don't want to get in trouble for posting a picture of their monogrammed jewelry case, but you can find it here.  In fact, they have many cute monogrammed items that are great for graduation.
College sweatshirt
This might seem like a cop-out.  But trust me, every new college student loves a great sweatshirt of their school.  This is especially great for those hard-to-buy-for boys.
Personalized stationary
These kids are going to have to write thank you notes for the graduation gifts.  Set them up to do it in style.


Pair personalized stationary with a nice pen, and maybe some stamps, and they'll be thanking you in style!
Ohio State Trash Can
Wait — what?  A trash can?  Yes.  One of my son's favorite gifts was an Ohio State trash can.  Why?  Because he attends the University of Michigan.  And there is no love lost between Michigan and rival Ohio State.  This was a really cute gift, and was from another family that shares his lack of love for the Buckeyes.  It was filled with "necessities" for an 18-year-old boy, like junk food, Febreze, a phone charger, etc.  But he loved the trash can most of all.
And lest you think I'm hating on the Ohio State Buckeyes — Nope.  I love them.  My sweet daughter is a Buckeye.  Maybe she needs a U of M trash can?
Things that smell good
Dorm rooms don't always smell good, even on move-in day when they should be clean.  And they're even worse a month in, or a semester in.  While candles are not a good idea (and are probably prohibited), there are many products that can help that room smell fresh and clean.


A diffuser can fill a room with the smell of soothing essential oils.  Or you can attack that odor more directly with a value pack of spray air freshener!


You could make a basket of dorm cleaning supplies (spray cleaner, wipes, toilet cleaner, etc.)  Warning:  I sent my son off to college with a basket of cleaning supplies.  Moving him home nine months later, not even one had been used.
Meaningful wall art
They're moving away from home, into a small dorm room, probably surrounded by strangers.  Get them something to hang on their new walls that will make it feel like home.  Maybe a framed picture of their championship team, or a collage of their group of high school friends.
My daughter loved this lighted picture hanger .  It is battery-operated, so easily turns off and on.  She printed photos of her friends from home, her dogs, and maybe even a shot or two of her brother, her father and me.
A great backpack
You'd have to know the grad really well to get them this gift, because book bags are very individual, and works for one kid might not work for another.  (Plus, they can be pricey.)

My mother-in-law gave my son a beautiful leather backpack, like this one from Fossil on Amazon .  It is the perfect size, comfortable to carry, and has gotten more beautiful with use.  He loves this backpack, and thinks of Grandma every day he uses it.
She didn't actually pick out the particular backpack, because she didn't know what size, material, etc. to get him.  Instead, she gave him a gift card that that purpose, and he got exactly what he wanted.
Which brings us to. . .
Gift cards
I feel lazy when I give gift cards.  I shouldn't, and neither should you.  The kids LOVE them.  They especially love them when there has been some thought behind the vendor.  Is the grad a coffee drinker who loves a locally-owned shop?  Do a little research into their college town, and find the cool coffee spot for that campus.  Or is your grad a guy who can't live without weekly Chipotle?  Go for that.  Other favorites:  college bookstore, iTunes, Uber, Starbucks, Amazon.
Cash
And here's where I state the obvious:  COLLEGE IS EXPENSIVE.  Not just tuition, but books, gas, pizza, etc.  Every grad I asked mentioned cash as one of their most-appreciated gifts.  One gal mentioned that her first semester was the first time in years she wasn't working part time, so she really appreciated having some cash in her pockets from graduation gifts.
Heartfelt notes
I watched my son (Class of 2016) and my daughter (Class of 2017) open their presents and saw their surprise and gratitude at the generosity of friends and family. But I also watched them read every card.  I saw them smile, laugh, and tear up.
From a mom's perspective, graduation is a very emotional time.  That last month I probably cried every day, either from joy, pride, fear, or simple exhaustion.  Whereas I was an emotional wreck, the kids just seemed to be having a blast — prom, senior spring break, college acceptances, nights out with friends, grad parties, etc.
But as I watched my kids' faces as they read those graduation cards, I realized that they, too, were scared, proud, happy and nervous.  They knew their dad and I supported them and were rooting for them, but it was very comforting and impactful for them to hear from their community that they were loved and would be missed.
So take a moment to let that grad know how you feel.  Tell her about watching her grow up and become a remarkable young woman. Tell him how proud you are, and that you know he'll succeed.  They really will appreciate it.
And then they'll go grab some Chipotle with your gift card.
For more about gift ideas, please see:
For more about graduating seniors, please see: