You don't have to hail from Louisiana to host or attend a Crawfish Boil, but the Louisiana natives certainly know how to do it right!  Our friends hosted an impromptu Crawfish Boil last weekend with a small group of families.  Because it was Easter weekend, the families had strong representation and it was quite the crowd!  And the hosts, Jay and Tara, are professionals when it comes to Crawfish Bowls.  They've hosted several since we've lived in Florida and it truly is a great way to celebrate family, friends and good food.
History
Old Cajuns say that when their ancestors were forced to leave their homes in Novia Scotia in the 1700s, the lobsters loved them so much that they followed them to Louisiana.  The long journey over land and sea resulted in the lobsters shrinking from the effort.  These evolved (or devolved?) creatures were renamed crawfish.
State Pride
Generations of Louisianians have and continue to celebrate their beloved crawfish.  In fact, in 1983 the crawfish became Louisiana's official state crustacean…the first state to celebrate a crustacean!
Mad Men Marketing
Maybe the state of Louisiana hired Sterling & Cooper (Mad Men fans will get this) to shift the image of the crawfish? Until the early 60s, crawfish was largely stigmatized as a "poor man's food".  Other than the poor in rural areas, crawfish were mostly used as bait.
But then in 1960, the first Breaux Bridge Crawfish Festival was held in an effort to change the public image of the freshwater crustacean. It was a turning point and families have been enjoying crawfish boils for years and years.
Tis the Season
Beginning in late February, usually around Mardi Gras time, and extending through early June, is crawfish season.  If you haven't had the pleasure of attending a Crawfish Boil, be sure to say yes when you have the opportunity!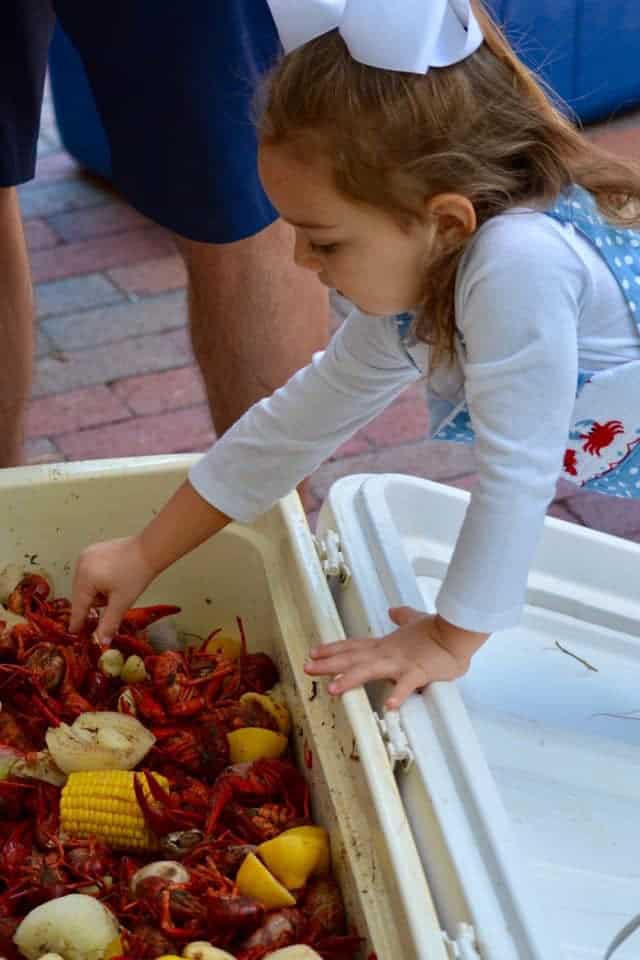 What Exactly is a Crawfish Boil?
Well, the boil part includes crawfish, corn, small potatoes and shrimp, with onions, garlic and spices.  Everything is cooked together and then spread across long tables with paper on them.  People line up on either side of the tables and have at it.  They shell the shrimp and crawfish and enjoy the process and food right there at the table.  It's social, fun and delicious to most!
I have probably been to seven or eight of these gatherings and had my first crawfish at this one. Tara couldn't believe I had never tried one and proceeded to shell one for me.  It was unexpectedly tasty!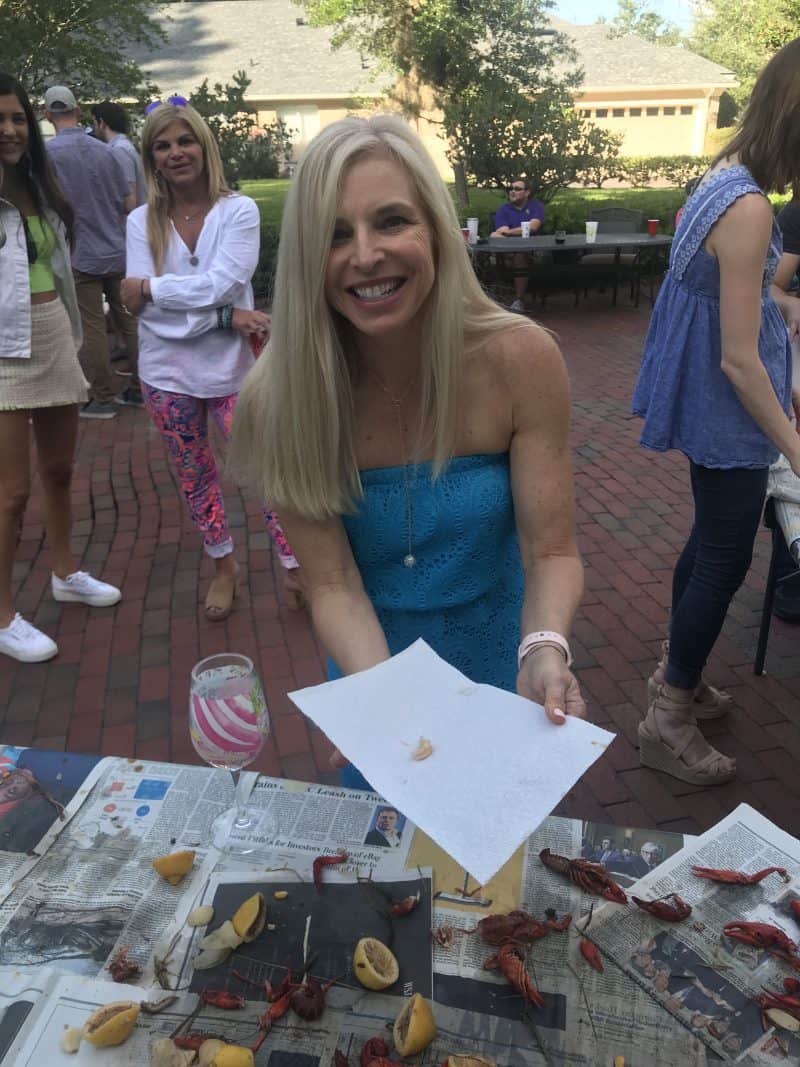 Here's where I draw the line though: I am not signing up to suck on the crawfish head.  Many say the moisture and flavor is in the head.  Cheers to those who partake but for this girl, I'm not doing that and can hardly stand to watch it!
But Wait, There's More!
While the crawfish are the star of the show, there are many other options… desserts, salads, appetizers and of course, lots of beverage options!
Host a Crawfish Boil
Crawfish is big business and in Louisiana, approximately 90% of the crawfish are farmed, resulting in a $120 million a year industry.  There are many places that will ship you the essentials for hosting a crawfish boil… just google it… there's still time this season!
For more posts on eating and entertaining, click on the following:
Chicken Vegetable Pasta with Lemon Pesto Cream Sauce: Cooking Dinner with Friends
Social OTR: Serving up fabulous food and new opportunities
Celebration Park in Naples: Food Truckin' Good Time