We created an easy Chicken Vegetable Pasta with Lemon Pesto Cream Sauce together last night in Naples, Florida.  And we had so much fun! We added Laura's Roasted Zucchini and World's Best Salad, along with crusty, warm rolls.  Everything was delicious and preparing the meal was every bit as awesome as eating it! All recipes can be found at the bottom of this post.
Fresh Ingredients
We started with a selection of fresh vegetables, including broccoli, red bell pepper, asparagus and tomatoes.
Plus a Few Shortcuts
The shortcuts included a lemon-pepper rotisserie chicken from the grocery store, along with prepared pesto from Costco.
One-Pan Wonder
We sautéed the vegetables in olive oil until tender, added the chicken, spooned in some pesto, some half and half, a few splashes of whole milk and added the juice from one lemon.  We cooked and drained the pasta and folded it into the chicken and vegetables.  From there, we added salt and pepper to taste and topped with parmesan.
Finished Pasta
The finished pasta is delicious, plus it's easy and quick!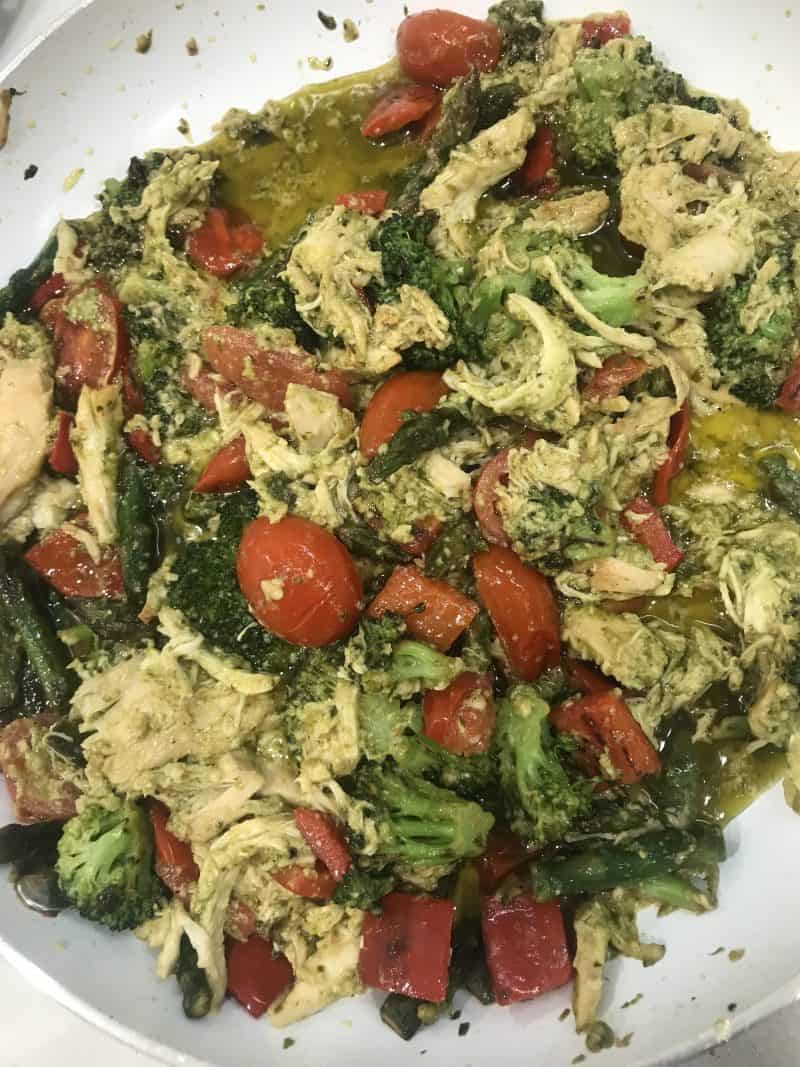 Divide & Conquer!
While the pasta was underway, Laura was busy making her WBS (World's Best Salad… see below for link), Roasted Zucchini (also see below for link) and, most importantly, making sure we had a yummy wine to pair with our pasta!
It's Only Partly About the Food
While food is a big priority for both of us, the fun of cooking together… the music, the laughter, the wine, the conversation… these are things that bring us joy!  That and sitting down to dinner with these lovely dining companions: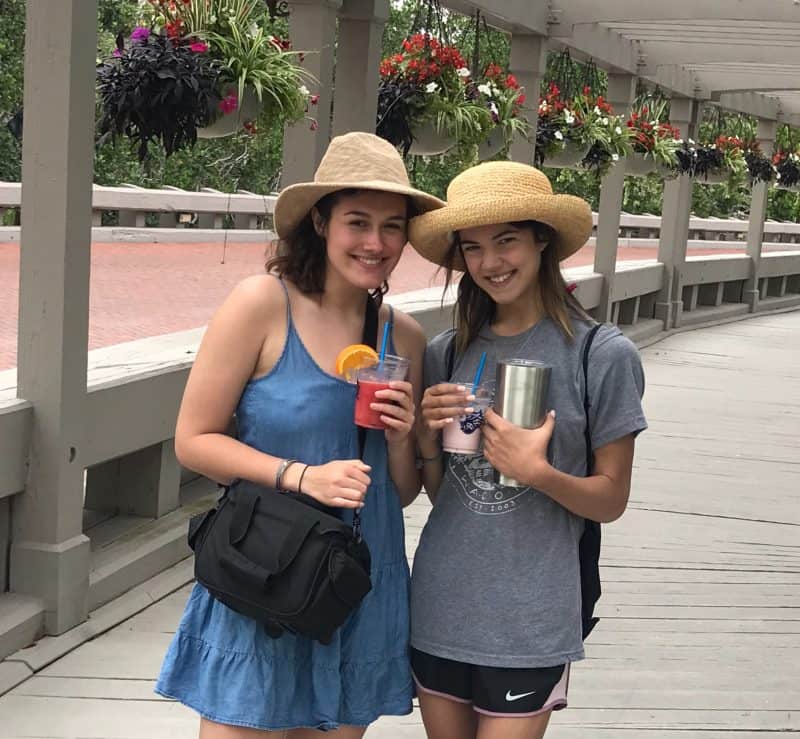 Post-Dinner Plans
After a lovely dinner, we wrapped up the evening playing Mexican Train Dominoes.  Days don't get much better than this!
Chicken Vegetable Pasta with Lemon Pesto Cream Sauce
Ta-Da... The Finished Product
Ingredients
One Red Bell Pepper, Chopped
One Bunch Asparagus, Trimmed & Chopped in 1 1/2" Pieces
One Bunch Broccoli Florets
3/4 Container Grape Tomatoes, Halved
One Rotisserie Chicken, Pulled
2/3 of 22 oz. Jar Kirkland (Costco) Pesto
1/2 Cup Half & Half
1/2 Cup Whole Milk
Salt & Pepper to Taste
Parmesan Cheese
One Box Pasta, Cooked.
Instructions
Chop all vegetables.
Heat water for pasta.
Sautee asparagus and red pepper until slightly tender.
Add broccoli until slightly tender.
Add tomatoes and continue to sautee for 3-5 minutes.
Add pulled chicken and mix with vegetables.
Cook pasta in boiling water; drain when finished.
Add pesto, half & half and milk; mix well.
Squeeze lemon into pan; mix well.
Add cooked pasta; mix well.
Salt and pepper to taste.
Top with parmesan cheese.
https://thetwodandelions.com/chicken-vegetable-pasta-with-lemon-pesto-cream-sauce-cooking-dinner-with-friends/
For other recipes, please click on the following: