Our family is in healthy eating mode and a quick, easy and versatile corn salad fits the bill!
A Healthy Alternative to Lettuce
While we love salad and have it with most meals, sometimes I need to mix it up with something other than lettuce.  Corn Salad is so delicious and easy to throw together!  I always use corn (fresh if it's in season, white shoepeg canned corn if not), sweet onion, tomatoes and cucumber as the base and vary the other ingredients depending on what I have and what sounds good.
The ingredients really do make the difference in taste.  I use the long, thin gourmet cucumbers and the One sweet tomatoes or heirlooms.  Sweet onions are key.  You can vary the quantities of each based on your preference.  You can also add chickpeas, great northern beans, black beans, avocado or anything else that sounds good.  Fresh basil is a yummy addition, too.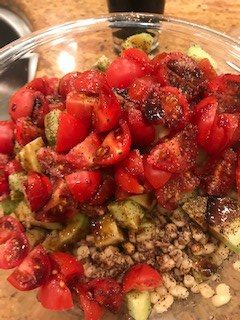 Wing the Dressing
I use olive oil or grapeseed oil, balsamic vinegar, salt, pepper and a little sugar.  The beauty of this is you can adjust to your liking.  I try to go light on the oil– only a tablespoon or two depending on how much I'm making.  I go a little heavy on the balsamic because we love it.  The salad really needs very little dressing, as the ingredients are so good and don't need much!
It's Pretty
This really is a beautiful salad.  It's colorful, fresh and tasty.  If you don't already make something like this, give it a try.  Maybe it will become a go-to salad for you, too!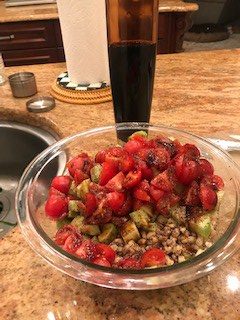 For more salad recipes, see the following posts: