Bha! Bha! Persian Bistro is a beautiful, elegant, and delicious restaurant.  I don't know what "Bha! Bha!" means, and I couldn't find anything in my research to enlighten me.   Based on our experiences there I'm going to guess that it is the Persian equivalent of  "che bella!" (Italian), "oh la la!" (French), "well, I declare!" (Southern), "ay caramba! (Spanish), "groovy!" (Hippie) and "yabba dabba do" (Flintstone).
It is delightfully different from typical Naples restaurants, which run towards seafood, steaks or Italian, and tend to not offer many dishes off the beaten path.  Expect a wonderfully different flavor palate at Bha! Bha!
Located in popular Old Naples
Bha! Bha! is on lovely 5th Avenue South in Naples, which is home to many popular restaurants and shops.

During "the season" (generally, November through April) the street is quite busy and bustling, and reservations are highly recommended.  Bha! Bha! has indoor and outdoor seating, and is quite charming.


Don't be intimidated by the menu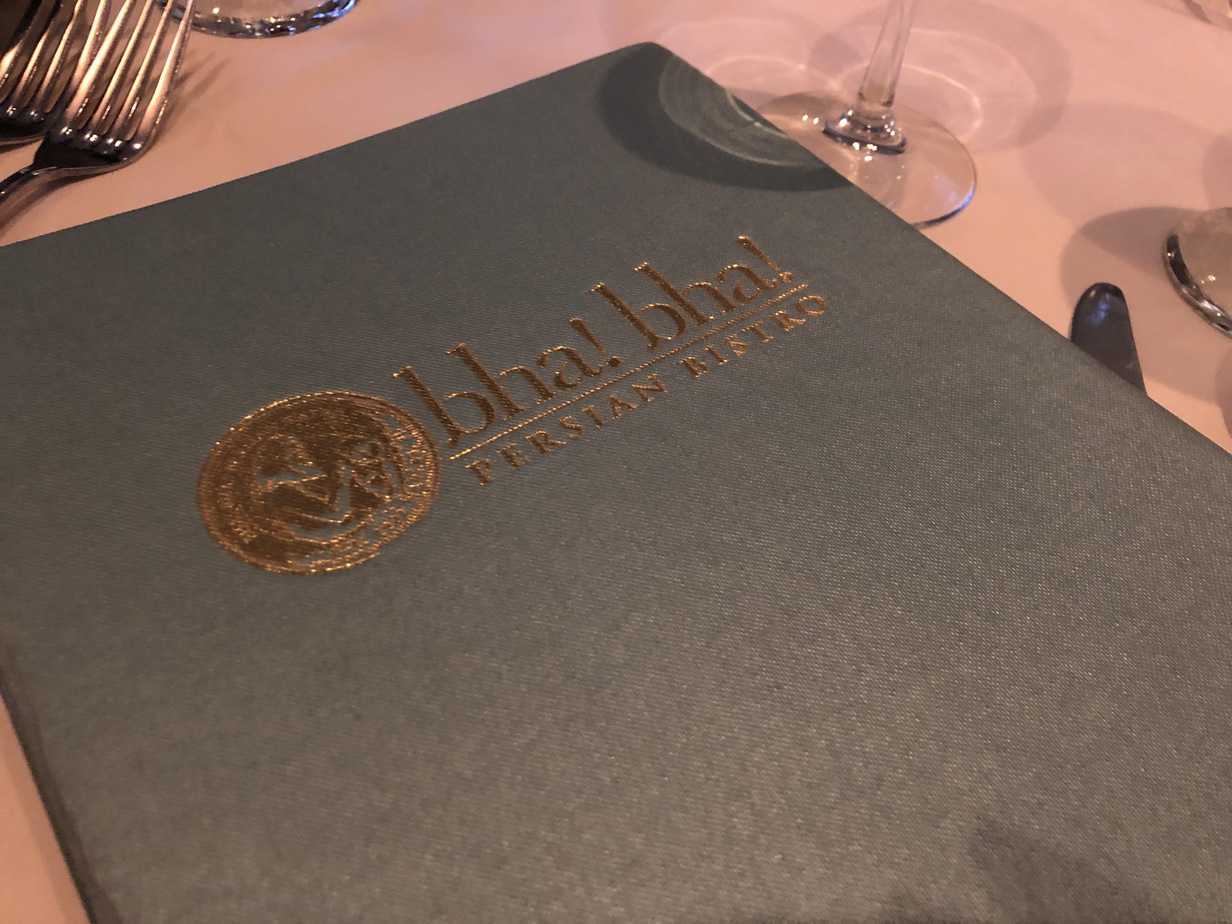 Not an expert on Persian food?  Neither were we.  You'll see some familiar mediterranean favorites, like hummus, kebabs and baklava.  And you'll see some exciting variations on old favorites.  For example, the meatball appetizer isn't beef or pork meatballs with tomato sauce, but rather pistachio lamb meatballs with persian herbs and spices, sautéed butternut squash and mint infused pomegranate pinot noir reduction.  And it's delicious.  Expect some dishes you've never heard of, and combinations of ingredients and flavors that are unusual and exciting.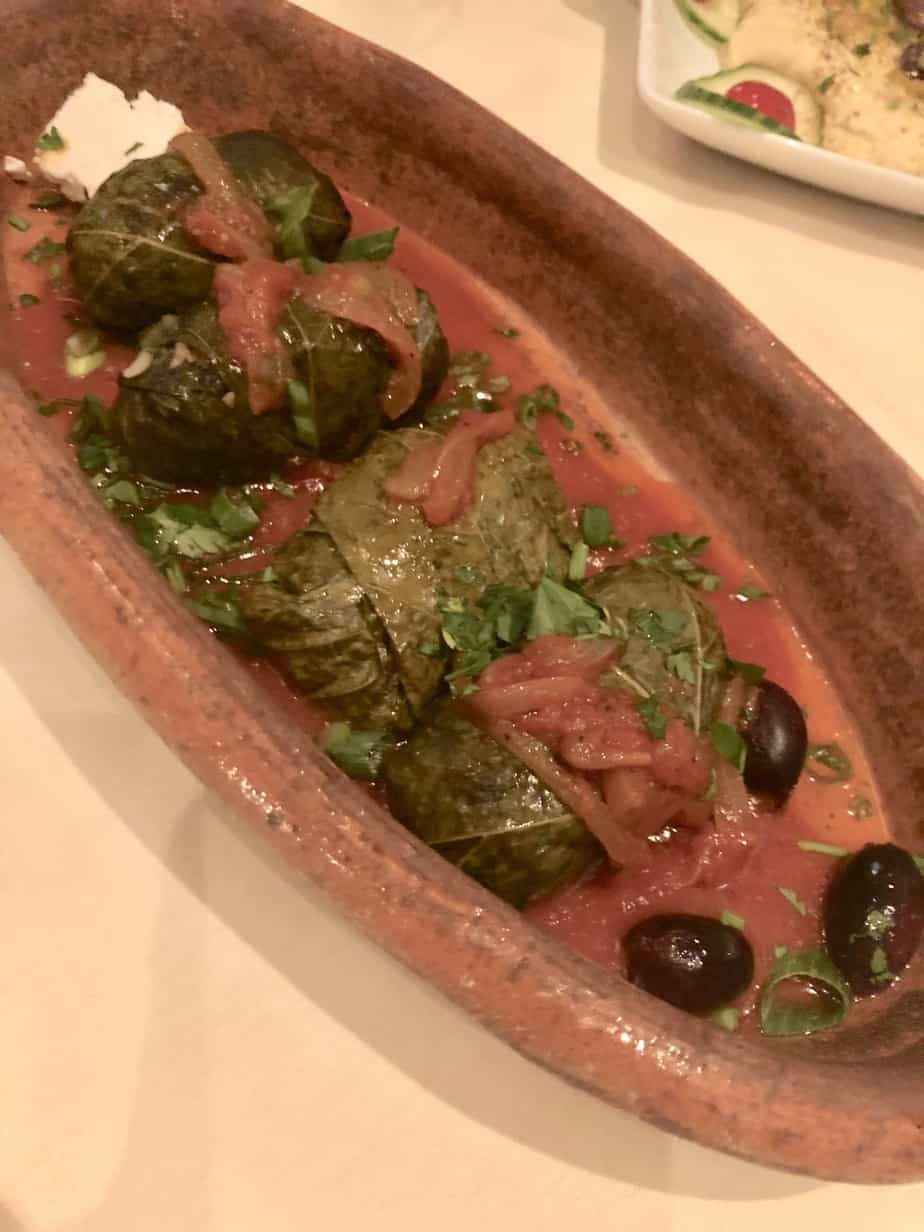 The dolmeh (stuffed grape leaves) are made with ground lamb, dill, rice, baby garbanzos and topped with cartelized onions.  And they are served warm, which was wonderful.
The mixed grill kabob (chicken, marinated beef tenderloin, lamb and a ground mix of beef and lamb skewers, with chargrilled vegetables was out of this world, and the night I ate it I swore I would have to order it every time I came.
Luckily I expanded my horizons on our next visit, and tried one of their signature dishes, the Ginger Apricot Shrimp (sautéed with garlic, carrots, plums and apricots, with a spicy mango tamarind sauce), which has been featured in Bon Appetit magazine.  Click here for link to recipe.  The shrimp was wonderful.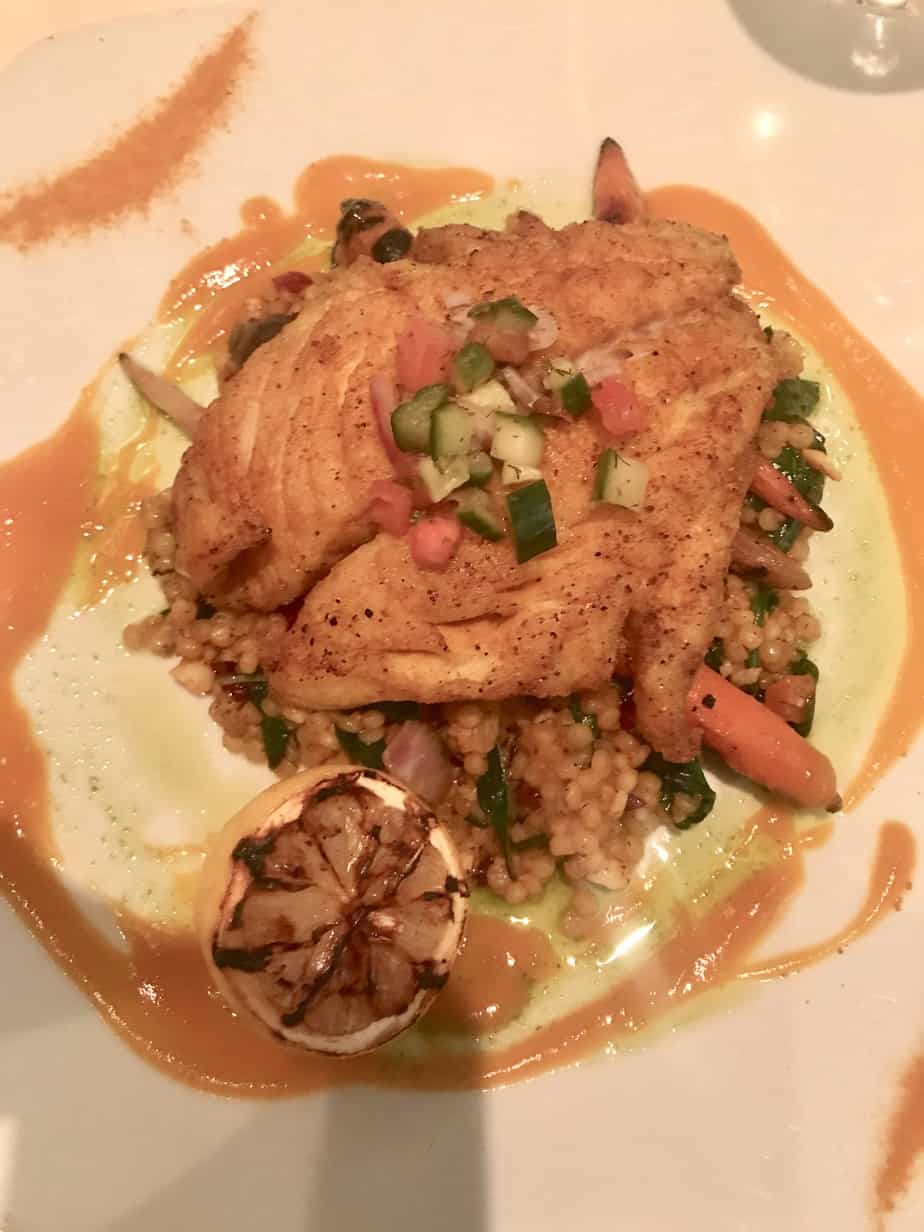 After much debate, and after almost going for the pomegranate lacquered fresh salmon, Kalisa ordered and enjoyed the turmeric dusted fresh red snapper (pan seared and served over a couscous medley, wilted spinach, mango reduction and basil oil).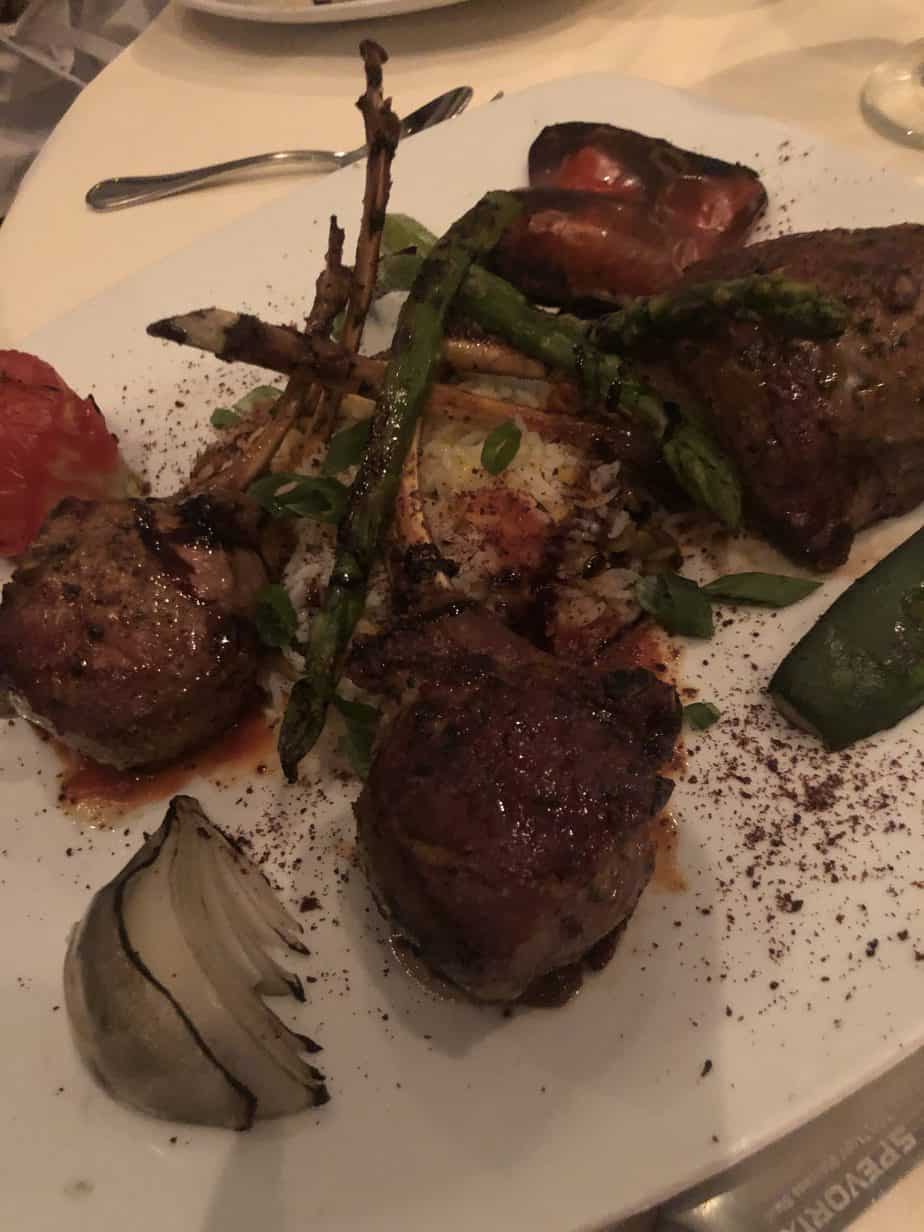 My husband has indulged his love of lamb, ordering the Fred Flintstone style lamb shank, or more recently, these beautiful lamb chops (served with lentil apricot rice, chargrilled vegetables and asparagus).  He's ordered this dish twice, because he loved it, and also because he likes saying the name of the dish:  "Sheeshleek!"  The exclamation mark is included (as it is, twice, in the restaurant's name), so we assume that you should order it with enthusiasm and volume.
The wine list offers something for everyone, and we enjoyed a bite of baklava for dessert.  We didn't actually ordered the baklava, but the cute family at the table next to us gave us some of theirs.  They overheard us saying we wanted some but were too stuffed to order it.  That's indicative of the lovely atmosphere at Bha! Bha!  The service is elegant but friendly, and everyone seems enormously happy to be trying such beautiful and different food.  I'm so happy we went off our usual beaten path and tried something new.  We've been back four times and will continue to work our way down their menu, with generous use of exclamation marks.
For more about eating in Naples, please see Celebration Park in Naples: Food Truckin' Good Time.
For other great restaurants, please see: