Visiting my daughter at Southern Methodist University and eating at Bird Bakery are two of my favorite treats when in Highland Park, Texas.  Highland Park Village is so fun to stroll through and Bird Bakery is among the unique highlights.
Charming Environment
Highland Park is one of the most affluent areas in Dallas and you certainly feel it when walking through Highland Park Village, an upscale, outdoor shopping/dining area and the first self-contained shopping center in America, according to Wikipedia.  You'll find designers like Celine, Chanel, Christian Louboutin, Dior, Hermes, Escada, Jimmy Choo and more.
While the shopping is pricey, there are a range of restaurants and Bird Bakery is perfect for a light lunch or sweet treat.  The outside is charming, inviting and unassuming.  And weather-permitting, you can sit outside and enjoy people (and dog) watching!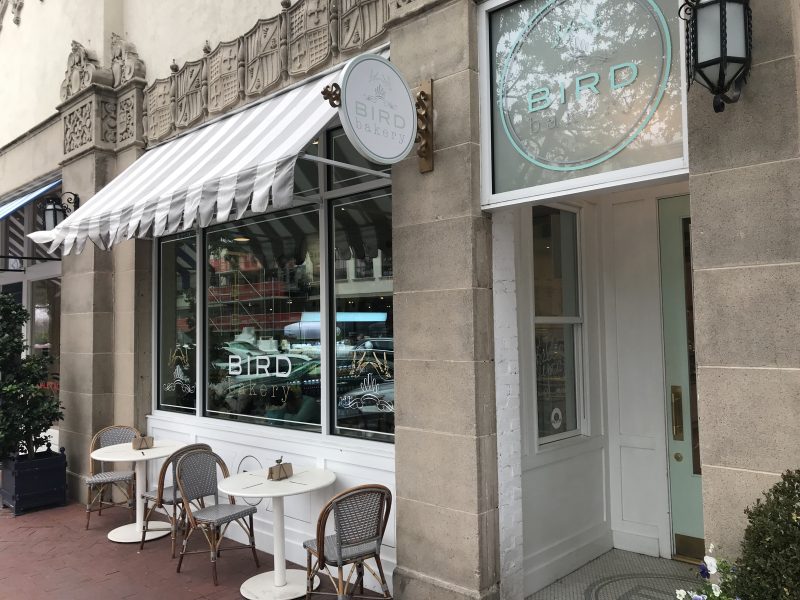 Unexpected Interior
Like many retailers in Highland Park Village, the actual entrance or storefront looks small because it's narrow.  Open the door of Bird Bakery and step in though, and it's surprising because it's so much bigger than expected. And the décor is charming.  You're greeted by dozens of cupcakes, beautifully displayed.
The Food? As Good as it Looks!
Once you walk through the door and look a little closer, you'll see that Bird Bakery offers much more than baked goods.  Homemade soups, salads, sandwiches along with breakfast options like quiche, casseroles, popovers and oatmeal.  On our last visit, we had soup, salad and a delicious coconut cupcake.  They were all delicious and we returned a few days later for another sweet treat! Recently People magazine highlighted Bird Bakery's Lemon Bars recipe.  You can get a printable copy of the recipe at the bottom of this post!
Stop In!
If you're in the Dallas area, a visit to Highland Park Village and Bird Bakery is worthwhile!  Owned by Elizabeth Chambers Hammer, Armie Hammer's wife, Bird Bakery opened in 2012 and also has a location in San Antonio, Texas.  Because everything at Bird Bakery is baked on-site, from scratch, every day, you know you are eating the freshest food.  Plus, at the end of each day, remaining treats are donated to local non-profit organizations.
For other food-related articles, please click on the links below:
Ingredients
Cooking spray
1/2 cup unsalted butter, softened
3 1/2 cups granulated sugar, divided
1 large egg, lightly beaten
1/2 Tablespoon vanilla extract
3 cups all-purpose flour, divided
5 whole large eggs
1 large egg yolk
1 1/2 Tablespoon fresh lemon zest
3/4 cup fresh lemon juice (~3 lemons), divided
Powdered sugar
Instructions
Preheat oven to 350 degrees with rack in center position.
Coat a 9 x 13 baking pan with cooking spray; line with parchment paper, leaving a two-inch overhang. Coat paper with cooking spray.
Beat butter with a stand mixer fitted with a paddle attachment on low speed for 30 seconds. Add 1/2 cup granulated sugar; beat until smooth, 2-3 minutes. Slowly add beaten egg, vanilla and 2 cups flour to butter mixture, beating on medium speed just until mixture is uniformly crumbly, 2-3 minutes, stopping to scrape bottom of bowl.
Press dough evenly into bottom of prepared baking pan. Chill for 20 minutes, then bake until the crust is lightly browned, 15-20 minutes. Transfer to a wire rack and let cool for 20 minutes.
Meanwhile, whisk together whole eggs and egg yolk in a large bowl until thick, 1-2 minutes. Slowly add lemon zest and remaining 3 cups granulated sugar. Whisk in lemon juice alternately with remaining 1 cup flour, beginning and ending with flour, whisking until just combined after each addition. Chill for 20 minutes.
Pour chilled lemon mixture into prepared crust. Bake until filling is set, 30-35 minutes, covering with aluminum foil halfway through to prevent browning. Let cool to room temperature, 3-4 hours, or refrigerate until firm for about one hour.
Using parchment paper overhang, lift lemon bars from baking pan and sprinkle with powdered sugar.
https://thetwodandelions.com/fly-to-bird-bakery-for-delicious-tweets/