When I had kids in the house, I loved to cook a big pasta meal.  Actually, I loved for my husband Vito to cook a big pasta meal, but I loved to eat it.  Now that the kids have gone to college we find ourselves more aware of our waistlines and our aging metabolism, and big pasta meals are as rare as an evening watching SpongeBob Squarepants.  We find we eat a lot of lean protein and vegetables, and we try to avoid processed carbs.
Two favorite carb substitutions are cauliflower rice and zucchini noodles.  I buy frozen cauliflower rice at the grocery store and keep it in my freezer.  But for zucchini noodles I skip the grocery store brands and make my own with a spiralizer.  It is a fast and simple process, and satisfies my secret desire to be Martha Stewart.
This quick and easy meal is delicious and very flavorful.  If you're dying for a plate of cheesy rich pasta, then no, this won't satisfy your craving.  But if you're looking for a very tasty, light, healthy dinner, you might like this.  (For the entire recipe and ingredients, scroll to the bottom of the post.). This recipe was inspired by and adapted from the amazing website SlenderKitchen.
Start by spiraling your zucchini into noodles.  This is my spiralizer loaded with zucchini number one: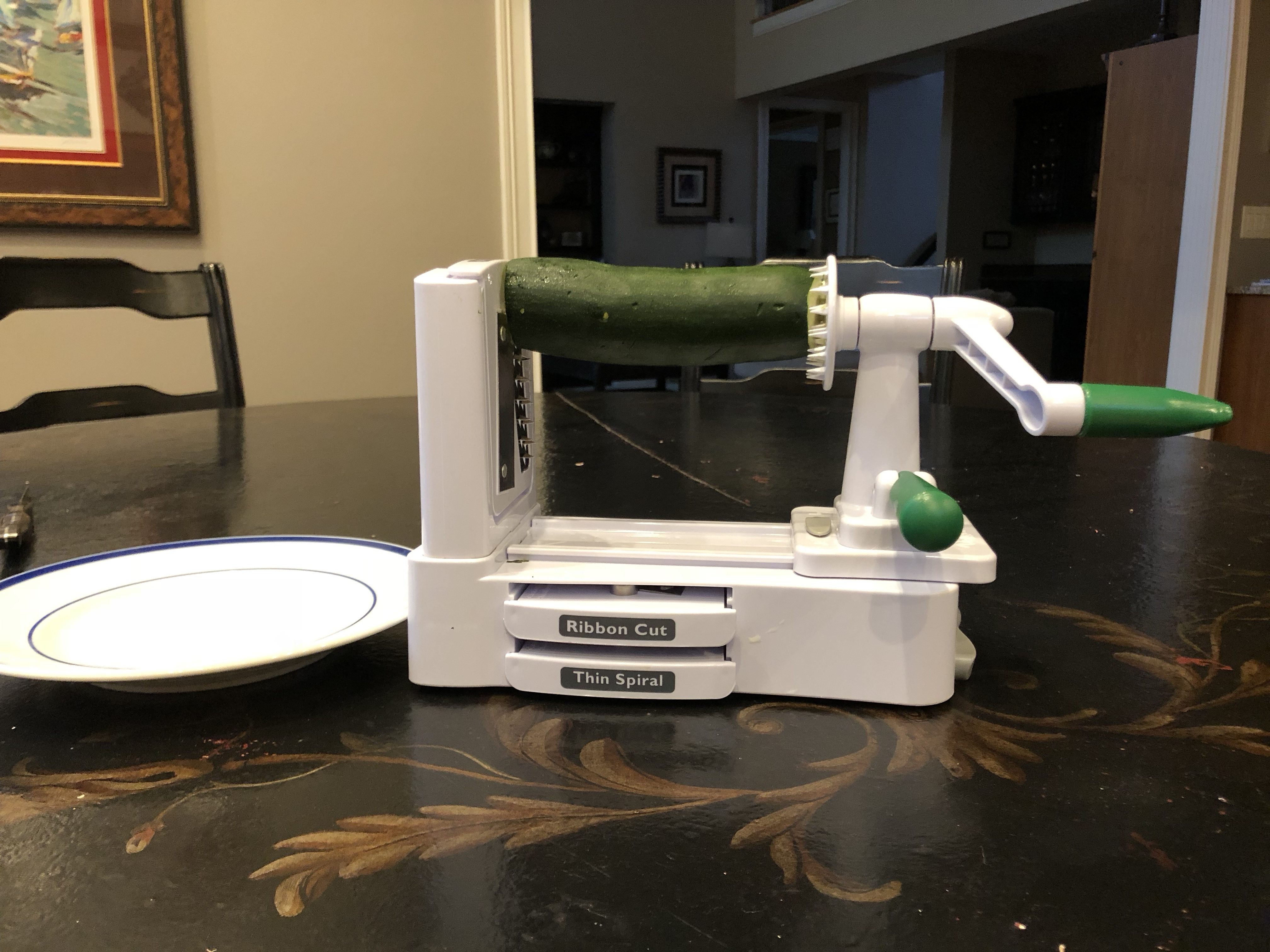 To spiralize, you turn the crank on the spiralizer.  I cannot accurately describe how quick and easy this is.  It takes just a few seconds to spiralize one zucchini.  This is the amount of noodles made from one zucchini.  (For scale, the plate is a salad plate.)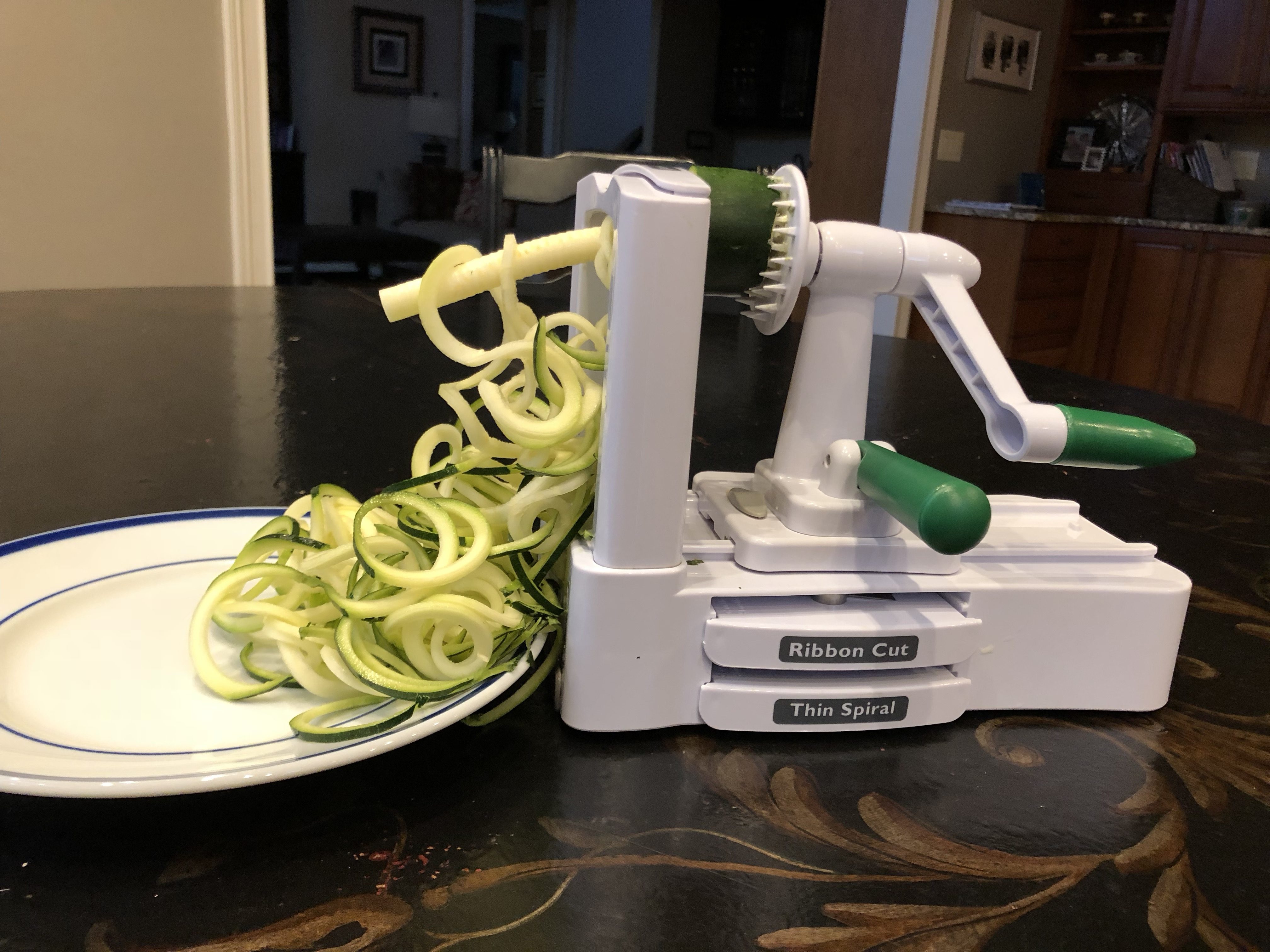 I use 3 zucchinis for two of us, which is a bit too much.  But it makes nice leftovers for lunch the next day.  Here's the amount of noodles made with 3 medium zucchinis.  It does reduce down when you draw out the liquid, and when it cooks.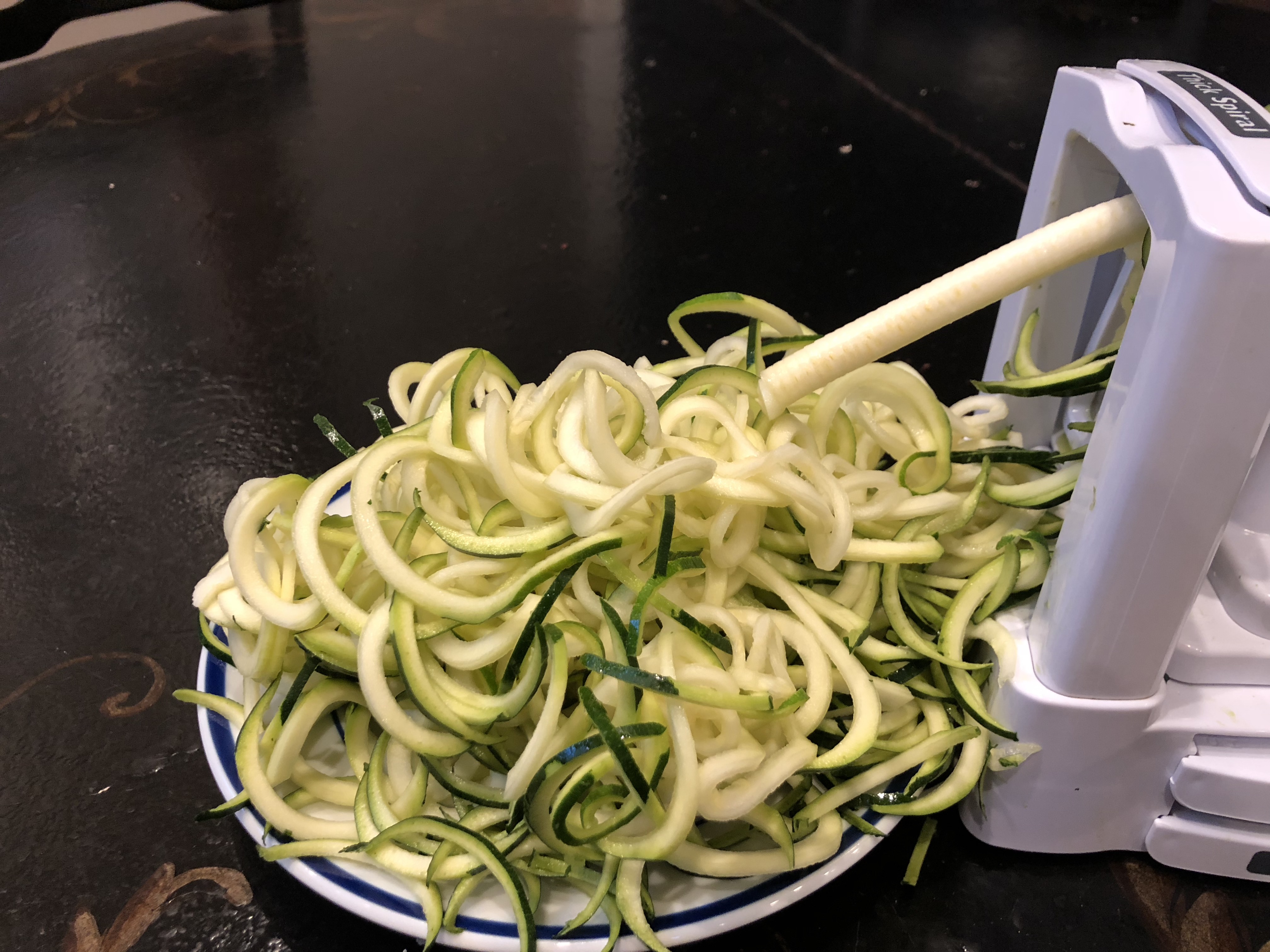 After you spiralize, put the noodles into a colander, lightly salt, and let sit for about 15 minutes.  It will draw some of the liquid out of the zucchini.  Lightly squeeze the zucchini to force more liquid out.  This step is not imperative, but you'll have better results if you do it.
While the zucchini sits, rub the salmon with blackening seasoning.  I use this "Kickin' Chicken Finger Lickin'  Spice Blend" seasoning, but any blackening seasoning that you like will do.  Use about 1/2 to 1 teaspoon of seasoning per fillet.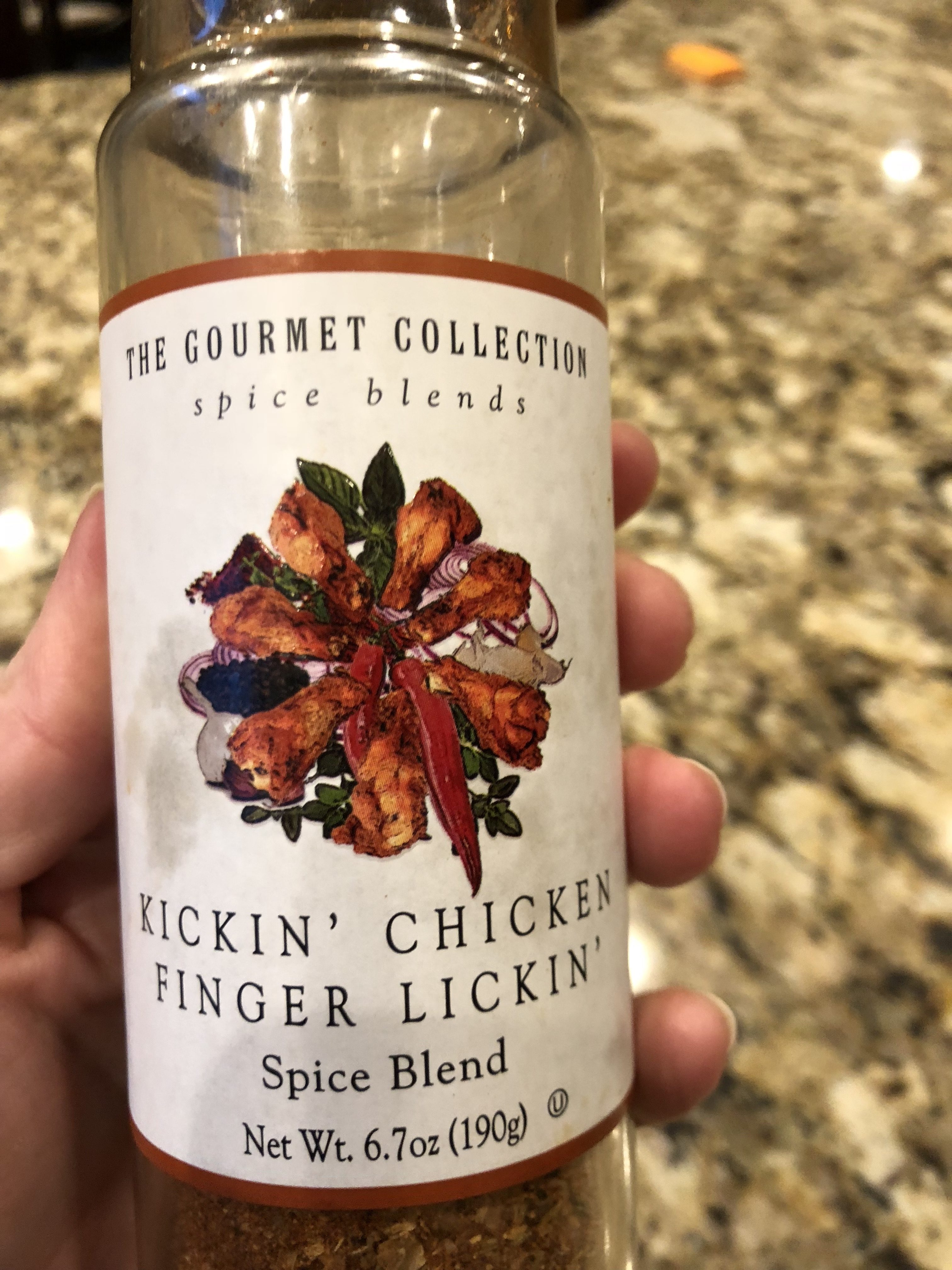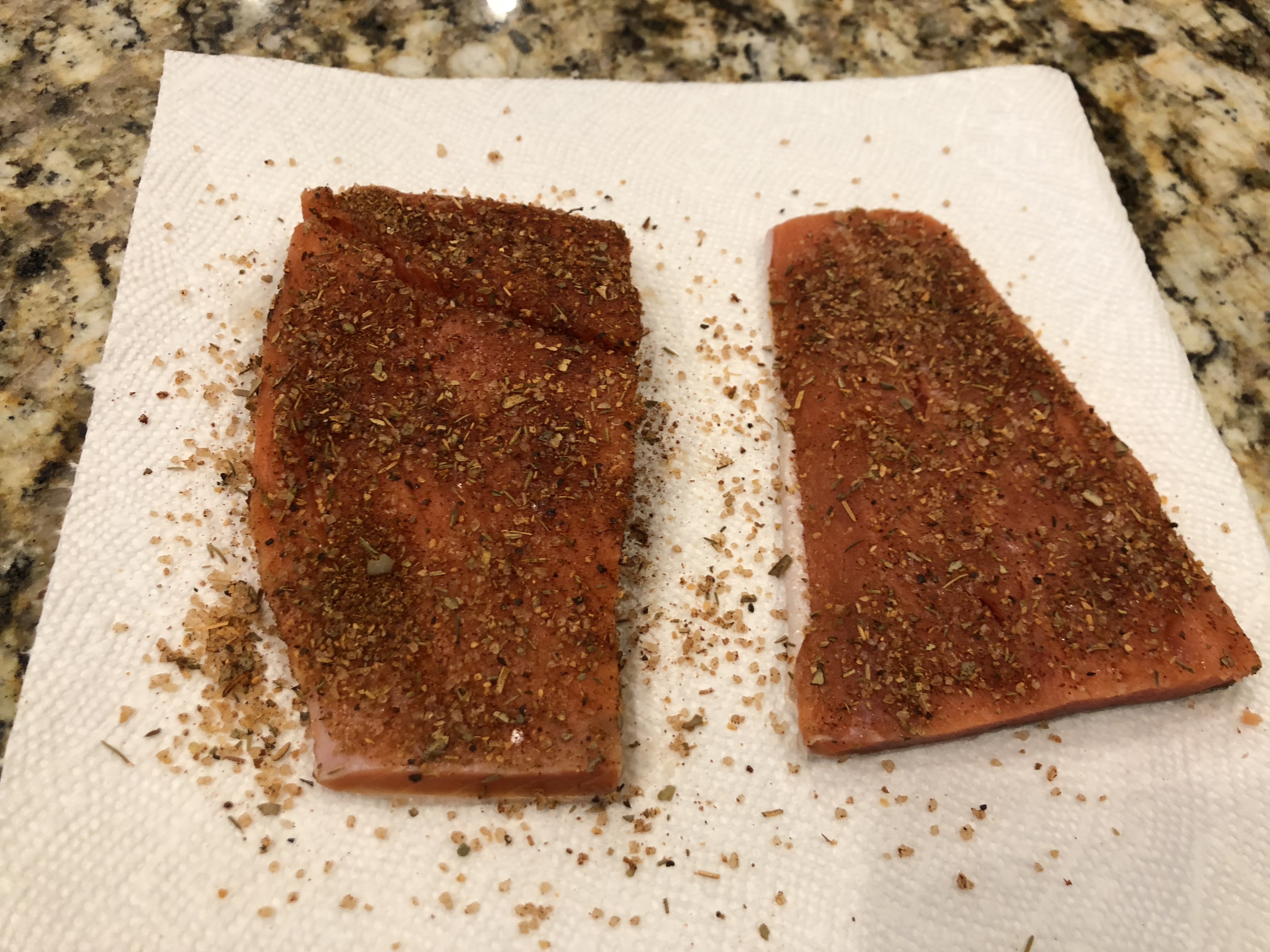 Heat oil in a skillet, and cook the fillets for about 3 minutes for each side.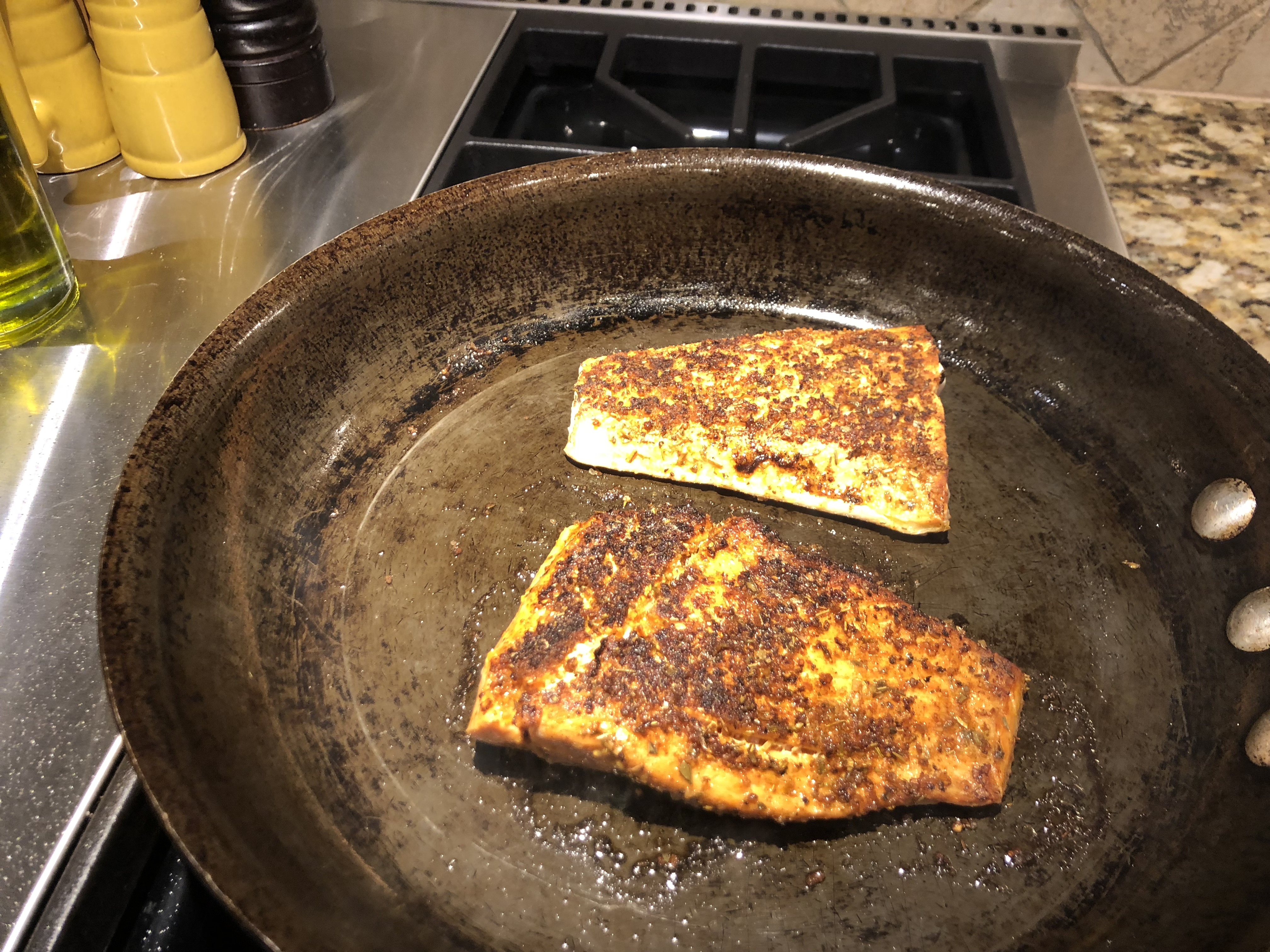 Using the same pan, blister the tomatoes.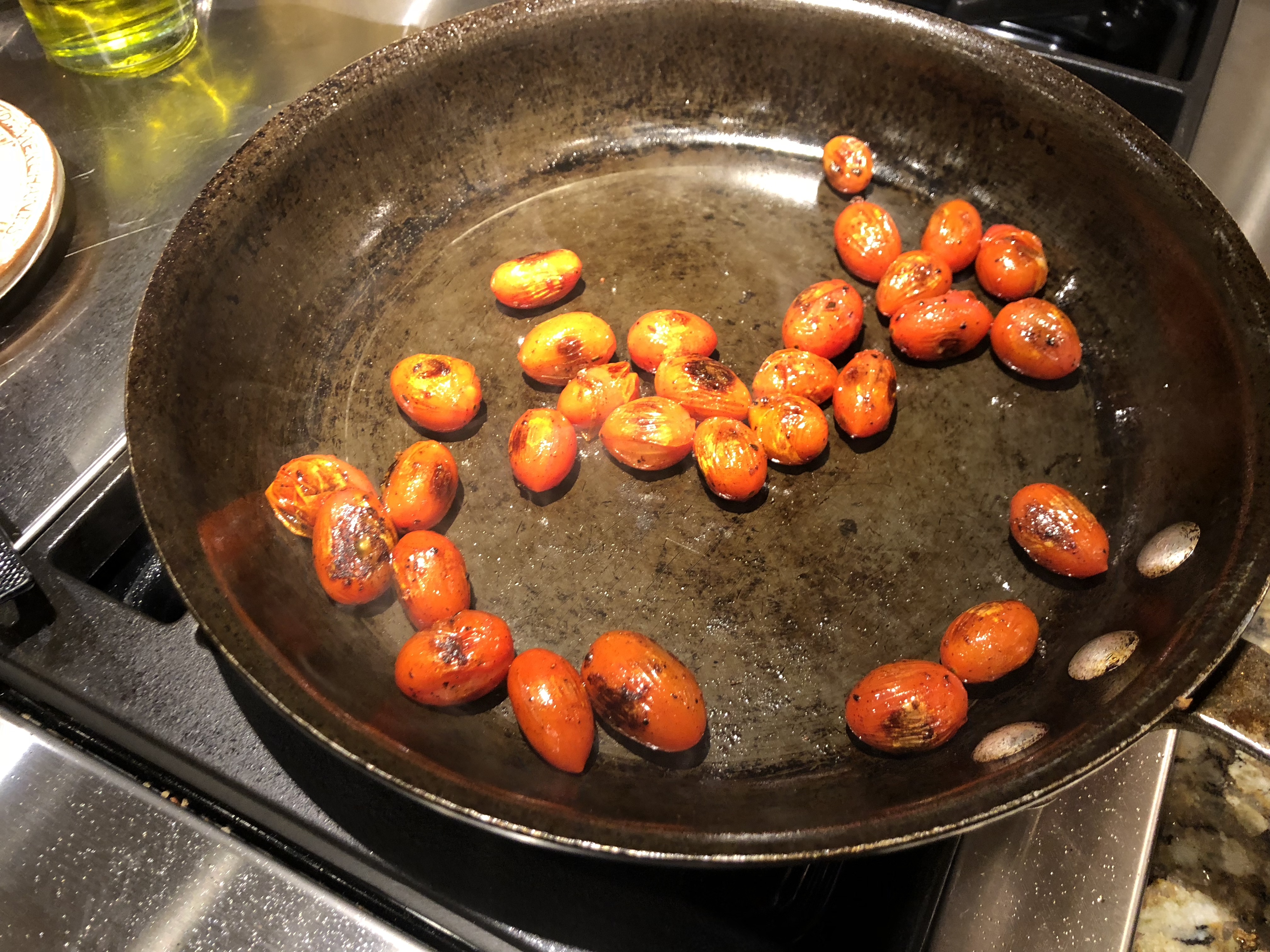 Add olive oil and garlic, and saute for about 30 seconds.  Increase the heat to high, and add the zucchini.  Cook for about a minute or two. Don't overcook, or it will become mushy.  Add the tomatoes back in, and toss.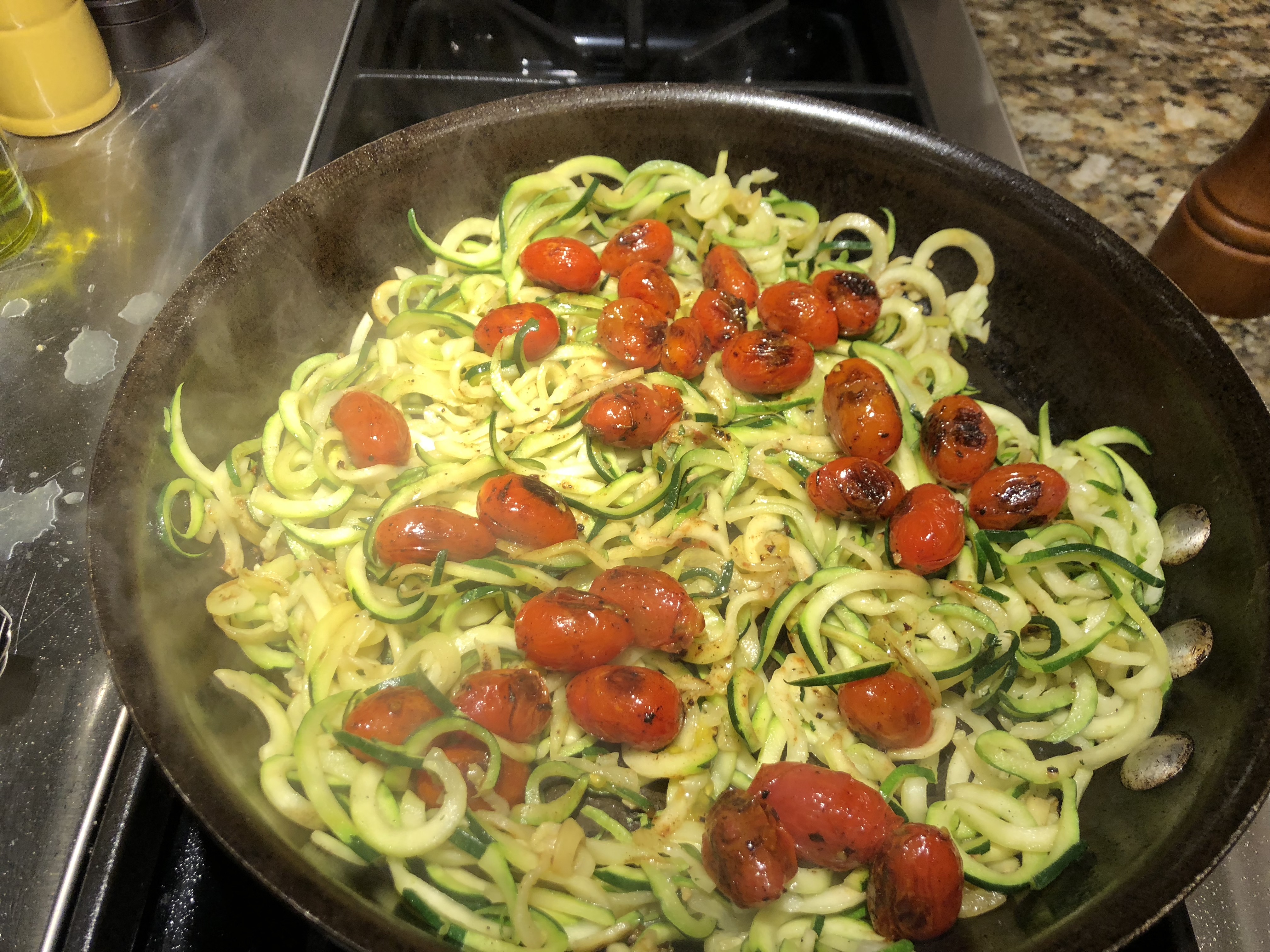 Plate with the salmon, and enjoy!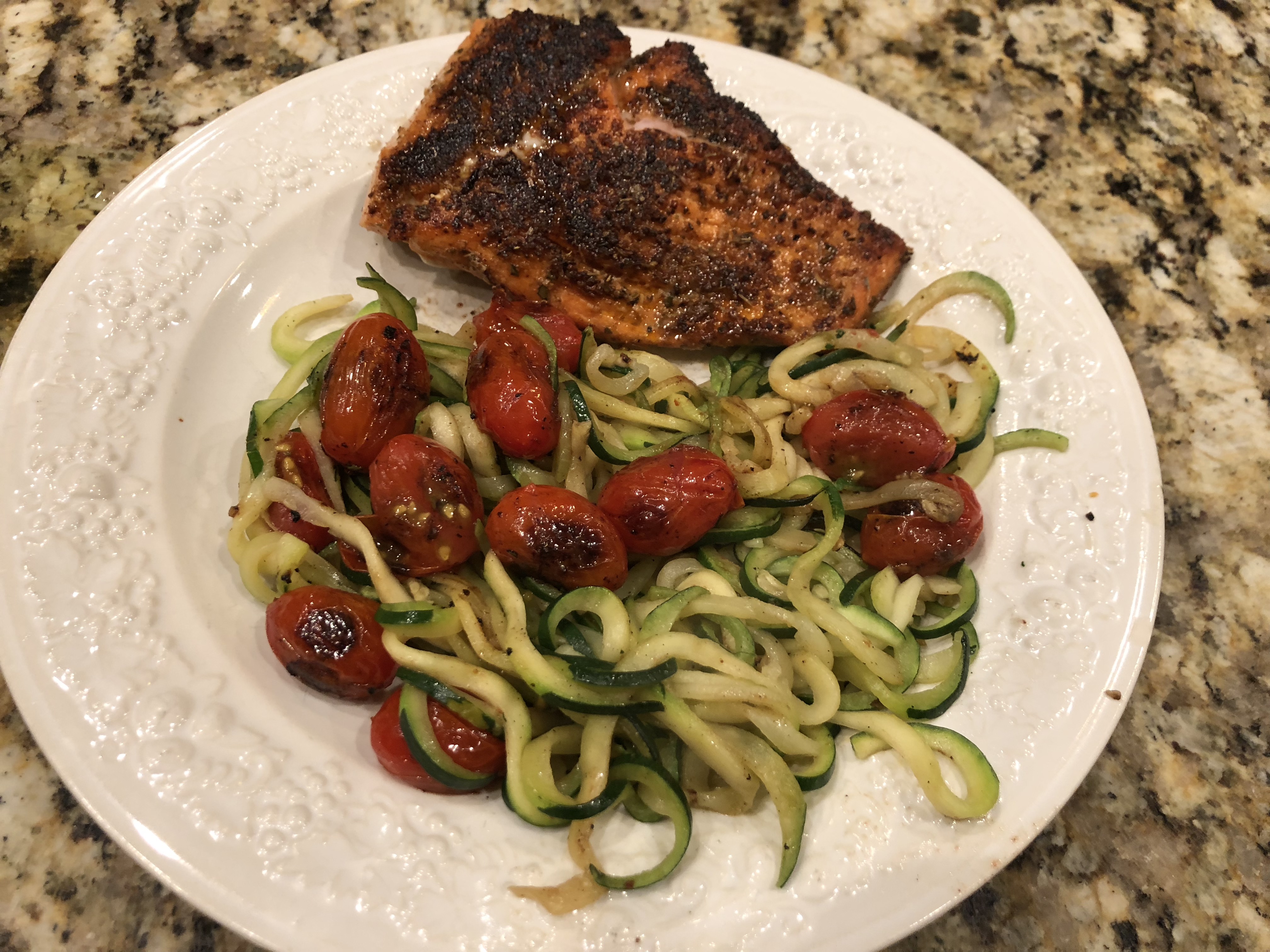 Low Carb Blackened Salmon with Blistered Tomatoes and Zucchini Noodles
Ingredients
2 salmon fillets (6 ounce each)
3 tsp. olive oil, separated
1-2 tsp. blackening seasoning
1 cup cherry tomatoes
1 teaspoon minced garlic
3 medium zucchinis
Salt
Instructions
Cut the ends off the zucchinis, and spiralize into noodles.
Put the noodles into a colander, and sprinkle lightly with salt. Allow to sit for at least 10 minutes to draw the extra liquid out. You can squeeze the noodles to force the liquid out. (This step is optional.)
Sprinkle the salmon on both side with blackening seasoning, about 1 tsp per fillet. If your fillets have skin on them, put the seasoning on the skinless side only.
Wash the tomatoes and let them dry.
Heat a skillet on medium high heat and add a teaspoon of olive oil. Heat the salmon fillets for about 3 minutes per side. Remove the salmon and keep warm.
Add a teaspoon of olive oil to the skillet and heat. Add the tomatoes to the skillet, sprinkle with salt, and cook for about 3 minutes, until the tomatoes are gently blistered. Remove the tomatoes and keep warm.
Turn the heat to high, and add a teaspoon of olive oil. Add the minced garlic and stir for about 30 seconds. Add the zucchini to the skillet. Cook about 2 minutes, tossing occasionally. Do not let the noodles become mushy. At the end of 2 minutes, turn off the heat, add the tomatoes and toss.
Serve the salmon with the zucchini noodles and tomatoes.
https://thetwodandelions.com/low-carb-blackened-salmon-with-blistered-tomatoes-and-zucchini-noodles/
For more favorite recipes, see An Everyday Vinaigrette, Keeping them Stuffed through the Thanksgiving week, Crockpot Taco Soup, Carmitas for a Crowd,  and One-Pan Roasted Pork Tenderloin with Vegetables.