Can you think of something you use every single day?  For me, it is my cold drink tumbler, usually a Yeti.
I admit I'm  a nut when it comes to cold drinks.  I like my Diet Coke with a wedge of lemon.  I like my LaCroix with a lime and a dash of cranberry juice.  And I like lots of ice, preferably ice nuggets, like you get at Sonic Drive-In.  In the words of the great Vanilla Ice:  "Ice ice baby."
I like my ice to stay frozen — not melt too quickly and dilute my perfect libation.  The solution?  Besides perhaps not being so nutty and persnickety, the solution is an insulated tumbler for cold drinks.  Here are some of our favorites:
This post may contain affiliate links, which means we may make a small commission if you purchase something through the link.  You don't pay a cent more than you would otherwise.
All-Time Favorite:  THE YETI
The Yeti is an incredible cup that keeps cold drinks icy cold, and keeps hot drinks hot.  It also has a lid that seals it tight, so you can turn it sideways and it won't leak.
This 30 ounce Yeti is available at Amazon, in multiple colors.  You'll be surprised at how long your ice will stay frozen.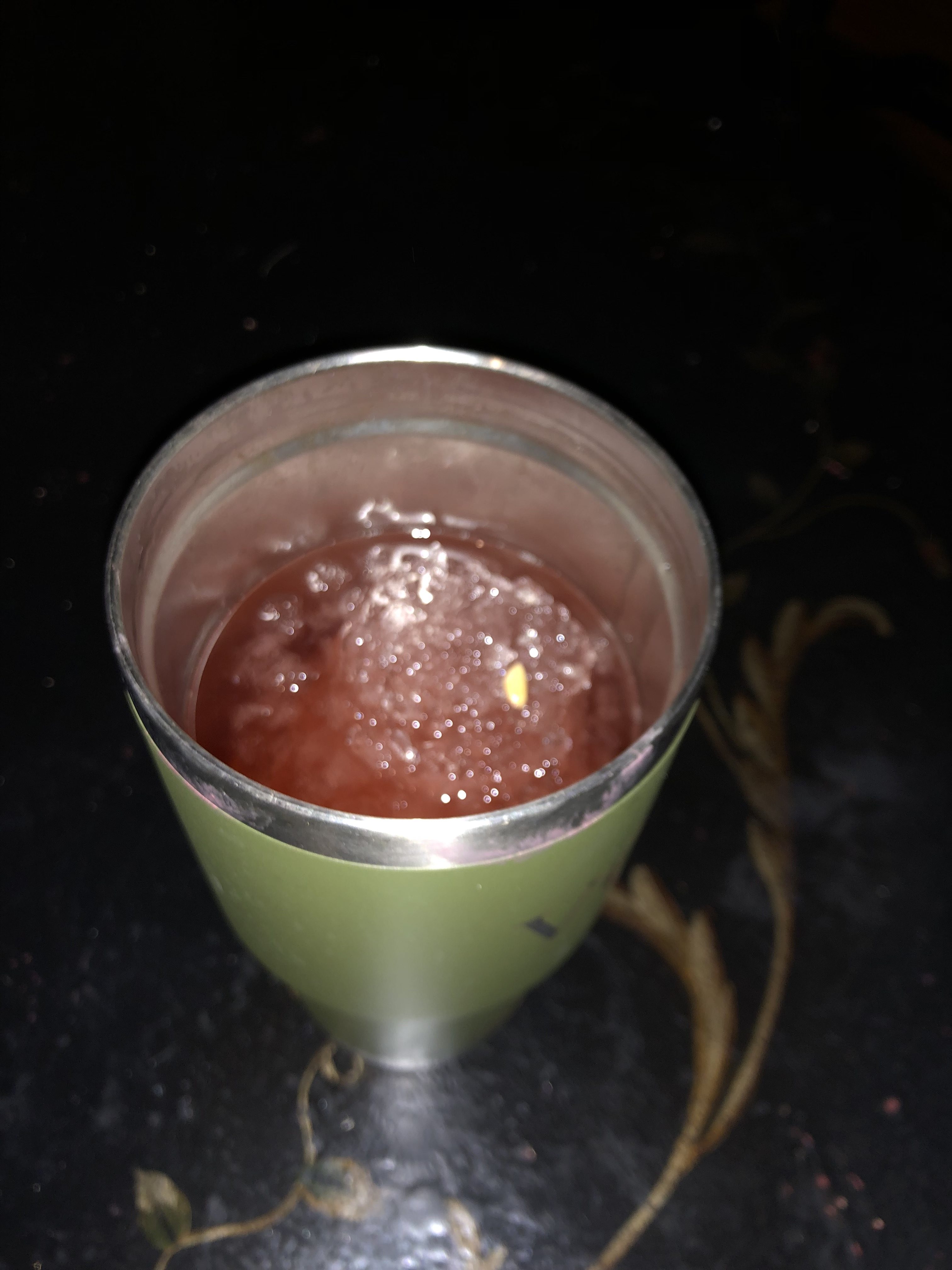 For this post I put ice and a LaCroix in my yeti at 5 p.m.   Fifteen hours later at 8 a.m. ,it still had ice.  Of course the ice had melted somewhat, but that's pretty amazing.
We love the 30 ounce Yeti, which is the perfect size to fill with ice and then add a 12 ounce soda.  But if that's too big,  the Yeti comes in a variety of sizes.  And there is a rainbow of colors to choose from (click on each pictures to be taken to a link for that color):
Or even better than your favorite color, you can go with a monogram or the collegiate series.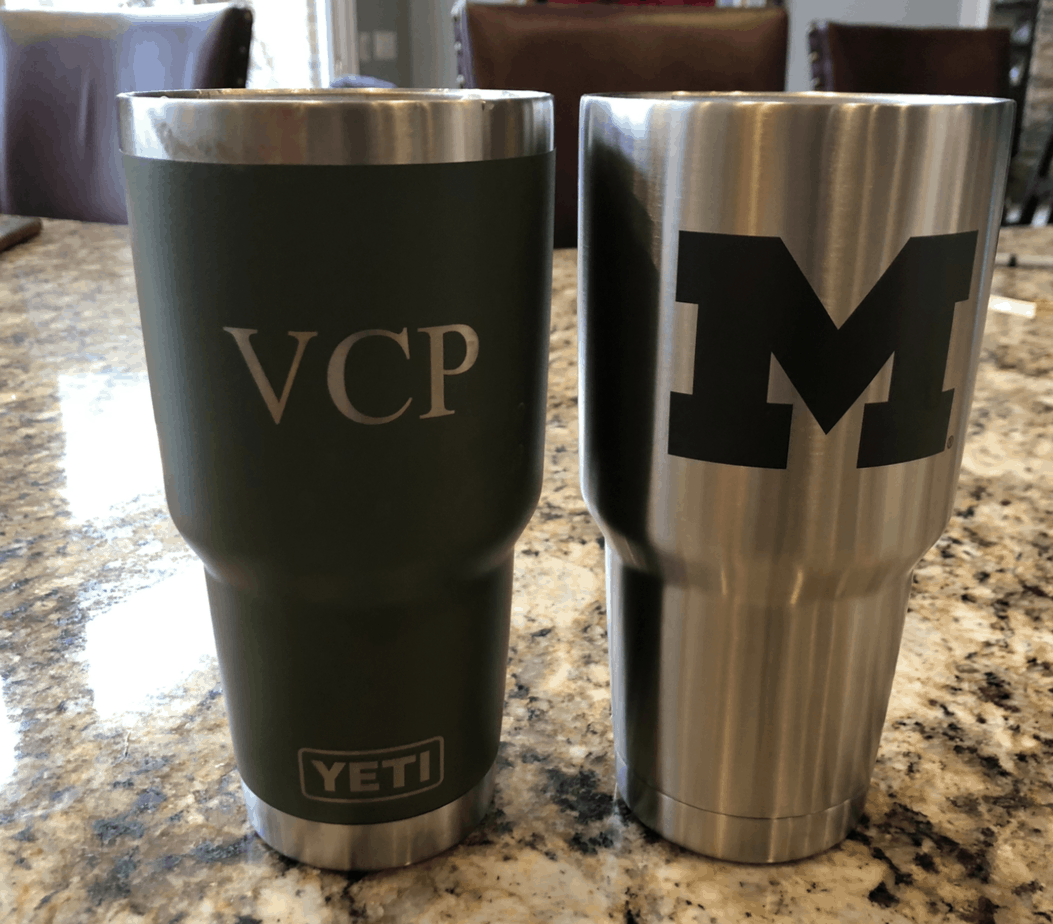 The collegiate series makes a great high school graduation present, especially for those hard-to-buy-for boys.  The one on the left is my husband's initials, which my brother bought at a mall kiosk.  Of course the "M" is for Michigan — Go Blue!
Favorite For Wine:  the Corkcicle
Our favorite for wine, to keep it cold and covered with a lid, is the corkcicle.
This cute 12 ounce Corkcicle is available on Amazon, and comes in many  colors.  It's the perfect size for a glass of wine at the pool, beach or lake.
Favorite for no-lid-needed:  Tervis
The Tervis tumbler is a clear plastic insulated container.
Tervis comes in multiple sizes, colors and crazy designs.  It does have lids, and they work very well.  They are tight and well-made, and your drink shouldn't leak.  So why is this my favorite for "no lid needed"?  Because I am ridiculously picky.  I love the metal Yeti for keeping drinks cold, but I don't like drinking directly from the metal of the Yeti.  Therefor, if I don't want to use a lid, I prefer a Tervis.  Good grief, can you imagine being married to me, with all my crazy fussiness?
You can get a Tervis in almost any imaginable design or color, or to support your favorite team or school:
Shout out to my alma mater, Vanderbilt.  "Anchor Down!"
Like the collegiate Yeti series, collegiate Tervis tumblers make a great high school graduation present.
You can find a Tervis tumbler to support your hometown, or favorite vacation destination.
Budget Favorite:  Built
A Yeti can be a pricey investment.  There are several less expensive options.  This Built 30 ounce tumbler  makes a great budget alternative.  When I'm handing out tumblers to a group (particularly kids) to take to the beach, I feel better handing these out, as I know I may not get them back.  I've used this tumbler, and it will keep your ice sold for several hours, even in the Florida sun.
Cheers to enjoying a cold drink that stays cold!
For more gift suggestions, please see: