Looking for a Valentine's Day gift that your wife will actually like?  Hint:  It's not a box of Little Debbie Snack cakes.  Nor is it a weird sparkly Valentine's weiner dog: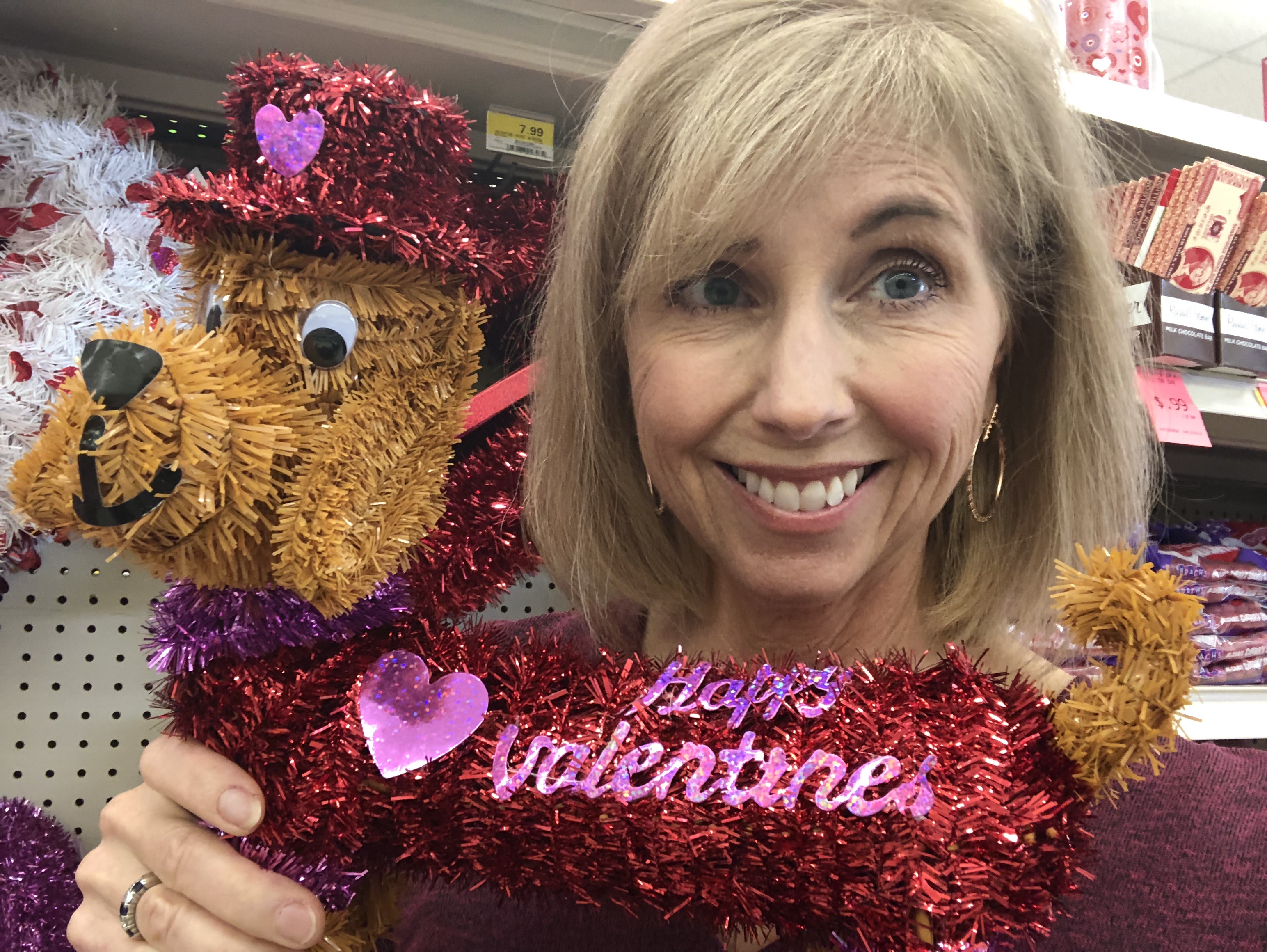 Have you fallen for the overpriced red roses? Did you go down the path of uncomfortable, embarrassing (and invariably inappropriately-sized) lingerie?   Have you made the other wrong turn, towards something practical, like a hedge trimmer or a food processor?  Or were you one of the desperate ones in Walgreen's Valentine's night, digging through the lame picked-over cards and cheesy candy?
This post was actually suggested by a dear friend's husband (and he's a dear friend as well), assuring us that it would be an appreciated post.  To find out what women really want, Kalisa and I conducted an unscientific survey of some of our girlfriends.
Now our girlfriends are funny.  They're sassy and smart and often sarcastic.  Obviously, I was expecting some answers scoring  a "10" on the smartass scale:  "Learn to do a load of laundry."  "For one day a year, put down the toilet seat."  "Don't expel gas in my presence, in any form, for 24 hours."  But we got nothing like that.  What we found was that our friends are thoughtful, down-to-earth, crazy about their husbands, and really just want some quality time together, with bonus points if there is some effort or thought put into it.
This post may contain affiliate links, which means we may make a small commission if you purchase something through the link.  You don't pay a cent more than you would otherwise.
Effort/Planning is Key
We women often feel that we are the FUNgineers — for our weekends, our vacations, our family, even our marriages.  The overwhelming theme from the gals is that they would like to feel like someone else got creative, made a plan, and made a reservation:
Plan a home-cooked meal, go to the store, and cook a meal.  (While it wasn't specifically stated, I would think that giving her the night off from clean-up would be implied here.)
Plan a dinner out, and make the reservation yourself.  (In the words of CW, "There has to be a little EFFORT involved. . . a nice dinner reservation is . . . a home run in my book.  (Key word:  RESERVATION!)"
Dinner out then home to watch a movie together.
Shopping trip and lunch together.
Dinner, at home or out, with a great bottle of favorite wine.
If there is a favorite restaurant you've visited over the years, perhaps skip the Valentine's Day crowds and recreate the meal at home.
Quality Time
Slow down, take a breath, and have some fun with your wife.  Do something that you both enjoy doing.  Put down the phone, get a babysitter, don't talk about the kids the whole time, and enjoy each other:
Go for a hike.
Walk on the beach.  (These two clearly came from Florida girlfriends.  We're not doing any hiking or beach walking in Ohio in February.)
Take in a movie you both want to see.
Go to a concert.
Play golf, go bowling, play tennis — whatever your game is.
(In some cases, "quality time" might mean time alone and off-duty.  One friend remembered a very sweet Valentine's Day when her husband swept her two small kids off to grandma's house, and let that overworked and exhausted mom/wife spend 24 hours alone in her own home, with no diapers to change, no noses to wipe, and no mouths to feed. )
Flowers?  Chocolates?  Candy?
We found that most of our gals love receiving flowers, but not necessarily on Valentine's Day (too expensive), and definitely not the ones that you pick up at Kroger's at 5:30 pm on Valentine's on your way home.  For the true chocolate lovers, chocolate is always a hit. Personally, I love Godiva, and these are available from Amazon by clicking on the picture, below:

There are some beautiful and truly special chocolates and candies, that would make anyone feel special.  These  Sugarfina candy boxes are beautiful and tasty.
Make it pretty and special.  Not like this: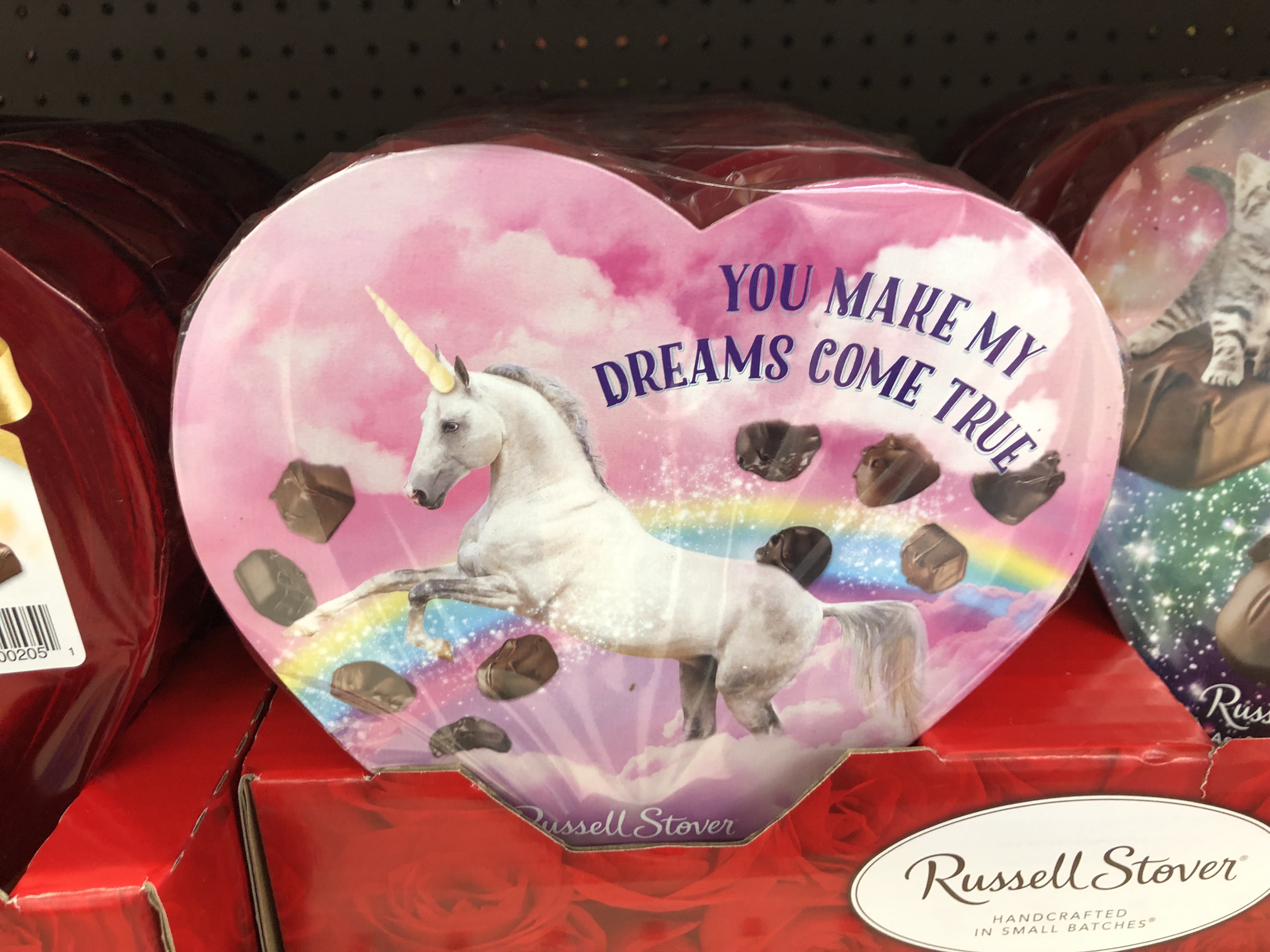 I don't claim to speak for all women, but I'm going to go out on a limb and say you should avoid rainbows and unicorns, even in the guise of chocolates.
Don't forget a card.
I love a funny card.  My husband makes me laugh, and truly "gets" my sense of humor.  Yes, I know a card is manufactured, unoriginal, and that my husband didn't personally write it, but I love that he takes a few minutes to find something that will make me giggle.
What about gifts?
While the overwhelming response was a desire for special time together, here are some terrific gift ideas to make a gal feel pampered and loved:
A massage.  A real massage, by a masseuse, at a salon.   Sorry, no coupons for a massage given by you.
Gift certificate for a manicure and/or pedicure.
A spa day.  Do we see a theme here?
Jewelry.  Please get something you know your wife will like.  If she only wears gold, don't buy silver.  If she likes delicate pieces, don't buy a big chunky necklace.  If you seriously don't know what she jewelry she might like, then don't buy it.

This Alex and Ani Charity bracelet would remind her that you're her Valentine.   Available through the link at Amazon.
Cashmere!  Cashmere always makes us feel special, and like someone made a fuss.  A cashmere scarf, a cashmere blanket, a cashmere sweater, cashmere joggers — we love cashmere.
These cashmere-lined gloves  are available at Nordstrom's.
Something she's been wanting but won't splurge on herself to get.  Maybe it's a great pair of boots.  Perhaps its a soft luxurious throw blanket for curling up on the couch.  Maybe it's a coat or handbag she's had her eye on.
A great candle.  This is one of our favorites:
 This Capri Blue Volcano  candle is available at Amazon.
The gift of music.  A bluetooth speaker will allow your Valentine to enjoy music anywhere.

The Amazon Echo (Alexa-enabled) will play your favorite music, and can also tell you the weather, read you the news, and answer questions.  (Apparently Alexa doesn't have all the answers.  One girlfriend tells me that she asks Alexa every morning, "Alexa, how fabulous am I today?"  Alexa always answers, "I do not have sufficient information to answer that question.")
Abosolutely  no one in our survey expressed the desire for anything practical.  No cleaning supplies, kitchen gadgets, gardening tools, or — God forbid — gym memberships or Spanx.
And for the over-achievers, the true all-stars:
Dinner at the restaurant where you had your first date (or met, or got engaged, etc.)
Write a love letter.  Tell her she's important, lovely, your favorite.
Plan a night or weekend getaway as a surprise.  (Again, the "plan" part is key.). Escape the winter blahs with a trip out of town, or a night in a special hotel.
Those last three are spectacular and over the top.  They would be lovely.  You would go down in the Valentine's Day Hall of Fame.  And if you feel so moved, that's terrific.  But what we're hearing from our girlfriends is they will genuinely be delighted if you plan some quality time with them.  So go make a date!
Happy Valentine's Day!
For additional two dandelions gift suggestions, please see: