Chicken fajitas are a family favorite in my house, in part because of the personal autonomy inherent in a fajita.  Mick Jagger teaches that "you can't always get what you want" — but you can when you're making a fajita.  For my son, it's light on the veggies.  My daughter skips the cheese.  My husband can't live without the beans.  And I'm all about the spice level — bring it on!
When my husband and I started doing weight watchers a few years ago, we quickly discovered that chicken fajitas make a nice low-point meal.  They make an appearance at our table at least once a month.  And now that we are empty-nesters, I find that I can reheat the veggies and meat a second night for an easy leftover meal.
The complete, printable recipe is at the bottom of this post.
This post may contain affiliate links, which means we may make a small commission if you purchase something through the link.  You don't pay a cent more than you would otherwise.
Chicken, beef or shrimp
Choose your protein.  We tend to use chicken or beef.
For beef, I like to use a flank steak and marinate it for several hours.  And then I ask Vito to throw it on the grill.  After it rests, slice it thinly.
Shrimp is popular with some.  It's not my favorite, as I think the mild flavor of the shrimp gets lost with all the other bold flavors.
We make chicken most often.  I like boneless skinless chicken breasts for fajitas.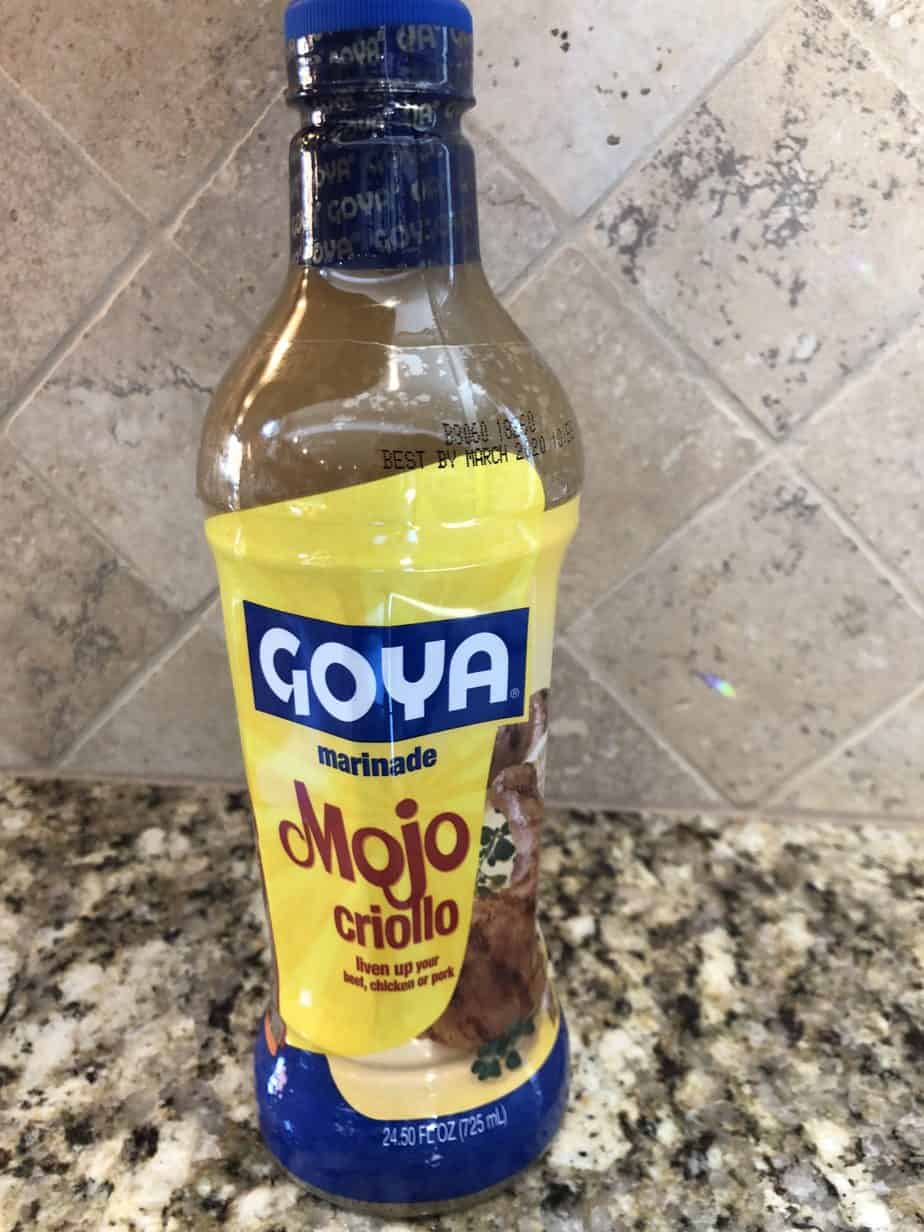 I marinate them for a few hours in the delicious store-bought marinade Mojo by Goya.  I've found this at Kroger and Meijer's.  This is the same marinade we used for the chicken in Kelly's Salad: Southwestern Flavors with a Cilantro/Lime/Jalapeno Dressing.
Marinate for at least two hours, and up to eight hours.
Peppers and onions, and other veggies too.
Cut up your peppers and onion and put them in a jelly roll pan sprayed with Pam.  Here I used red, yellow and orange bell peppers, and a poblano pepper.   It looks like a lot of onions, but they will cook way down.  You can add other veggies, too.  I like mushrooms and zucchini too.
Drizzle your veggies with olive oil and sprinkle with kosher salt and fresh ground pepper.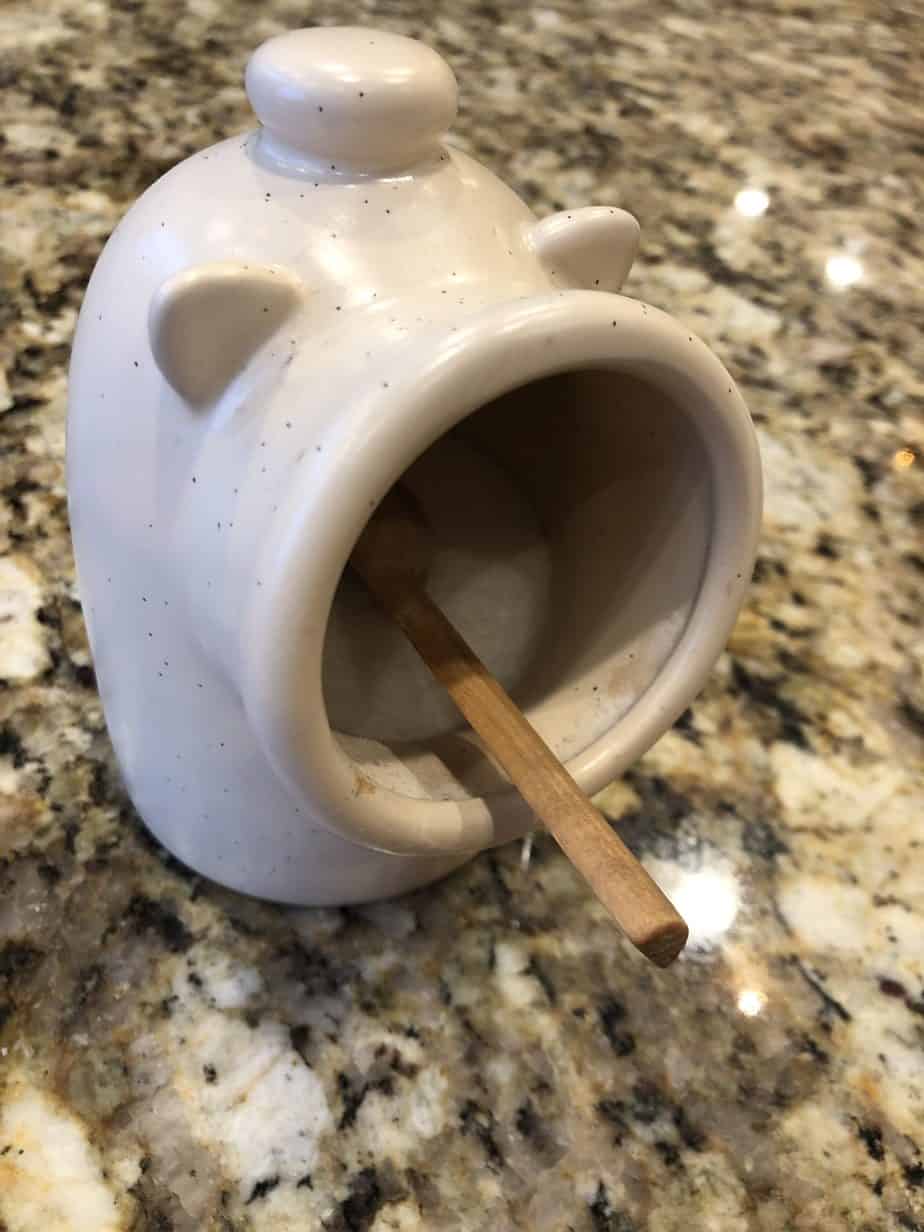 By the way, do you have a salt pig?  Kalisa wrote about them in Our Favorites: Kitchen Prep Tools Edition .   I love mine.  I use a lot of kosher salt, and it is so convenient to have it open and convenient right next to my stove.
Roast the veggies
Roast the veggies at 450 degrees for about 25 minutes, tossing once.  Keep and eye on them, and pull out when they have a nice char.  My onions usually cook faster than the peppers.
Broil or grill your protein
While the veggies are cooking, broil or grill your protein.. I broiled the chicken for 16 minutes, turning half way through.  This marinade should make a nice char on the breasts.  Cut into pieces after it rests.
Refried beans, with a little extra flavor
Meanwhile, as the veggies and meat are cooking, cook your beans.  I combine canned refried beans with rotel tomatoes to add a little more flavor to the beans.  I like the new hot rotel, but I have a pretty high spice tolerance.
Tortillas
Let your tortillas come to room temperature.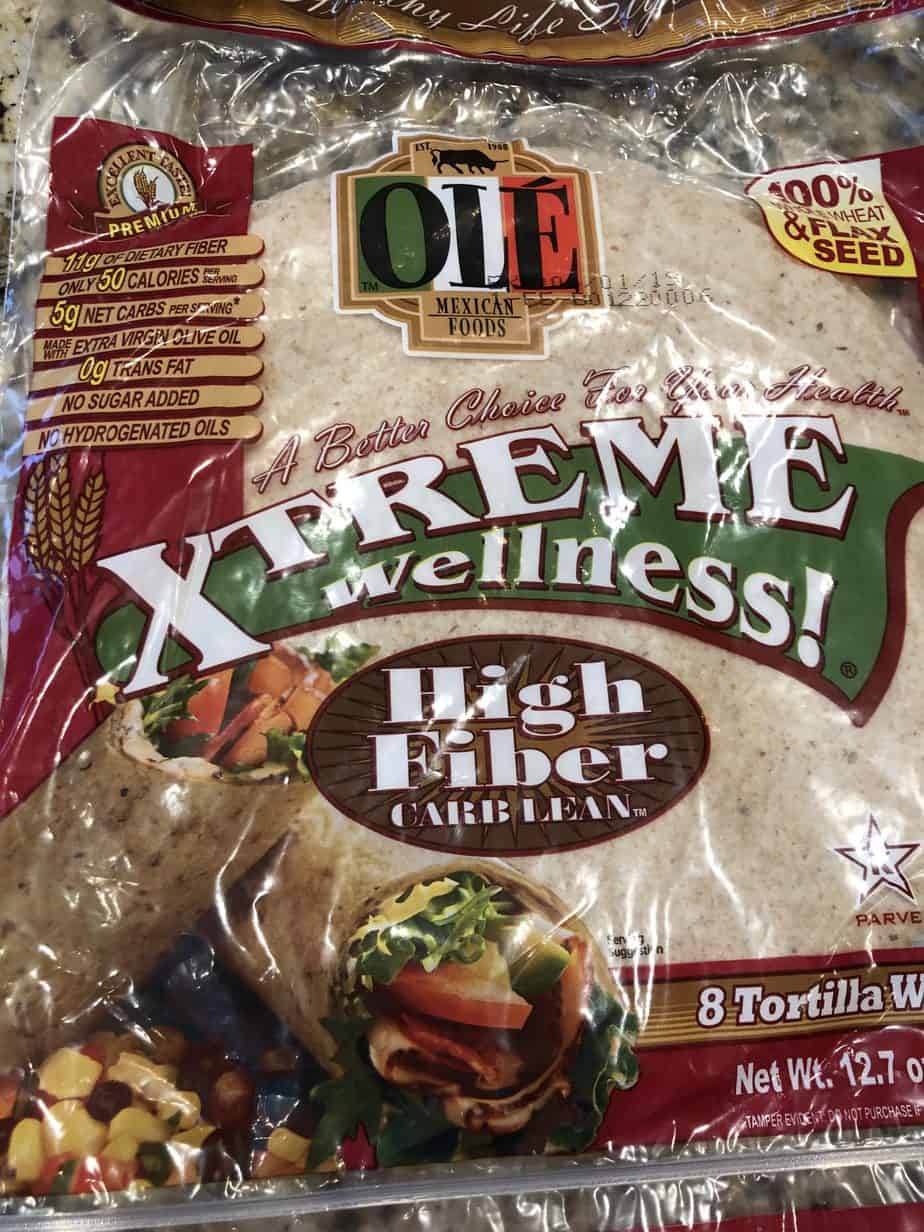 We're big fans of these Ole Extreme Wellness High Fiber tortillas.  Each tortilla has 11 grams of fiber, and is only one weight watcher points.  And they're good!
We don't heat our tortillas, as microwaving can make them tough, and heating in a skillet can make them fall apart (and adds fat if you using oil).  But do bring them to room temperature, so they're not cold.
Garnishes
You can garnish with grated cheese, sour cream, fresh chopped tomato, cilantro, chopped onion, jalapeños, pico de gallo, salsa and/or hot sauce.
You CAN always get what you want
Assemble your chicken fajita to your individual preference, or change it up for each new helping.  Enjoy!

For other favorite chicken recipes, please see:
Ingredients
2 boneless skinless chicken breasts
Goya Mojo marinade (about 1/2 bottle)
Red bell pepper, yellow bell pepper, orange bell pepper
1 poblano pepper
2 large sweet onions
Pam spray
Olive Oil
Kosher salt
Fresh-ground pepper
tortillas
1 can refried beans
1 can Rotel tomatoes (Original, mild, or hot)
For garnish, as desired: grated cheese, sour cream, cilantro, fresh chopped onion, chopped tomato, chopped jalapeno, salsa, pico de gallo, hot sauce
Instructions
This recipe is for chicken fajitas, although you could make it with beef or shrimp. You can also add additional roasted veggies. This makes two very generous helpings.
Marinate chicken breast in Goya Mojo marinade (about 1/2 bottle) for at least 2 hours.
Preheat oven to 450 degrees, and turn on broiler.
Pull the tortillas out of the refrigerator, if refrigerated.
Remove seeds and pulp from peppers and cut into strips.
Peel onions and cut into pieces.
Spray 2 jelly roll pans with Pam, and place peppers on one pan and onions on the other. Drizzle both with olive oil, and sprinkle with kosher salt and fresh ground pepper. I use about 1/2-1 tablespoon of oil for each pan, about about 1/2-1 tsp of salt for each, about about 1/4 pepper for each. Spread the vegetables out so they are not touching each other.
Roast veggies at 450 degrees for about 25 minutes, tossing once. The onions will cook faster than the peppers. Watch both; cooking times will vary based on your oven and how charred you like them.
Broil the chicken breasts for about 15 minutes, turning once. Let rest, then cut into bite-sized pieces.
While the chicken and vegetables are cooking, combine the beans and Rotel tomatoes into a skillet and gently heat.
Prepare your garnishes: grated cheese, sour cream, cilantro, fresh chopped onion, fresh chopped tomato, chopped jalapeno (no seeds), salsa, pico de gallo, hot sauce.
Prepare your fajita as desired.
https://thetwodandelions.com/chicken-fajitas/