Love a Trend? No Worries…
Most trends are cyclical.  You'll see them again; likely with a different twist, but they'll be back, much like Arnold Schwarzenegger's character in The Terminator movies.  Fortunately for me, because I like it, plaid has been in and out so many times… and I welcome it each time with open arms!  I'm not going to outfit myself from head to toe in plaid, but I love wearing it here and there, and I enjoy seeing how others wear it.
While trends don't rule my world and I'm never going to look like I stepped off a Fashion Week runway, I do like to keep up with what's trending and, if it's something I like, incorporate a few pieces into my otherwise fairly standard, mostly classic-style wardrobe. And I like to be a little trendy without dressing like I'm trying to look like I'm in my 20s… or 30s…and for the most part 40s:) Following are a few items I've purchased this season: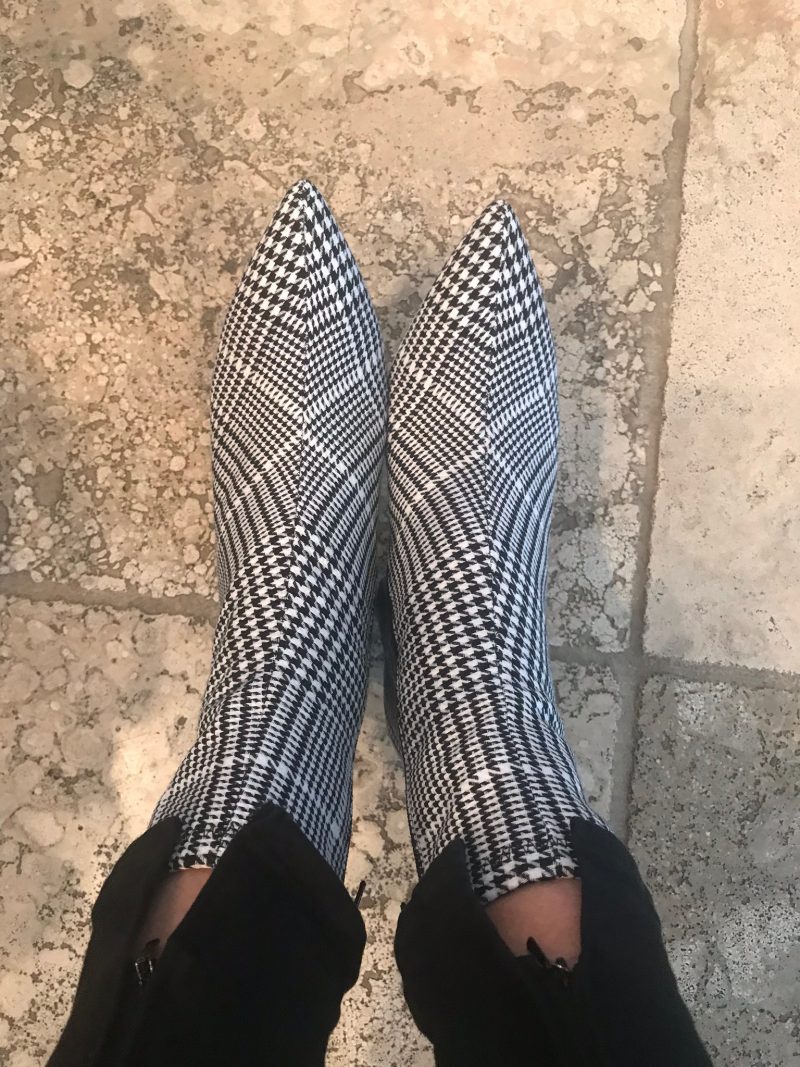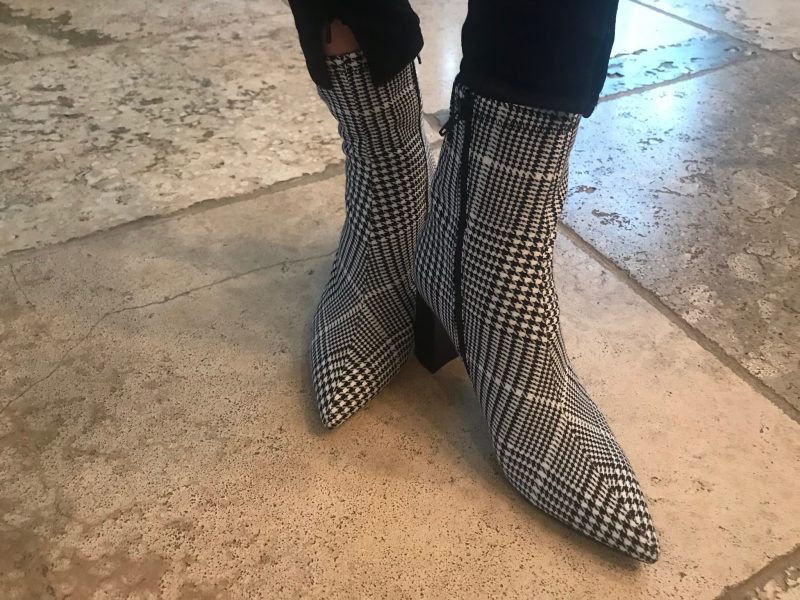 I bought this not-terribly-comfortable-but-cute bootie at Nordstrom.  I often wear solid colors and the pop of plaid in a bootie makes things a little more interesting, don't you think?!  Nordstrom doesn't have it anymore, but this is similar:
Jeffrey Campbell Bootie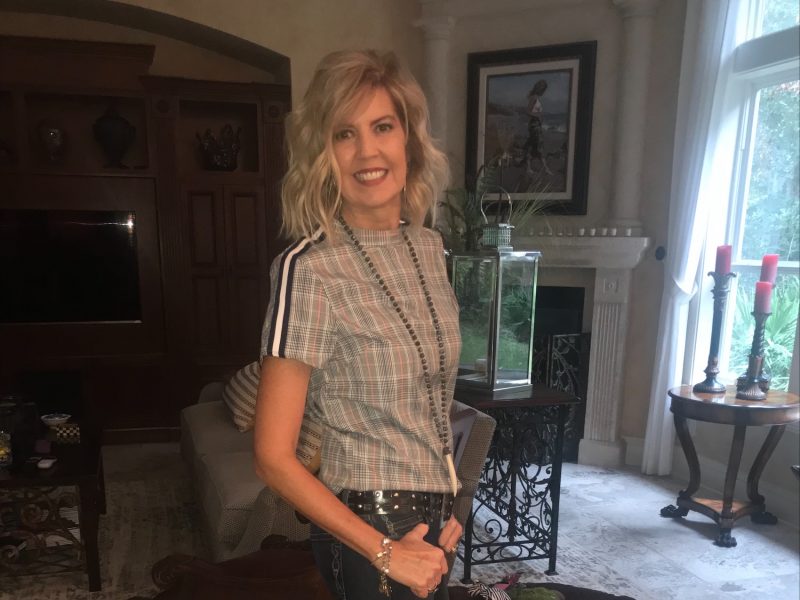 This cute and trendy top is from Glam Apparel.  I bought it at Ponte Vedra, FL boutique, Gwen Berlin.  She carries a number of higher-end, pricier lines, but she also has a few lower-priced lines like this one, which was $38. She has an online store as well: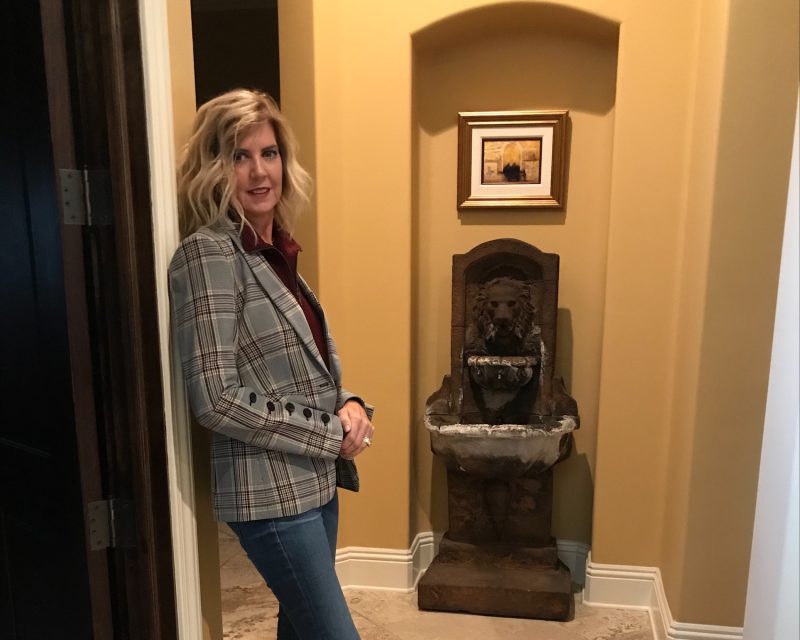 This Veronica Beard jacket with detachable dickey was purchased at the Nordstrom Anniversary Sale.  The story on this brand is that there are two Veronica Beards… no kidding. Two women named Veronica married two brothers with the last name Beard.  Not only did they share the same name, but they also shared a passion for fashion and together created a brand. I really like many pieces in this line; they are well made and the fit works for my body type.  They started with jackets and zip-in dickeys.  Feels like a blast from the way past, but you can get different fabrics and colors and use them with so many of their jackets. This specific jacket isn't available, but here's a similar one:
Veronica Beard Jacket
Finding Comfort in Trends
If I'm going to embrace a current trend, it has to be comfortable for me.  I've spent many years force-feeding myself trends that either didn't look great on me, or didn't make me feel great! I'm seeing lots of bright plaid and I'm not sure I'm feeling it, so I've stuck with more subtle plaids.  While I've tried on some bright plaids, I feel like they are age-inappropriate for me.  I must have tried the wrong items, because I've seen bright plaids on women my age and they look terrific! For now I'll stick with my subtle approach.  A few more pieces I like:
(This post may contain affiliate links, which means the blog may make a small commission if you purchase something from the link.)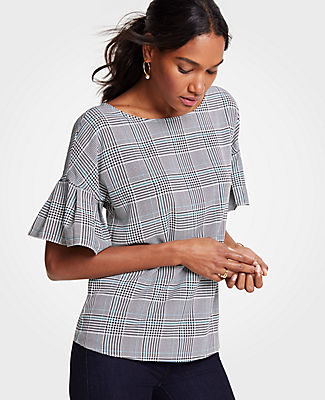 Ann Taylor Petite Autumn Plaid Flutter Sleeve Top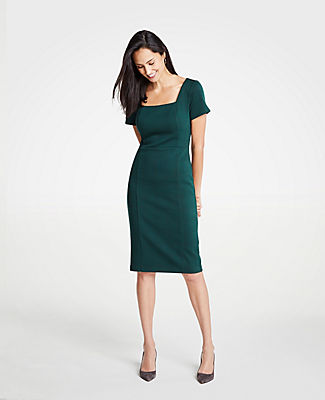 Ann Taylor Plaid Square Neck Sheath Dress
 (for the holidays)
And from Bloomingdale's, if it ever gets cool enough in Florida to wear it:
Aqua Plaid Boucle Scarf – 100% Exclusive
Make it Fun
As I get older, I'm definitely more particular about what I buy and wear.  And if I don't care for a trend, I feel empowered to ignore it.  I find plaid to be classic, fun and interesting… an easy way to mix it up a bit!  Are you wearing plaid this season?  What are your favorite pieces?
Cheers!  -Kalisa