Wait…Didn't We Just Hand Out Trick or Treat Candy?!
Every year it seems like the holidays sneak up on us.  Halloween is over and it's like full throttle into Christmas.  I was shopping the day after Halloween to Christmas music everywhere I went.  And while we love everything about  Christmas, can't we pause long enough to give Thanksgiving some respect?!
We love Thanksgiving because it really is about being thankful and grateful, and breaking bread with family/friends. There isn't excessive decorating and gifting; it's about slowing down, relaxing and enjoying time with those you love. Now, having said that, if the Thanksgiving gathering takes place at your home, chances are you have some planning and coordinating to do! And it begins well before Thanksgiving day, right?!
Let the Planning Begin!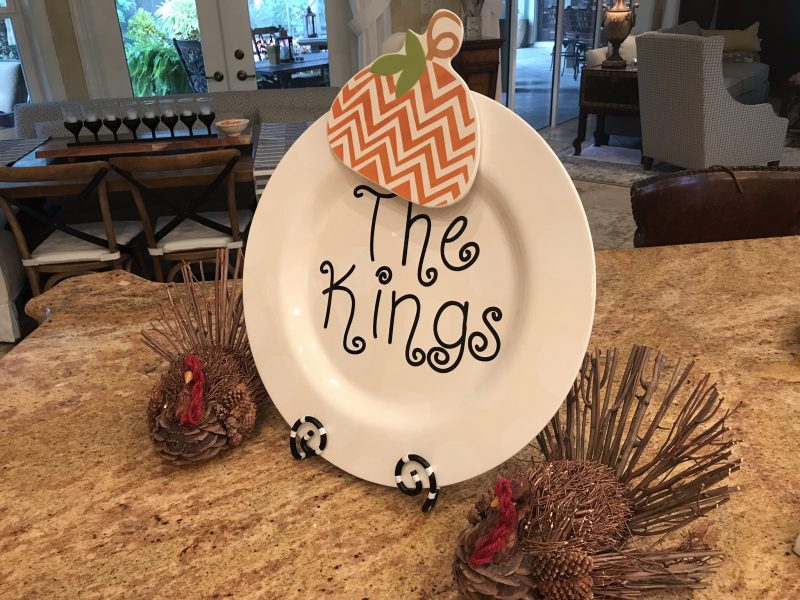 I absolutely love having Thanksgiving at our house, probably because I really enjoy preparing and serving the meal, plus, for some reason, I don't get stressed out doing it. I've learned that feeding people is one way I feel joy and express love.
I begin a few weeks in advance, by creating the menu. My daughter will be here from attending college in Dallas and I haven't seen her since late September. I can't wait! Also my in-laws visit us from Ohio for Thanksgiving, and we so look forward to their visit and feel blessed that we get to share the holiday with them. While everyone will be here for the week, I have to admit I don't do the best job planning all of the meals… I focus most of my effort on Thanksgiving. Laura is amazing at planning out the week's meals and she's going to share her strategy and planning tips in our next post!
Our Thanksgiving menu includes typical items… roasted turkey, mashed potatoes, stuffing and cranberry relish. Because my husband is allergic to dairy and my oldest daughter is a vegetarian, we don't do the popular green bean casserole but instead opt for fresh green beans with carmelized onions. I also make a second vegetarian stuffing and usually try something different each year. This year I'm also going to try a savory sweet potato dish; the link to the recipe is below. Finally, we include a salad. My mother-in-law loves salad and I like to have one on the table.
Shingled Sweet Potatoes with Harissa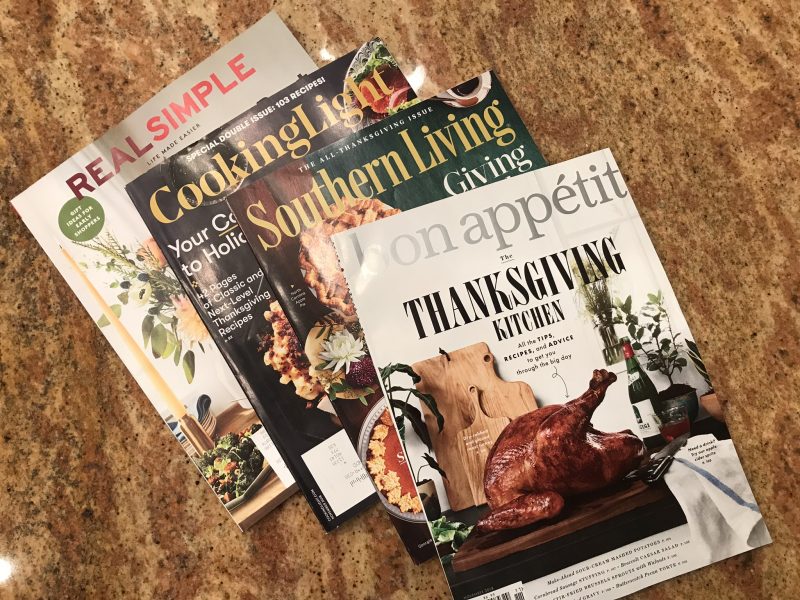 To find new ideas, I love paging through the Thanksgiving issues of Bon Appetit, Southern Living, Cooking Light and Real Simple. This year I'm determined to try some of the recipes for non-Thanksgiving dinners, as we'll all be together for the week. This is particularly applicable to dessert. I love dessert, and so does my father-in-law, so anytime he's in town, it's an opportunity to enjoy lots of dessert. For Thanksgiving dinner, we'll have a pecan pie and a chocolate silk pie. I'm eyeing a white chocolate raspberry tort and a pumpkin layer cake with caramel-cream cheese frosting for other days of the week! Click below for the recipes.
White Chocolate Raspberry Tart
Pumpkin Layer Cake with Caramel Cream Cheese Frosting
Now that I have my basic menus selected for the week, I'm working on my grocery lists and timing… one for Costco, one for Fresh Market and one for Publix. I will also spend time making sure the house is ready for our overnight guests, and I'll work on planning for some kind of centerpiece for the dining table. It's a good thing I enjoy the kitchen, because I'll be spending lots of time there over the next couple of weeks. I wouldn't have it any other way!
We would love to hear about your Thanksgiving Menu!
Cheers! –Kalisa