We've all seen her, that crazy lady pushing a dog in a baby carriage.  We roll our eyes, or perhaps we look away because we don't want her to see us giggling at her.  Get a life, crazy dog lady.
And now I've become the crazy dog lady.
Recently I've had to fly with my little dog Bo.  It is confusing and stressful, and there are many factors to learn about and consider.  But it can be done successfully.  And it turns out I enjoy being the crazy dog lady.
Get a ticket
Choose your airline, and research research research.  Know exactly how to get your dog on that flight, and follow their rules.
I've flown on three different airlines with my dog Bo, and each had different procedures.  Delta requires a reservation for our dog, and that reservation must be made on the phone, not online.  The Delta representative asked many questions, including breed, weight of the dog, and size of the carrier.  It was my responsibility to look up the specific plane and see how much space there would be under the seat in front of me.  I made my Delta reservation on the phone, but the ticket had to be paid for at check-in at the airport.  The cost for Bo to fly on Delta was $125.
On Frontier I bought Bo's ticket online when I purchased my ticket, with no questions asked.  The extra cost was $75.
Allegiant's process was similar to Frontier, and the additional cost was $100.
Buy an acceptable dog carrier
Finding the right carrier was an ordeal.  There are multiple online alternatives, such as Amazon and Chewy.  Chewy has instructions about how to measure your pet.  I measured Bo as instructed, and then compared the right-sized carrier to the carriers that are acceptable to the airlines.
Each airline has its own specifications for carriers.  I wanted a carrier I could use on multiple flights, so I needed a bag that would be universally acceptable.  Online resources will compare the airlines' specifications.  Also, some carrier brands come with certifications that they are airline-approved by particular airlines or universally.
Once I knew the right dimensions (I wanted as big as possible for Bo's comfort, but small enough to please the airlines), I had to consider whells or no wheels, hard-sided or soft-sided, and upright backpack carrier versus horizontal duffle.
I ordered five carriers of differing types to compare.  I loved the idea of wheels, but the addition of wheels made the carrier too big and unwieldy.  And while a hard-sided carrier seemed more protective for him, I couldn't find one that was big enough for him and would still fit under the seat.  And finally, the upright backpack carriers would be easier to carry, but Bo seemed awkward and scared in that position.  I ended up going with a soft-sided duffle carrier, with mesh panels so he can see me.  I had no problem returning the unused carriers.
Acclimate your dog to the carrier
Even though Bo had been crate-trained, trying to put him in a carrier was like trying to wrestle with an angry chicken.  I had to find a stress-free way to get him into the carrier.
We placed the carrier on the kitchen floor, door open, and left it there.   I put a treat about 2 inches inside.  He hesitantly stuck his head in, grabbed the treat, and ran for the back of the house.  Each day we put the treat a little bit farther towards the back of the carrier.  When he would finally dash all the way in for a treat, we started feeding him his meals in there.  He never went in to hang out or take a nap, but he did start to associate the carrier with happy (i.e., meal) times.
We didn't try to zip him in until we'd been training with the food for over a month.  When we finally did, we started with calm voices and words of praise.  Unfortunately, it quickly turned into a wrestling match again.  We finally got him in, and I took him for a short ride in the car in the carrier, and returned home for a treat and lots of praise. We repeated that process a few times before our big flight, so he would know that he got to go with Mom in the carrier, and have a treat at the end.  He still didn't love it, but he became more accepting of it.
Talk to your Vet
Luckily, I have an excellent vet, Dr. Timothy Wolf at Mason Animal Hospital .  Dr. Wolf made sure Bo was healthy enough to fly.  Because Bo is terrified of storms, I was worried that the noise and pressure of the flight would be very stressful for him.  Dr. Wolf gave me a mild anti-anxiety medicine that I could give him before the flight, if necessary.  He had me do a test run with the meds at home, so I could see how Bo reacted.  I did so, and I had a happy and "chill" dog for a few hours, with no adverse side-effects.
Dr. Wolf also gave me a copy of Bo's vaccination record.  Turns out no one asked for it, but I was glad to have it.
Get to the airport early
So much can go wrong with the dog:  The dog needs to go to the bathroom.  The dog gets sick in the carrier.  The dog is anxious.  The dog won't go into the carrier.  The carrier isn't the right size.
In addition to all the things that could go wrong, I was going to be carrying a duffle bag with a 17-pound dog in it, along with all the other things I carry on.  I knew I couldn't be running to the gate.  We got to the airport two hours early.
Once at the airport, we wrestled Bo into the carrier, and proceeded to check-in.  Check-in varied by airline. At Delta, I couldn't check-in onine because of the dog, and at the counter I got the third degree again, they finally approved me and gave me a special tag to put on the carrier. For Frontier we checked in online (we weren't checking any bags) and went directly to security.   No one from Frontier asked any questions or gave me a pass or tag.
At security, the dog comes out of the carrier
For our first flight, we had Bo in the crate, blissful in his anti-anxiety fog and ready to proceed with our flight, when we learned that the dog has to walk through the metal detector, and the carrier goes through the x-ray machine.  After all the effort to get him into the carrier, he had to come out for security.  So don't forget your leash while you're traveling.  After getting through security we wrestled him back into the carrier, and I awkwardly carried him and the carrier through the airport.  Luckily I was not traveling alone that time, and Vito carried my purse and carry-on while I carried the dog.  Nevertheless, it was very heavy and unwieldy carrying that dog from security to the gate.  And I suspect Bo enjoyed his wild ride even less than I did.
For my second flight with Bo I was traveling alone (I mean without any other humans), and I was very concerned about managing Bo and carrying everything I needed to carry.  Luckily my husband had two brilliant ideas.
First, I didn't put Bo in the carrier until after security.  I had him on the leash, and no one told me I couldn't do that; he is not a service dog, so I thought perhaps he needed to be in the carrier at all times.  But I walked right through the airport with him on his leash.  That's much easier than carrying him in a carrier.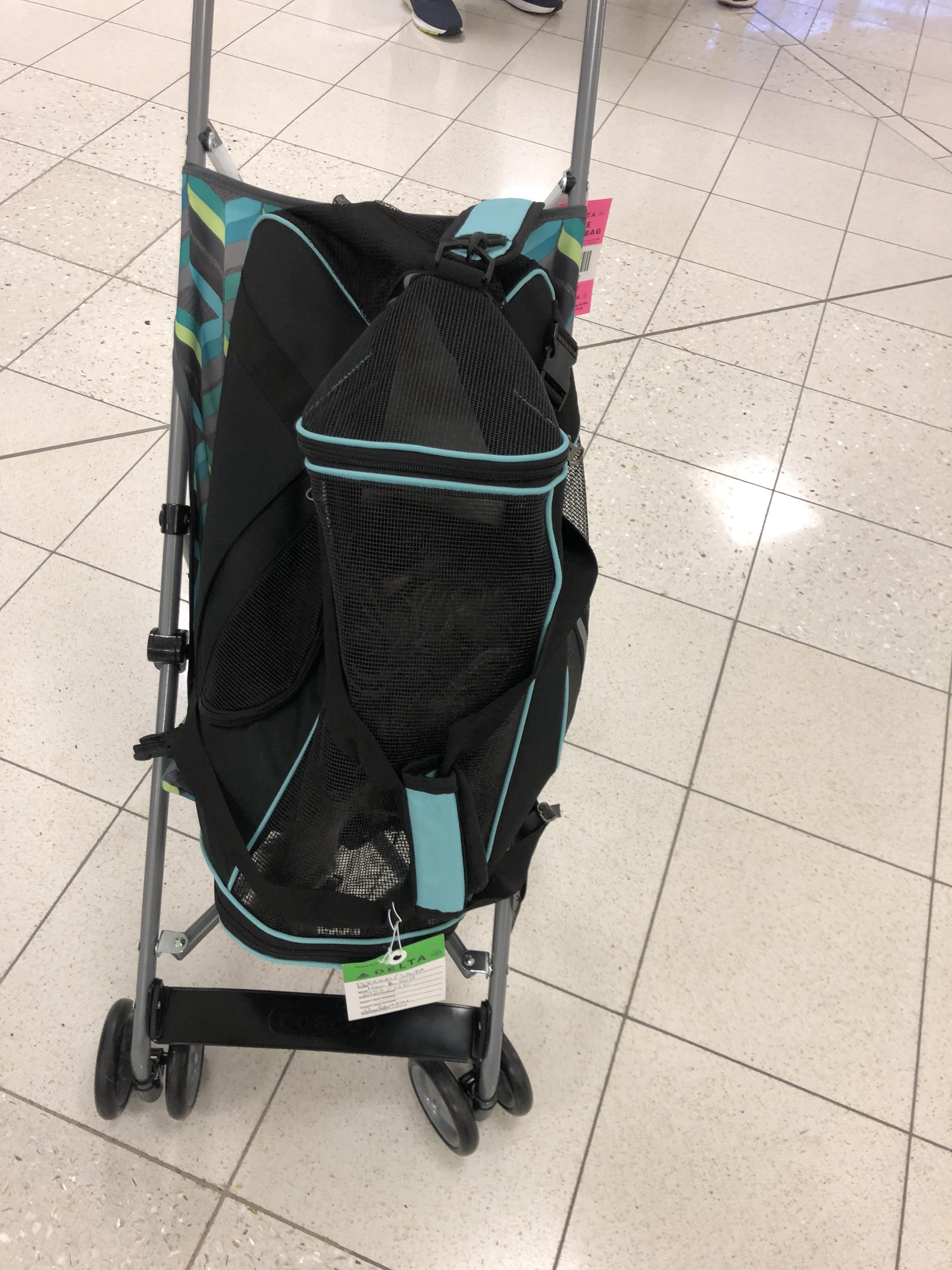 Second — and this is how I became the crazy dog lady — we stopped at Wal-Mart on our way to the airport and bought a cheap umbrella stroller, worth every penny at $15.  When I did put him in the carrier, I put the carrier on the stroller, and pushed him through the airport.  I checked the stroller at the gate, and picked it up at the gate when we arrived at our destination, put the dog (in the carrier) in the stroller, and made my way to baggage claim. I only had to carry him (in the carrier) from the door of the airplane to my seat, and back again.
The flight attendants are surprisingly nice
I have a healthy respect for flight attendants.  They have an important job, and they deal with a lot of nuts.  I assumed that they are none to pleased to see the crazy dog lady get on their crowded flight.  I  expected questions and reminders about requirements.  Up until the minute we took off I half expected some airline official to point out that I've failed to comply with some obscure rule and kick my dog off the flight.
In fact, the flight attendants were helpful and kind.  It was a great relief.
Bo was a rock star
No barking.  No crying.  No shaking.  Who's a GOOD BOY???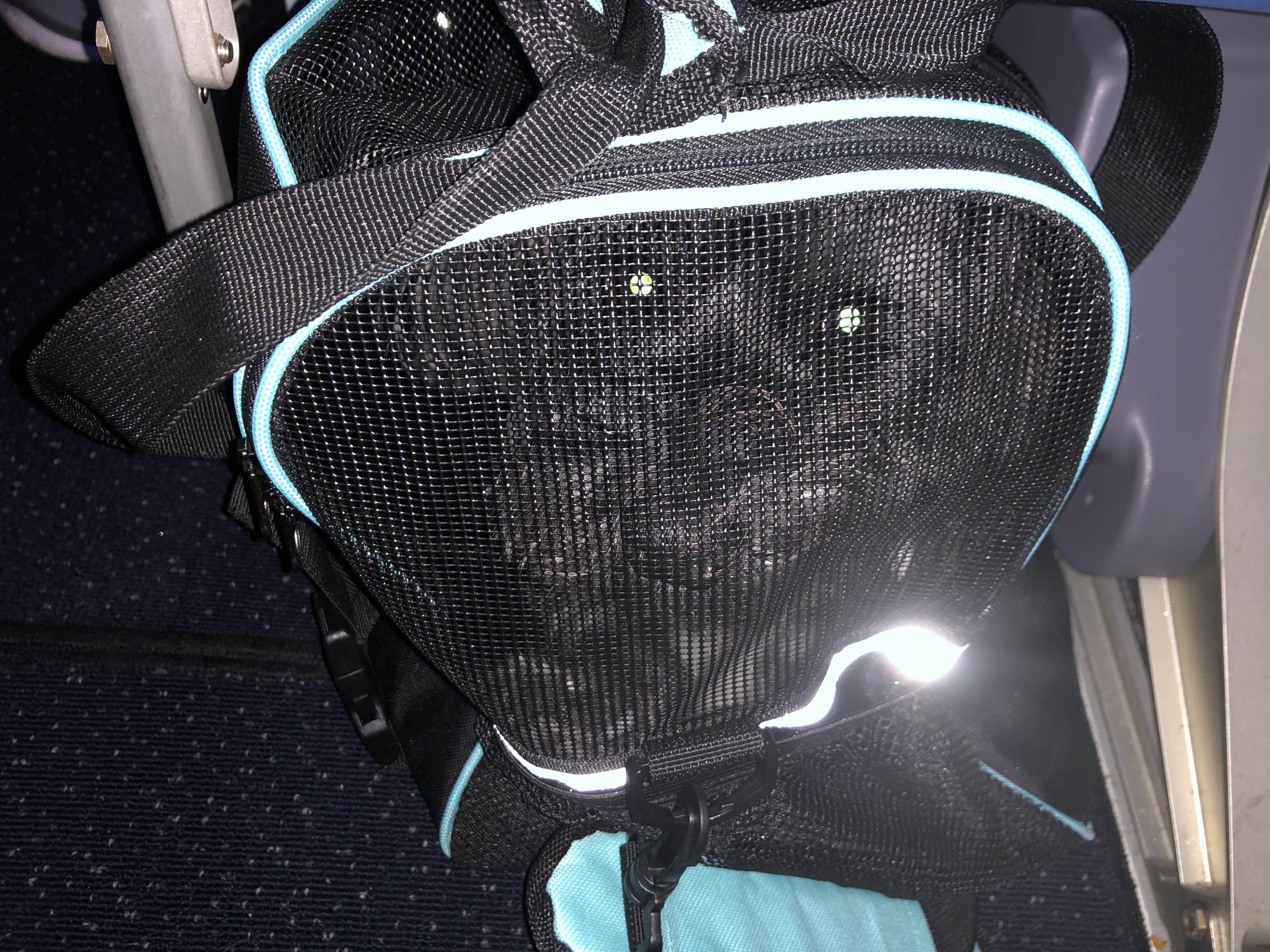 The only moment he was stressed out, and this has happened every time we've flown, occurred as they closed the door to the plane.  He became very antsy and wriggled and dug in the floor and become a little frantic.  That lasted about two minutes, and then he settled right down and didn't move again.  My theory is that maybe the change in the pressure as they shut the door freaked him out.  But his concern was short-lived, and he did great.
Flying with your dog can be done!  Research the requirements and do what you can to reduce your dog's anxiety.  And one unforeseen bonus:  the other passengers smile and say hello when they see your Good Boy.
For more about how we love our dogs, see Lessons from my OLD DOG.