Maize and Blue or Scarlett and Gray?  Woody or Bo?  Ohio State or Michigan?  No matter where your heart is, THE GAME represents loyalty, hope, community and pride.
"I Do" meant signing on as a fan
Laura:
I thought I knew about college football fanatics — I grew up in a house of Oklahoma Sooners.  But then I married a Michigan Man, and we moved to Ohio. Sorry OU/Texas, you got nothing on the Michigan/Ohio State rivalry.
I was introduced to The Big House, learned about "the team, the team, the team," and can't get "Hail to the Victors" out of my head.  (Although I admit it will never be as catchy as "Boomer Sooner, Boomer Sooner.).
Kalisa:
I have to admit it took some time for me to understand the meaning of scarlet and gray running through your veins.  After joining Freddie for my first Ohio State game, it began to sink in.  And then it just grew and grew.  I initially thought college football season began in the fall and wrapped up with the national championship.  That is just not true at all.  Recruiting overlaps and then replaces the actual football season and it is a BIG FRICKING DEAL.
Saturdays in the fall are for college football.  Period.  Please don't schedule your wedding on a college football Saturday.  Please don't give birth on a football Saturday. It's offensive to college football fans.
And then came kids, another set of mannequins for wearing college colors
Laura:
You have kids, and you think about making cookies together, teaching them to read, passing on your family's traditions and morals.  Little did I realize that a crucial part of raising our children was dressing them in the proper colors and teaching them who to cheer for.  This is my husband's favorite baby picture of my son: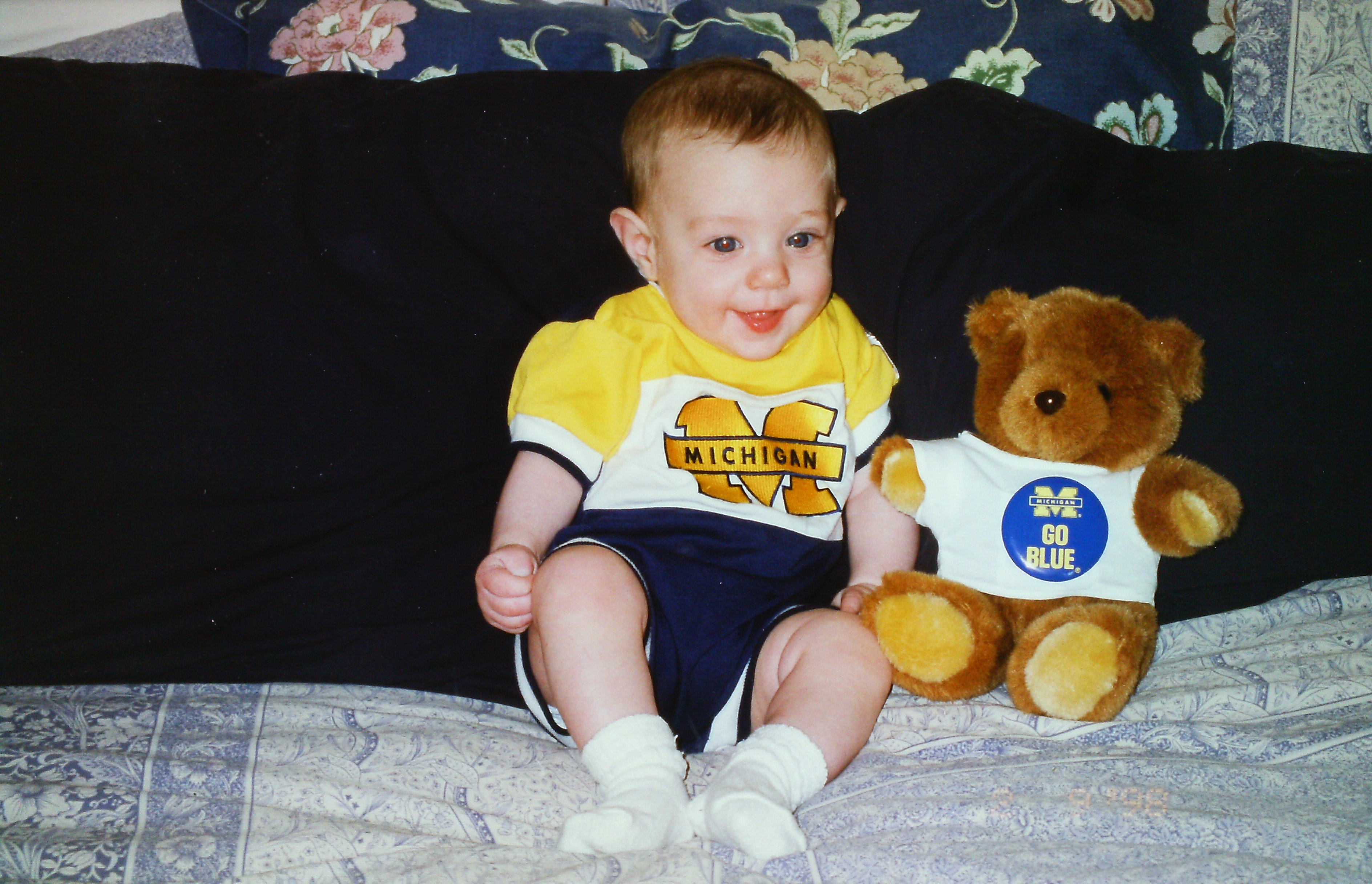 Kalisa:
The required uniform for our girls was often Ohio State gear.  When they were old enough to voice their opinions, we added jerseys, t-shirts, shorts, sweats, shoes and face tattoos to the mix!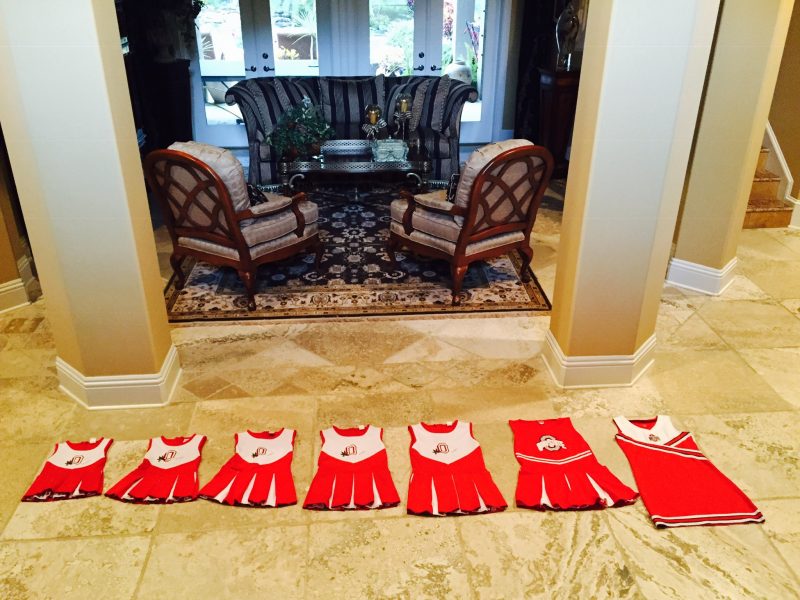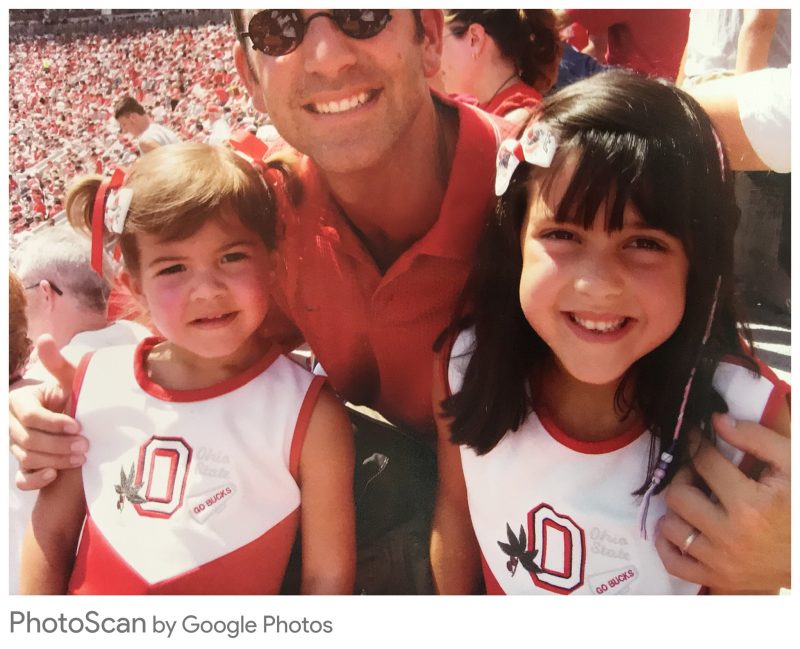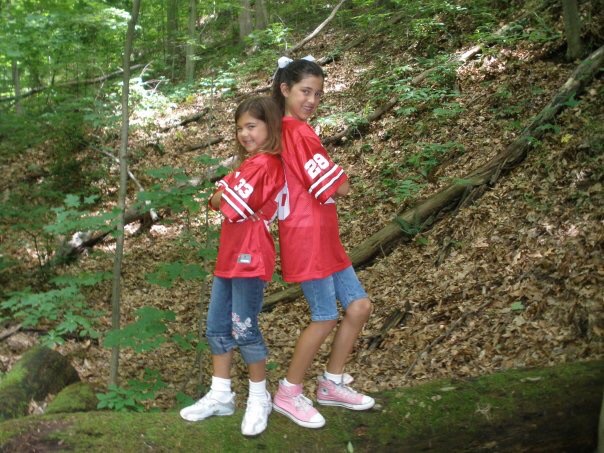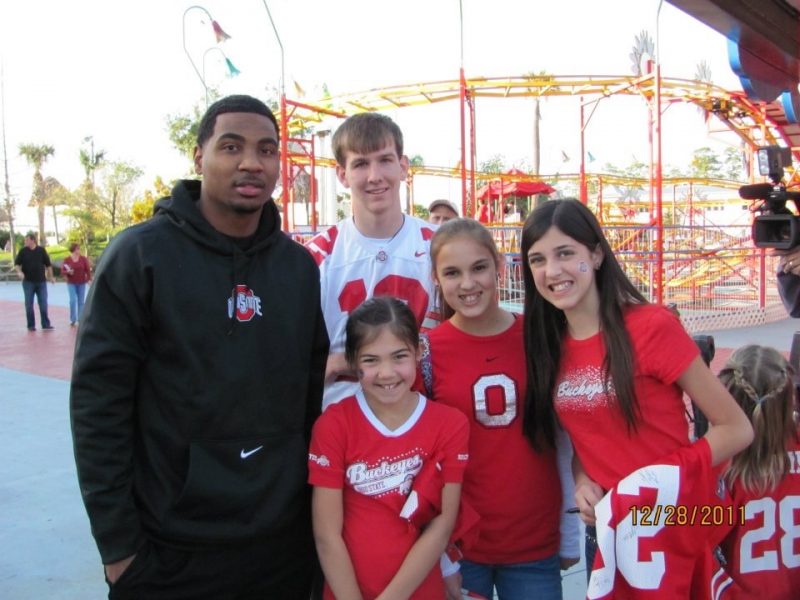 Our kids learned the fight song as soon as they were able to and we sing it together every game day.  It's become a bit of a superstition… if we don't sing, they might not win!
The animals are not exempt
Laura: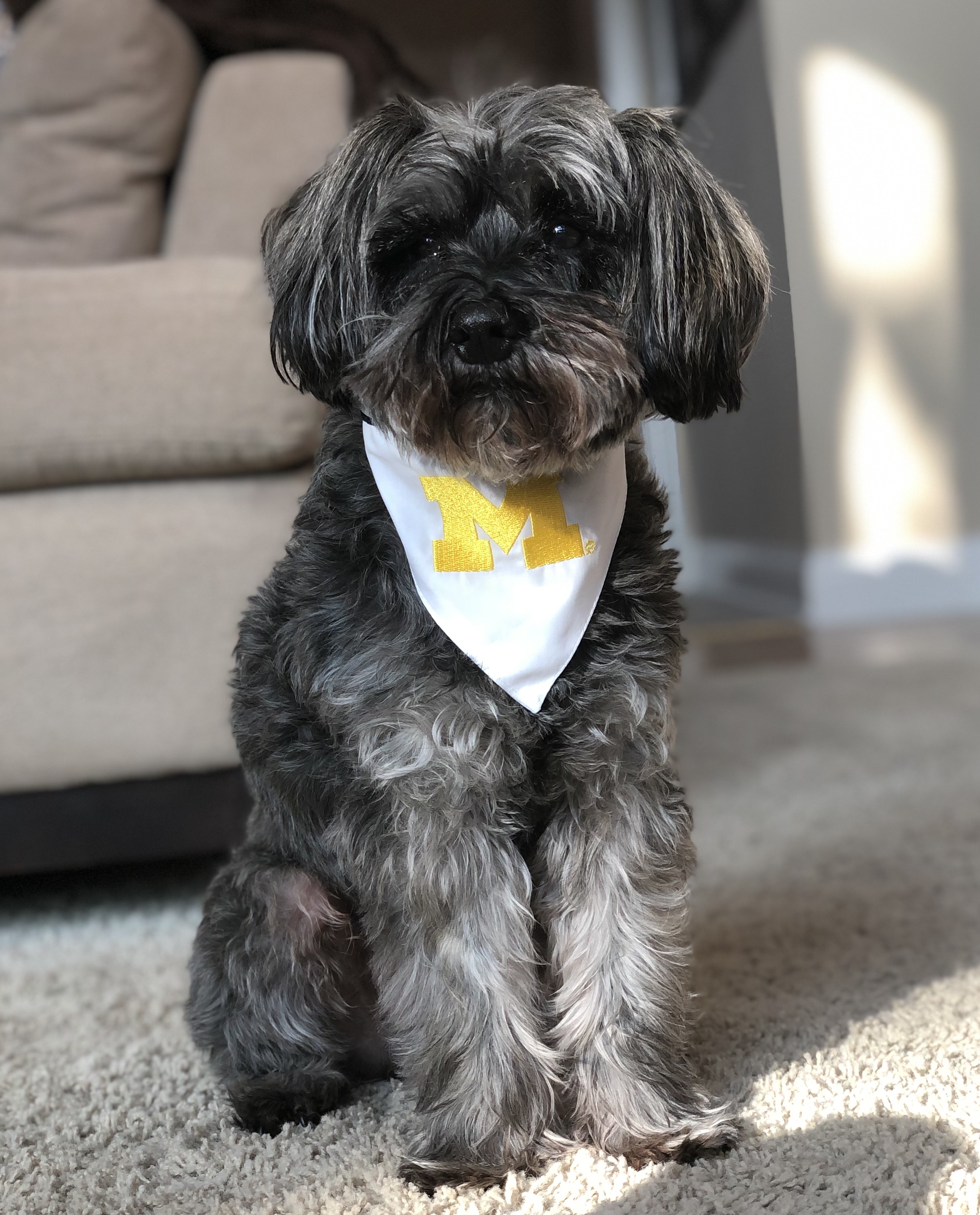 Certainly this nuttiness has to extend to our dogs.  We have a dog named Bo. Actually, his full name is Bo Schembechler Peraino.  We wanted to name him "Those-who-stay-will-be-champions Peraino," but that seemed a bit much.
Kalisa:
Moxie is a huge Buckeye fan.  He loves to watch games with us!  He doesn't enjoy wearing clothing of any kind though, so it's a rare opportunity to see him sporting his scarlet and gray: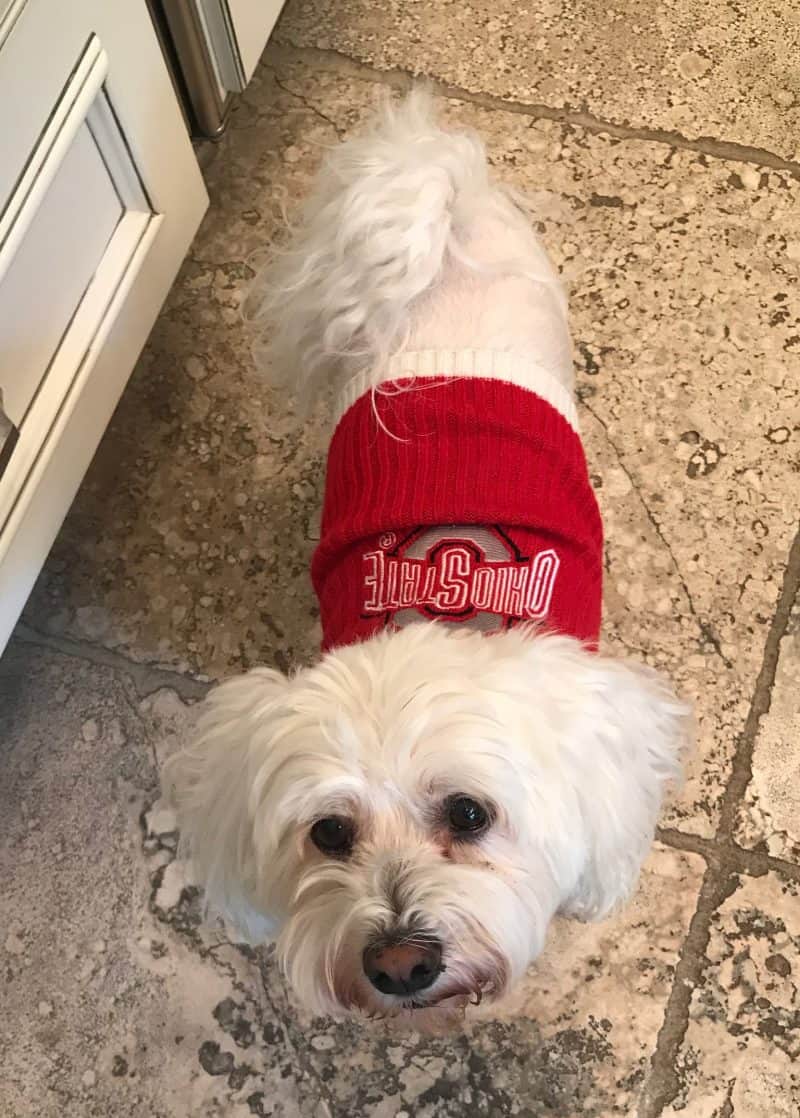 Can BUCKEYES and WOLVERINES be friends?
Laura:
I remember the first meal we all shared together.  I think it was 2004, and our girls were about to start kindergarten.  We were on one of those "first date" couples dinners, where you're feeling out the other couple out to see if you might be friends, gently getting to know each other.  Are they smart, funny, interesting?  It was such a perfect match:  we had kids the same age, we lived in the same neighborhood, our husbands are both lawyers and had mutual friends and colleagues, we both love food and wine!  This was going to be the start of a beautiful friendship.  And then it happened. . .
Fred:  So Vito, where'd you go to law school?
Vito:  The University of Michigan.
Time seemed to stand still.  It was as if all the other diners suddenly stopped talking, and turned to stare at our table.  I think Fred threw up a little inside his mouth.
Somehow we still managed to become friends, and even engaged in a little gambling. . .
Kalisa:
Freddie is always one to suggest a friendly wager.  And he's always had Michigan friends. His two best friends from high school both went to Michigan.  He spent years paying off steak dinners.  Actually, his friend Randy would order the most expensive steak AND lobster tail at Morton's, just to stick it to Freddie.
When we met Laura and Vito, we clicked with them right away, plus Ohio State was a more viable competitor than back in the steak-buying-bet-payoff days.  Vito is a Michigan fan down to his core, so when Freddie suggested a bet that would require the loser to fly the winner's flag in a prominent spot on their house, Vito was all in.  When the Peraino home displayed the scarlet and gray flag in their front window, they (and especially their son) were not thrilled.  Ever the gentleman, Vito of course held up his end of the bet.  The King family was giddy, but we tried to be grown-ups and keep in on the down-low:)
We haven't had a bet since we moved to Florida.  Perhaps this should be the year to resurrect it?!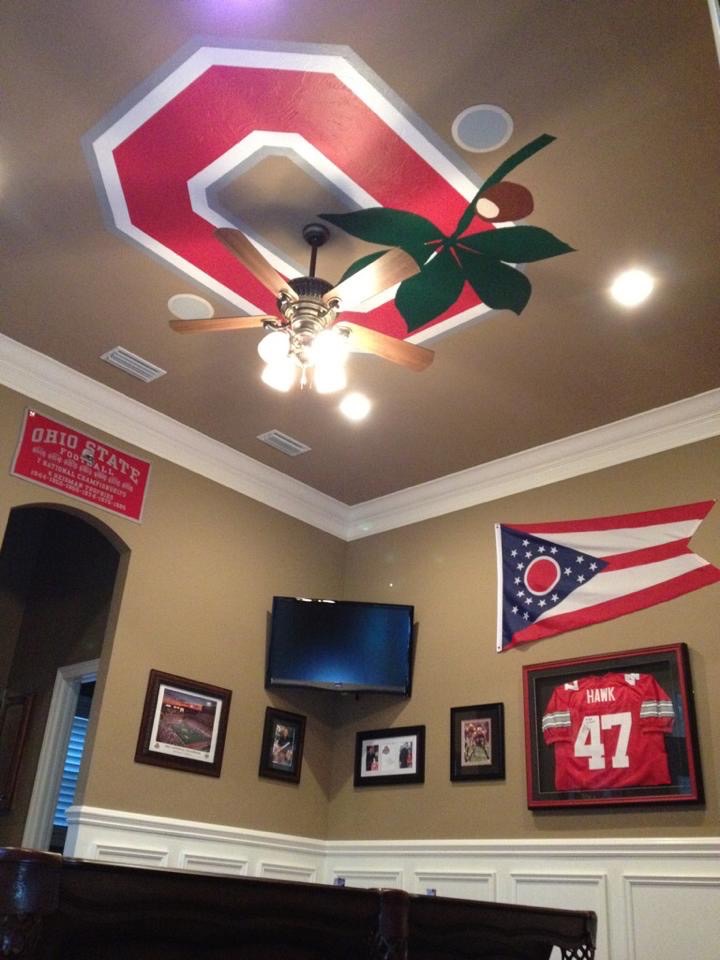 Laura:
It's no secret that "the bet" has not been such a good deal for my family.  Fred brought over the biggest, reddest Ohio State flag you've ever seen, and hung it over our dining room window.  There were several Christmases where our dining room was a big glowing Red Room, with all natural light being filtered through that red flag.  We've also gotten to treat you guys to some great meals, thanks to "the bet"!
I've got to throw in here that while it seems that Ohio State has won every year since we've been friends, there was one year  —2011 — that the Wolverines actually got it together and won.  My son was so excited, so passionate, so CRAZY over the win, that he grabbed our Michigan flag (sadly, it had never hung on the Kings' house as payment for "the bet"), wrapped himself in it, and ran up and down our street screaming "WE WON!!!  GO BLUE!!!!!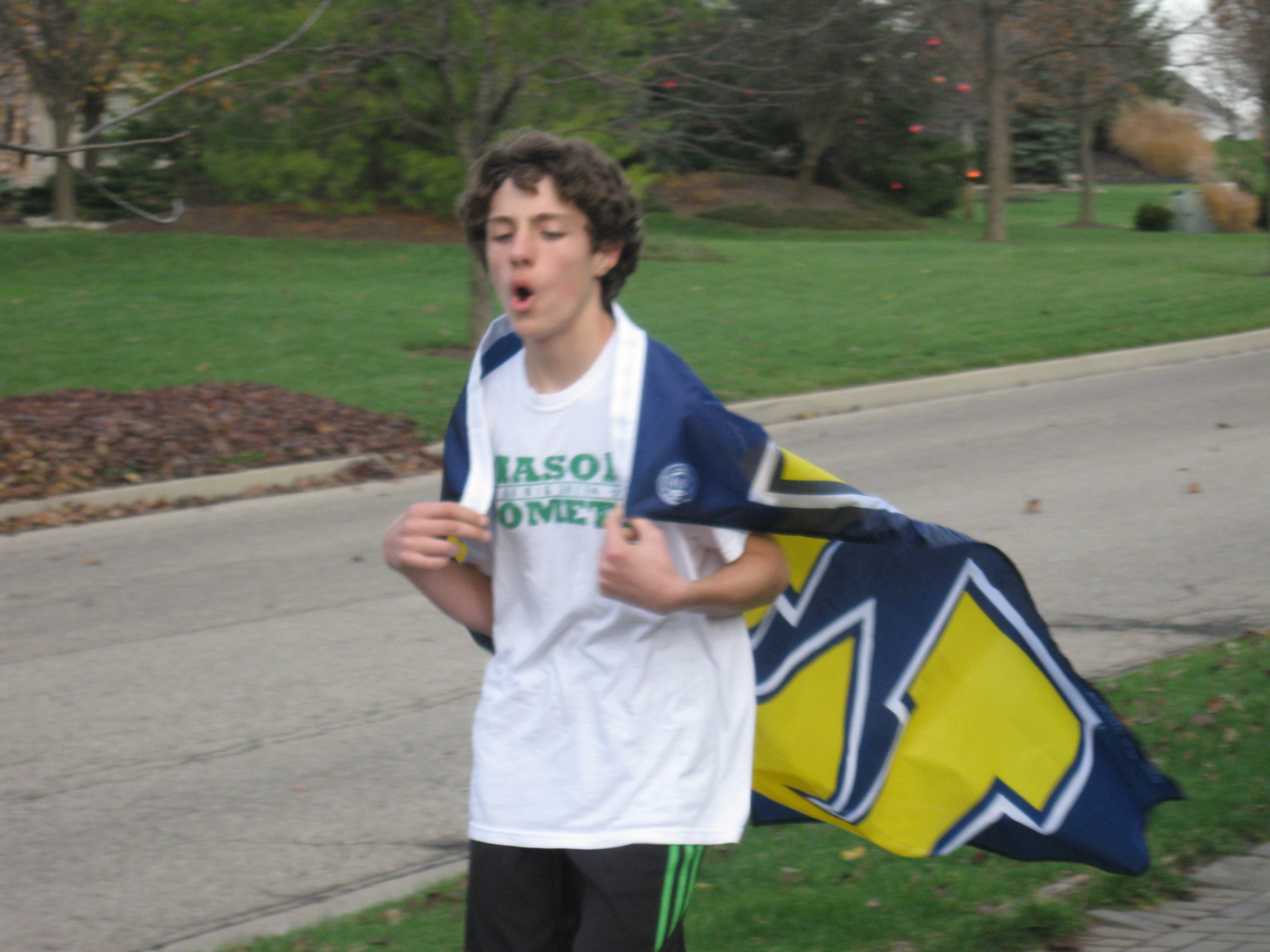 This picture was taken in 2011.  Is it any surprise that this kid is now a junior at the University of Michigan?
Traditions continue, grow, and sometimes change
Kalisa:
Being Ohio State Buckeyes is part of our family.  We love our team and we rally around it.  Fans are loyal and far-reaching.  Anywhere you go, you can find a bar to meet up with fellow Buckeyes and cheer them on during a game.
We pay tribute to them with the traditional "O-H-I-O" formation in family pictures.  When we see someone wearing Buckeye gear anywhere, we give them an "O-H" and wait for the "I-O".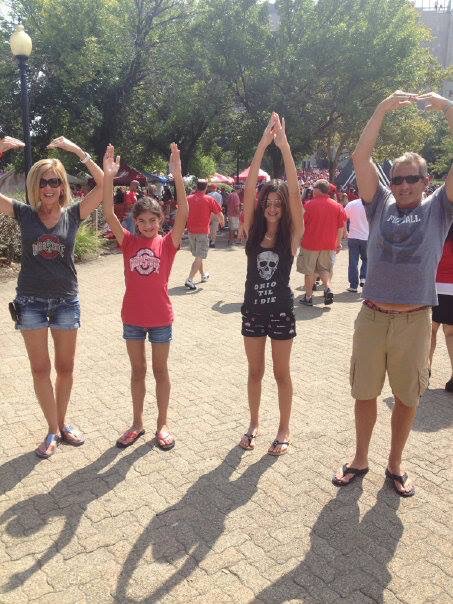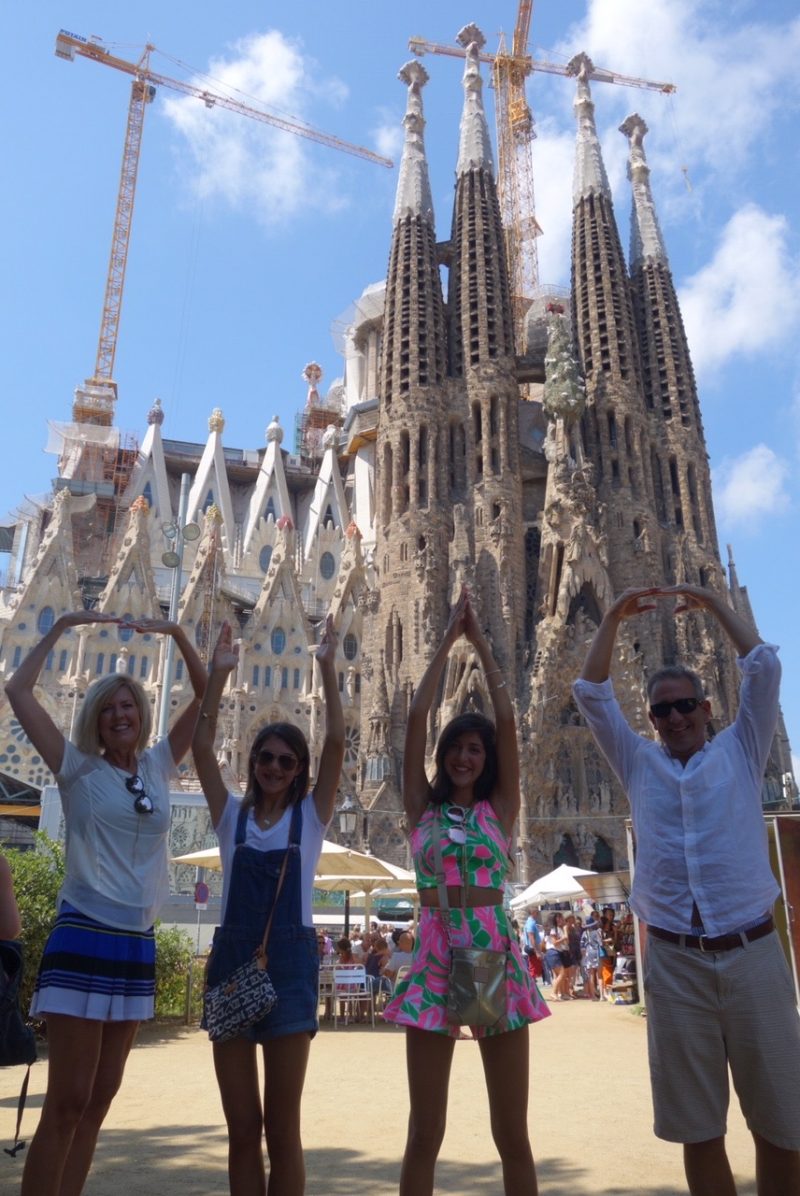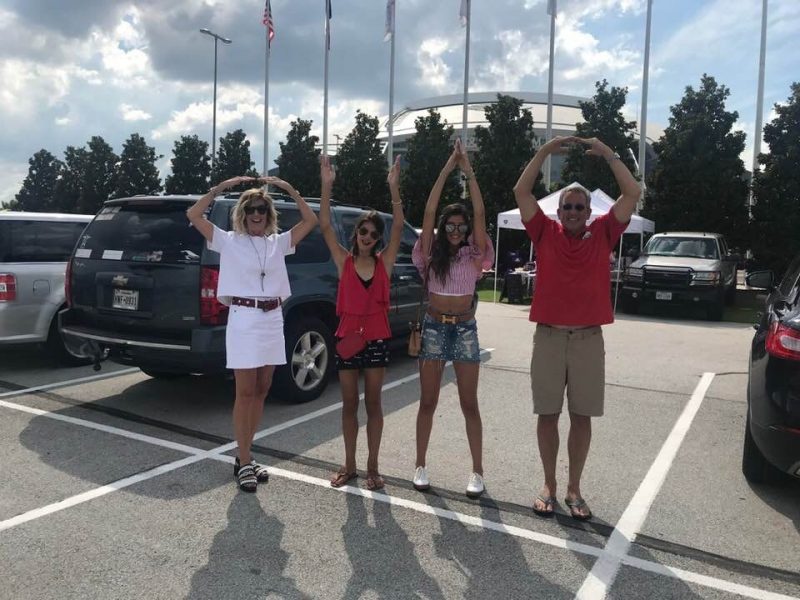 My husband connects with strangers because of the Buckeyes more often that I ever would have imagined.  He has been part of a text message group for nearly ten years.  His best friend and fraternity brother from OSU, Tom Kelly, introduced him to Steve Jacoby. Steve didn't attend Ohio State, but he was from Columbus and a huge fan.  The three of them started texting each other regularly about the Buckeyes.  They added several other guys to the text group who demonstrated sufficient knowledge, enthusiasm and dedication to the team.  Eight years in and even though they haven't all even met each other in person, they've formed a bond and exchange hundreds of texts each week. While 85% of their texting is college football related, they also talk news and even politics.
Laura:
For us, recently the rivalry has become both very personal and magnified, and at the same time also insignificant and silly.
Three years ago my son started his career at the University of Michigan.  It was a proud day.  We wear our maize and blue, we go to games, we sing "Hail to the Victors."  He's getting a great education, making lifelong friends, and Michigan is absolutely the best place for him.  We couldn't be more proud.
Two years ago my daughter started her career at The Ohio State University.  Raised as a Wolverine, receiving admission to both schools, she followed her heart to Columbus.  And you've got it — we wear our scarlet and gray, we go to games, we sing "Hang on Sloopy."  (Well, I do.  Vito just can't.). She's getting a great education, making lifelong friends, and it is absolutely the best place for her.  We couldn't be more proud.
The truth is that both schools are terrific, and friends and family members can still love each other no matter what color they're wearing.  (Except for maybe on the Saturday after Thanksgiving.)
No matter where your allegiances lie, we wish a joyful day cheering on your team.
For more about our friendship, even through the ups and downs of The Game, please see: