Among the many things I'm thankful for, I include the fact that I married a man who loves to cook the Thanksgiving meal. He gets raves for his turkey, blessings for his gravy, and a standing ovation for the stuffing. And that meal is (rightfully) the star of the Thanksgiving weekend.  Here is Vito with his two 23-pound turkeys, dressed and ready to roast.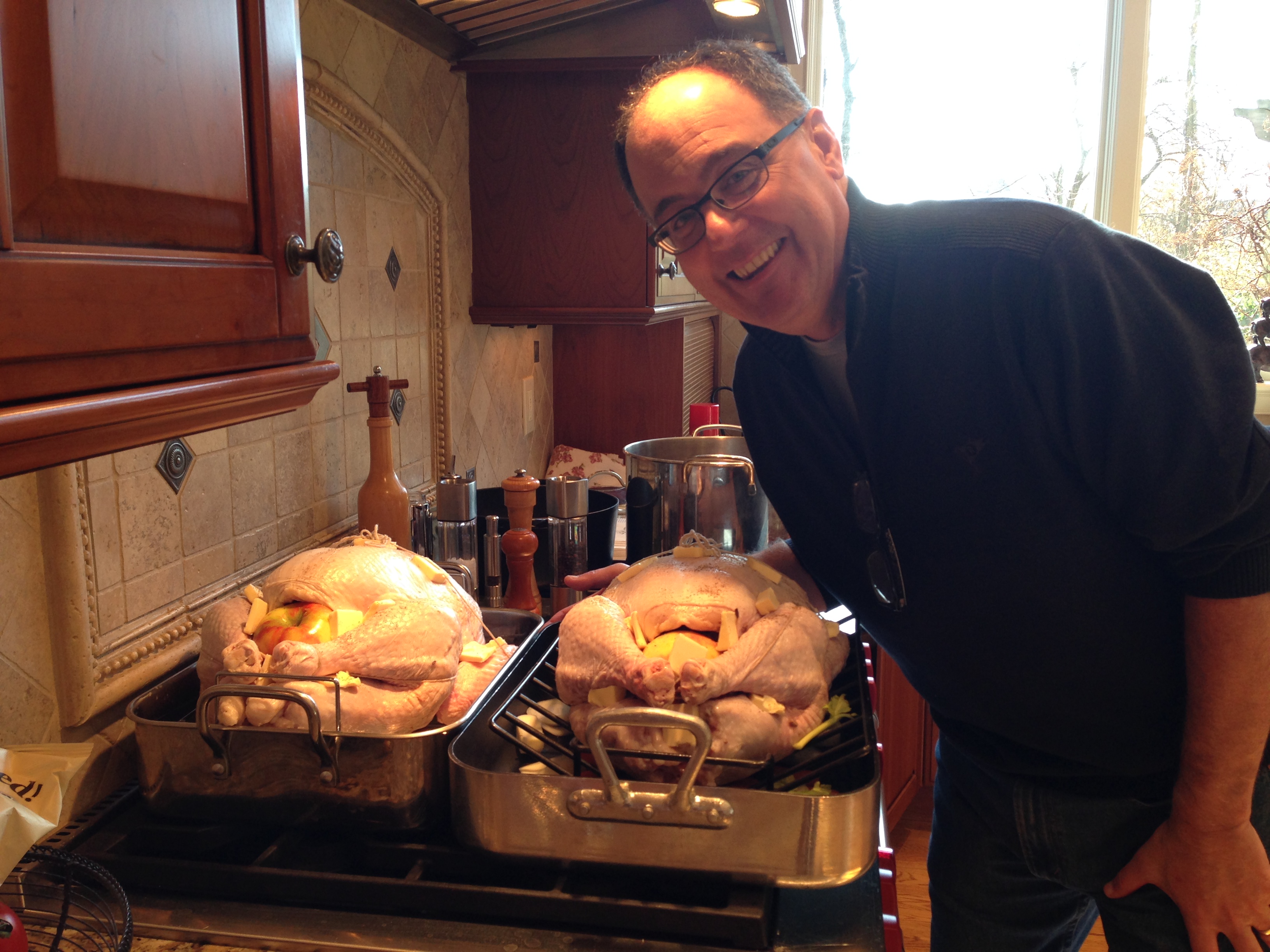 We stuff ourselves and we swear we'll never eat again.  Of course that is not true, because the next morning I've got 16 guests asking me "What's for breakfast?"  So even though Vito is a hero with the most important meal, I need to come up with a way to feed a crowd for the several meals before and after the Thanksgiving feast.
I'm a bit of a planner
My family rolls their eyes at my menus, lists and schedules.  But they'd really be rolling their eyes if there was nothing to eat.  Unless you're going to run to the store several times a day or have a cranky hungry crowd, it takes some advance planning to serve three squares a day to a big crowd for several days.  Here are some ideas, based on my actual menu from two years ago.  (And yes, I'm nutty enough that I keep my menus from holidays.)
Wednesday dinner, Thanksgiving Eve:
We generally have folks flying in from Texas, college kids returning home with loads of laundry, and family driving from other parts of the midwest.  I'm never sure exactly when we're going to eat, so pots of things simmering are a great way to go.  Also, I try to prepare as much in advance as possible.  The great thing about soups is that you can prepare them a few days early, and they get better as they sit.
Oklahoma chili (served with fritos, cheese and onions)
Split pea soup
Potato soup (served with crumbled bacon)
Bread
Caesar salad
Wine
Beer
Cynthia's Apple Dapple Cake
My friend Cynthia is famous for her Apple Dapple Cake (recipe below).  I once tried to make her cake.  I love to cook, but I am not a baker.  My cake was a disaster.  These are real pictures of what the cake looked like when I made it: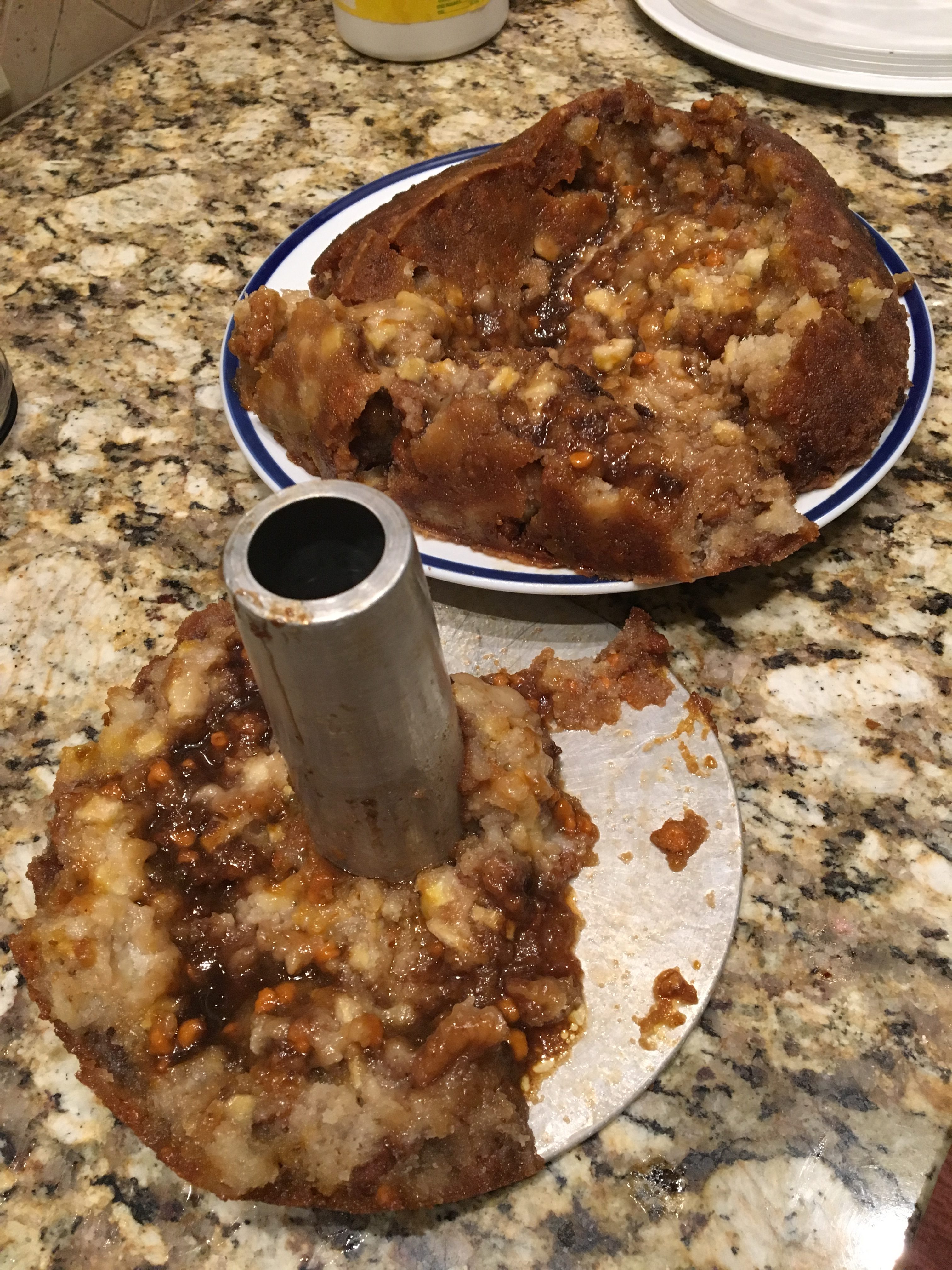 When I showed her this sad picture, my sweet friend saved the day by making me the cake and bringing it to me!  She is a true friend and a wonderful cook, and I can't tell you how delicious this cake is.  Don't let this awful picture stop you from making.  Cynthia shared her recipe, and I've included it at the bottom of the post.
Thursday breakfast, Thanksgiving day:
We have a full day of cooking in front of us, so I certainly don't want to be preparing a complicated breakfast Thursday morning.  I turn again to some crowd-pleasers I can prepare in advance:
Lunch/Appetizers, Thanksgiving day:
We eat our Thanksgiving meal at dinner time, around 7 pm, so we need a light lunch.  I generally put out appetizers so people can snack all afternoon:
Smoked salmon and crackers.  Costco carries a terrific honey smoked salmon which is terrific just spread on crackers.  You could get fancy with cream cheese, capers, etc., but we love it right out of the package (put on a pretty tray, of course).  Costco honey-smoked salmon
Hummus with veggies (cherry tomatoes, bell peppers, jicama, snap peas, blanched asparagus)
Totally easy, a little cheesy, but very addictive Ranch oyster crackers
Cured meats (salami, prosciutto, etc.)
Thanksgiving Dinner:
We all know what to do here. . .
Friday (Day-After-Thanksgiving) Breakfast:
Made to order eggs
Bagels and cream cheese
Leftover Kanakuk coffee cake
Cynthia's Apple Dapple Cake
Coffee
Friday Lunch:
I've had enough cooking!  But it's too difficult to take 16 people (aged 1 to 88) out to lunch.  Plus, we'd rather stay in and play a heated round of Trivial Pursuit. Jimmy John's to the rescue: Jimmy John's will deliver a tray of sandwiches cut into thirds to feed a crowd.  You can order whatever assortment you want.  Open a bag of chips and pour them into a bowl, and you're a rockstar.
Friday Dinner:
This meal is my husband's family's tradition:  you play a rerun of Thanksgiving dinner.  Yep, the whole deal.  Turkey, cranberry, mashed potatoes, whatever was on your table.  We make double the first time (hence the two 23-pound turkeys in the picture above), which is really not much more trouble when you're doing it all at once.  Pull it all out of the fridge, re-heat and serve.  We make a fresh salad, and maybe throw a new vegetable into the mix.  It took me several years to not think this was kind of weird, but I'll admit it makes Friday night pretty easy.
Saturday Brunch:
By Saturday morning we've all gained 5 pounds, laughed a lot, tried to avoid political discussions, and calloused our hands from shuffling cards.  The crowd is peeling off and heading home, or hunkering down for a day of watching college football.  We take anyone left out to brunch to celebrate the end of another great Thanksgiving weekend.
Cynthia's Apple Dapple Cake
Ingredients
Cake Ingredients:
1 1/2 cups salad oil
2 cups sugar
3 eggs
3 cups flour
1 Tbs salt
2 tsp vanilla
1 tsp baking soda
3 cups finely chopped TART apples
1 6-oz package butterscotch chips
1 1/2 cups walnuts
Topping Ingredients:
1 cup brown sugar
1/2 cup margarine
1/4 cup milk
Instructions
Combine oil and sugar, mix well. Stir in eggs and beat thoroughly. Add flour, salt, vanilla and soda. Stir in rest of ingredients and blend thoroughly. Pour batter into greased 10-inch tube pan or bundt pan. Bake at 350 degree 1 hour and 15 minutes or until cake tests done.
For the topping, combine the brown sugar, margarine and milk in a sauce pan and cook 3 minutes. Pour over cake while both are still warm. (Poke holes in cake with a toothpick, and also let it go down the sides where the cake has pulled away from the pan.) Cool at least 3 hours before removing from pan.
https://thetwodandelions.com/keeping-them-stuffed-through-the-thanksgiving-week/
For more favorite recipes, please see Blackened salmon with zucchini noodles and blistered tomatoes, Everyday Vinaigrette, Crockpot Taco Soup,   and One-Pan Roasted Pork Tenderloin with Vegetables .
For more about Thanksgiving, please see Here Comes Thanksgiving!, Thanks for Giving: the blessing of generosity, and Thanksgiving Traditions.