A three hour delay at the airport lead to some interesting people-watching. Some women manage to travel looking chic, comfortable, pulled-together and fashionable. I interviewed these real-life fashionable travelers, and learned how they think about their travel outfits, how they put them together, and where they bought them. These were all women in the Cincinnati airport on September 17, 2018, and they are all strangers to me.
A few themes emerged:  mixing old items with new items, bargain-hunting and value for money, and mixing steals with splurges. Finally, a comfortable shoe is crucial, and can actually be cute.
This post may contain affiliate links, which means the blog may make a small commission if you purchase something from the link.
Smart purchases for an easy but professional look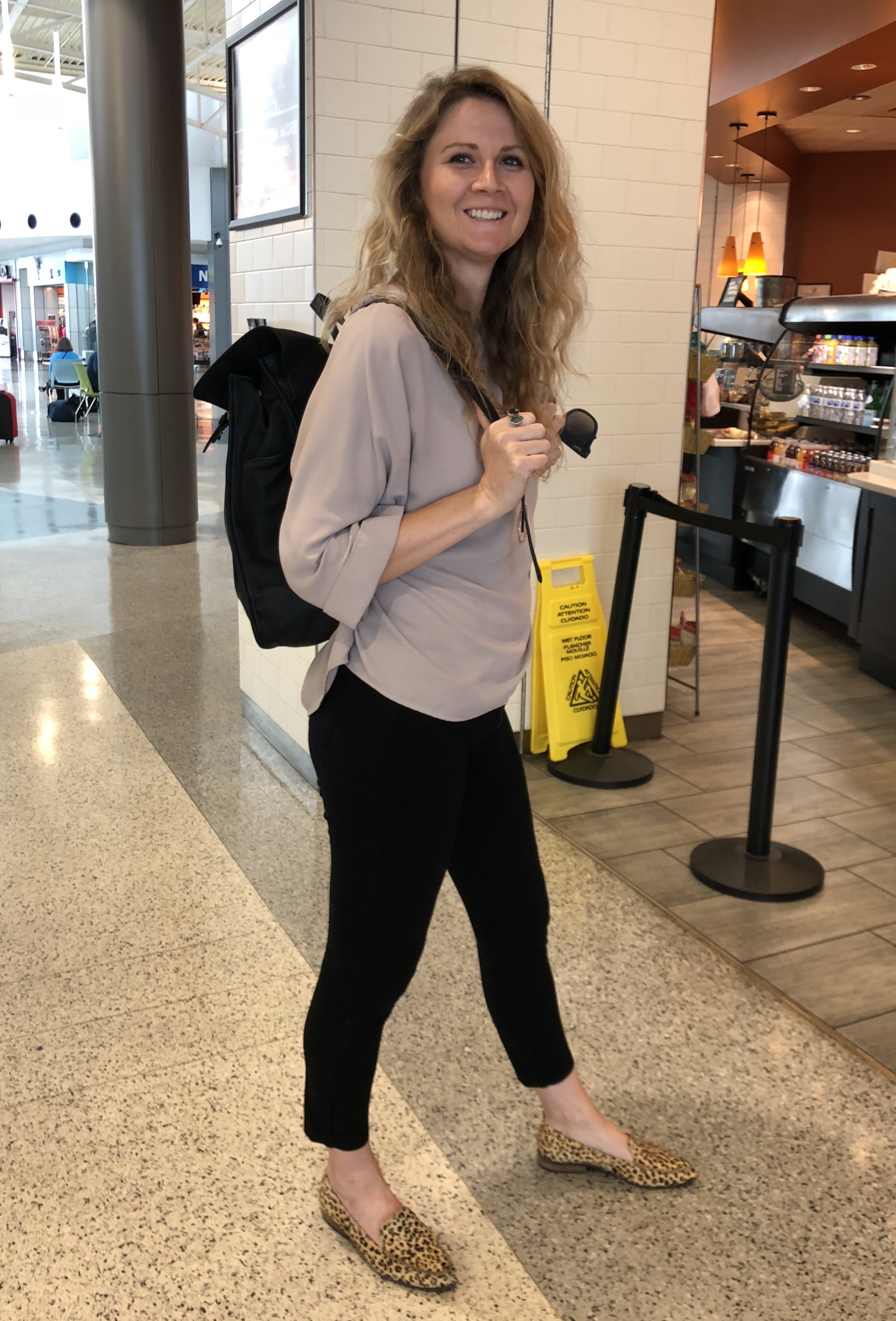 This beautiful traveler caught my eye in the food court.  Two surprising facts about her:  she's a farmer, and she's four months pregnant!
She combined a dressier top with stretchy pants for a professional look, ready to attend her meeting with the State Department when she lands in Washington. The top and the pants came from TJ Maxx. TJ Maxx  The Calvin Klein pants are stretchy for comfort, but have a zipper and a regular waistline, so they have a more tailored look than pull-on leggings, but are still comfortable for the plane ride.  Her leopard flats are Dr. Scholl's with gel inserts. She can't wear heels anymore because of foot problems, so she turns to Dr. Scholl's for all her dress shoes.  Dr. Scholl leopard loafer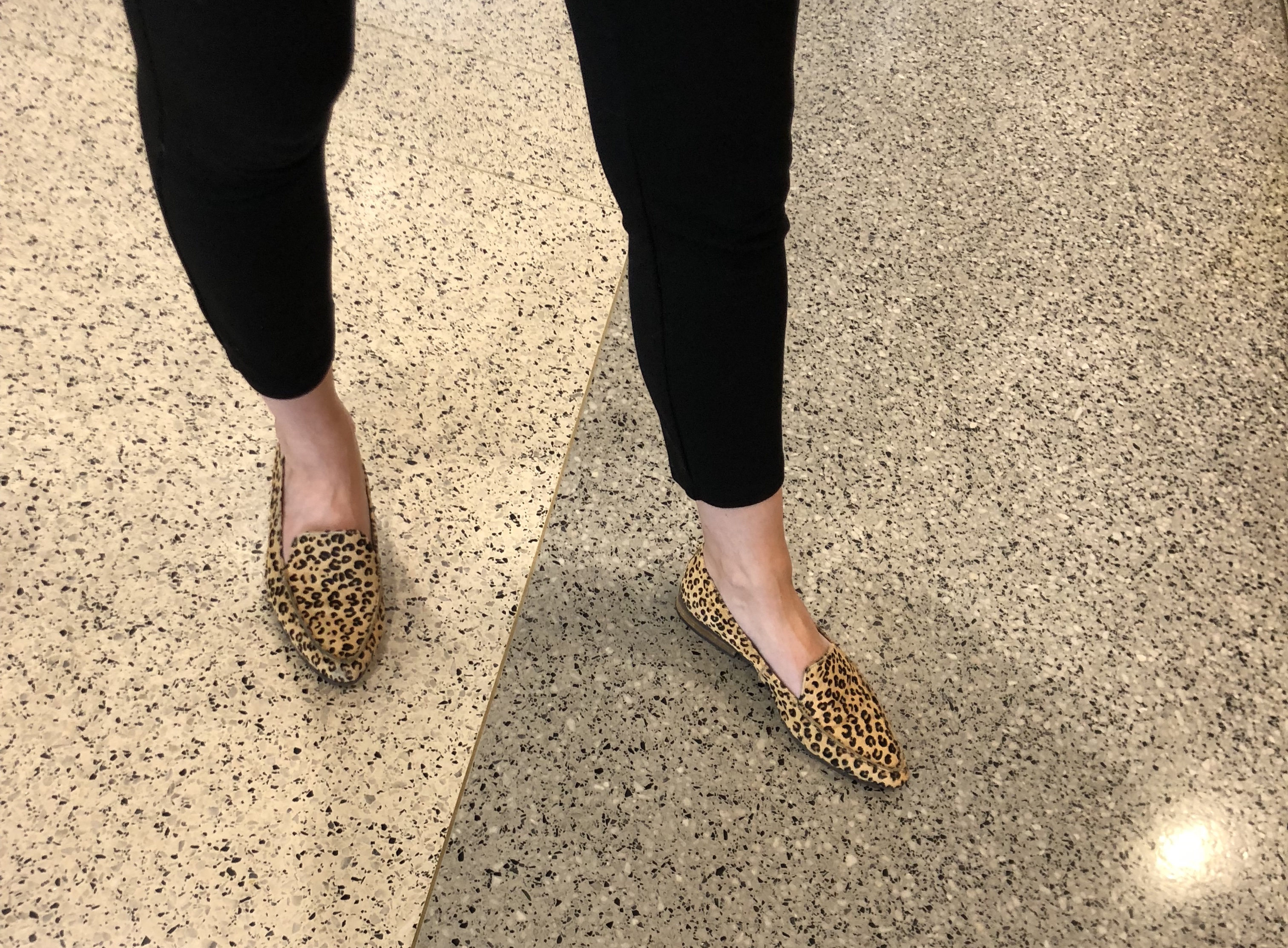 She finished off this outfit with perfect accessories. Her sunglasses (I wish I had a picture) came from NORDSTROM RACK, and the statement necklace is from Evereve.  Evereve necklaces. She said she copied her mom — who has impeccable taste — for the necklace.
Her expensive-looking and practical backpack is from Target.  The backpack is large enough to carry her laptop and the documents she needs for her meeting.  She has a great eye for quality without spending top dollar.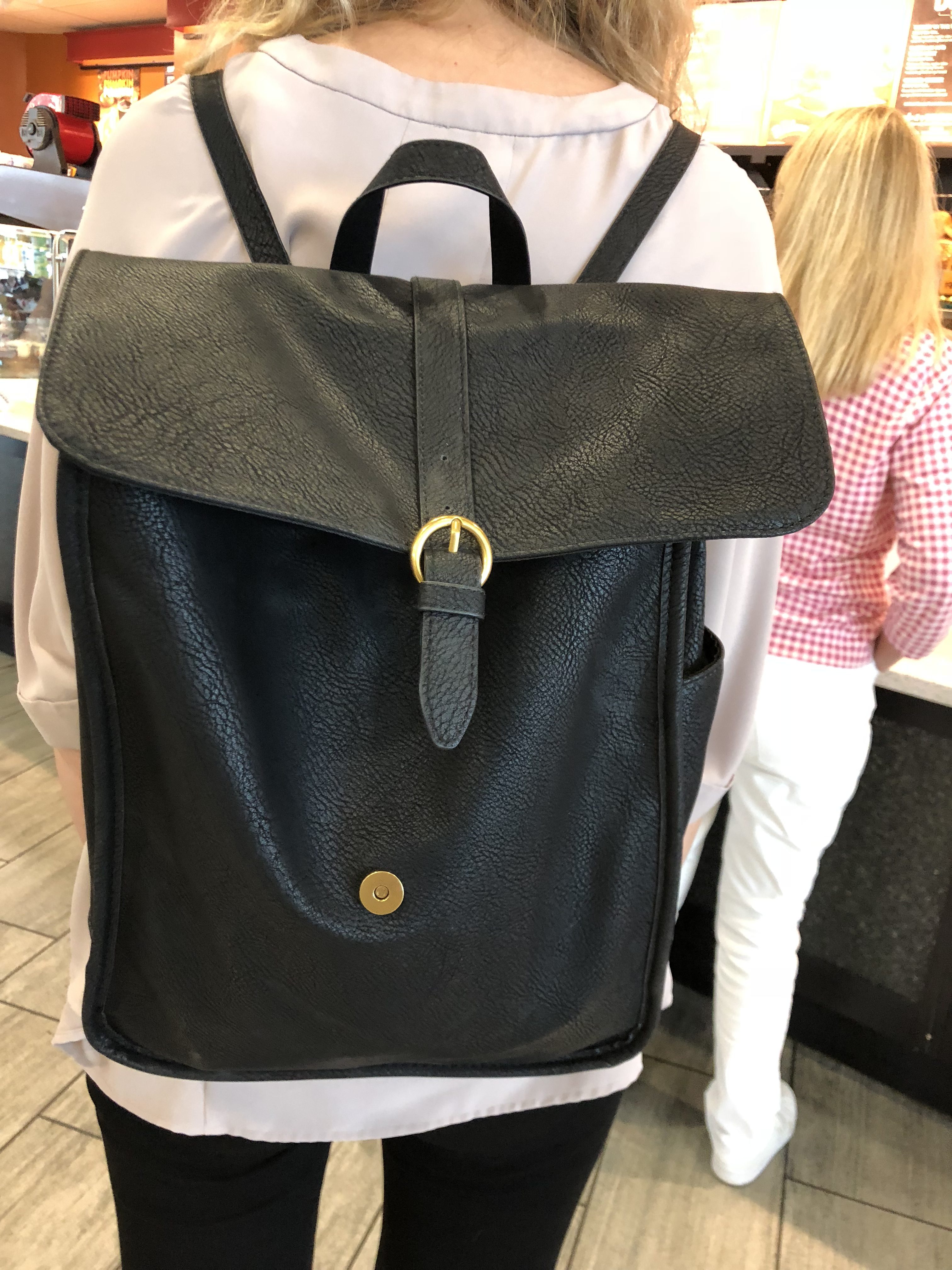 HR Director is stylish, comfortable and practical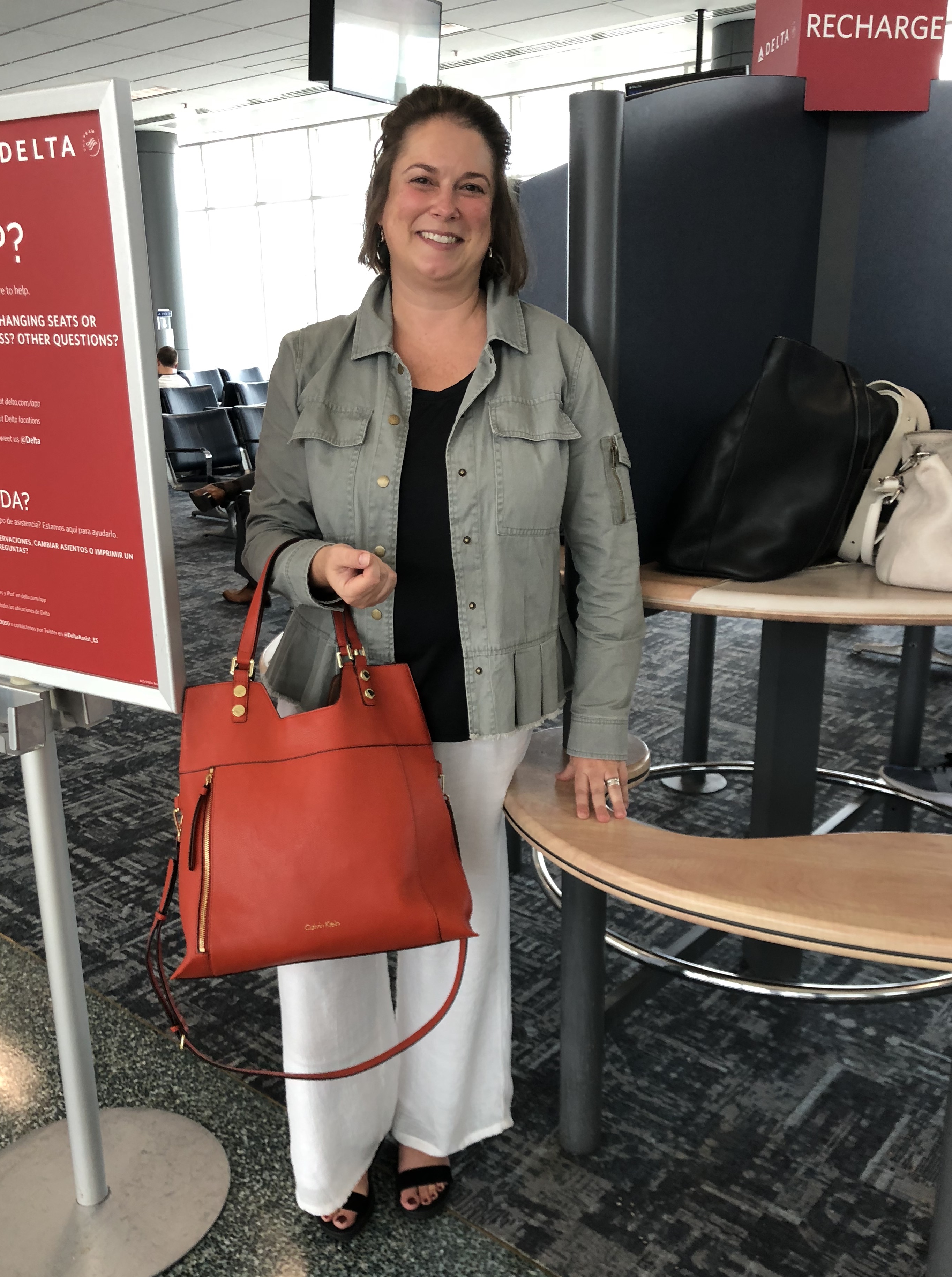 I found this woman hard at work on her laptop before her business flight to Charlotte, North Carolina. Her pants initially caught my eye, and then I fell in love with her jacket and bag. The white linen palazzo pants are lined and have an elastic waist — what a great combination of comfort and style. The darling denim jacket with peplum is Style & Co from Macy's, and she owns it in navy as well as this flattering gray.Similar at Macy's
The shoe is a wedge from  Skechers with a slight heel. The band across the top is stretchy, making the shoe so comfortable that she bought it in white as well. This smart shopper buys duplicate items in multiple colors when she finds something she loves.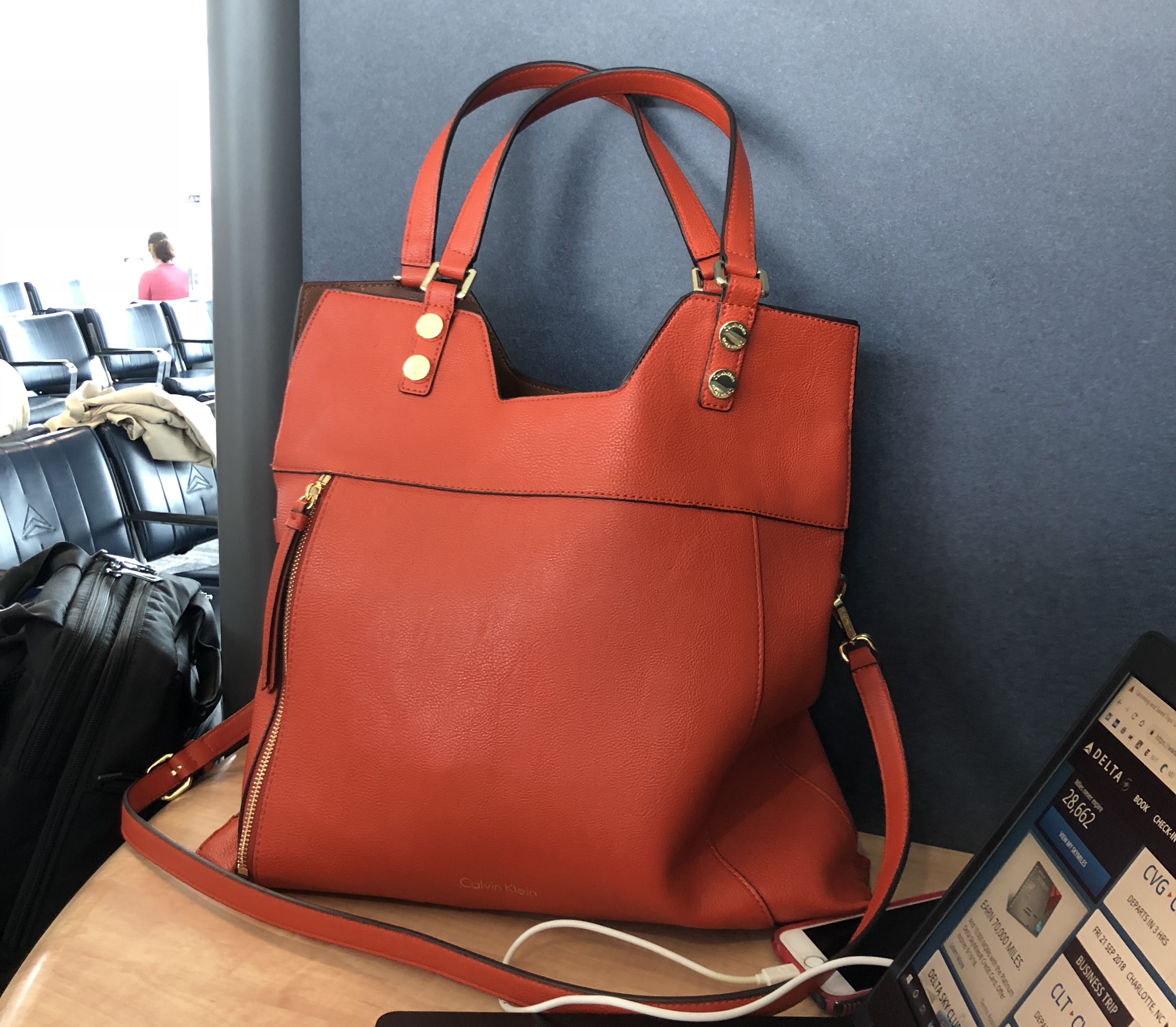 And this bag –how I love it!  She's a girl after my heart with this awesome pop-of-color from Calvin Klein.  She highlighted the side zipper pocket, which allowed her to quickly locate her boarding pass and phone.
Repurposing Old Favorites for a Terrific Monochromatic Look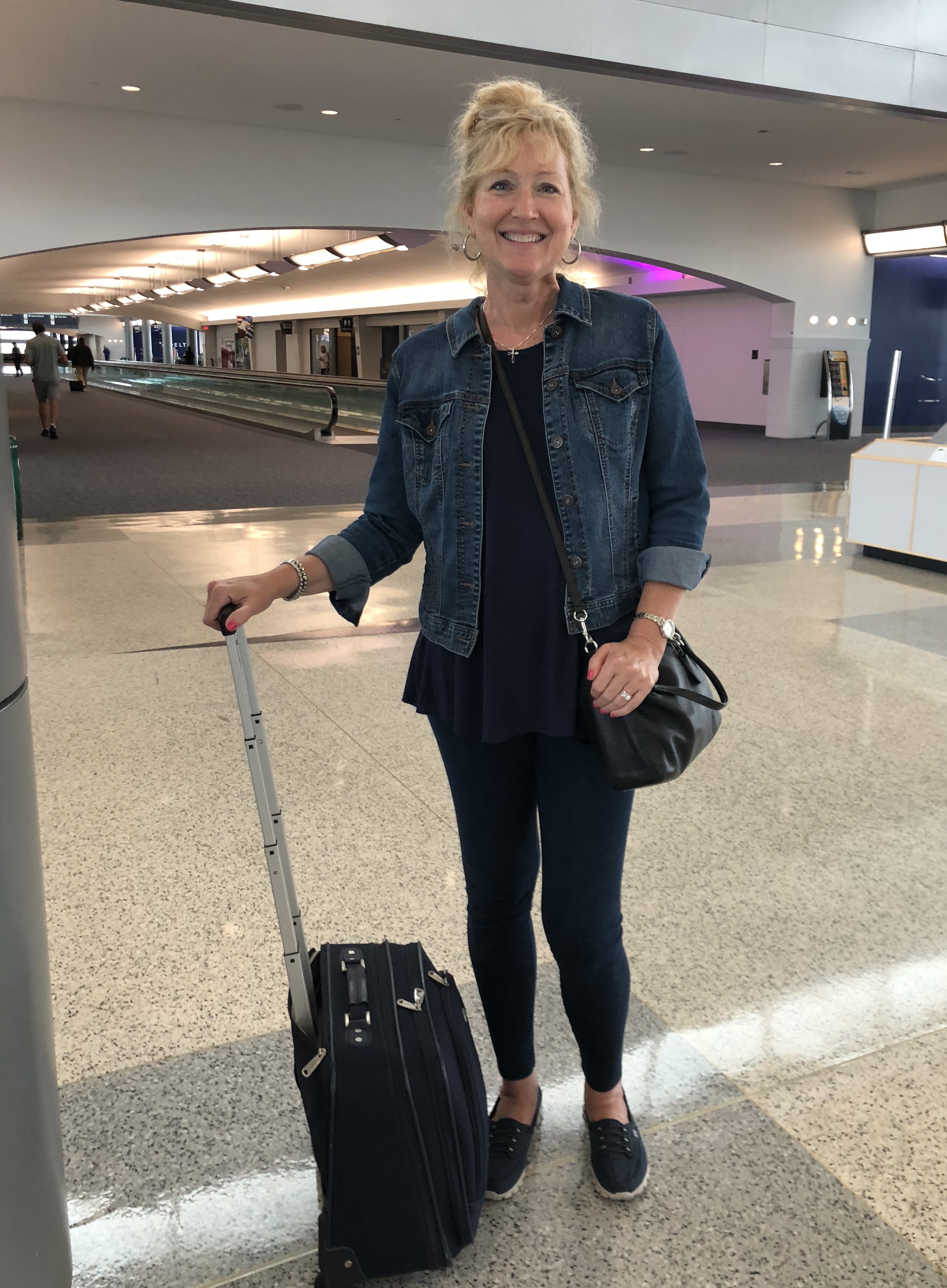 This beauty went for a comfortable and cute look in leggings and a jeans jacket. The jeans jacket came from Macy's "several years ago" and is one of her favorites. She wore it with the sleeves rolled up perfectly over a navy tank tunic, untucked over blue heather leggings from
Lysse
. She loves the leggings so much that she purchased several colors.  I was unfamiliar with the brand, but will  check it out based on her rave reviews.  Her slip-on shoe is from
Skechers
 and gets high marks for comfort. Her black coach bag and silver jewelry pulled the look together. She apologized for her bun, but I think she looks adorable. Who would guess that she is a grandma?
Mix of old and new, jeans and tailored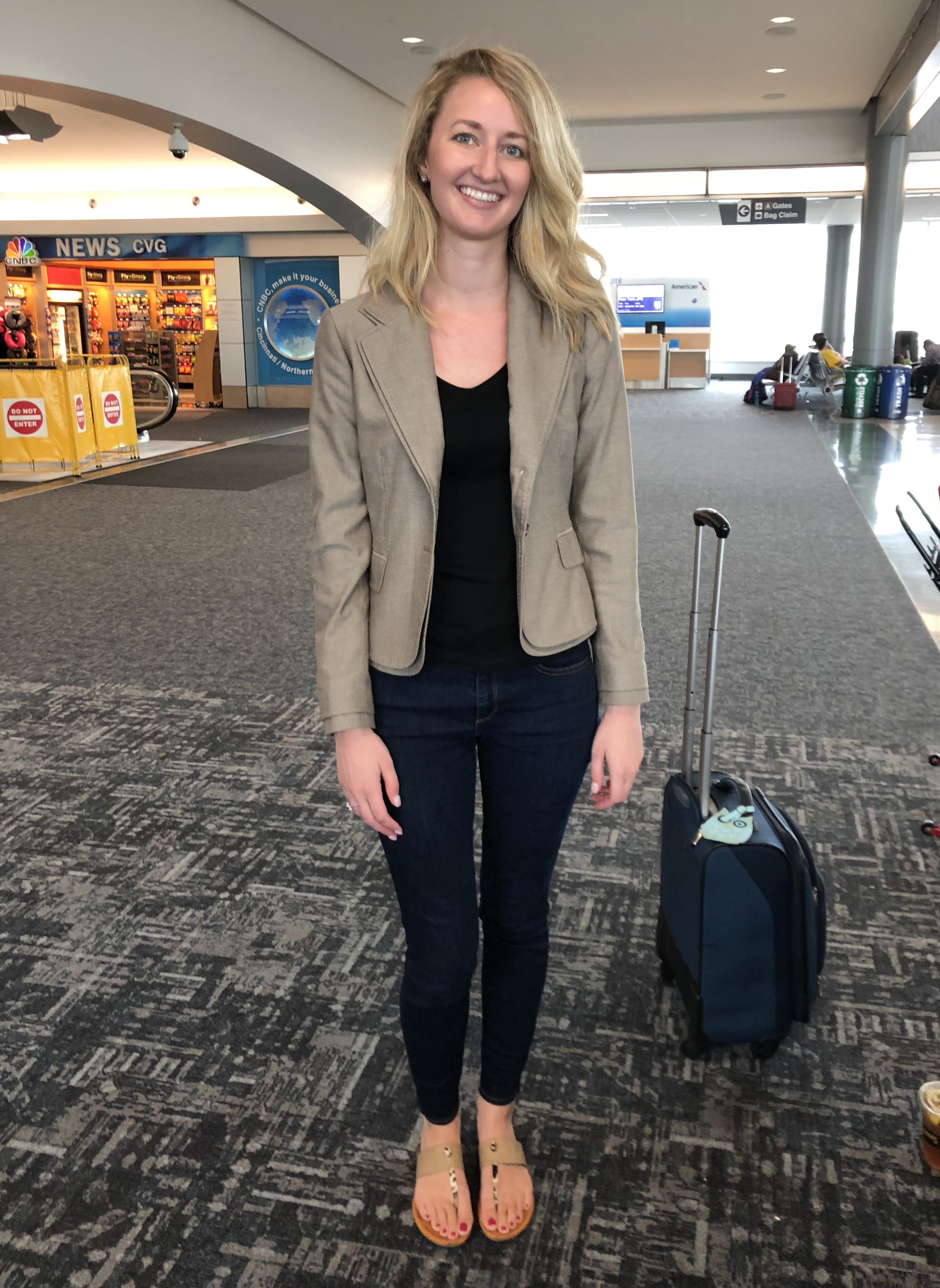 This pretty business traveler used a vintage jacket to give a great professional touch to a pair of skinny jeans. Under the jacket she has on a stretchy black tank from Ann  and the cute stretchy dark wash jeans are also from Ann Taylor. similar jeans at AnnTaylor   similar tank at AnnTaylor. Her jacket was a gift from her Aunt's estate, and this timeless piece is about ten years old.  I love the mix of vintage and current, casual and business.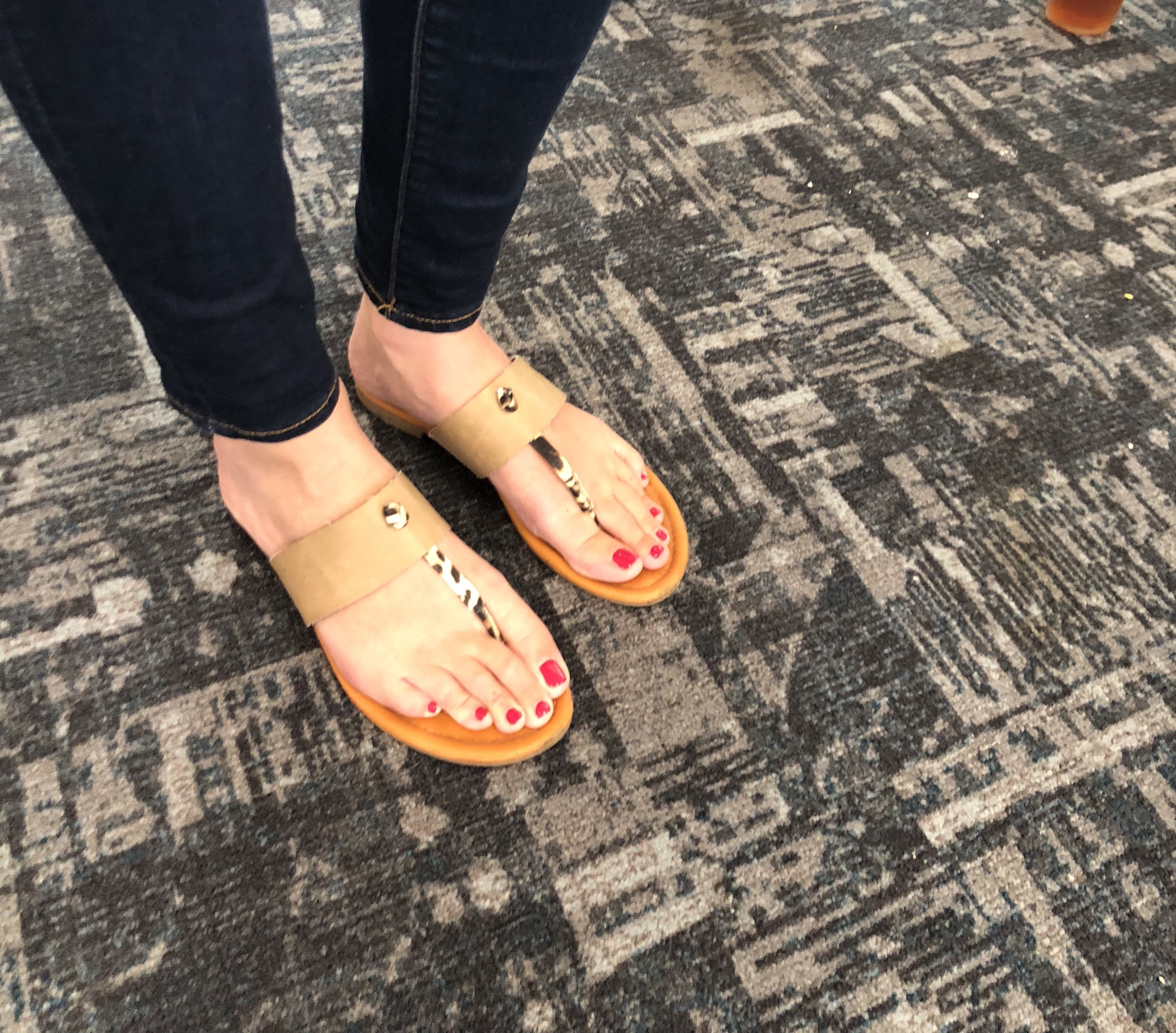 She said her Rampage sandals are older, but they are beautifully maintained, and the touch of leopard makes them quite trendy.  Rampage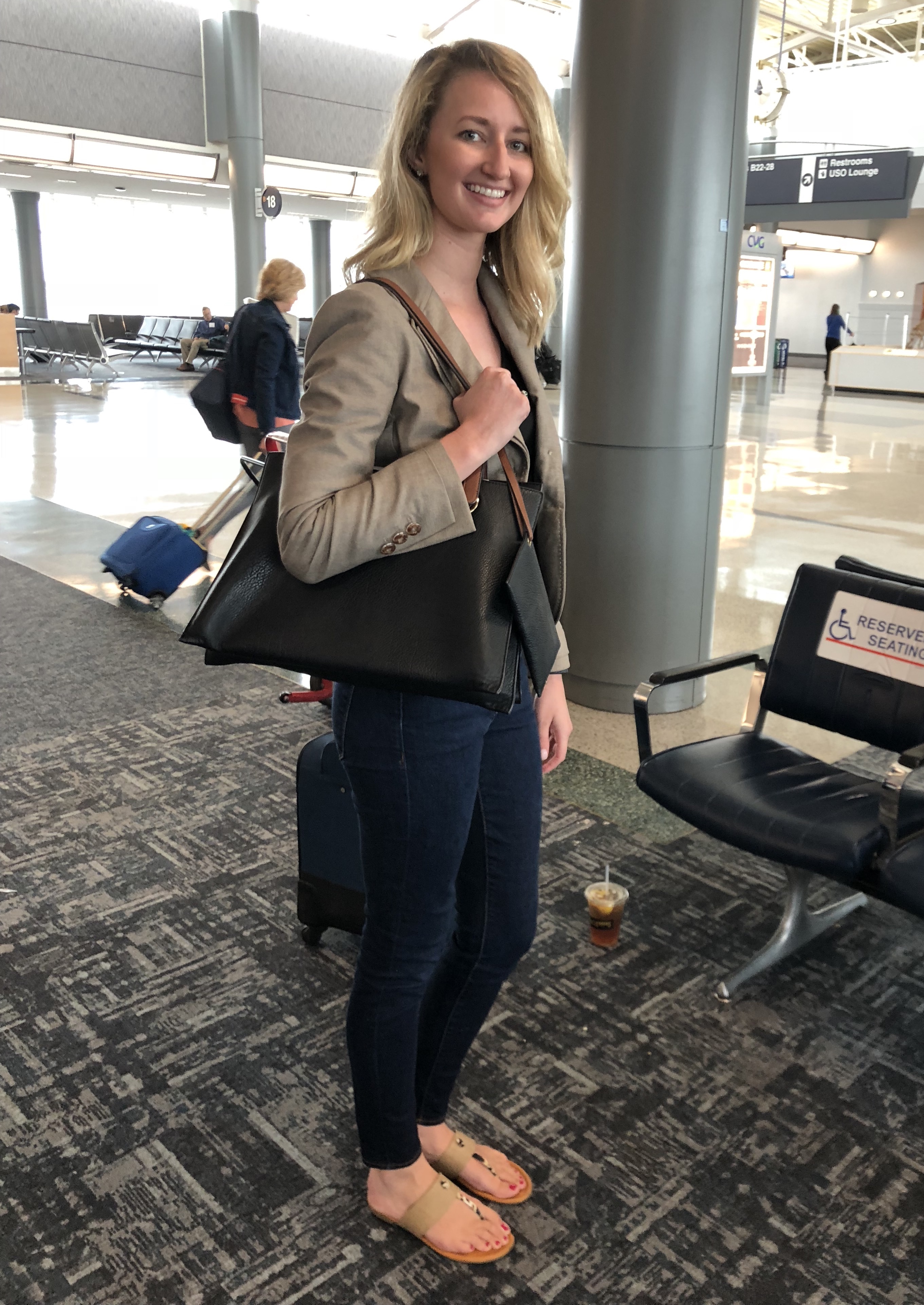 Her sophisticated black leather tote with brown accents came from a shop in St. Augustine Florida, and she bought several bags there at the time because of a great sale. I love how the grownup jacket and bag add style and maturity to an easy and comfortable look.
Consignment shopper has a great eye for style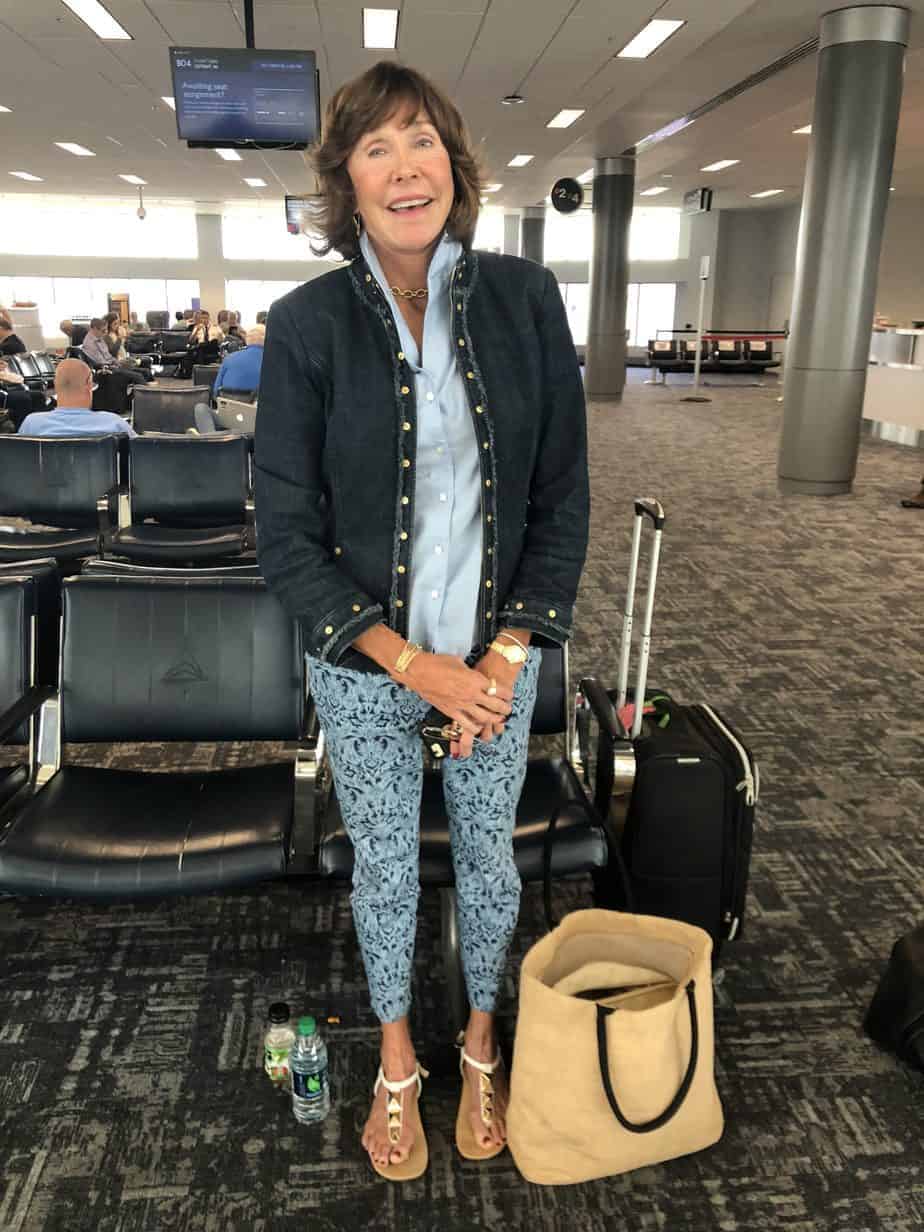 The three-hour delay did not stop this stunning woman from looking fabulous. She was returning to her home town of Naples. Florida after competing in the Senior Olympics In Kentucky. Her smart denim jacket (St. John)  and crisp button-down sleeveless tank (Brooks Brothers) both came from her favorite consignment store, True Fashionistas, in Naples. The printed jean is from Chico. (similar at Chico's)  Her cute Vionic ( similar Vionics ) sandals are from Marshall's. As a runner, she loves Vionics, which support her feet and ward off foot problems. She accessorized this great look with a mix of silver and gold jewelry.
Smart and comfortable — but not sloppy — athletic wear for a long flight to Rome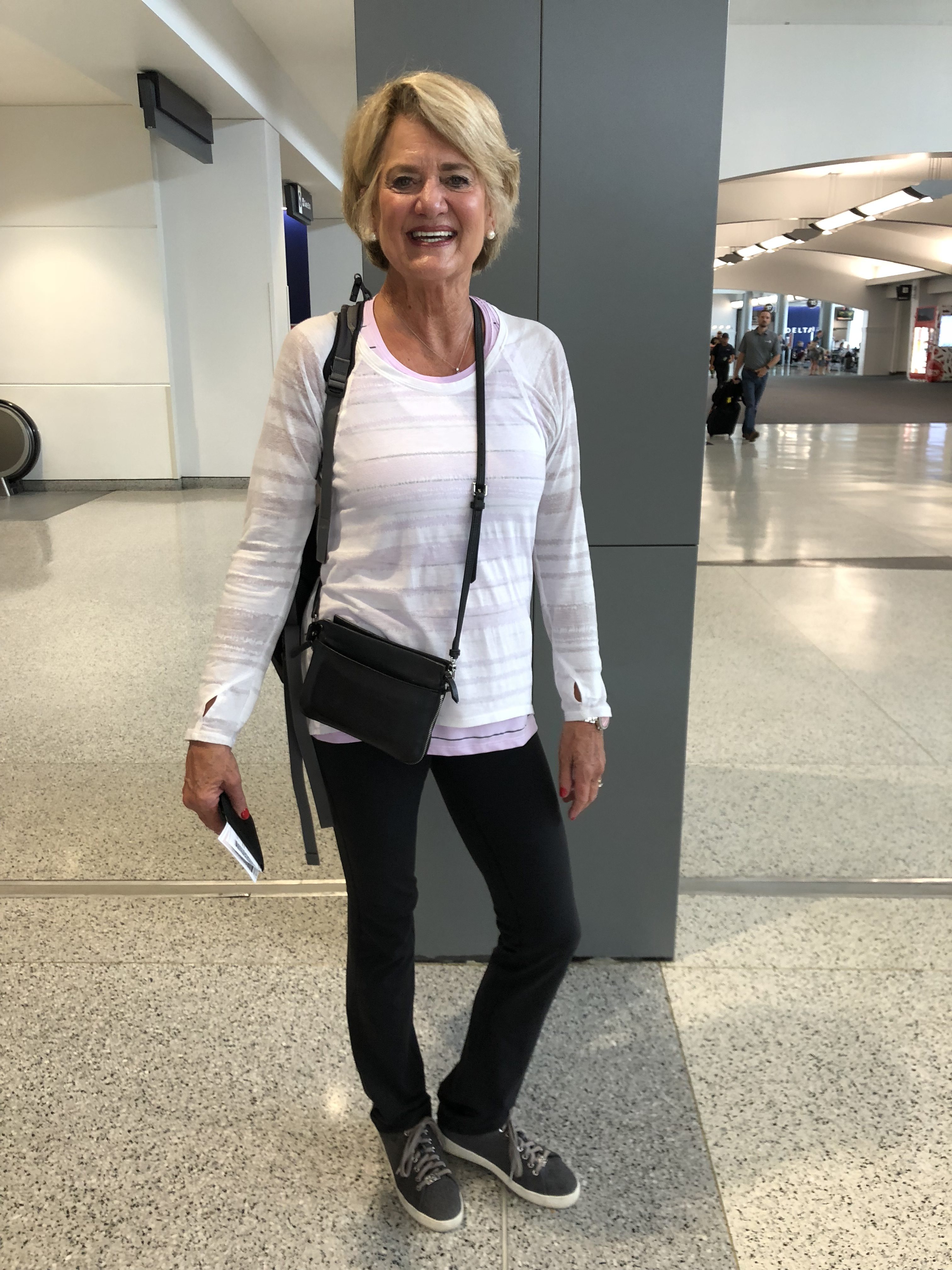 I had to run quickly to snag a picture of this traveler as she moved so quickly and effortlessly through the airport in her athletic wear! She was all about stretchy fabrics and comfort for her international flight, while still looking cute and appropriate. Her sports bra and tank are from Athleta.  She had a lightweight Lucy long sleeve top, and the yoga pants are also from Lucy. She told me the Lucy Brand may have been bought by another company, and in fact, you can get it now at The North Face .  Her shoe is a smart gray sneaker from Michael Kors which provides great support. ( similar at Michael Kors)  She plans to wear those for touring throughout Rome, which will pair nicely with skorts, capris and shorts. She has a small cross-body bag for easy access to her lipstick and phone, and is also carrying a backpack for her carry-on essentials.
Distressed jeans, leopard flats, and a cotton sweater for the cold airplane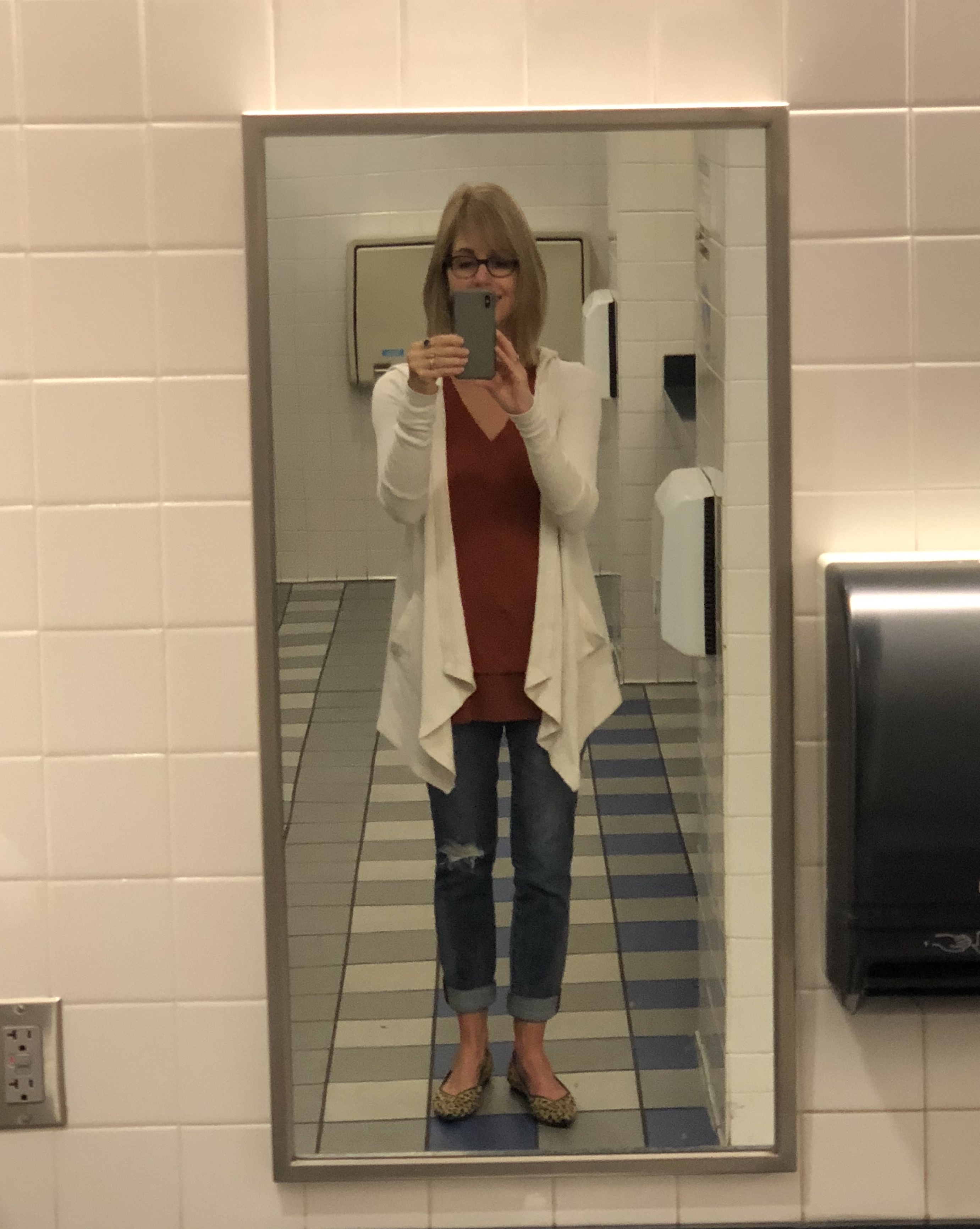 All these kind women were brave enough to let me snap their picture and ask them about their clothes and travel. I guess it is only fair to submit myself to the same scrutiny, so I snapped a picture of myself in the airport restroom!  When I dressed at 5 am for my flight, I wasn't planning on working on a blog, so this is my real, practical, traveling attire, with no bells or whistles.  I have on a Trouve sleeveless tunic that I got  at Nordstrom's  anniversary sale in 2017. My waffle-weave cott0n sweater is by Splendid.  I have it in gray as well because I love it so much and it is great for travel, especially in the warmer months when I don't want a really heavy sweater but am still cold on the airplane.   My jeans are Kut from the Kloth, from the 2018 Nordstrom's Anniversary Sale.  Nordstrom's Kut from the Kloth.  Finally, I've got on Rothy's  pointed-toe leopard flat. I've also got on my glasses, because my eyes get so dry flying.
Happy travels to all those out there looking for comfort, practicality, and a little bit of style for their three-hour delays!
What are your travel secrets?
We'd love to hear from you about what you love to wear and carry when you travel.  What makes a great carry-on bag?  What kind of shoes do you like to wear on the plane?  How do you handle the changing temperatures of airplanes and different climates?  Please comment below and to let us know your thoughts.
For more posts about style and fashion, please see Mama Loves a New Pair of Shoes! , Favorite Rain Bootie, and Mad about Plaid.